14 Dec

SIINAI's "Anthem 1&2" Music Video Set To Alejandro Jodorowsky's Holy Mountain
Chilean filmmakerAlejandro Jodorowsky's Holy Mountain was released in 1973. The psychedelic story is geometry-heavy and laden with symbolic imagery and metaphysical themes. In short, the visually-stunning masterpiece has inspired countless creations, and it seems to be receiving another breath of fresh air as of late.
REDEFINE MUSICIANS, ARTISTS, AND FILMMAKERS WHO HAVE BEEN INSPIRED BY ALEJANDRO JODOROWSKY.
It seems Finland's SINNAI are amongst the creative folk inspired by Jodorowsky, and they've shown that in their latest music video. The band is less than a year old but are releasing their krautrock-inspired Olympic Games on February 21st, 2012, on Splendour Records (Casiokids, His Clancyness, Brad Laner). "Anthem 1&2" is the first single for that album, and they've decided to match it up to scenes from Holy Mountain.
It goes without saying that the video is visually incredible. And SINNAI certainly did credit Jodorowsky on their YouTube credits, but it needs to be asked: is this re-appropriation an acceptable homage or an easy way out? It there artistic integrity or is it trite?
Towards the bottom of the post is a Physical Therapy 3-step remix of "Anthem 1&2," along with two fan-made music videos set to Holy Mountain. The first uses Amon Düül II's "Müller's Frau Jam"; the second uses Sleep's "Holy Mountain." It could be argued that the SINNAI remix is most artful of the three, but does it matter? Are these the video equivalents of cover songs?
Siinai – Anthem 1&2 (Physical Therapy 3-step remix) by Electronic Beats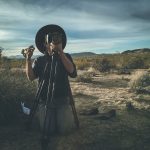 Vivian Hua 華婷婷 is a writer, filmmaker, and organizer. As the Executive Director of Northwest Film Forum in Seattle and Editor-in-Chief of the interdisciplinary arts publication, REDEFINE, much of her work unifies her metaphysical interests with her belief that art can positively transform the self and society. She regularly shares human-centered stories through her storytelling newsletter, RAMBLIN' WITH VEE! In 2020, she will [hopefully] begin production on a comedic Asian-American series entitled Reckless Spirits.
Ask Vivian about MARSHMALLOWS, cuz she's gross... and being tips for being frugal while nomading!