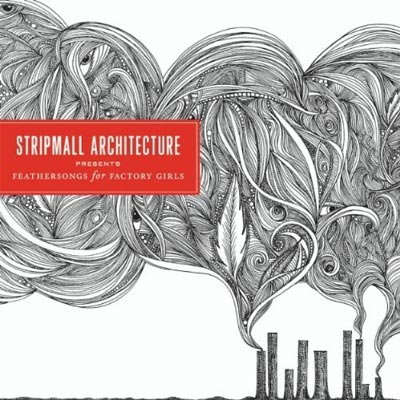 On Feathersongs For Factory Girls, Part Two, San Francisco's Stripmall Architecture create a sonic space that is a bit disorienting. Rebecca Coseboom's vocals swirl like a cloud of smoke while electro beats, violins, and cello induce chills. The songs carry a strong volatile sensation similar to that of a treacherous nightmare, but one that a person would want to have repeatedly. There are signs of torment, but in some twisted way, Feathersongs is enjoyable.
Listen to "We Are Not Cool" – DOWNLOAD MP3

While each song has a dark underlying theme, Stripmall Architecture's music does not lose
the danceability and sublime qualities of the electropop genre. Although not as strong as other songs, opening track "Daylight Machine" is rather buoyant. The song commences with some computerized sounds that almost convince the listener that the band is just another generic electro band, but do not be fooled. The band does it better on "Lemoncholic," another upbeat number with shimmering guitars and synth. However, the fact that the vocals sustain a bewitching quality is what makes this song superior. Compared to their Part One EP, which was released last year, Stripmall Architecture seem to have a bit more fun on this release. They stretch the relationship between eerie instrumentation and beautiful pop songs. And even though the band can go from "Ownsome," a lively and dramatic track, to the more somber "Prussian Blue," both tracks fill the air with seduction. Silky vocals and cunning use of violins and cello bring it all together. It is daring for a band to showcase such range on an EP, but it is obvious that the band members gave each song a lot of thought, which results in a favorable release.