04 Nov

Totally Enormous Extinct Dinosaurs – "Trouble" Music Video (w/ Q&A Interview)

This video for Totally Enormous Extinct Dinosaur's "Trouble" resides mostly in a David Lynchian universe, with heroined-out slow-motion vibes. Interspliced, however, are quick flickering shots of TEED (Orlando Higginbottom) being adorned with mysterious headdresses — an art form that has become a staple in TEED's videos. The pieces featured in this video include a geometric wire-framed headpiece, crafted by UK wearable art designers Yunus And Eliza, and a feathery piece reminiscent of a Native American headdress.

Each of TEED's videos are amalgams of a number of wordly influences, and TEED himself has a hard time explaining where they come from. When asked if there are any cultures which he finds particularly inspirational, he responds, "Eastern, western, northern, southern..? I don't know what to say. I also feel it is unhelpful to examine your influences too much; the important thing is the moment of inspiration, and there isn't a formula for that as far as I know. Though its fair to say that I get the most energy from the people I come into contact with who are also making things…"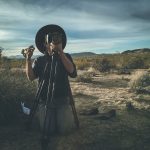 Vivian Hua 華婷婷 is a writer, filmmaker, and organizer. As the Executive Director of Northwest Film Forum in Seattle and Editor-in-Chief of the interdisciplinary arts publication, REDEFINE, much of her work unifies her metaphysical interests with her belief that art can positively transform the self and society. She regularly shares human-centered stories through her storytelling newsletter, RAMBLIN' WITH VEE! In 2020, she will [hopefully] begin production on a comedic Asian-American series entitled Reckless Spirits.
Ask Vivian about MARSHMALLOWS, cuz she's gross... and being tips for being frugal while nomading!