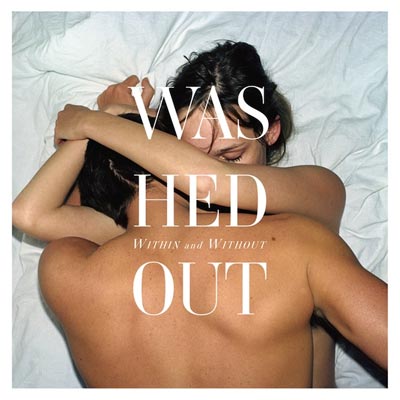 Prior to its release, Washed Out's debut album, Within And Without, had been so widely hyped and over-anticipated in the internet world that it was almost nauseating. Yes, the few songs that were released a few months prior to the actual album drop were great. And yes, Washed Out is definitely a forerunner in the movement known as "chillwave." But who could tell if the full album itself was going to be a wash or not? (Pardon the pun.) Within And Without is one of many rare cases in which the hype actually does live up to final product. Within And Without is a satisfying listen because it is an example of a completely well-rounded album.
Listen to "Amor Fati" – DOWNLOAD MP3


It seems that Washed Out, also known as Ernest Greene, has wholly embraced the water metaphor, so we might as well also. The music really does literally "wash" over you; there is nothing jarring or out of place. Everything flows together so smoothly it's almost as though the album goes by too fast for one to catch anything in the first few listens. "Eyes Be Closed" is an excellent intro track to set the tone for the meditative atmosphere of the record. "Amor Fati" is another well-played highlight; the underlying beats sound like waves overlapping, with the soothing voice of Greene drifting along top. "Soft" leads perfectly into "Far Away," one of my personal favorite tracks — and the one on which the vocals are most pronounced. While there is a nice use of harmonies, Greene's vocals stay mainly in one octave, for the most part acting as another instrument in the multitude of sound layers.
Listen to "Eyes Be Closed" – DOWNLOAD MP3

The electronic aspects on Within And Without are present but nicely subtle, and evident on only a few tracks like "Before" and "You and I." The last track, "A Dedication," is the most pared down of the bunch, showcases just how delicate Greene's voice is. It is highly impressive that the recording sounds so lush, yet it was done mostly by Greene and one other person: Ben Allen, who, among a great many other things, co-produced Animal Collective's Merriweather Post Pavillion and Gnarls Barkley's St. Elsewhere. The collaboration is helpful in giving Within And Without some variation, in comparison with some of Greene's earlier recordings.
Even though the attitude of the record isn't necessarily uplifting, I found myself happy every time I listened to it. Within And Without is low-key, but given a chance, it will surely surprise and please you with its constant auditory pleasantries.