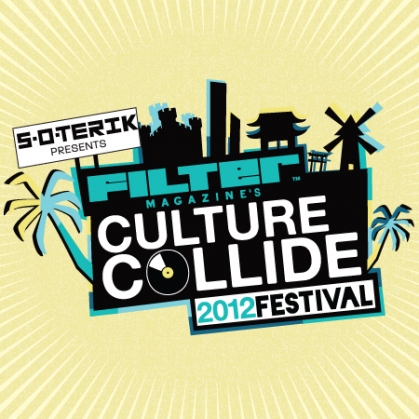 In its third year, Culture Collide Festival will be welcoming 63 artists from 25 countries to Los Angeles in the span of four days. Other than SXSW, there are very few festivals that consciously provide such an international scope of the indie music scene. And considering how common it is for international bands to come across visa issues, Culture Collide takes on an admirable task in the name of global harmony. The nice thing about the festival is that most artists schedule more than one show during those four days. So while you may stick to the big names for one night, you'll have plenty of opportunities to take a chance on a few unknowns that hail from a country across the globe.
of Montreal (USA)
Saturday, October 6 – 12:00am @ The Echoplex
Sunday, October 7th – 8:00pm @ The Main Stage
It's pretty impossible to not have fun at an of Montreal show. This group is kooky with a whirlwind of pop, psychedelia, electro, and glam. And with six members, it's always a party on stage. There will probably be some costumes too, so just embrace it, don't ask questions. of Montreal have recently have recently released Daughter of Cloud, a compilation of 17 of Montreal recordings from the time of their Hissing Fauna, Are You the Destroyer? era to the present. The track "Hindlopp Stat" from the album is below, along with the tripped-out music video for "Spiteful Intervention", from Paralytic Stalks.
Bonde do Rolê (Brazil)
Sunday, October 7 – 5:30pm @ The Main Stage
Even if you don't understand Portuguese, Bonde do Rolê are so worth your time. Heavily hyped by Diplo, the trio is always out to start a sweaty dance party and is known for singing about having a crazy good time. The group features a female and male MC who roll quick lyrics over club beats that you'd hear in the US and a type of Brazilian dance music called funk carioca. Just remember, it gets pretty sweltering on the other side of the equator.
SEE ALSO: Bonde Do Role + DIPLO + BRAZILIAN ARTISTS & MUSICIANS
Drug Cabin (USA)
Thursday, October 4th – 9:30pm @ Echo Park United Methodist Church
Every project featuring former members of Pretty Girls Make Graves has been pretty legit, and Drug Cabin is no exception. Nathan Thelen teams up with former Ambulance LTD member Marcus Congleton for some delightful indie and folky sounds. Their songs are honest and simple, yet are full of magic. The warm vocals and guitar strums will make you wish that they could serenade you every night.
SEE ALSO: Drug Cabin
Boxeur the Coeur (Italy)
Thursday, October 4th – 8:30pm @ The Echo
Saturday, October 8th – 8:30pm @ Taix Champagne Room
Boxuer the Couer is the project of Pabliz Yocka who lives in Bologna and seems to put no limits on his music. His style of electronic music varies from spacey, cryptic noises to catchy melodies and bright repeated tones. By listening to his album, November Uniform, you can tell that he is a little eccentric, but that seems to be what fuels the diversity and strong danceability in his music. Earlier this year he performed at Primavera Sound and will surely be a nice treat at Culture Collide.
SEE ALSO: ITALIAN ARTISTS & MUSICIANS
Colorfeels (USA)
Thursday, October 4th – 12:00am @ Taix Front Lounge
Sunday, October 7th – 4:00pm @ Red Bull Soundstage
Colorfeels is a band from Nashville that won a contest run by Red Bull for a slot at the festival. And like their name denotes, their take on the indie rock sound is full of colorful touches. Whether it be a glisten of banjo on one song or the adornment of a sax on another, Colorfeels write memorable songs that bring to mind a mix of bands like Fleet Foxes and The Clientele.
Kyst (Poland)
Thursday, October 4th – 7:30pm @ Echo Park United Methodist Church
Friday, October 5th – 7:00pm @ Origami Vinyl
Sunday, October 7th – 7:00pm @ Taix Front Lounge
Don't let Kyst fool you. Their songs may start off lethargic, but give them a few seconds to reveal where they are going, and you'll be surprised by their dramatic and sweeping movements. Their music combines the grandiose touches of Beirut, atmospheric interludes of the Album Leaf and angular guitar lines of Maps & Atlases.
SEE ALSO: POLISH ARTISTS & MUSICIANS
Unknown Mortal Orchestra (NZ/USA)
Friday, October 5th – 11:30pm @ Taix Champagne Room
Unknown Mortal Orchestra make fuzzy melodies that are fun and easy to get stuck in your head. While there is no lack of distortion, you never feel like you get lost in the nebulous psychedelic world. Instead you are actively entertained with vibrant guitar phrases, playful beats and quirky, almost-childlike vocals.
Zola Jesus (USA)
Friday, October 5th – 11:30pm @ The Echo
Zola Jesus' voice is one of the most commanding voices out there today. Having studied opera at a young age, her voice is unwavering, and it is compelling to see how she adjusts it to fit different moods. While her music is mostly dark, she is able to add an almost godly tone and can make some songs sound warm and vulnerable as well.
SEE ALSO: Zola Jesus + Sacred Bones Records
Sudden Weather Change (Iceland)
Friday, October 5th – 9:30pm @ The Echo
Sun, October 7th – 9:30pm @ Taix Champagne Room
It doesn't take long to notice that Sudden Weather Change are influenced by the angst of '90s rock. They have a youthful sound full of grinding guitars and tempo changes. There are times where their music also brings to mind bands that you'd find on Polyvinyl Records such as American Football and Braid. It is common for their songs have loud bursts of passions at times, while other songs convey a more introverted melancholy mood. With that combination, you can expect a booming and complex live show.
SEE ALSO: ICELANDIC ARTISTS & MUSICIANS
Magic Wands (USA)
Friday, October 5 – 9:30pm @ Taix Champagne Room
Magic Wands are a dream pop duo from Los Angeles with sharp beats and a tropical spirit. Rather than creating sunny beach melodies, the duo uses moody lyrics and tender female vocals to set the scene for nightfall at a sandy place. Grab a piña colada and enjoy the night breeze from the nearby ocean.
Niki & The Dove (Sweden)
Saturday, October 6th – 11:30pm @ Taix Champagne Room
Listening to Swedish electropop group Niki & The Dove is like watching a fairy sprinkle her glittery fairy dust around the word or watching a shooting star. In other words, it's magical. The electronics are smart and well thought-out to produce optimal dance music. At the same time, there are some earthy tones that create a nice balance and add some romanticism. The live show should be a stunning sight.
SEE ALSO: SWEDISH ARTISTS & MUSICIANS
Admiral Fallow (Scotland)
Saturday, October 6 – 10:30pm @ Taix Champagne Room
Admiral Fallow is one of those groups that seem unsuspecting at first, but then end up blowing your mind. The Glasgow five-piece has a grandiose indie pop sound incorporating dulcet piano melodies, flute, clarinet and glorious group singing.
SEE ALSO: UNITED KINGDOM MUSICIANS
Pageants (USA)
Saturday, October 6 – 9:30pm @ Echo Park United Methodist Church
Simply put, this Los Angeles duo is just lovely. While the songs are soft and a bit fuzzy, the band really turns heads with its spell-bounding vocals and floating melodies. Pageants is a nice dose of dream pop that is not pretentious.
DIIV (USA)
Sunday, October 7th – 6:00pm @ Red Bull Soundstage
DIIV make music that you'd expect from a band on Captured Tracks, and considering that the band was started by Zachary Cole Smith, who plays guitar in Beach Fossils, the hazy songs make sense. However, the song compositions carry a tempo kick that makes the band stand out and engages listeners a bit more than most bands of this genre. Instead of sticking to an aesthetic that seems completely worn out, the music has a touch of sunshine and crispness, sort of like the moment on a foggy day when the fog starts to dissolve.
Ω