Decibel Festival Lineup 2012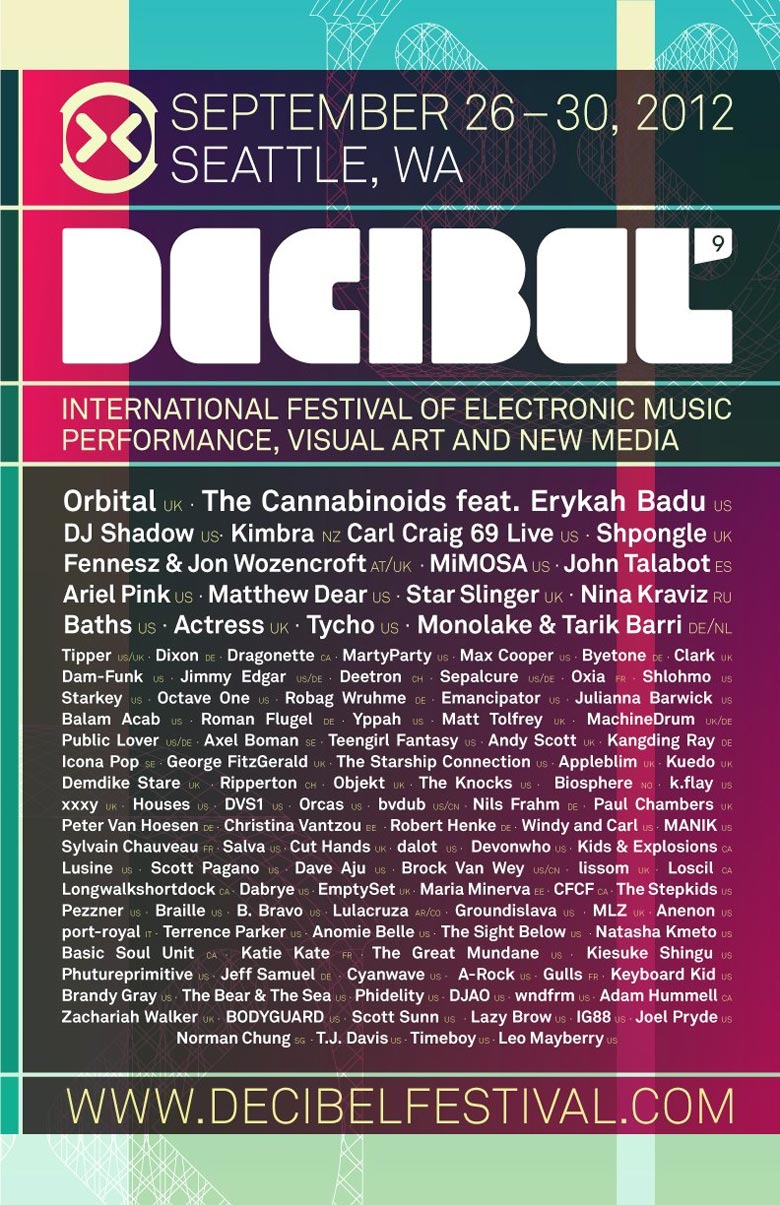 dB Films 1: Jean Rollin's La Vampire Nue Live Re-Scoring by Demdike Stare
Wednesday, September 26th: 5:30pm – 7:30pm @ Broadway Performance Hall
When Jean Rollin's 1970 bizarre erotic horror film gets re-scored by the unsettling sounds of Demdike Stare. These visual snippets alone should be enough to convince you that its guaranteed to be an amazing and tripped-out affair. – VIVIAN HUA
Optical 1: Ghosts In The Shadows
Wednesday, September 26th: 5:30pm – 9:30pm @ The Triple Door
The first Optical showcase focuses on ambient soundscapes and recruited from all over the globe, bringing together German artists Robert Henke (aka Monolake), American artist Brock Van Wey and Greek artist Dalot. Each artist plays in the same field but approaches their art in a different way and should be a great intro into the showcase.
dB Films 2: Fennesz + Wozencroft – "Liquid Music"
Thursday, September 27th: 5:30pm – 7:30pm @ Broadway Performance Hall
Christian Fennesz and Jon Wozencraft perform an audiovisual collaboration, involving footage from various cities around Europe that explore the space bewee digital and analog film resolutions. Includes a Q&A to follow. – VIVIAN HUA
Optical 2: Ascension
Thursday, September 27th: 5:30pm – 10:00pm @ The Triple Door
Ascension focuses on artists who are making ambient and electronica music by manipulating traditional instruments in bizarre and interesting ways. Brooklyn artist Julianna Barwick brings her gorgeous vocal loops to the forefront of pop music to create a uniquely listenable brand of music. She is joined by Estonian artist Maria Minerva, who combines psychedelics and lo-fi into a mish-mash of distorted pop tunes. – PETER WOODBURN
Optical 3: Touch.30
Friday, September 28th: 7:00pm – 10:00pm @ Broadway Performance Hall
Friday is a celebration of the 30th anniversary of British audiovisual and publishing company Touch, one of the oldest independent music publishers in the UK. It all starts with Biosphere, aka Geir Jenssen, whose album Substrata is considered one of the ambient genre's key recordings. He will present selections from his album N-Plants – an album that explored the vulnerabilities of Japanese nuclear power facilities. Rafael Anton Irisarri will follow under the moniker of The Sight Below, to present a special live A/V performace commissioned by Touch. – PETER WOODBURN
Optical 4: Discreet Tones
Saturday, September 29th: 6:00pm – 9:45pm @ Broadway Performance Hall
Discreet Tones explores the realm of modern classical and minimalism in the realm of ambient and experimental sound. Modern composers from across the world will sit down and perform their works, with highlights of Slyian Chauveau premiering a new piece titled "The Metaphysical Basis of Wabi Sabi." Irisarri will play under his moniker of Orcas, a duo including Portland artist Benoit Pioulard which pulls from their minimalist craft into a more pop-oriented structure. CFCF will follow with his recently classically-inspired take on indie electronic music, and it will all be closed out by German pianist Nils Frahm, who has quickly risen in the ranks of the modern classical music. Nils Frahm will also be playing in Portland on September 30th, at Classic Pianos. – PETER WOODBURN
Optical 5: Undercurrent
Sunday, September 30th: 5:30pm – 9:30pm @ The Triple Door
The final Optical showcase features three artists from one of the more influential experimental labels in America, Kranky Records. Headlining the night will be Vancouver-based composer Scott Morgan aka Loscil, who uses custom-made sequencers and live instrumentation to make droning ambient loops. He will be joined by Space-rockers Windy & Carl and composer Christina Vantzou. – PETER WOODBURN
---
Showcase & One-Off Picks
Warp Records Showcase
WEDNESDAY, SEPTEMBER 26TH: 9:00pm – 1:30am @ The Crocodile
(SEE ALL POSTS RELATED TO WARP RECORDS)
UK producer and musician Clark has released two excellent albums this year — the aggressive Iradelphic and the dancier Fantasm Planes EP, both of which showcase his ability to showcase through sonic terrain's like nobody's business. Machinedrum and Jimmy Edgar join him for a Warp Records showcase that will have you tumbling round in your own body, impressed by the technical know-how and diversity of their ever-reliable roster. – VIVIAN HUA
Clark – "MFB Skank" – DOWNLOAD MP3
[audio:/mp3/downloads/Clark_MFB-Skank.mp3|titles=Clark – MFB Skank]
dB DnB Showcase
Wednesday, September 26th: 9:00pm – 2:00am @ The Baltic Room
Drum n' bass get its Decibel Fest due with some liquid drum n' bass headliners Bachelors Of Science and a platoon of local acts, mostly repped by Onset, including Demo, Grym, and Homemade Weapons. It's not exactly the most expansive or outwards-pushing showcase at Decibel, but it will provide a good change of pace for a genre that's ever-fluctuating in popularity. – VIVIAN HUA
dB in Dub
Wednesday, September 26th: 9:00pm – 1:30pm @ Neumo's
One can find serenity or loneliness in the emotional washes of bvdub or the watery and gritty underground experiments of Cyanwave and Monolake (in his second performance of the day). Monolake, aka Robert Henke, also plays in Portland on September 23rd, with a multi-channel performance. – VIVIAN HUA
Orbital
Thursday, September 27th: 8:00pm – 11:15pm @ The Paramount Theatre
The electronic music world is abuzz with talk of Orbital's return to the music scene. This U.S. tour will be their first since 2001, and the brothers' busy-minded musical style, which runs through every subgenre imaginable, will provide a dizzying and dynamic experience. They play with Paul Chambers at one of the finest and most beautiful venues in Seattle, the Paramount Theatre, and repeat the experience the next evening in Portland at the unfortunately less aesthetically impressive Roseland Theater. – VIVIAN HUA
Surefire Presents
Thursday, September 27th: 9:00pm – 1:30pm @ The Baltic Room
Techno and garage get their dual-pronged love from the well-reputed Objekt, and Manchester's xxxy turns everything into a soulful dance affair full of fun and hyper-actualized vocal loops. Kuedo opens what will be an intense night of dance. – VIVIAN HUA
Modern Love Showcase
Thursday, September 27th: 10:00pm – 2:00am @ Melrose Market Studios
Demdike Stare pull double Decibel Festival duty by screening a film on Wednesday and playing a regular set of bizarre and sketchy sounds on Thursday for their label's showcase. MILES (MLZ) and Cut Hands open; Andy Stott closes out the night by expanding on Demdike Stare's set with more droning experimental darkness. – VIVIAN HUA
Shpongle
Thursday, September 27th: 8:00pm – 11:00pm @ The Neptune Theatre
Friday, September 28th: 8:00pm – 11:00pm @ The Neptune Theatre
On tour with a full band, the highly psychedelic and openly psychedelic Shpongle graces Seattle with two nights in a row of hallucinatory visual displays and swirling, hypnotic sounds that draw influence from all over the world. Day one is with Phutureprimitive, day two with Phidelity (PH's replacing F's are apparently in vogue with Shpongle's openers). – VIVIAN HUA
Cerebral Vortex
Saturday, September 28th: 9:00pm – 1:30am @ Neumos
Max Cooper has a PhD in computational biology — whatever that means — and applies complex rhythms and vocal melodies to his techno experience. If his music videos are any indication, this is a multi-talented man with good taste on all fronts. He is backed by Roman Flugel and Matt Tolfrey. The event is presented by Dimensions Festival, which definitely shares some overlap with Decibel; it is a multi-day event in Croatia that also has boat parties and features some of the best in underground and up-and-coming music.
Pioneers Of Rhythm
Saturday, September 28th: 9:00pm – 1:30am @ Showbox SoDo
Featuring tried-and-true performers DJ Shadow and Bonobo, and Portland's diverse Eprom, this event is kind of a no-brainer if you're willing to stomach the worst venue in town.
dB Finale
Sunday, September 29th: 9:00pm – 1:30am @ Neumos
Decibel Festival closes out with a showcase that features the Pacific Northwest debut of Spanish producer and remix wizard John Talabot, who performs with vocalist Pional in tow. He performs with Pezzner and Bruno Pronsato in this hand-picked showcase of Decibel-approved debuts.
---
Decibel Festival Conferences
2012 dB Conference Presented by Windows
Conference Picks
All conferences take place at Broadway Performance Hall. Our choices for the 2012 Conference events focus heavily on the cross-disciplinary, emerging technologies, and panels which directly involve audience participation.
Space Palette and More
Creating controllers for the Kinect With Tim Thompson
WEDNESDAY, SEPTEMBER 26TH @ 2:00PM
Tim Thompson describes his history of interactive installations at Burning Man, using a variety of controllers in unique interfaces aimed at both musicians and non-musicians. His most recent work is the Space Palette, which uses the Microsoft Kinect to provide three-dimensional multitouch mousepads in mid-air. Recent experiences with and technical details of the Space Palette will be discussed, and it will be available for people to play with after the talk. See it in action in the video below.
Sounds, Spaces & Machines
With Robert Henke (Monolake / Ableton)
WEDNESDAY, SEPTEMBER 26TH @ 3:15PM
Artistic practice building machines, performing in concerts, developing installations and recording music are all part of the same creative process for Robert. In this talk, we go over his specific approach and how it relates to the results he achieves. We'll delve into topics such as what to do in a world full of interesting subjects; how to differentiate between the art one truly wants to do and the divergent courses. He'll also talk to us about his upcoming large scale audiovisual installation "Fragile Territories" which will take place in Nantes, France, from November 2012 to January 2013, bringing us examples of his work method and its result.
Versum And Realtime 3D A/V Composition
With Tarik Barri (Versum)
WEDNESDAY, SEPTEMBER 26TH @ 4:15PM
Session description TBA.
Mapping, Lighting & Visuals Roundtable
With Adam Hummell (Moment Factory), TJ Davis (Lux Collective), Joel Pryde (Stimulant, traxPad), More TBA)
WEDNESDAY, SEPTEMBER 26TH @ 5:00PM
Session description TBA.
Behind The Scenes Of Crowdfunding: A Look At A Successful Music Campaign
With Brad Loomis
THURSDAY, SEPTEMBER 27TH @ 2:00PM
What's the secret sauce to crowfunding successfully? What are the lessons learned after having launched campaigns? In this session, Brad Loomis joins us to discuss the funding of his EP entitled "Resonance" which was primarily supported through Indiegogo. Brad takes us from the top and explains the whys, hows and "what you should know" about crowdfunding.
Live – Resident Advisor Exchange
With Todd Burns and guest Orbital
THURSDAY, SEPTEMBER 27TH @ 4:00PM
Join Todd Burns with legendary duo Orbital for a live recording of this Resident Advisor Exchange. The weekly RA Exchange is a series of conversations with artists, labels and promoters shaping the electronic music landscape. Recorded in front of a live festival audience at the festival, the interviewees—all Decibel Festival artists—will share their thoughts, opinions and feelings around topical subject surrounding the music they play today.
Getting Coverage In Media, Festivals And Retail Outlets Roundtable Discussion
w/ Alain Mongeau (Mutek), Dave Segal (The Stranger), Shawn Reynaldo (XLR8R), Andrew Ryce (Resident Advisor), Rachel Gibbs (Victoria Secret), Darek Mazzone (KEXP)
Friday, September 28th @ 12:00pm
You want their love, their attention, their rave reviews. What's it like on the other side of the table? In this panel discussion, members of music media, retail giants and music festivals reveal what gets them up in the morning, what they look for in a story, and what turns them off.
Demystifying Max for Live
With Synnack & Jennifer McClain
FRIDAY, SEPTEMBER 28TH @ 1:30PM
Musical innovators have always sought new ways of making unique, personal sounds. Today's most creative computer musicians are pushing the boundaries with Max for Live, turning Ableton Live into their own customized instrument. Decibel 2012 hosts a unique lecture and demonstration of Ableton Inc's "Max for Live" by Clint Sand and video collaborator, Jennifer McClain. Clint is the creator and host of the largest free Max for Live device sharing platform at Maxforlive.com and is an Ableton sponsored artist (see Electronic Polymath: http://www.ableton.com/clint-sand) who performs under the name "synnack". The session will cover the basic use of Max for Live for beginners, as well as a demonstraton of more advanced Max for Live integration with a custom VJ system written in Max/Jitter for more experienced users. Following the set, McClain and Sand will present a a full technical breakdown and discussion of how the audio/visual demonstration was made. Every device, every patch, exposed. Information on the collaboration can be found at www.0xf8studios.com and www.synnack.com.
Mirroring Nature with Music
Sound Composition using Ableton Live With Luis Maurette
FRIDAY, SEPTEMBER 28TH @ 4:00PM
Mirroring Nature with Music is a beginning and/or intermediate level workshop that will use loop-based software music sequencer "Ableton Live" to understand the connection of nature and music. We will learn a series of audio manipulation techniques to create sonic landscapes. We will start with acoustic sound and learn ways in which electronic processing can be used to expand, change, and re-create sound. We will listen to and process field recordings to explore the places they are able to evoke. We will be introduced to computer-generated rhythmic and textural material to broaden our sound world. We will explore and discuss naturally occurring acoustic phenomena and its applications in music. Participants will gain basic knowledge of "Ableton Live", as well as expand their concepts of sound, music, space, place, silence and nature. Participants will be invited to explore new ways of engaging their creative process. All levels welcome.
Full schedule and program descriptions can be seen on the Decibel Festival website.
---
Decibel Festival After-Hours Parties
Thursday, September 27
dB + Resident Advisor After Hours presented by Ostgut Ton
Jon McMillion – 2:30AM
Peter Van Hoesen – 3:30AM
DVS1 – 5:30AM
Re-Bar : 1114 Howell St
Doors: 2:30AM / 21+
Adv. Tickets / $30 at the door / NOT INCLUDED WITH DB PASS
RED EYE After hours presented by dB + Innerflight
Objekt
Longwalkshortdock
Halo Refuser
PotatoFinger
+ VERY special guest
Q : 1426 Broadway
Doors: 1:30AM / 21+
$20 at the door / NOT INCLUDED WITH DB PASS
Friday, September 28
Red Bull Music Academy After Hours
Justice & Treasure – 2:00AM
DJ Lo Down Loretta Brown aka Erykah Badu – 3:30AM
B. Bravo – 5:00AM
Q : 1426 Broadway
Doors: 2:00AM / 21+
Adv. Tickets / $25 at the door / NOT INCLUDED WITH DB PASS
dB + Resident Advisor After Hours presented by As You Like It
Brian Bejarano – 2:30AM
Pezzner – 3:30AM
Dixon – 4:30AM
Re-Bar : 1114 Howell St
Doors: 2:30AM / 21+
Adv. Tickets / $30 at the door / NOT INCLUDED WITH DB PASS
dB + Icee Hot After Hours
Shawn Reynaldo, Rollie Fingers and Ghosts on Tape – 2:30am
xxxy – 4:00AM
Terrence Parker – 5:00AM
Melrose Market Studios : 1532 Minor Ave
Doors: 2:30AM / 21+
Adv. Tickets / $20 at the door / NOT INCLUDED WITH DB PASS
Saturday, September 29
dB + Resident Advisor After Hours
Bruno Pronsato – 2:30AM
Matt Tolfrey – 4:30AM
Re-Bar : 1114 Howell St
Doors: 2:30AM / 21+
Adv. Tickets / $20 at the door / NOT INCLUDED WITH DB PASS
Red Bull Music Academy + High & Tight After Hours
Roman Flugel – 2:00AM
Beautiful Swimmers – 4:30AM
Q : 1426 Broadway
Doors: 2:00AM / 21+
Adv. Tickets / $20 at the door / NOT INCLUDED WITH DB PASS
---
Decibel Festival Boat Parties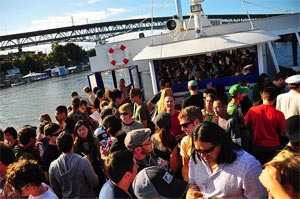 Thursday September 27
Dimensions and Decibel present
Star Slinger // Jimmy Edgar // Appleblim
The Islander // Doors at 1:30PM Boat Leaves at 2:30 // 21+
SEE FULL DETAILS
Friday September 28
Surefire and Decibel present
EPROM // Starkey // B. Bravo // Ginz // Danny Corn // Tyler Tastemaker
The Islander // Doors at 1:30PM Boat Leaves at 2:30 // 21+
SEE FULL DETAILS
Saturday September 29
Future Funk H2O
Ripperton // J. Alvarez // Doza // Ramiro // Jeromy Nail // Deepvibez
The Islander // Doors at 1:30PM Boat Leaves at 2:30 // 21+
SEE FULL DETAILS
Sunday September 30
Alga-Rhythms & Decibel present
Axel Boman // M A N I K // The Perfect Cyn & Tyler Morrison
The Islander // Doors at 1:30PM Boat Leaves at 2:30 // 21+
SEE FULL DETAILS
Ω