29 Jul

Multicultural Sounds: Ojos De Brujo And Niyaz Draw From Middle-Eastern, Indian, Latin Influences

Multicultural Sounds

travels the world for contemporary reinventions of cultural staples. Spain's Grammy-winning

Ojos De Brujo

tackle every genre under the sun in their remix album, and Montreal/Los Angeles by-way-of Iran's

Niyaz

talk humanitarian ideas on their latest,

Sumud

.
Ojos De Brujo
Barcelona's Ojos De Brujo (aka Eyes Of A Warlock/Sorceror in English), certainly know how to release a multicultural slaw of dub, electronica, tropical, ragga, everything, and more of everything. Antagonistic male rapping cuts into female vocals singing Spanish with a Middle Eastern warble and flair; dubstep takes over with stereotypical wobbles at times, only to fall into ragga beats; tropical rhythms and flamenco influences creep in until all things are indistinguishable and challenging. This is global dance music at some of its best, and it's a pleasing surprise Ojos De Brujo are a Grammy-winning act.
At right, stream the equally Latin and Indian-influenced "Todo Tiende", remixed by Los Chicos Altos, and watch the animated music video of the original. See full post for a megamix of their entire remix album (which is well worth it to dive into!)
Ojos De Brujo – "Todo Tiende" (Original)

Ojos De Brujo (cont'd)
Niyaz
Niyaz (نياز), meaning "yearning" in Persian and Urdu, is an Iranian musical trio now based in Montreal and Los Angeles. Middle Eastern roots proliferate here, not only in ecstasy on the instrumental front, but on the thematic front as well. The trio's lyrical inspiration for their third album, Sumud, was affected by touring conflict-strewn areas in the Midle East.
Describes Ali, "We've performed in the Kurdish parts of Turkey during times of major conflicts, as well as other parts of the Middle East. Obviously that has affected this project. We wanted to focus on the ethnic and religious minority groups in these regions, because they have really struggled to maintain their identity. It started from us wanting to tell our story, and it has evolved into this humanitarian social message, embracing regions around Iran.'
More on this band to come, but first, enjoy the music video from their album single, "Parishaan", directed by Johnny Ranger. The MP3 can be downloaded on their Bandcamp HERE.
Ω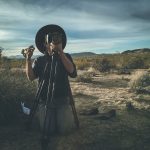 Vivian Hua 華婷婷 is a writer, filmmaker, and organizer. As the Executive Director of Northwest Film Forum in Seattle and Editor-in-Chief of the interdisciplinary arts publication, REDEFINE, much of her work unifies her metaphysical interests with her belief that art can positively transform the self and society. She regularly shares human-centered stories through her storytelling newsletter, RAMBLIN' WITH VEE! In 2020, she will [hopefully] begin production on a comedic Asian-American series entitled Reckless Spirits.
Ask Vivian about MARSHMALLOWS, cuz she's gross... and being tips for being frugal while nomading!