01 Mar

Top Pops! Hunting Club + TOPS MP3 Downloads & Streams

"Pop music shouldn't always get a bad rap," says

Top Pops!

, a recurring selection of pop music highlights across a selection of styles.
Hunting Club
Using only cascading drums, drawn-out synths, and extremely minimal pop vocals, Hunting Club don't need much to stick a pop song straight into your heart-brain. Their latest single, "Skyscraper," comes from their sophomore effort, St., which will be released in May. Look closely for the previews they will be posting up until then. You can also stream their other releases on their BandCamp, and they are definitely REDEFINE-approved.
TOPS
Montreal-based band TOPS recently released their debut album Tender Opposites on Arbutus Records, and the eight-track record has some of the catchier female-led pop rock I've heard in a while. To add weight to the release, Arbutus Records has given permission to tried-and-true French label Atelier Ciseaux (who were kind enough to craft us this label mixtape around this time last year) to co-release Tender Opposites on tape. The tape release is limited to 80 copies in Europe and the UK only. Below, you can hear generously stream four tracks from the release (three on SoundCloud and one on YouTube), as well as see the tracklisting and where you can catch them live in the upcoming months. SXSW 2012 included!
"Rings Of Saturn"
TENDER OPPOSITES TRACKLISTING
Side A
Evening
Diamond Look
VII Babies
Double Vision
Side B
Go Away
Turn Your Love Around
Rings Of Saturn
TOPS Theme
TOPS TOUR DATES SPRING 2012
March 1st | Montreal QC | Il Motore | with Mozart's Sister, Steve J.R.
March 2nd | Boston, MA | What We Talk About | with Saralee, BDRM Eyes, Hands and Knees
March 3rd | Brooklyn, NY | 285 Kent | Caged Animals, Special Guest, Phonetag
March 6th | Philadelphia, PA | No Space | with Point Reyes and Totally Super Pregnant
March 7th | Washington DC | TBA | with Hume
March 8th | Savannah, GA | Stopover Festival
March 9th | Gainesville, FL | The Laboratory | with Jovian Junction Orchestra, Michael Collins, Sunflower Pagallo
March 10th | Orlando, FL | Orange You Glad Festival
March 11th | New Orleans, LA | Foburg Festival
March 12th | Shreveport, LA | Minicine
March 14th | Austin, TX | Club 1808 | SXSW Music Festival
March 15th | Austin, TX | The Spill | POP Montreal Day Show
March 15th | Austin, TX | Venue TBA | Portals Music Showcase at SXSW
March 16th | Austin, TX | Hotel Vegas | POP Montreal Showcase at SXSW
March 19th | Marfa, TX | El Cosmico
March 20th | Phoenix, AZ | The Trunk Space | with Ganglians and G Greene
March 21st | San Diego, CA | The Tin Can Ale House | with Alameda, You Me & Apollo, Pree
March 23rd | Los Angeles, CA | The Echo | with Howler
March 24th | San Francisco, CA | The Sub
March 25th | Oakland, CA | Venue TBA | with Majical Cloudz
March 26th | Sacramento, CA | TBA
March 27th | Portland, OR | Holocene | with Charles Berlitz presents the Garnet Tucan
March 28th | Seattle, WA | The Institute of Living | with Lights from Space
March 29th | Vancouver, BC | Five Sixty | with Teen Daze
March 30th | Kelowna, BC | Fernando's Taqueria | with Little Jungles
March 31st | Calgary AB | Tubby Dog | with The Pygmies (CD release) and The Fags (ex-Sharp Ends)
April 1st | Edmonton, AB | Wunderbar | with Brazilian Money
April 3rd | Saskatoon, SK | Amigo's | with Feral Children
April 4th | Winnipeg, MB | Lo Pub
April 5th | Fargo ND | TBA
April 6th | Minneapolis, MN | Cause Spirits and Sound Bar | What Tyrants
April 7th | Chicago, IL TBA
April 8th | Indianapolis, IN | Melody Inn
April 9th | Cincinnati, OH | TBA
April 10th | Detroit, MI | TBA
April 11th | Guelph, ON | e Bar | with Cadence Weapon
April 12th | Toronto, ON | TBA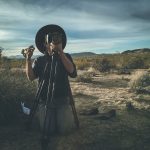 Vivian Hua 華婷婷 is a writer, filmmaker, and organizer. As the Executive Director of Northwest Film Forum in Seattle and Editor-in-Chief of the interdisciplinary arts publication, REDEFINE, much of her work unifies her metaphysical interests with her belief that art can positively transform the self and society. She regularly shares human-centered stories through her storytelling newsletter, RAMBLIN' WITH VEE! In 2020, she will [hopefully] begin production on a comedic Asian-American series entitled Reckless Spirits.
Ask Vivian about MARSHMALLOWS, cuz she's gross... and being tips for being frugal while nomading!