18 Feb

Christopher Mir Makes Chicken Scratch Enticing.

The childish use of color and scraggly linework of Hamden, Connecticut-based artist

Christopher Mir

are misleading; if these works strike you as digital MS Paint drawings made by a youngster, you'd be dead wrong. Herein lies the most well-rendered chicken scratch you've ever seen, set down with acrylic paints and enamel, and full of fascinating characters, unusual settings, and off-kilter subject matter.

In the full post, Mir offers some words about the inspiration behind a select number of pieces. Despite their simple and straight-forward presentations, Mir's inspiration is often rooted in current events and older artistic works, as well as symbolic and esoteric knowledge.

(9 IMAGES TOTAL)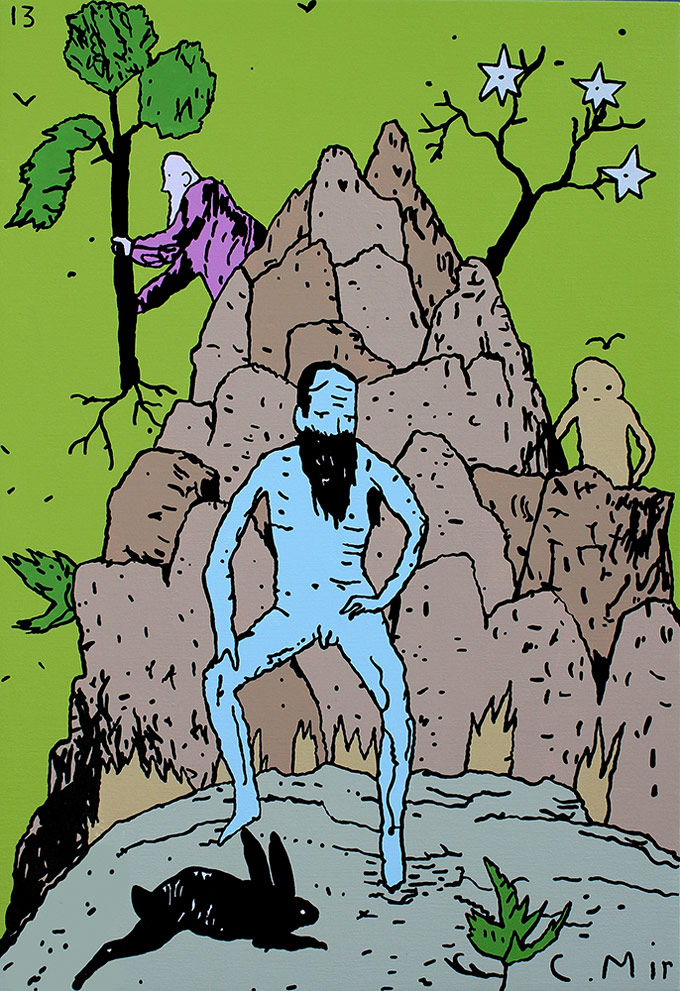 The Alchemist
"This is based on an image from a book called Alchemy and Mysticism. In the original work — from the 17th century I believe — the man in the foreground isn't blue, but in the painting I wanted to make him into a Krishna figure or a water being. He's there to water the trees and put out the fire. The entire image is open to interpretation, but in my mind, the symbol of the tree refers to our own feeling of being grounded — rooted within the body — or of being uprooted — lost in thought or egoistic delusion."
Mir currently has a solo show at
Benrimon Contemporary
in NYC (514 West 24th Street, 2nd Floor) through February 23rd and another next month at
TMproject
in Geneva, Switzerland (2, rue des Vieux-Grenadiers).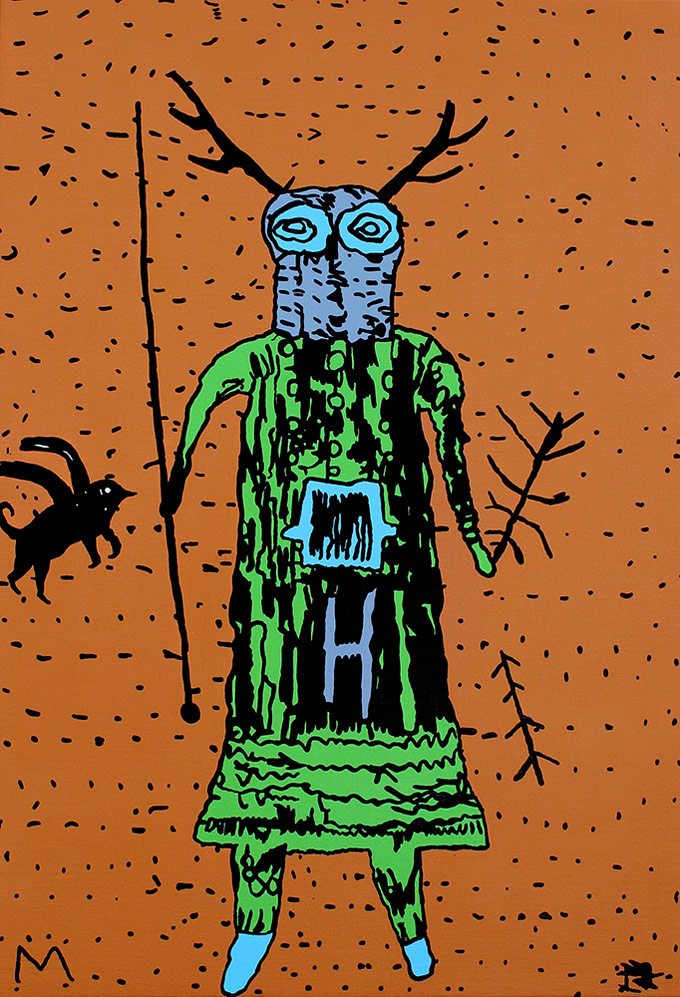 Shaman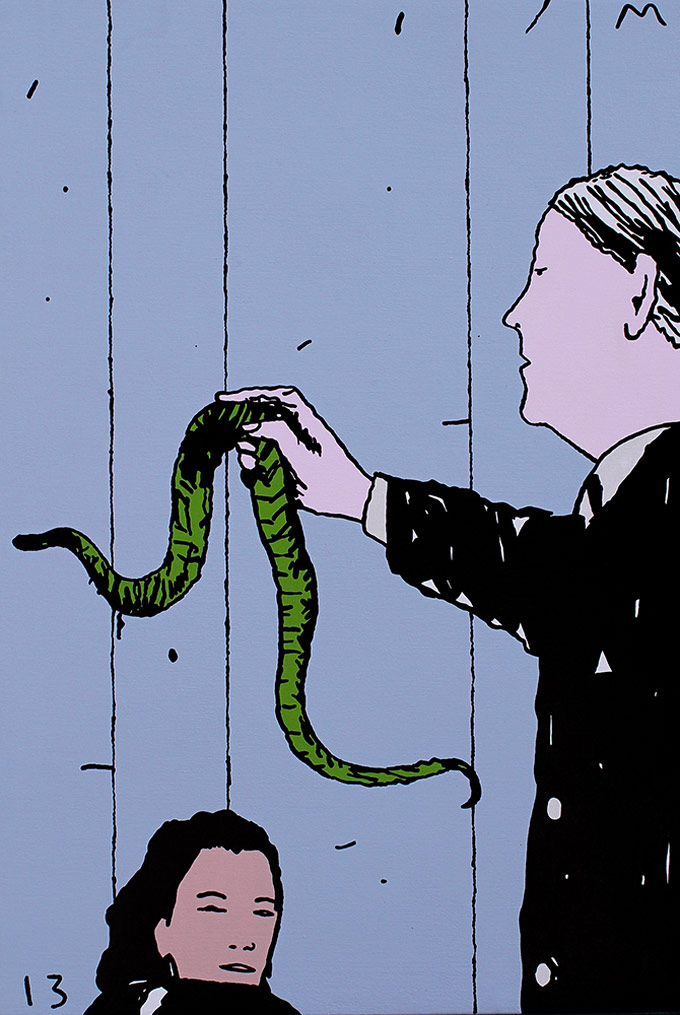 Snake Handler
"Some Southern Baptists use snake handling as part of their religious practice. My family on my mother's side are Southern Baptists, and I like to work with images that relate to this aspect of my heritage. I also see this image in particular as a symbolic representation of male dominance and/or arrogance. The fact is that we are all female. Males are a mutant version of the female body template."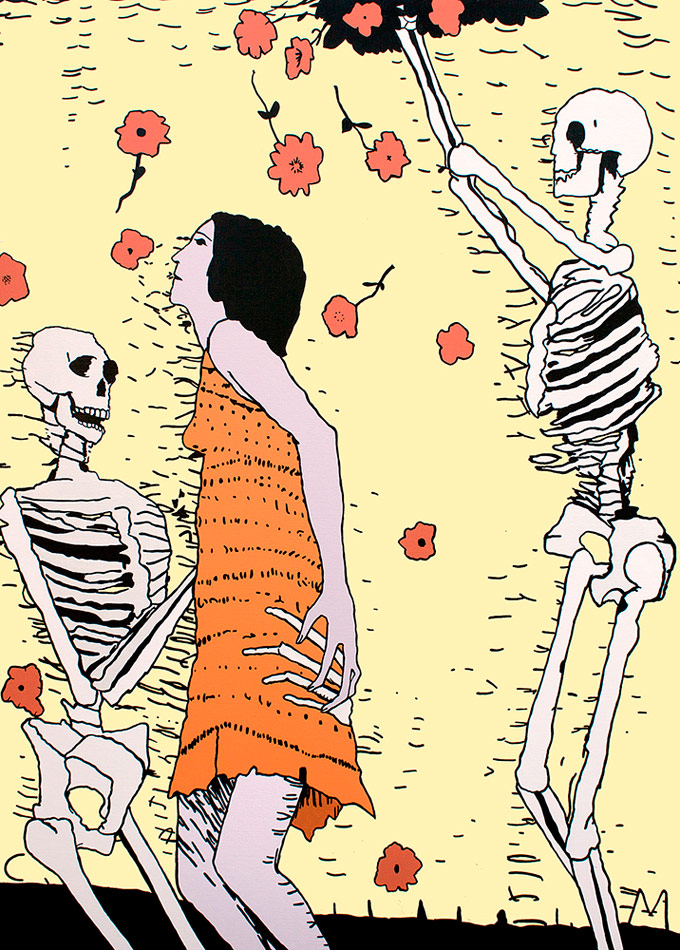 Wedding Day
"This reminds me of Crazy Cloud (Ikkyu) who wrote a cycle of poems called "Skeletons" in which the world is populated with living skeletons. It is a profound meditation on impermanence and death. It is also not unlike the many "Death and the Maiden" images that Edvard Munch produced."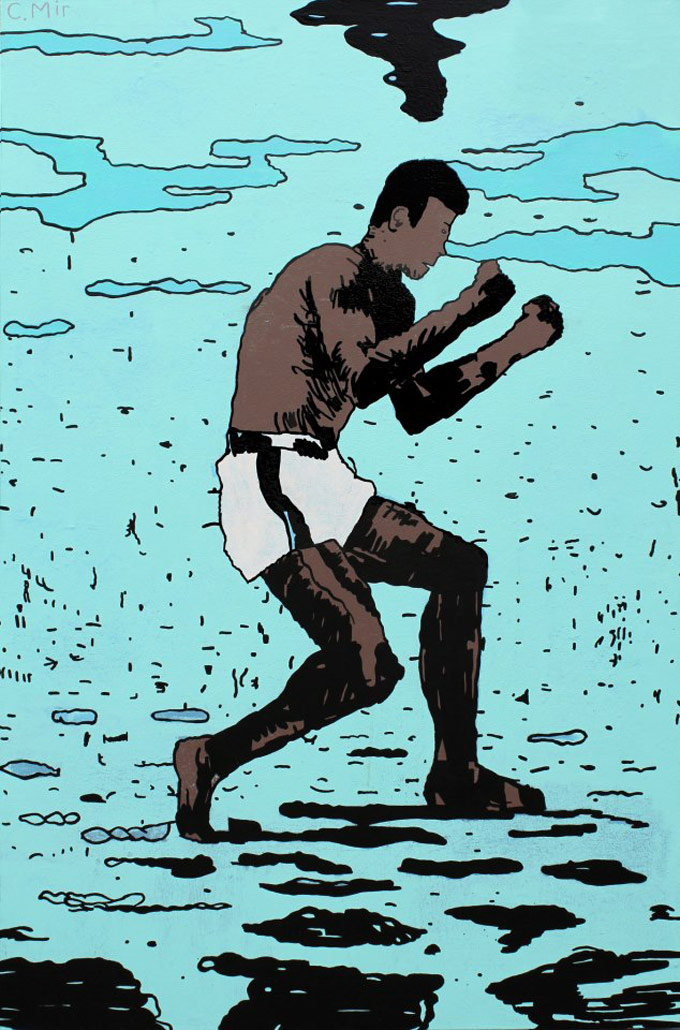 Underwater Ali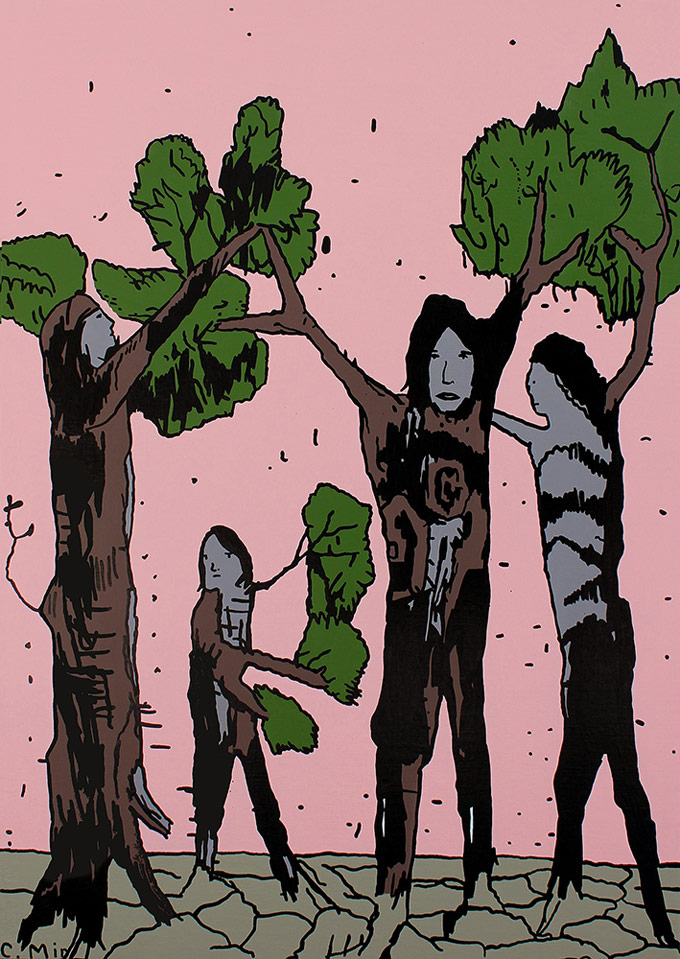 Family of Trees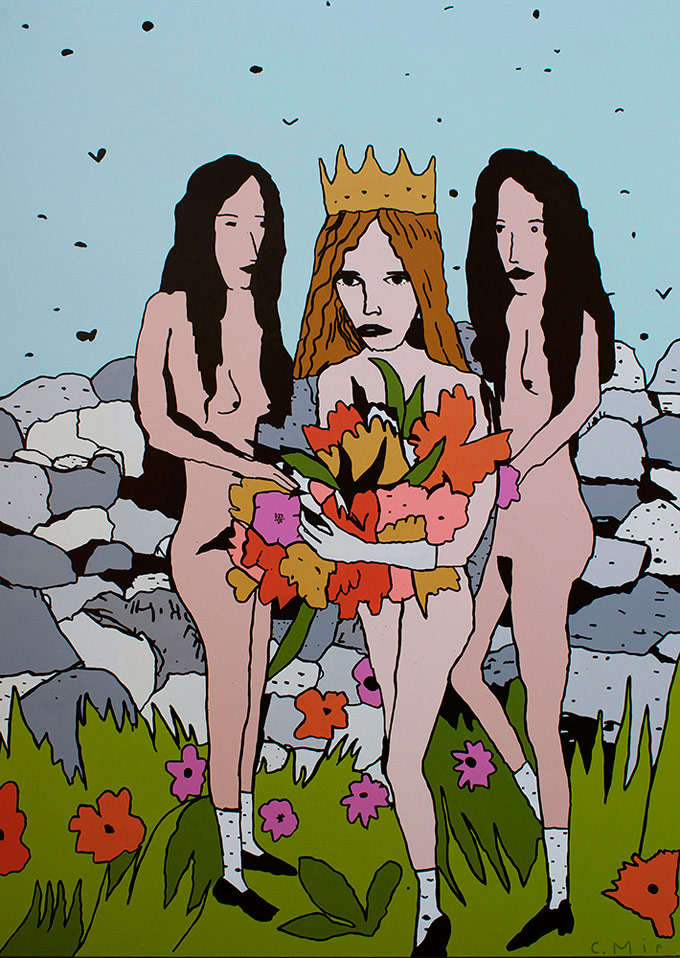 Miss Multiverse
"This painting is based on an Ellis Ruley painting. I was thinking about the Persephone myth as it relates to creativity. So in this case Persephone is a beauty queen with attendants. My reading of the myth: one needs a degree of innocence and childlike wonderment in order to make art that really connects with people and sustains itself."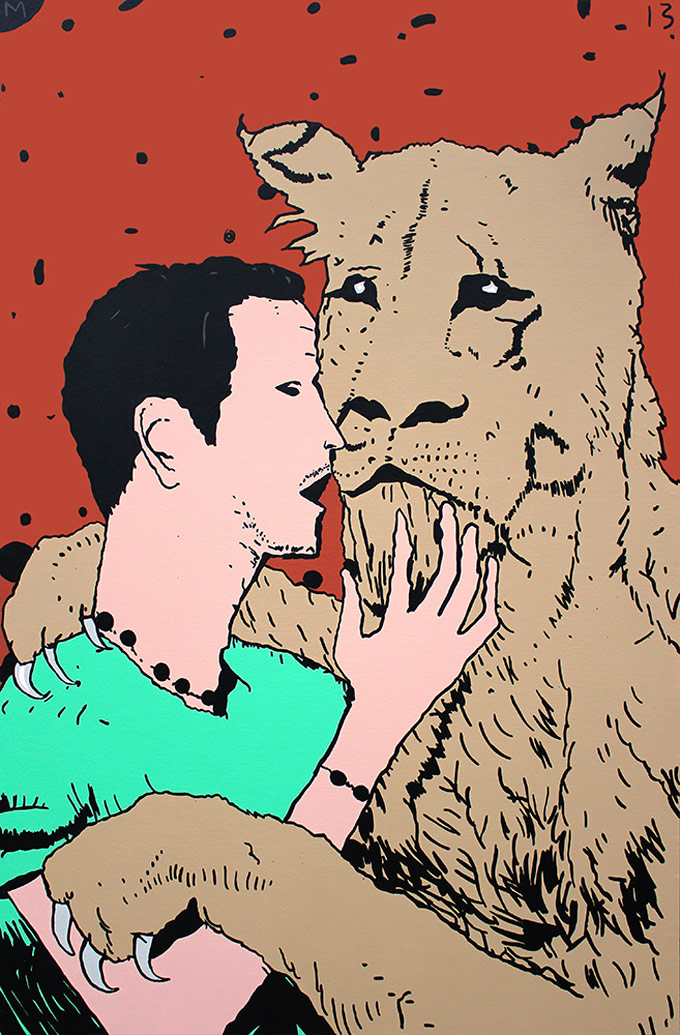 Just Between You and Me
"This is a painting of Kevin Richardson embracing a lion. Kevin is a South African animal behaviorist who has been accepted into a lion pride. I got the image as a screen capture from an Associated Press video on line. Coming to terms with our own animal nature — or how we are or are not a part of that nature — is a recurring theme for me."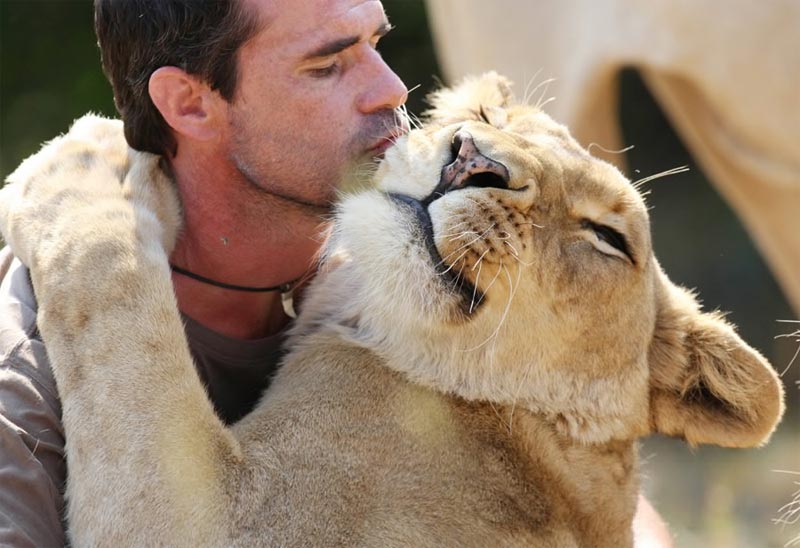 Not one of Mir's works. 🙂
Ω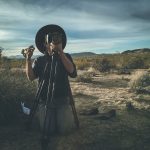 Vivian Hua 華婷婷 is a writer, filmmaker, and organizer. As the Executive Director of Northwest Film Forum in Seattle and Editor-in-Chief of the interdisciplinary arts publication, REDEFINE, much of her work unifies her metaphysical interests with her belief that art can positively transform the self and society. She regularly shares human-centered stories through her storytelling newsletter, RAMBLIN' WITH VEE! In 2020, she will [hopefully] begin production on a comedic Asian-American series entitled Reckless Spirits.
Ask Vivian about MARSHMALLOWS, cuz she's gross... and being tips for being frugal while nomading!