They say that watching a master at work lights up the same regions of the brain as if you were executing the work yourself. That is to say – if you were to watch a tennis champion win Wimbledon with an EKG glued to your temples, it would be as if you were playing tennis yourself. Masters, experts, geniuses… pinnacles of human achievement. They show us what is possible.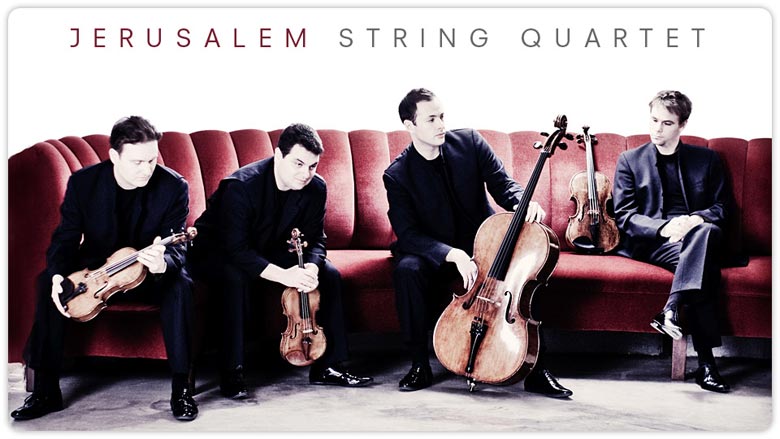 Inspiration is essential in an age of uncertainty, when it seems like we're living at the bottom of a gravity well of despair, where everything is conspiring to dull your shine, to make you docile and easily controllable. When you feel like everything you see and hear is a copy of a copy of a copy, endlessly degraded, it is refreshing to find an unbroken thread of Illumination. Brilliance is not easily marketable.
But then you have the Jerusalem Quartet, that have dedicated their lives to sawing away at wooden boxes stretched taut with catgut. It would be preposterous if it weren't so beautiful. The ambitious young quartet, who has been described by The Strad as "one of the young, yet great quartets of our time," have undertaken to perform all 15 of Dmitri Shostakovich's String Quartets.
March 11th, 2013 @ Lincoln Hall, Portland
Shostakovich's String Quartets are some of his most essential works. Working under Stalin's Totalitarian regime and constantly under the watch of official censor Andrei Zhdanov and other communist officials, he toed the line between subversiveness and loyalty, playing the Party's game while remaining true to his personal vision, literally risking his and his family's life in the process. Today's musicians, enjoying every freedom, would do well to investigate the hardships endured by those throughout history, to put perspective on the world in which we are currently living in.
Shostakovich's String Quartets serve as a window into the composer's inner world, what with his being less closely supervised than the "official" Symphonic works. "Official" works were meant to be patriotic, furthering the glory of Mother Russia. Folk music was preferred; modern dissonance not so much. What we are left with, observing Shostakovich's 15 quartets, is a human being, struggling with adulthood, war, marriage, children, passion, adultery, and ultimately death; an introverted mental explorer with a Master's vocabulary of tone and musical expression. The work is like a cathedral of notes, constructed in mid-air, ageless.
LIVE SHOW REVIEW CONTINUES BELOW

After one of the most arduous postmodern bus commutes of all time, I finally arrived at PSU's Lincoln Recital Hall. I was almost turned back on 8 separate occasions, fighting off illness, worry, and malnutrition, all in an effort to see some world class Russian classical music, gratis. I even wandered into the wrong Lincoln Performance Hall, finding a jazz septet instead of a string quartet. I was further bemused to find my friend Cary Miga thumping away on the stand-up bass, while a saxophone trio churned through some McCoy Tyner tunes. The brass sounded brilliant in the tiny wooden music hall, a random but perfect opener for the main performance.
I found a lady with bells on during intermission, who had saved me a seat, and I was finally able to try and settle in for the second half of the performance.
Just reading reviews of the classical performance will give you an idea of how much fun it can be to listen to and try and decipher Shostakovich's music. In the program notes, the 10th quartet, the first that I saw, is described as "a shadow or a memory", giving way to "a furious march" before coming to rest, "more of a hymn than a lament, this time." There's talk of "a dance done in slippers"; of "soliloquy" and a "crisis point". Intricate mental movies, splayed out across the mind's eye.
The 11th Quartet is where the composer begins to reflect on mortality, after the passing of violinist Vasily Shirinsky, one of the founding members of the Beethoven Quartet, who debuted many of Shostakovich's pieces. The cello is pensive and liturgical, while the violins sounded agonized and confused, before coming to a final peace. It's like the mind coming to grips with loss, after playing itself out to nervous exhaustion. Seven movements, all running into one another as a seamless whole; dissonant, yet melodic. Shostakovich's music, and these quartets in particular, are a great introduction to the world of 20th century classical music, not as abrasive as Stravinsky, whose The Rites Of Spring (Le Sacre du Printemps) is 100 years old this year. Shostakovich worshipped Beethoven and Bach, rich and romantic and melodic while still being challenging and emotionally complex. Getting into Shostakovich may lead you into other composers, such as Bela Bartok's continuation of Slavic traditional music, leading backwards further still into traditional Balkan and Romanian music. It can also prepare you for hearing more discordant fare, like Mahler or Schoenberg. Shostakovich stands at the crossroads, acting as mitigator and translator.
The Jerusalem Quartet were electric, bowing, bobbing, and writhing through 11 movements that were finished before I knew it. There was just enough time for me to wrestle with some personal demons and reach religious ephiphany. Kyril Zlotnikov's cello sang out like a cherrywood Archangel, while the twin violins of Alexander Pavlovsky and Sergei Bresler played the part of a fractured nervous system, passing the details back and forth, in the form of mutated melod. Ori Kam's viola proved to be the passionate pulse of the quartet, patent leather shoes sliding across the floor. The quartet reached an explosive finale, and were rewarded with a much deserved standing ovation!
In this time, classical music is ready for a comeback. The last decade has seen a prevalence of instrumental post-rock, an increased attention to film soundtracks (Shostakovich's music has been featured in over 100 films), scores and sound design. Orchestral flavors have been infiltrating the electronic underground, in the minimalism of Nils Frahm and Olafur Arnalds, the blackened expanses of Deaf Center's soundscapes, the symphonic glitchtronica of Lars Henquist and Apparat. A decade of listening to Nick Cave & Warren Ellis' movie scores, Mogwai and Pelican have perhaps re-acclimated our senses to classical forms. The Jerusalem Quartet have pulled off a remarkable feat, preserving these 15 works, bringing them to life in the 21st century, preserving them from the blankness of extinction.
Ω
This performance was part of the
March Music Moderne
series, a new music series featuring the works of 85 composers from 19 different countries; 32 concerts happening in the month of March, with 12 of them being free! This is MMM's third year, and just goes to show how lucky we are to live in a city that loves ART.
This is going on all month. You can look at the schedule at http://www.marchmusicmoderne.org/wp/schedule/
Show some support! Invite some inspiration and class into your life!
This performance was brought to you by the Friends Of Chamber Music.