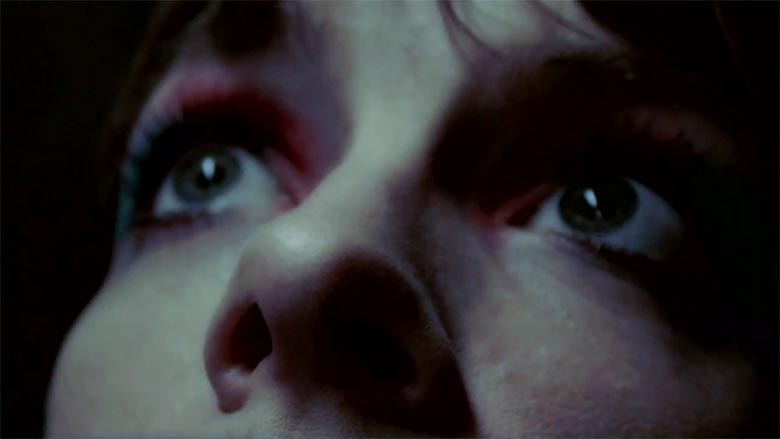 Oakland's
Lumerians
are releasing
The High Frontier
this month, and its first single is the surprisingly female-narrated "Life Without Skin". The track shows Lumerians at their finest, full of subdued control; they roll through different sonic moves and structural movements with ease, without leaving behind the swirling qualities they are so well-known for. Visuals have always been important for Lumerians — who have a projector setup in tow at most of their shows — and this music video, directed by long-time band friend and filmmaking collaborator
Waylon Bacon
, follows "Life Without Skin" as it moves with quickening pace. Quivering and shuddering, th videoe explores Los Angeles' Skid Row late at night, as buildings mutate and mysterious ghouls roam the dingy streets.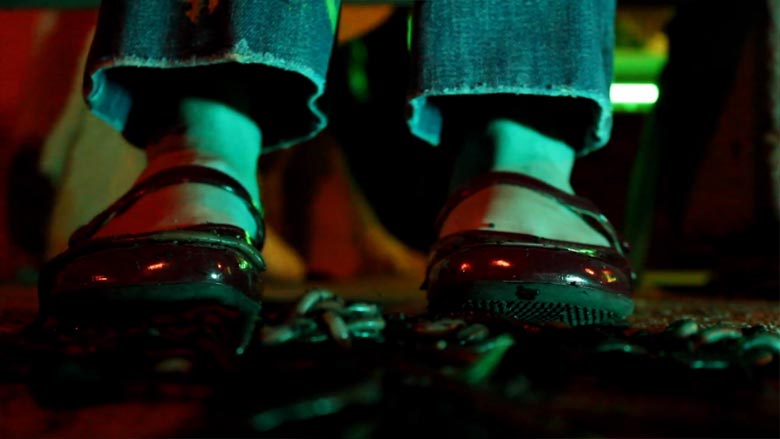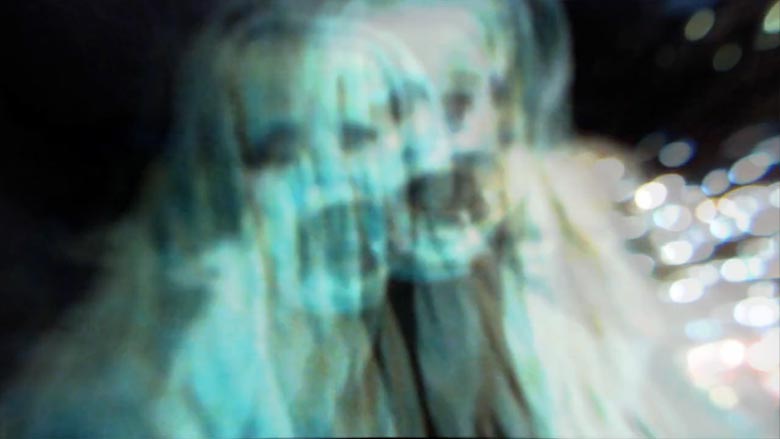 How did your music video collaboration come to form, and how much
dialogue was exchanged in the process?
I've known Lumerians' Jason and Tyler since at least 2004, and later Chris lived around the corner from my apartment in South Berkeley. Tyler helped shoot my first proper short, "Poster Boy", and Jason's done the music, and acted in, almost all of my short films ever since. When I first heard how the Lumerians were developing, I thought there was a possibility for very cinematic music videos. Especially once I heard Transmalinnia. All those guys are big film buffs, and the music struck me as being very visual and dramatic in the ways that I associate with film. When Jason told me they were recording a follow-up, I volunteered myself for whatever song they chose. There was a lot of talk about what the video should be, especially because the first few concepts ended up not working. My initial idea was to have the entire thing take place on the subway car, with green screens on the windows that would have a series of horrifying and trippy images, ala Willy Wonka and his scary boat ride. When this turned out to be impossible financially, my producer Brad Jones suggested having the lead being terrorized throughout downtown Los Angeles. The end result is a combination of the two ideas, but the band and I stayed in contact and exchanged ideas all the way through the final edit, via a group e-mail and a handy Dropbox account.
The music video has both a Halloween-haunted and constantly traveling feel to it. What kind of philosophies or visual inspirations did you have in mind when conceptualizing and creating it?
Halloween is my favorite holiday (maybe I can wear one of the ghoul masks this year…), and I grew up on horror films, so haunted imagery pops up in anything I do. The unique length of the song also figured in, as most songs selected for the music video treatment tend to be around 3 – 4 minutes long, and this was almost seven! So I knew the video would have to be narrative to function visually. Paradoxically, if the narrative was too dramatic, I thought it could cheeseball on me. So I decided on doing a travelogue, first through a series of increasingly terrifying subway cars, and then to a series of different locations in LA's warehouse district. Although the black void scene… constant in all the different drafts… was a bit of a joke; with a limited budget, there was nowhere to go but black space after a while! The other constant was an urban environment: the output of Lumerians' music always makes me think of cities, and I've always wanted to shoot something with an urban slant. And it had to be at night. In fact, the Lumerians make me think specifically of cities at night.
Lumerians – "Life Without Skin" Music Video
The opening subway sequences reminded me of Midnight Meat Train; have you ever seen that film, and was it at all an amusing source of
inspiration? 🙂
The original Clive Barker story is one of my all time favorites, but the film didn't really win me over. I wanted it to be a lot stranger! When we shot the video, I was thinking more in terms of Jacob's Ladder. I saw that when I was a kid, and the subway sequence gave me nightmares for months afterwards. But certainly the strobe effects and contrasting lighting from the subways sequences of [Midnight] Meat Train came about when I was editing together the video. It's ghoulish in an over-the-top sort of way, and that was perfect for letting the audience know right off the bat what kind of video they are in for.
Can you talk a bit about the female narration in the song, and if it influenced the mood of the music video at all?
I was actually quite surprised when I heard the female narration, as the version of the song I had during the shoot and early editing stages didn't contain this. But it helped solve an artistic dilemma of mine: I had wanted the video to be cut against the beat of the song so that the music would be running under of over the video, but not with the video. Now, eventually we did end up cutting to beat, but no matter what you do, that narration is running against both the music AND the visuals. I love that. Also, did you know she's talking about flesh-eating parasites? How perfect.
There are a series of (weirdly adorable) costumed characters found throughout the music video. How did their visual come about, and what, if anything, do they signify?
From the beginning I knew we had to have monsters, and that they should represent death and rot. But I didn't want zombies! I thought they should be bit more fantastical, slightly unrealistic. The real inspiration came from looking at mummies, particularly the ones featured during the credits of [Werner] Herzog's Nosferatu remake. The rags they wear were a bit of Terry Gilliam's Brazil creatures, and the homeless you see down on Skid Row, which was right around the corner from where most of the shoot took place. The masks had to be made out of very crude materials due to budget limitations, so I did them myself with bed foam, duct tape, and liquid latex. None of us were sure they would turn out right, but I thought they looked very appropriate, as on a lot of Italian Horror films the make up was done with similarly crude techniques.
Partisan Records
will release
The High Frontier
on August 27th. The tracklisting is as follows:
LUMERIANS – THE HIGH FRONTIER TRACKLISTING
1. Dogon Genesis
2. High Frontier
3. The Bloom
4. Koman Tong
5. Smokies Tangle
6. Life Without Skin
7. Abudhabijhab (Digital album only)
Music video for "Life without Skin" from the album "The High Frontier"
Directed by Waylon Bacon
Lumerians – "Life Without Skin" Music Video – Full Credits
Ω