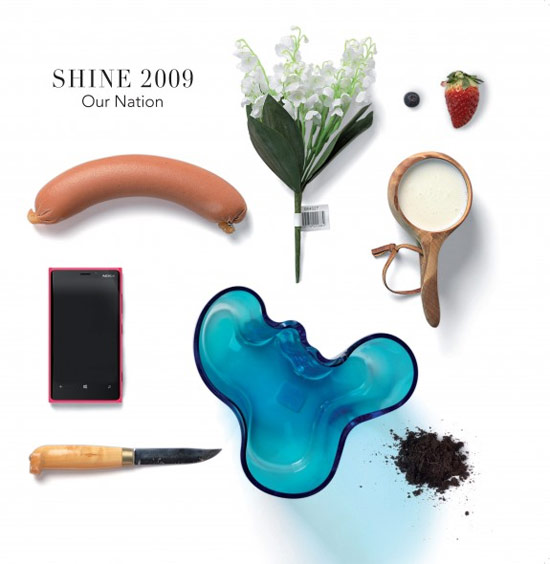 Shine 2009
Our Nation
Cascine / Modular Recordings (2013)
Shine 2009's sophomore LP, Our Nation, is hard to pin down. Through sampling, instrumentation, and lyrics, Mikko Pykäri and Sami Suova, the Finnish duo behind the album, manage to simultaneously evoke spacey lightness and earthly percussiveness, welcomed nostalgia and contemporary immediacy. The effect is strange but infectious. While assimilating us, for example, to the band's stylistic combination of R&B backing vocals and psych synths is no small feat, Our Nation's lyrics and overall cohesiveness may offer something even more lasting.
Our Nation's opening track, "Eurozone", features a pattern of instrumentation that continues throughout the album and contributes largely to its unique character. Echoey bells start off the track, to be joined by ambient, voluminous synth lines. This fluid psychedelic film — made up of atmospheric vocals, sitars, and more on succeeding tracks — persists over the rest of the album and hollows out a cavernous place for the LP's more urban, contemporary, and electronic sounds to inhabit. The range of these more grounded instrumental parts is wide and spans several decades of genres and styles, including everything from clubby beats and early hip hop-loops to indie bass sections and retro pop chord progressions. But always it's the strange contrast of these sound types that is most interesting—the embedding of an R&B vocal loop, running indie bass line, or '70s-style glockenspiel part within the album's atmospheric frame.
Pykäri and Suova's cycling and re-cycling of these musical "flavors" is complex and smartly-achieved, creating an assemblage of sounds that, genre-wise and much like the album's artwork, is difficult to parse but strangely cohesive amidst its eclecticism. After "Eurozone" establishes the album's unique sonic position between space and street, Our Nation's musical combinations become decreasingly disorienting and increasingly infectious. You come to expect the unexpected, as the intro of each subsequent song reaches your ears in a manner distinctly different from its predecessor. The tinny percussion, breathy backing vocals, and hip in-transit vibe of "No Thanks" give way to the upbeat guitar strumming and R&B loops of "Good Times." "Love, Love, Love" offers the album's most anomalous atmosphere– the folky feeling of open plains, as if visited in memory — as well as its musical turning point. And "Running Around"'s confident lyrics stand out against the track's stripped down, pulsating form, before the growing synths, psychedelic sitars, and choir-like backing vocals of "Me & U" and "Our Nation" bring the album to a close.
It's easy enough to collect sounds, but it's harder to collect them with a purpose. It's easy enough to do something seemingly bizarre, genre-wise, and to call it experimental, but it's harder to experiment because you have something to say. Suova's vocals are clear, casual, and unassuming. From "No Thanks" to "Love, Love, Love" to "Running Around", the album's lyrics oscillate between a sense of detachment and confidence. While the album's instrumentation is eclectic, its sentiment is surprisingly grounded. Our Nation could be written off as simply fun or strange, but it has something significant to offer: a simple, personal story and — depending on your mood — maybe even enlightenment.
Ω