"One of the amazing things about being a transformational festival is that you're very free to experiment. There isn't a lot of competition in any traditional business sense, but more importantly, transcendence is not something that can be reduced to a formula or series of steps. It happens in the places between, by the random interactions of the many wonderful people who attend, so the best you can hope is that you create the right conditions." — Sean Hoess, Co-Founder of Wanderlust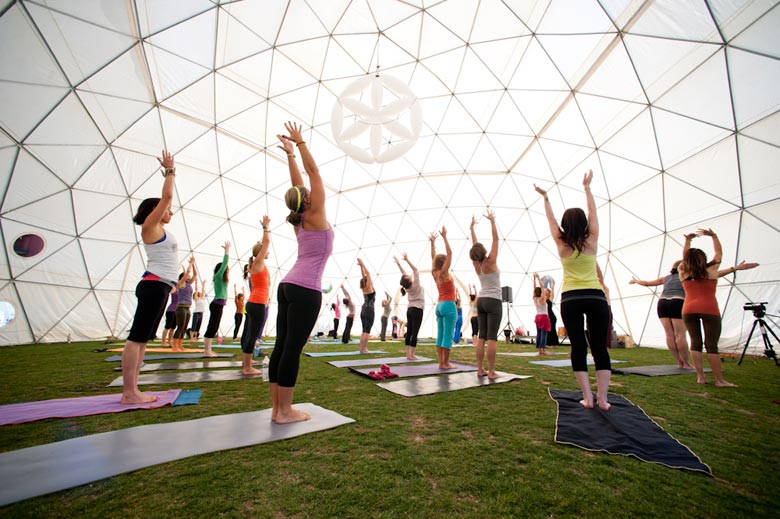 Wanderlust Festival
A Festival for Every Body
Equipped with the desire of bringing people together in a transformational setting, each festival finds its own distinct way of incorporating various disciplines into one cohesive event. For many of the festivals, integrating multiple diverse offerings — including yoga, musical performances, instructional workshops, art shows, hikes, and spiritual gatherings — is not as much a challenge as it is the lifeblood of the event. While Robert Weber of the Indonesia-based BaliSpirit Festival acknowledges that programming difficulties may arise when trying to make sure that adjacent classes do not have conflicting energies, he also shares the general consensus among festival producers that the diverse offerings of their festivals allow for freedom amongst the participants to choose their own adventure and find their own balance.
Executive Director and one of the co-founders of Lightning in a Bottle, Dede Flemming, comments that, "If we were trying to make everyone follow a certain path at Lightning in a Bottle, cohesion would be impossible… Most of the time, a lot of people come because of who's on the lineup, but the reality is they never make it. They'll sit down for a lecture or workshop, find a yoga class, or just meet a new group of people that they don't want to lose, so they completely alter their plans for the weekend… A large part of what we're doing is to offer up news things to people that aren't traditional[ly] exposed to them, and most of the magic isn't what you're going to see, but what you stumble upon."
"Most people, we've discovered, find a balance between the personal and the communal, between practice and play — and that's of course what we hope will happen," Hoess of Wanderlust corroborates.

Beloved Festival – Photography by Zipporah Lomax
While organizing a multi-disciplinary festival necessarily requires a division of energy, unifying the various disciplines is a balancing act that sometimes flows easily. "Without the whole package, the event would not exist. We have some partners more interested in music, art, and workshops, and another who can actually guide these crazy thoughts into a cohesive plan of action. If there is no balance… there is no festival," explains Kevin KoChen of Symbiosis.
As Rasenick explains, "Every aspect of [Beloved], be it music on the main stage, workshops, live painting, etc., feeds each other, so I would say that it is not a difficult integration; it tends to happen naturally."
Marco Mandrino, founder of a yoga and music festival in Italy called Bliss Beat, takes that sentiment one step further, as he explains that any sense of integration is merely a matter of perception, "since there is no real difference between [yoga and music] even if we have the illusion of separation." The beauty of a transformational festival like Bliss Beat, therefore, lies in its ability to deliberately experiment and attempt to do away with these very illusions.
In the span of several festivals alone, one can participate in experiences as diverse as learning how to form a living treehouse at Evolvefest, witnessing the continuous spiritual story of Beloved's performing artists on the festival's single stage, taking part in celebratory African dance at the BaliSpirit Festival, or beholding visionary art at Envision in Costa Rica. Through a seemingly infinite number of offerings, transformational festivals become, as Flemming describes, "participatory communit[ies]… where you are always in a special environment," rather than mere "spectator festival[s]."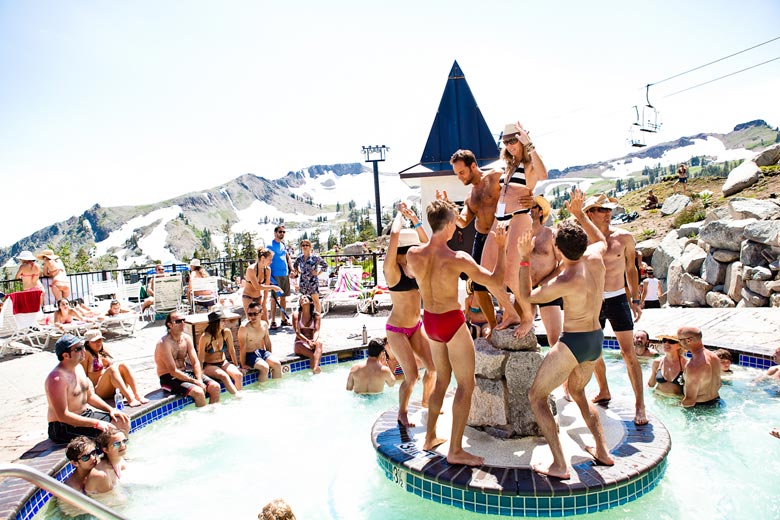 Wanderlust Festival
Listening Station
Likely the two transformational festivals in this feature most artistically aligned with REDEFINE, Symbiosis and Lightning In A Bottle continually do an excellent job of curating musical talent that caters to a wide variety of tastes. This year, electronic acts Nicolas Jaar, Purity Ring and Tycho are amongst Lightning In A Bottle's headliners. Symbiosis has not yet announced its lineup, but is currently accepting application from live musicians and original producers, as well as healers, artists, set designers, and the like.
But on top of artists a festival attendee might already be familiar with, the "choose your own adventure nature of every festival allows much room for the discovery of new musicians. A festival with music curation that's worthy of note is Oregon's Beloved Festival, which focuses on sacred music of both new and old, in the form of Futuristic Global Bass and Ancient Music Mastery. It's merely the beginning, but we definitely found some interest in the worldly music of Stellamara and Desert Dwellers, the Sufi devotional act, Fanna Fi Allah Sufi Qawwali Party, and the conceptually-fascinating Joshua Nelson & the Kosher Gospel Singers, who blend Jewish religious lyrics with the sounds of gospel music.
Note: The last page of this feature has a comprehensive summary of the history, focuses, and offerings of each of these participating festivals.