21 Jun

Stellar OM Source – Polarity Music Video (MV of the Week) + Process Interview w/ Christelle Gualdi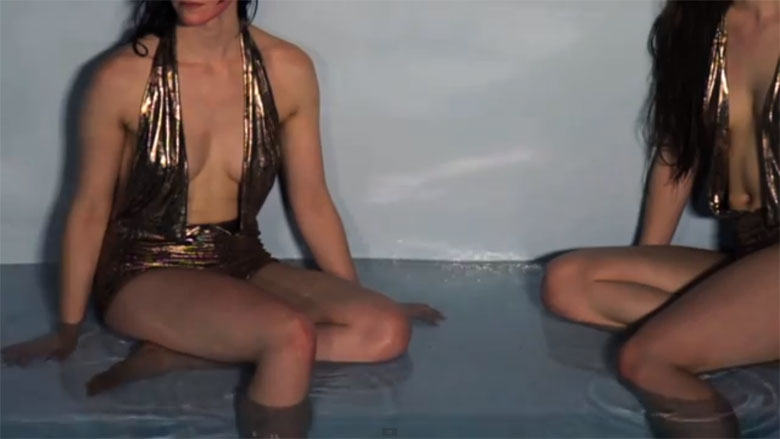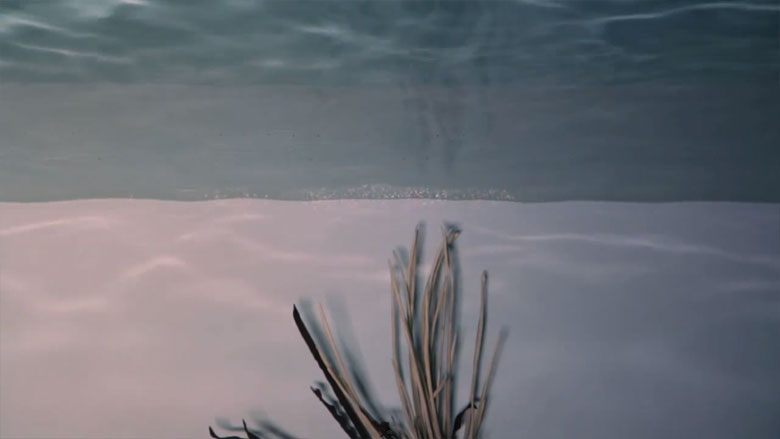 At certain times in the lives of those who listen, dreams, both in wake and at rest, can serve as a rich breeding ground of inspiration. Tapping into our subconscious can bring about flurries of sonic or visual cues from which to further develop ideas, and for artist-musicians like Christelle Gualdi of the solo electronic project Stellar OM Source, such a practice might even be the initial spark of a music video to a song you'd written. In describing the vision in her mind's eye, Gualdi explains:
"While waking up one morning, an image of a Japanese girl dressed in a kimono and walking along the edge of a swimming pool surrounded by fog appeared to me. This image became the inspiration point for "Polarity". I developed the abstract narrative arc from this conscious dreaming: the women, the kimonos, the water choreography and the reflective play of light.
"As we shot, the pieces fell right into place. The set felt like an animated fashion shoot, exaggerated details in the exchange between the beautiful women of the water. A feel of mystery and expectation initiates the sequences. I needed a central character to direct the energy flow, and the girl in blue face became this. When she submerges underwater, we understand her role. The flashbacks explain more before the ballet begins. The object of their dance is revealed in the end: polarity as an exchange of beauty."
Gualdi's physical interpretation of this vision utilizes underwater cameras and minimal but rich abstractions, as if to capture the qualities of the subconscious in symbolic form. In the Q&A below, she further expands on this music video, both with regards to its concept, inspiration, and execution.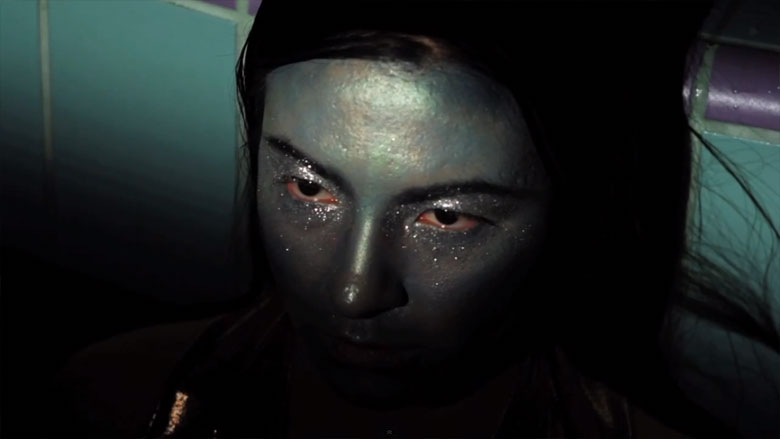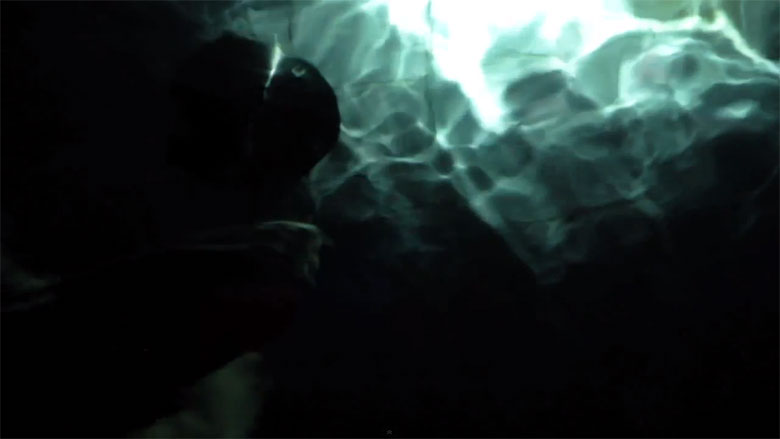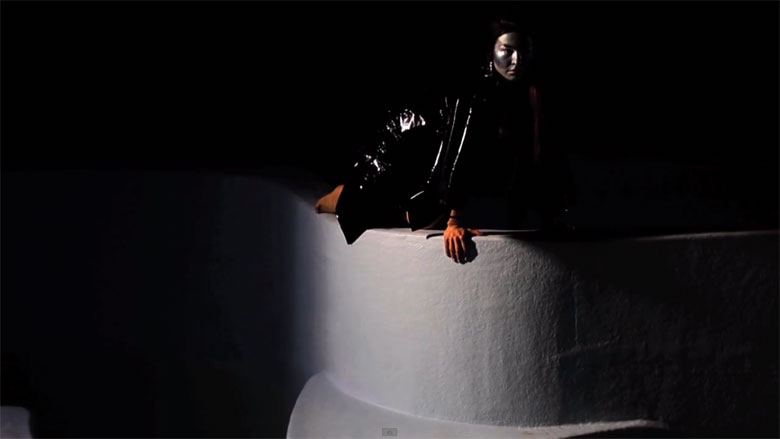 This music video is the product of a waking dream and subconscious thought processes. How do those things affect your creative process, in general?
I am a devotee of letting nocturnal dreams / daydreams guide you when looking for inspiration. I am most interested in those moments where intuition is free. The dreamed image of the Japanese girl dressed in a kimono and walking along the edge of a swimming pool surrounded by fog was so strong, it defined mood. The challenge was then to stick to the image memory while actualizing.
Had you experience with shooting underwater before? How did you approach this process, and was it difficult?
I've never shot underwater. Basically, I just believed it was possible. Two brilliant friends spent six hours in the pools with little HD underwater cameras. We couldn't control the cameras remotely, so we only saw the result the next day. The most difficult thing was to find a professional lifeguard in case of an emergency.
How closely did the final product reflect the vision in your mind's eye? Were there certain particular aspects you remember consciously changing or which you were unable to execute somehow?
Only one frame was defined, and we made a five-minute clip based around it. But it was great come back to as a reference. I kept believing it was possible until the video was finished.
We had only six hours to film the entire video without a script. We weren't entirely sure of the location or which actors would show up, who the costumes would fit, who had long hair. etc., but because of these unknown variables, we were forced to work with what we had in the creative moment. I was surrounded by a lot of talented people and the feeling of collaboration really guided the experience.
The only missing element is the fog, which didn't work because of the ventilation system: it was whisked away in two seconds each time we tried!
As a musician who also obviously works with visual art, how would you say your relationship to the visual aspect of your music changes throughout the process? Comparing "Polarity" in its creation process to the video you have now, how do the visual connections differ or remain the same?
When I produce music, a lot of imagery appears. It feels like I'm creating a painting when the structure of the track comes together. I have a story and scene in my mind for every track of the album. I've never collaborated on a video. I guess this is where in the past I felt like I would lose something in the process. In this case, I gained something.
A lot of the visual connections remain. Halfway through the track, there is a moment where I imagined an elevating visual experience. It turned out that water was the perfect effect for accomplishing this. It allowed entering a parallel world of possibilities.
Directed and Produced by: Christelle Gualdi
Director of Photography: Mathijs Labadie
Makeup: Lili Dangvu
Hair: Joke van de Casteele
Costume Design: Christelle Gualdi
PA's and Underwater camera operators: Hannah Friese, Eric van Loock
Catering: Safo Bouchez
Cast:
Prana Estu
Laetitia Lemaire
Marketa Martiskova
Judith van der Made
Jessie Schietecatte
Floria Miranda Seierl
---
FROM THE PRESS RELEASE
Stellar OM Source will play sporadic shows throughout the US and Europe this summer, including aSubbcultcha! / RVNG Intl. party with Maxmillion Dunbar in Amsterdam on July 5th and MoMA PS1'sWarm Up event in New York City on August 24th. SOS was also part of the first round of artists announced for Unsound's 2013 festival in Krakow.

Stellar OM Source – LIVE – Summer / Fall 2013
07/05/13 – Mediamatic Fabriek – Amsterdam, NL w/ Maxmillion Dunbar
07/06/13 – BAR – Rotterdam, NL
07/26/13 – Norberg Festival – Sweden
08/24/13 – MoMA PS1 Warm Up – New York, NY
08/31/13 – Flussi Festival – Italy
09/27/13 – Halles-St-Géry – Brussels, BE – w/ Kassem Mosse, Kelpe
10/04/13 – Berghain – Berlin, DE – w/ Oneohtrix Point Never
10/19/13 – Unsound – Krakow, PL

ABOUT JOY ONE MILE
Stellar OM Source's new album, Joy One Mile, marks a certain and spirited departure into worlds unknown. A faithful leap into the infinite beat, Joy One Mile is the most forward-reaching effort by Stellar OM Source yet.

Stellar OM Source originated from Christelle Gualdi's desire to unhinge from her academic musical upbringing. A double bassist in the Konigin Katharina Stift Schulorchester and a student of music theory at Universite Paris VIII, Gualdi completed her studies in electro-acoustic composition at the Conservatoire de Paris after earning an architecture degree.

The process of Gualdi's "unlearning" began in experimental ensemble settings, and it became more recognizable as she moved toward solo performance. Stellar OM Source's name is fittingly inspired in part by the pathway to higher consciousness and cosmos via one's own voice.

Gualdi was also inspired by – and also an integral member of – the late aughts DIY synthesizer community. Alongside Oneohtrix Point Never, Emeralds and James Ferraro, Stellar OM Source's stream of self-released CDRs defined a zeitgeist of artists trending away from their noisy roots via polyphonic escapism.

Based many miles away from her US counterparts in The Hague, South Holland, Gualdi received a prophetic sign in 2010 when a regional eBay seller offered her a mint Roland TB-303 for a mere ?25 – or $33. The instantly identifiable sounds of the analog bass synthesizer began appearing in Gualdi's studio and live practices. More importantly, the pattern possibilities propelled Stellar OM Source toward its future foundation – a planet still floating in the synth universe, but orbiting light years away on a rhythmically revolving axis.

Halfway through 2012, Gualdi settled into record seven of twelve songs played intensely over a year of gigging throughout Europe. Using performance as her primary production technique, Gualdi tracked each of the songs live and without overdubs, improvised limitations or consequence.

The freedom from form that Gualdi sought with Joy One Mile was ultimately obtained, but the severe surge of the finished recordings left her over stimulated. Striking a dialogue with Gunnar Wendel (aka Kassem Mosse), Gualdi realized an objective opinion and arrangement know how would allow clarity and an even greater freedom — that from her own music. Confident the tracks stood strong, Gualdi gave little guidance to Wendel, relying instead on their mutual sonic and structural appreciations to steer the end goal.

From the vantage point of the finish line, Joy One Mile bares no straight club tracks, but it depends upon a percussive propulsion nevertheless. The singularity of Gualdi's compositions, when pulled back and recalibrated even slightly, resemble early era Warp Records, and, by that admission, the wayward electro of early-90s Detroit. The abstractions in Gualdi's programming and mutant melodies is what keeps Joy One Mile perfectly relegated to outsider status, akin to the primitive techno of Esplendor Geometrico and Chris & Cosey.

"Sometimes you feel that you're getting really close to what being alive means, be it learning about distant planets or being grounded by life's occasionally heavy burden," notes Gualdi. "Joy One Mile grew from the consciousness of such moments. When I listen to it, I see myself walking through a pouring rain at night with headphones on, embracing both the misery and ecstasy."

Stellar OM Source's Joy One Mile is available on RVNG Intl. as a limited edition 2xLP, CD and digitally.

STELLAR OM SOURCE – JOY ONE MILE TRACKLISTING
01. Polarity
02. Par Amour
03. The Range
04. Trackers
05. Elite Excel
06. Fascination
07. Natives / Most Answers Never Unveiled
Ω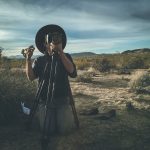 Vivian Hua 華婷婷 is a writer, filmmaker, and organizer. As the Executive Director of Northwest Film Forum in Seattle and Editor-in-Chief of the interdisciplinary arts publication, REDEFINE, much of her work unifies her metaphysical interests with her belief that art can positively transform the self and society. She regularly shares human-centered stories through her storytelling newsletter, RAMBLIN' WITH VEE! In 2020, she will [hopefully] begin production on a comedic Asian-American series entitled Reckless Spirits.
Ask Vivian about MARSHMALLOWS, cuz she's gross... and being tips for being frugal while nomading!