When I was younger, I used to think that I'd live to like in another era, preferably one where the music was more akin to my own tastes. When I really think about it, however, a collector like me can only thrive in the digital era. Rarities are too hard to find otherwise; if there's only a bare handful of copies of a record in existence, the odds of finding it are much smaller. The internet is the great equalizer if you're looking for something obscure, as it's brought together the collectors into one community. Here's a few of my suggestions for getting your musical fix: Linda Perhacs, Charlie Christian, Earl Hines, Tampa Red, and Mississippi Fred McDowell.
See all Forgotten Gems & Dusty Classics Posts
Linda Perhacs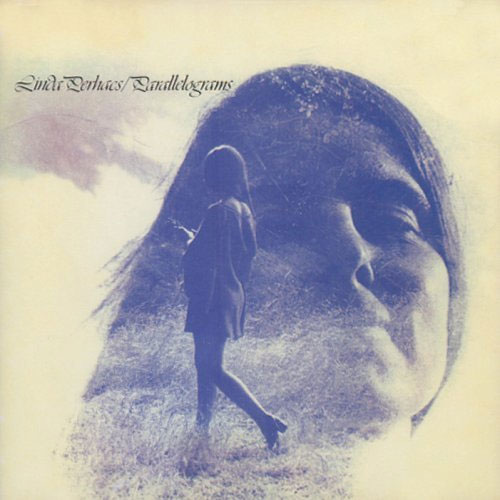 Most of my music falls on the older side, but I think that I have fairly broad tastes in music nonetheless. Psychedelia is an area of interest for me because I like the idea of widening one's perception of reality, and I like the sense of something that's otherworldly – especially when it's not too electronic and is more on the acoustic side. This is what drew me to Linda Perhacs. Finding information on her can be difficult because she spent a great deal of time in obscurity. She became known for a single album in 1970, Parallelograms. The album sold poorly and the record label, Kapp, didn't want to promote it, so she returned to work as a dental technician for three decades while her record became a hot collectible item, completely unbeknownst to her. She was recently rediscovered and has two additional albums waiting to be released.
Every article I can find on her compares her to Joni Mitchell, which is beyond the scope of this article. Her style isn't simple so much as stripped down to its most essential pieces. The melodies can be atonal at times, preventing the music from being too atonal, but it's never so out there that it becomes off-putting. "Dolphin," "Parallelogram" and "Moons and Cattails" are my favorite songs of hers.
Linda Perhacs – "Dolphin"
[audio:/mp3/Linda-Perhacs_Dolphin.mp3|titles=Linda Perhacs – Dolphin]
Linda Perhacs – "Moon and Cattails"
[audio:/mp3/Linda-Perhacs_Moon-And-Cattails.mp3|titles=Linda Perhacs – Moon and Cattails]
Linda Perhacs – "Parallelograms"
[audio:/mp3/Linda-Perhacs_Parallelograms.mp3|titles=Linda Perhacs – Parallelograms]
Charlie Christian (1916 – 1942)
Charlie Christian is one of the greatest guitar players jazz has produced, and to say that he is forgotten is in error. He's well-known among jazz aficionados for having played with some of the greatest musicians of his time — but he's still relatively unknown among the public at large. He died young, from tuberculosis at the age of 25, and he never fronted a large orchestra or well-known group. However, he played a critical role in the development of bebop.
Christian grew up in Oklahoma City and made a name for himself as a local talent. He was mentioned to John Hammond, Benny Goodman's record producer and a keen talent scout, who then introduced him to Goodman. Goodman didn't care for Christian at first and tried to throw him off during their first live performance by playing a song, "Rose Room", that he thought Christian wouldn't know. Christian ended up leading the group on a forty minute rendition of the song, earning him a spot in Goodman's orchestra. While in Goodman's group, Christian often led late-night jam sessions at New York clubs. These musicians were interested in expanding jazz's musical boundaries and included Thelonious Monk, Coleman Hawkins, Charlie Parker, Don Byas and others. He died in 1942 but left behind some live recordings that show where he was headed musically.
"Rose Room," the song that earned Christian a spot in Goodman's group, is a good song to get an idea of Christian's technique. His stated goal was to play like a tenor saxophonist, and he often played in a style similar to Lester Young. "Flying Home" is another classic of the Goodman sextet and features some of Christian's best work. Finally, if you want to hear what Christian was doing to help develop bebop, listen to "Swing to Bop", where he solos for the first two minutes in a jam session at Minton's in New York.
Charlie Christian – "Flying Home"
[audio:/mp3/Charlie-Christian_Flying-Home.mp3|titles=Charlie Christian – Flying Home]
Charlie Christian – "Swing To Bop"
[audio:/mp3/Charlie-Christian_Swing-To-Bop.mp3|titles=Charlie Christian – Swing To Bop]
Earl Hines (1903 – 1983)
I'm always reflexively irritated when I hear Billy Joel referred to as "Piano Man". It's not about Billy Joel personally (although I don't care for his music), but because in my eyes, there has only ever been one Piano Man: Earl Hines. Hines managed to be everywhere in jazz all at once, and if we're discussing underrated piano players, Hines should be at or near the top of that list.
Hines was born in Duquesne, Pennsylvania and learned to play the organ and piano for church. He possessed a talent for music at a young age and moved to Chicago in 1925, which was then the jazz capital of the world. He met Louis Armstrong and the two began a great musical partnership that reached its peak in the Hot Five and Hot Seven ensembles. Hines' playing was fast, dazzlingly so at times, and he had a way of introducing notes on off-beats to sound more like a horn player. After playing with Armstrong, Hines was hired to front an orchestra by Al Capone, and he began a period leading one of my favorite swing groups. His orchestra was regarded by many as avant-garde, serving as home to Dizzy Gillespie and Charlie Parker before Bop took off, yet he also led the only group that could compete with Chick Webb for hot dance music. He played again with Armstrong in the '40s, briefly retired from music and was then rediscovered in the 1960s, spending another two decades on the road before passing away in 1983.
Hines seems to have impressed every jazz pianist in the business: even Art Tatum respected Hines' talents. "Weatherbird" is a fantastic duet between Armstrong and Hines from 1928 and is worthy of a listen. I'd follow that with "Mad House," a great swing number from the Hines orchestra that really cooks. For a late in life Hines, I'd go with "I Let a Song Go Out of My Heart" off of Earl Hines Plays Duke Ellington.
Earl Hines – "Harlem Lament"
[audio:/mp3/Earl-Hines_Harlem-Lament.mp3|titles=Earl Hines – Harlem Lament]
Earl Hines – "I Let A Song Go Out Of My Heart"
[audio:/mp3/Earl-Hines_I-Let-A-Song-Go-Out-Of-My-Heart.mp3|titles=Earl Hines – I Let A Song Go Out Of My Heart]
Earl Hines – "Weather Bird"
[audio:/mp3/Earl-Hines_Weather-Bird.mp3|titles=Earl Hines – Weather Bird]
Tampa Red: Hudson Woodbridge (1904 – 1981)
Blues is a strange genre. Some of the best-known blues musicians from the '30s, such as Robert Johnson, were virtually unknown in their lifetime. One of the best-known and most prolific musicians from the '30s, "Tampa Red," aka Hudson Woodbridge, is largely forgotten today. He recorded an estimated 335 songs during his life and was the most prolific blues musician between 1928 and 1942. Several of his compositions, such as "It Hurts Me Too," are famous today and have shown up in my earlier articles. So why is he lesser-known today?
Part of his obscurity may be owed to the fact that he crosses some genre boundaries. He's not a straightforward Mississippi Delta slide guitarist as he played with a horn section frequently. If you had to sum him up, his style is sort of a proto-rhythm and blues. In fact, several of his late in life hits were R&B tunes, and he successfully made the jump to electric. He became a mentor figure to younger bluesmen in Chicago. He actually lived into the 1980s but his last recordings were made in 1960, excluding him from further fame in the blues revival.
He was a masterful slide guitarist, but he broke with other slide guitarists to play single notes rather than block chords. This might have been borrowed from Lonnie Johnson and was an important step toward rock n' roll guitar techniques. "It Hurts Me Too" is a great Tampa Red tune. I also like "Whoopee Mama" and "Kansas City Blues."
Tampa Red – "It Hurts Me Too"
[audio:/mp3/Tampa-Red_It-Hurts-Me-Too.mp3|titles=Tampa Red – It Hurts Me Too]
Tampa Red – "Kansas City Blue"
[audio:/mp3/Tampa-Red_Kansas-City-Blues.mp3|titles=Tampa Red – Kansas City Blues]
Tampa Red – "Whoopee Mama"
[audio:/mp3/Tampa-Red_Whoopee-Mama.mp3|titles=Tampa Red – Whoopee Mama]
Mississippi Fred McDowell (1904 – 1972)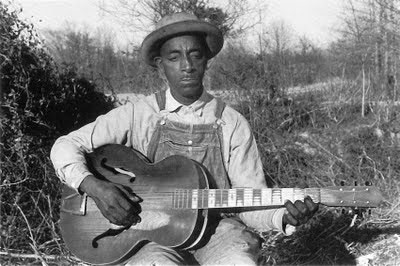 My iPod has its own "Missississpi" section solely for the number of bluesmen who adopted that as a moniker (along with "Blind"). Missississpi Fred McDowell is a unique figure in that hallowed group of musicians. The Mississippi blues that most people are familiar with are from the Delta, which is characterized predominantly by use of a slide. McDowell was from Northern Mississippi, and the Hill Country differs from other forms of the blues with its vamping chords. McDowell is probably the best-known bluesman who played in this style, and his work had a profound influence on rock n' roll.
McDowell was born in Tennessee and lived in Como, Mississippi for most of his life. He was an agricultural worker who spent his life up until the late '50s working in the fields and picking up extra money from music on the side. McDowell wasn't discovered until 1959 when Alan Lomax heard about him from other musicians in the area; he immediately found fame when he was recorded by Arhoolie Records and toured from the 1960s until the end of his life.
McDowell proved to be popular with rock musicians, something which probably ensured his fame. While he once declared, "I do not play no rock n' roll," he had no problem mentoring Bonnie Raitt on the finer points of slide guitar and was flattered when The Rolling Stones covered his song "You Gotta Move."
"Long Haired Doney" is a great field recording done with McDowell and Johnny Woods after they had spent a day drinking heavily, and it captures the dynamism of the North Country sound. "Shake 'Em On Down" is a great slide guitar standard – one which McDowell revisited repeatedly throughout his life and is worth a listen. It's also fun to compare his take on "You Gotta Move" to the Stones' version to see how much they tried to capture his sound.
Mississippi Fred McDowell – "Long Haired Doney"
[audio:/mp3/Mississippi-Fred-McDowell_Long-Haired-Doney.mp3|titles=Mississippi Fred McDowell – Long Haired Doney]
Mississippi Fred McDowell – "Shake Em On Down"
[audio:/mp3/Mississippi-Fred-McDowell_Shake-Em-On-Down.mp3|titles=Mississippi Fred McDowell – Shake Em On Down]
Mississippi Fred McDowell – "You Got To Move"
[audio:/mp3/Mississippi-Fred-McDowell_You-Got-To-Move.mp3|titles=Mississippi Fred McDowell – You Got To Move]
Ω