Kevin Martin
has been at the forefront — and the margins — of extreme electronic music and bass culture for over two decades. He's worked in genres as diverse as jazzcore, industrial, grime, dub, and dubstep, while staying rooted in the punk/post-punk ethos, making some of the most adventurous and aggressive music across a staggering array of monikers, pseudonyms, and collaborations.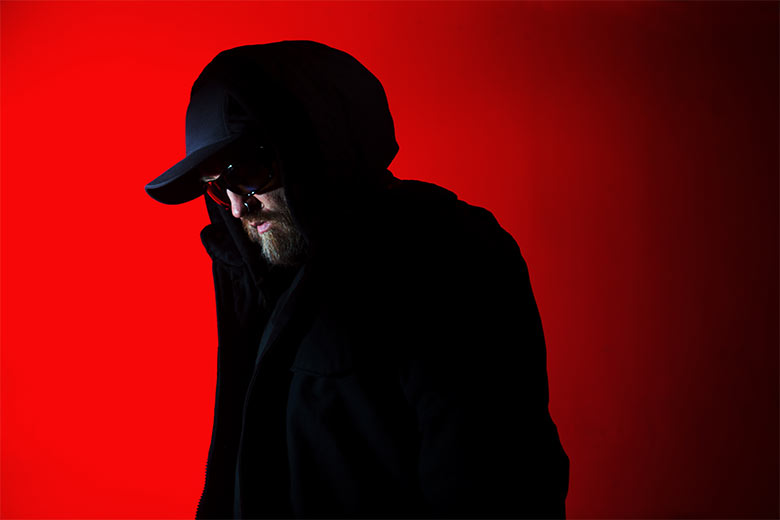 With this year's
Angels & Devils
, the highly anticipated follow-up to 2008's
London Zoo
, Kevin Martin has resurrected one of his most beloved and influential projects,
The Bug
.
London Zoo
employed an arsenal of extreme bass weight, grime-y urban vocals, and abstract sci-fi electronic to reflect the paranoid, claustrophobic world of CCTV London, and the album caught the attention of the wider world at a time when the simulacrum of the internet and social media was really building a head of steam. This brought Kevin Martin's dystopian worldview to a wider audience than ever before, right in the midst of the dubstep explosion. While the rest of the world was busy subverting dubstep's militaristic potential into a formulaic commodity, The Bug sounded fresh, distinctive, weird, warped, and wonderful.
As electronic music has become increasingly codified and quantifiable in the mainstream, this placed Kevin Martin in a precarious position and raised the question: just how would he build the follow-up to London Zoo?
With Angels & Devils, Kevin Martin has decided to make a document of his personal world, and how it reflects the wider global climate.
"For me, the album marks the third part of a triptych. If Pressure, was based around 'Friction', then London Zoo was reporting on 'Incarceration', now Angels & Devils tackles 'Escapism'. I wanted to tackle the bigger picture, above and below," explains Martin. "The more I thought about that comment, the more [Angels & Devils] made sense as a potential album title, as it was a record that hinged on duality, and the points at which opposites collide…"
"And the more I worked on the album's narrative structure, the more the title helped me focus on the contrasts I wanted to explore within this record," he continues.
Heavenly Partnerships
Collaboration has always been hugely influential to Kevin Martin's music, from his work with Justin Broadrick in Techno Animal, to his dub-influenced King Midas Sound. To bring this personal vision of heaven and hell to life, Martin worked with a series of surprising collaborators both new and old. The collaboration that has perhaps raised the most eyebrows is with Grouper's Liz Harris; on "The Void", Harris invokes the celestial vibes of the angel side with her signature ethereal vocals.
"I asked her via email if she would be interested, expecting zero response from her — fully thinking she would have no idea who I was or would be really NOT into my sound…" Martin says, recollecting his own surprise at the reality of the collaboration. "… but it was beautiful, because she replied within a day, saying she 'had been playing 'Skeng' to her mum in her car the week before' and was totally into the idea of collaborating…."
The collaboration was so successful that Harris can be found again on "Black Wasp", the single for Martin's second release of 2014, which is entitled Exit.
"It was an honour for me to work with someone who I feel is at the very top of their game. She is truly sublime… and I LOVED the fact people were SO stunned we had worked together," Martin enthuses.
Another high profile pairing can be found with now-defunct noise rappers Death Grips, whose shocking approach can be seen as both abrasive and significant.
"I think artistic electro-shock therapy is crucial to jolt us all into new ways of thinking. It's good preparation for the shock of everyday life in all its gloriously chaotic madness… I think Death Grips were/are crucial square pegs, who BURN brightly with life/energy/questions," Martin says of the trio's style and influence. "If everything in life was easy, it would be nullifyingly boring. The cliché of 'No pain, no gain' is based on a truism."
And this truism seems to reflect the polarizing music of The Bug, as well.
"I think we are all techno animals now…I always feel its primitive impulses struggling in a post-modern apocalypse that lead to the greatest art," Martin muses.
Some longstanding collaborators make a repeat appearance on Angels & Devils, including London MC Flowdan, one of the founding members of the Roll Deep crew, and dancehall sorceress Warrior Queen, who has also worked with influential dubstep producer Skream. Both were featured on London Zoo, and Martin has much to reflect upon from years of shared musical evolution.
"Flowdan is only just beginning to peak. He was raw and mic-hungry when I first met him, but now he has become a true artist and is admirably flourishing in his own right outside of any crew or genre," says Martin, who aadmits that he can hardly think of a better MC in the UK at this time. "I'm gobsmacked by just how good he is, and how great he has become… He is killing it lyrically and tonally right now… Truly a vocal Don Dada."
From London Zoo


By contrast, Warrior Queen's track on Angels & Devils is in fact a rehashing of a recording which had been done at Martin's studios years prior, for her solo album which had never been released.
"It had always been one of her very best recordings,as far as I was concerned," says Martin. "She agreed I could put it on my album, and I had to try and outgun Kode 9, who had already wrote a great tune for the original version… it was a tough ask and extremely difficult to match the jaw dropping stun appeal of her vocal performance."
"I'm still not sure if I matched her toe to toe!" he adds.
Shapeshifting Identities
Reggae and dub sound systems are an integral part of Martin's aesthetic – the sonic potential of deadly bassweight, the echoic infinity of the dub chamber. This is less problematic in the UK than in the States — where racial lines and musical styles blend and meld in all manner of fascinating mutations — thus leading dubstep, and countless other genres, to become possible in the first place. Kevin Martin is unabashed in his love of the African diaspora, and doesn't feel weird spreading the riddims with pale skin.
"Race separatism seems to be a bigger hang up for Americans, where social life seems more ghettoized than in Europe," muses Martin. "For sure race, racism and prejudice exists blatantly as an issue and reality over here too, but in London, I ended up forming [King Midas Sound] with a Trinidadian and a Japanese girl — plus many of my best friends were from various ethnic groups. Many people want to see clearly and separately in black and white, as it makes the search for answers simpler, but the world is kaleidoscopic, and I feel very much part of the polyglot, chaotic epicentre."
"For me, it's a question of quality and motive," Martin continues, citing El-P, Eminem, and Adrian Sherwood as artists who would not feel inferior in their craft due to their skin colors. "I didn't set out to fake being Jamaican. I grew up in London surrounded by Jamaican music [and] hip-hop, so it would have been more questionable to try and avoid that exposure."
Nonetheless, Martin has always made it clear that his first introduction to music was through punk and post-punk, and that further influence from other genres is always impacted by that initial framework.
"My inspiration from other areas is always filtered through my own personal roots, trajectory, [and] history, and the astonishing headfuck of those post-punk pioneer's addictive experimentation," Martin explains. "And as a child of John Peel, who was in the middle of jungle, grime and dubstep explosions, it's the dazzling, dizzying friction caused by cultural detonations which I am drawn to most."
This polyculturalism is just one example of how The Bug points the way forward, for both culture in general and in electronic music.
Electronic music is famously forward-looking; anything that sounds vaguely dated or old-fashioned — outside of whatever the flavor-of-the-moment may be — is generally ignored out of existence. In that sense, it is vital to note how Martin handled "the albatross of the dubstep label" around the time of London Zoo.
"The urge to reinvent myself is strong, and the big question after London Zoo was, 'Do I want to break away totally from my past, and the albatross of the 'dubstep' label…?' The more I thought about it, the more I realised I had the most respect for artists who had found their individual voice, and then managed to extend their sound thereafter as a craft to be bettered and mastered," says Martin. "I decided to fight my initial kneejerk reaction to destroy the blueprint of London Zoo and the media's misconception of me and that album, and instead, made the decision to try and use London Zoo as a foundation to build outwards from, whilst still acknowledging [its] relationship to [dubstep]."
Martin realized that he had managed to carve out his "own individual voice in electronic music" by elaborating upon the past instead of destroying it completely. He had created an entity which was recognizably identified as The Bug, but he readily admits that "to develop that voice still further was the challenge."
By creating something personal, yet connected to the wider cultural climate — ensconced in tradition, yet distinctive and progressive, Angels & Devils manages to further develop The Bug as a singular project. Martin is bridging the gap between the tactile world of analog machinery, lavishly layering a wide array of classic synthesizers, while still utilizing the full sonic potential available in a digital environment.
"I love getting lost in the machines and the alchemical magic of FX processing, but emotion and soul fire are far more important in my overall aim. It's essential that I find a concept to explore and continue to use music as a cathartic release — so therefore, I feel I have no choice in that idea of music as therapy, and I will continue to do so whatever the tools I possess," says Martin, who explains that he is happier with his current studio setup than he has ever been.
"The mixture of analog texture and digital mangling is the key to this record," he explains.
This seems like a way forward, cutting through the line noise. Finding the soul in the machine. Using technology to have a more human experience.
Angels: devils; heaven: hell; analog: digital; personal: cultural.
The Bug is full of contradictions, which likely indicates his music and ideas will remain intriguing and relevant, no matter what trends rise and fall.
Ω