The recently launched Tumblr blog,
Experimental Music on Children's TV
, is the work of Mike Haley from the cassette podcast
Tabs Out
. Though the project features contemporary shows, the most fascinating entries are YouTube clips of earlier children's programming. We see Mister Rogers playing an ARP Soloist (the Pro version was used by Vangelis and Tangerine Dream); we hear a frenetic, minimalist Philip Glass mini-opera for geometric groupings of animated circles in a
Sesame Street
short. Advertising composer Suzanne Ciani, a protégé of synthesizer builder Don Buchla and computer-music innovator Max Mathews, appeared on
3-2-1 Contact
in 1980, to demonstrate the use of an Oberheim OB-X and a Sequential Circuits Prophet 5. REDEFINE chatted with Haley about the runaway success of EMoCTV and the inspiration behind it.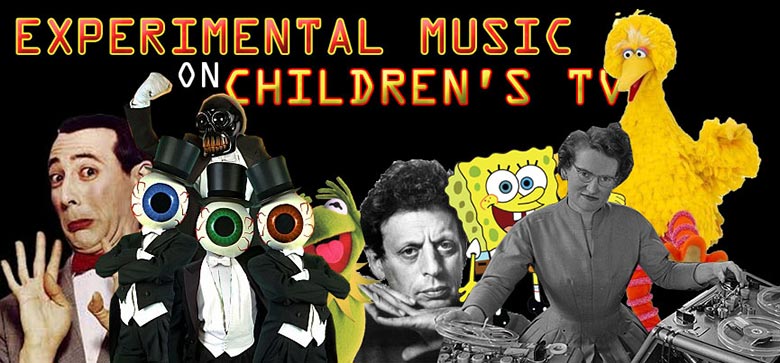 "The response has been pretty great, which is sort of mind-blowing," says Haley of the project. "I have a bad habit of starting stupid Tumblrs and Twitter accounts. An idea pops in my head, I make a blog for it, post a few things, and after a week or so, it has run its course and I forget about it. That's basically what I thought EMoCTV was going to be, but people seemed to dig it right away."
On the fourth or fifth day after the blog's creation, he noticed it had a thousand followers; before long, the number was up to five thousand. Ad Hoc took notice, then FACT, Vice's The Creators Project, and The Onion's A.V. Club. Haley has heard The Wire may run a piece on EMoCTV in its next issue – and he calls the Tumblr's popularity "pretty tight" for a venture he claims "no one will remember in a few months."
Haley had long known about several of the clips he would eventually post to Experimental Music on Children's TV. His 3-year-old daughter, Tabitha, was the impetus for the Tumblr — he showed her a few of the videos and she "dug 'em." After stumbling upon more things in the same vein, he decided to start a collection.
A childhood fan of Sesame Street, Zoobilee Zoo, and Reading Rainbow, Haley admits he has no memory of the experimental music appearances that would populate his blog as an adult. He had never heard of one of EMoCTV's entries, The Ghost of Faffner Hall, a 1989 U.K. series that aired in America and had its puppets designed by Jim Henson's Creature Shop.
Thomas Dolby gets enthusiastic about oscillators and filters on The Ghost of Faffner Hall:
Haley's initial research process started with Google searches ("Sesame Street, Herbie Hancock") and branched out to episode lists on iMDB. He says he has visited Muppetpedia so much that he's "probably on some sort of weird list."
Though Experimental Music on Children's TV is a one-person job, Haley has had other people contribute ideas. A friend, Chris Donofrio, is in a relationship with the daughter of Steve Horelick, who made the music for Reading Rainbow and Shining Time Station. Donofrio knew about Horelick's guest spot on Reading Rainbow — showing off the Fairlight CMI — and was able to come up with a clip. Haley mentions another friend, Witchbeam, who is "sort of the spiritual advisor for the site," offering advice when Haley plays it "too loose" (a YouTube video of Deerhoof on Pancake Mountain, for example, got the thumbs down).
Reading Rainbow musical director Steve Horelick generating sounds on the Fairlight CMI:
At one time, it was the norm for television productions' music and sound departments to have synthesizers, Haley believes, although he is unsure whether children's TV programmers were hip enough to know about people like Suzanne Ciani, who certainly was not a household name at the time. Sesame Street was probably in the running for most outré children's series, not just for featuring Philip Glass and Raymond Scott, but for employing the talents of Joan La Barbara — vocalist, composer, and collaborator of Morton Feldman and John Cage.
On EMoCTV, Haley allows for a wider definition of "children's TV" than merely a strict kiddie demographic – Pee-wee's Playhouse and Yo Gabba Gabba! are campy cult hits with adults. He says that just because they have grown-up appeal, it doesn't mean they're not still aimed at kids ("that is sort of the point of the blog"). Children and experimental music are a "natural fit", says Haley; children are imaginative and have a tendency to like "things that are way weird."
Regarding what counts as "children's TV", he says he has had the, "Where do you draw the line?" conversation quite a few times and is willing to stretch the definition for the right material ("maybe if Merzbow was on The Adventures of Pete & Pete, I would let it slide"), adding that he's bound to run out of fodder for the blog if he keeps things too strict.
The Residents on Pee-wee's Playhouse:
There are still some clips Haley has not been able to source – "which is so frustrating because this is the internet!" he says. Jean-Michel Jarre, the ambient and new-age composer who has used the Fairlight CMI, ARP 2600, and VCS3 synthesizers in his work, showed up in an episode of BBC1's Saturday Superstore on April 12, 1986, and Haley is keen on tracking that down.
In a universe where Haley could choose any experimental musician, composition, or piece of technology to be featured on any children's show, he would like to see Wolf Eyes on Yo Gabba Gabba! ("that would be fucking insane and somewhat doable") or John Wiese ("he looks like he could host a kids' show").
Haley's relationship with experimental music also extends to his other projects, including his podcast Tabs Out, a cassette-based endeavor focusing on the noise genre. He also runs the tape label 905 Tapes, makes solo music under the name Wether, and has a duo with Dave Doyen of Tabs Out, called Roped Off.
Regarding EMoCTV, he believes that it's important to expose children to as many different things as possible, "just so they know it exists." "If you only ate apples," continues Haley, "and only got your kid apples, then their favorite fruit would be apples. But that's just because they haven't gripped a mango, or banana, or plum yet. Maybe they'll hate every other fruit and truly dig apples. Or maybe they don't really like apples. You see where I'm going with this?"
Ω
Kronos Quartet on Sesame Street – What is a String Quartet?
Kyrian Ginearian Discovers the Funderground Station for the First time
Kraftwerk on PBS' Newton's Apple