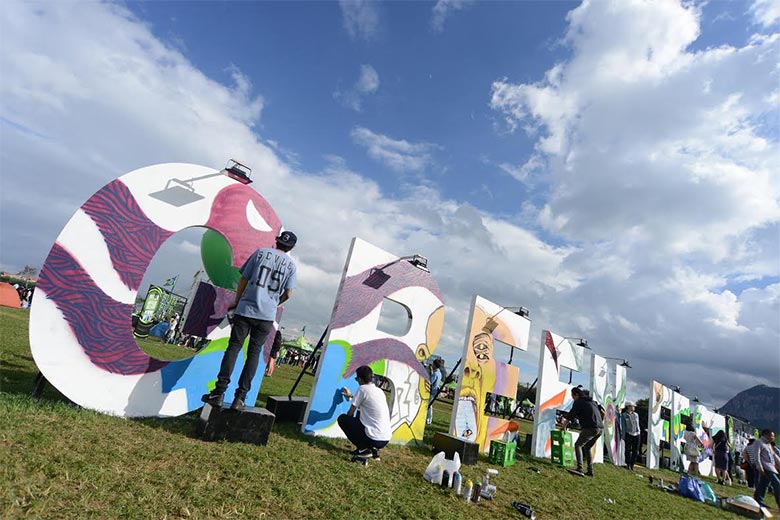 Some of the biggest music festivals around the world are emphasizing a "green" environmental focus, and now a few music festivals in China are encompassing a related focus.
Denmark's Carlsberg Breweries launched its Tuborg beer in China back in 2012. In 2013, the brand, which is a well-known music supporter, collaborated with the local Chinese promoter Splatter to kickstart the Tuborg Music Truck Tour, which traveled to developing cities around China. The brand has supported massive festivals in Europe such as Roskilde, Glastonbury, Exit and Wireless, as well as Tuborg has also been a prevalent force at all of China's well-known Strawberry Music Festivals.
The success of the Tuborg Music Truck Tour led for the Tuborg GreenFest Music Festival to enter China, with the cooperation of prominent music company Modern Sky. Since then, it has become a staple, popping up in many of China's second and third tier cities, and with a focus on environmentalism. Their latest installment was recently held in Kunming, the capital city of Yunnan Province in China's southwest.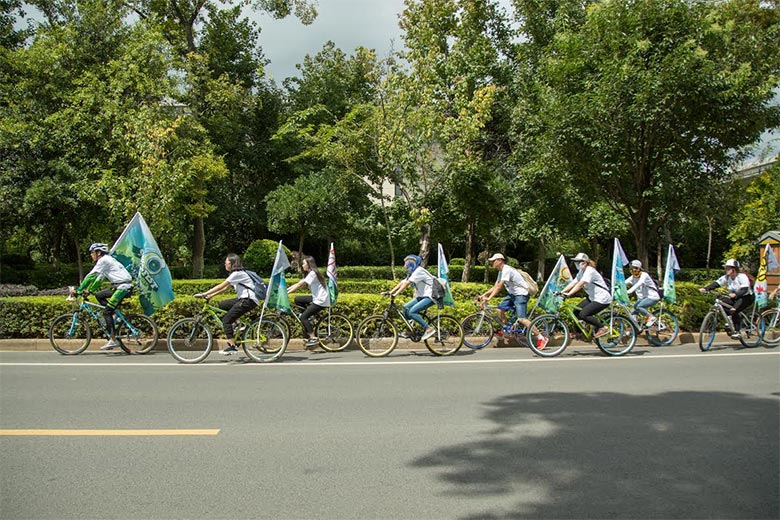 Photography by 2015 Tuborg GreenFest Music Festival
GreenFest has been working with the public welfare organization CNature in-order to protect the grass at the festival and help with garbage classification. On the first day of the festival, 80 "Green Knights" spent two hours riding 25 kilometers out to GreenFest, which is the equivalent to 378.03 kilograms in carbon emission reduction.
"We are encouraging people heading out to the festival to ride their bicycles so as to cut emissions, and we are also going to hold some recycling games, where the crowd can use a slingshot to fire their empty beer cups into bin-holes to win prizes," reveals GreenFest organizer Ashbur Ba, on one aspect of the festival's environmental approach.
Upon arrival at the festival, it seemed that there were indeed eco-games, as well as an army of volunteers coming around to clean and sort the trash on site. Music festivals in China going "green"… and there you have it!
By late afternoon, punters were arriving in the thousands and at one point, the cueing for the toilets was becoming a logistical nightmare for the organizers. Moreover, the beer stopped flowing temporarily. Officials began to look visibly stressed as the crowd numbers began to swell. It is estimated that close to 20,000 people attended the first day and approximately 10,000 people the second day.
Robb Spitzer, Managing Director of Live Nation China, also attended the festival and places it in a global context, saying, "Major international festivals including Bonnaroo and Lollapalooza have worked hard to reduce their impact by promoting reusables, recycling waste, and encouraging environmentally friendly transportation. I'm glad to see GreenFest is taking some similar action and communicating that with their audience in a fun way. Making a game out of cup recycling provides an environmental benefit and adds an entertaining element to the festival as well."
About Tuborg GreenFest
The two-day GreenFest was held outside of Kunming's city center at the Hongta Athletic Center, located beside Dianchi Lake. The bill consisted mostly of local Chinese bands and DJs. Ticket prices were 120 yuan (USD $18.80) for one day or 190 yuan for both days. All tickets for the first day were sold out by 6:00 pm. A line-up of the acts that played and their schedule is over at GoKunming.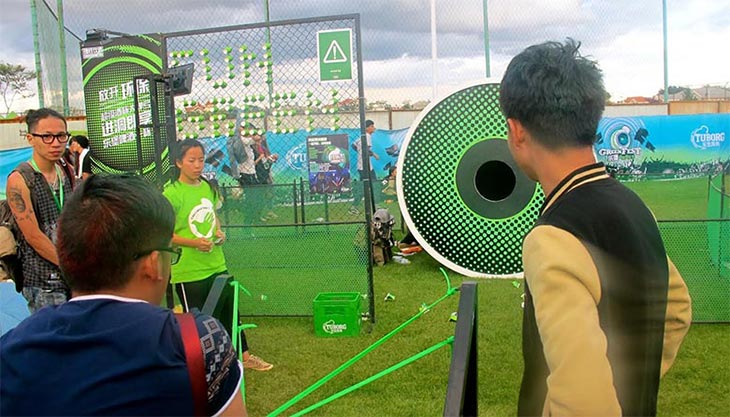 "The best thing about the festival had to be the fact that it was held in Yunnan, maybe one of the best regions in China. It is a gorgeous area with crazy cultural diversity, food, including loads of weird and sometimes toxic if-not-properly-cooked mushrooms, nature, nature, nature, and has some of the best air quality in China!" – Helen Feng of Nova Heart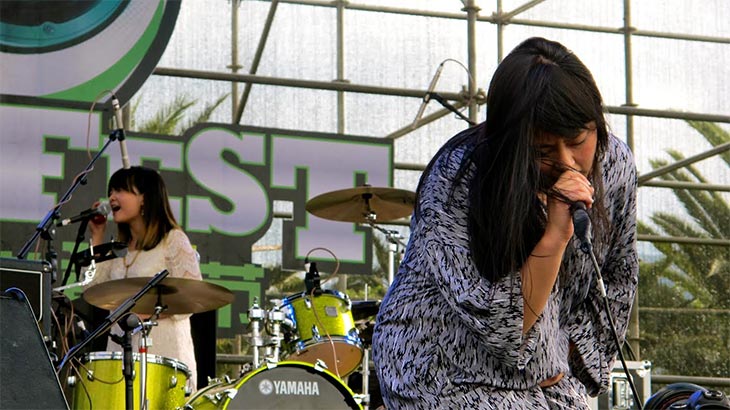 Photography by Hugh Bohane – (TOP) Slingshot recycling games; (BOTTOM) Helen Feng from Nova Heart.
In addition to GreenFest, some other festivals are doing their best to make incorporate environmentally-friendly options into their framework as well.
Archie Hamilton, Managing Director of Split Works, has promoted the JUE Festival and more recently, Echo Park, which was held in Shanghai on the same weekend as the Kunming GreenFest. He details some of the steps Echo Park has taken saying, "We are using some 'greening' elements at our festivals as well. We are involved with the brand Greenwave, who provided water filtration and we installed free water stations at our festival, so as to try to reduce the amount of water bottles."
"We think it is important for festivals to use their position by influencing the youth and leading by example," Hamilton continues.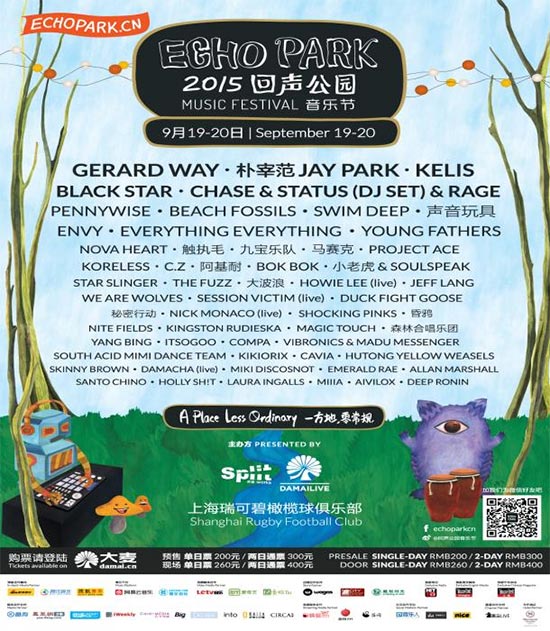 By nature, music festivals are not the most environmentally-friendly affairs, and their carbon footprints are large, especially when huge generators are used. Promoters of Chinese festivals face many other difficulties as well — the largest of which are costs and permissions.
"Big outdoor festivals are the hardest to crack. The upsides are amazing but they are so expensive to build," said Hamilton. According to the organizers of the Kunming GreenFest, their event cost approximately five million yuan, or approximately $786,807 USD, to execute.
In China, the content of festivals is tightly controlled, whereas in the west, it is the inverse, and health and safety are the main priorities. Hamilton succeeded legally to get all 57 international artists their permits to play at Echo Park. Echo Park offered a 50/50 line-up of foreign and Chinese bands, and his company has brought many international acts out to China, including Sonic Youth, Olafur Arnalds and Grimes, to name a few. It hasn't been an easy task.
"The reality is you need a lot of money, good relationships with the police and besides that, you need the right permits if you are going to have international artists play…" Hamilton explains. "Another issue is Chinese people don't have large swathes of land, so you need a lot of money to rent outdoor spaces."
Music festivals in China, as elsewhere, run the risk of oversaturation. Sometimes ten festivals might be held nationally within the same two weeks — and there is increasing competition with regards to ticket pricing and getting the sponsorship dollars. Nonetheless, they are an important trend as the format for music consumption changes. Many musicians want to continue playing at smaller venues, where they can have closer contact with their fans, but in cities like Beijing, smaller venues are struggling due to rent increases. That brands like Tuborg are investing their money in music festivals, as opposed to only spending on TV advertising and banners, is what Hamilton considers an optimistic situation.
"If you can get 20,000 kids down to a festival, the returns can be potentially massive in the long-term," he says.
Ω