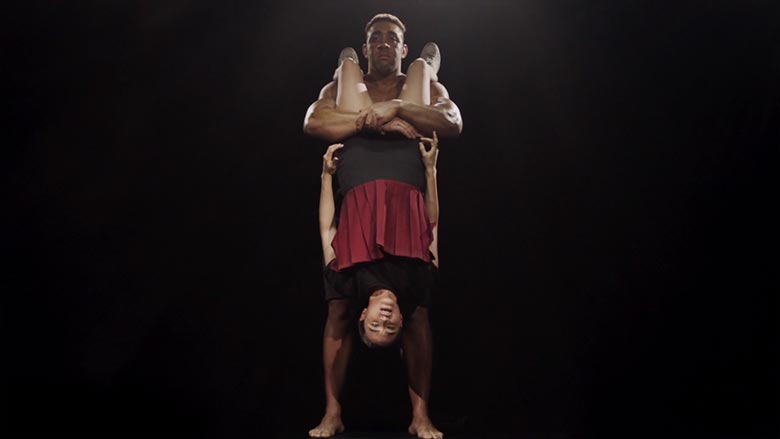 Bathed in dramatic studio portrait lighting, viewers see Lorely Rodriguez, aka
Empress Of
, clasped upside down in the embrace of a bodybuilder. With this single powerful image, the music video for "Standard", directed by British director
Zaiba Jabbar
, visually connects physical strength and weakness with Rodriguez's original focus on class and privilege. Draw fully from the experience by training your eyes on the contrasting visuals while ingesting such satisfying lines as, "I've been eyeing your plate of diamonds/ With an envy that kills the pride."
Director: Zaiba Jabbar
Production Company: Partizan
Executive Producer: Claire Stubbs
Producer: Adam Lilley
1st Assistant Director: Tom Kelly
Director Of Photography: Arthur Mulhern
Choreography Stefan Puxon
Editor Sam Jones @ Cut and Run
Steadicam Richard James Lewis
Gaffer: Kilian Drury
Stylist: Rhona Ezuma
Hair & Make Up: Emily Bilverstone
Colorist: Lewis Crossfeild @ ETC
Post Producer: Jon Mealing
Label: Terrible Records / XL Recordings
Commissioner: Phil Lee
This article is a part of our Compare & Contrast Series, where we analyze a creative project from its many varied viewpoints. You can also view all of our other articles on Empress Of, dating back to 2013. Empress Of's latest record, Me, is out now on XL Recordings and Terrible Records.
---
How did you first come to work together on this project, and what were your first impressions of one another's work?
Lorely Rodriguz (Empress Of):
Someone at my label sent me Zaiba's stuff, and I thought her work was really great.
Zaiba Jabbar (Director):
I'd heard one of Lorely's earlier tracks, Realize You, in 2013, and I was a little obsessed with it. So when Phil [Lee], the commissioner at XL, suggested working together, I jumped at the chance. I love her dreamy, arty pop.
The music video hoped to challenge perceptions of body image. How and why did this concept first come to mind?
Lorely Rodriguz (Empress Of):
My intention wasn't to challenge perception of body image but to show a really literal contrast between two people that I sing about more abstractly in the song. "Standard" is about class differences but rather than show the difference between rich and poor, I wanted to show the difference between strong and "weak".
Zaiba Jabbar (Director):
Well, the track is about body image, and I think Lorely knew that she wanted to have a video that represented that theme. She came up with the idea of being dangled in the air by a strong man, which immediately struck a visual nerve. I instantly thought, "Awesome, but how can I make this look fantastic?" The challenge is what got me hooked.
How did you come to settle on the two contrasting "characters" in the music video? Were there other dichotomies that were considered to try and get the point across?
Lorely Rodriguz (Empress Of):
When I finished this song, I always had an image of a bodybuilder, super strong and greased up and beautiful, holding me, and all of my flaws, upside down. To me, being a bodybuilder stands for striving for some sort of perfection in your image. Like a Greek god. I'm no god; I'm just a girl who sits at her laptop all day making music. I love the surreal elements in visuals, and that's why I wanted one of the characters to be a bodybuilder and one of the characters to be IRL me.
Zaiba Jabbar (Director):
Lorely and Rob both have Latino roots, so although they contrast, as you point out, there is also a visual link. So there's contrast and also a connection. I think that makes the contrast on body image more profound. Tuning into our own ideas of personal image and how we are viewed.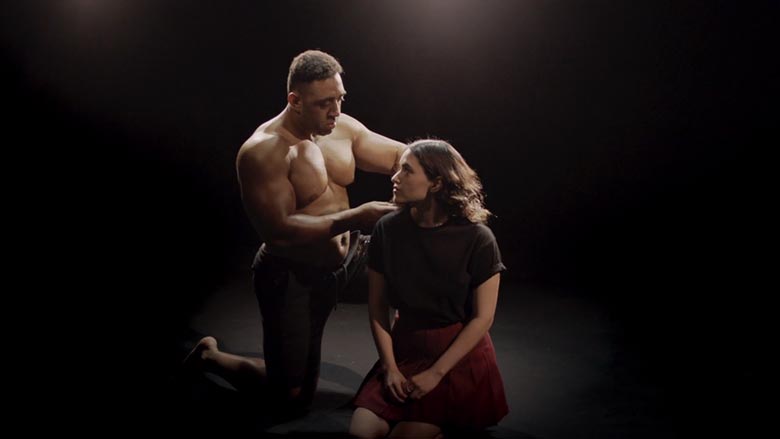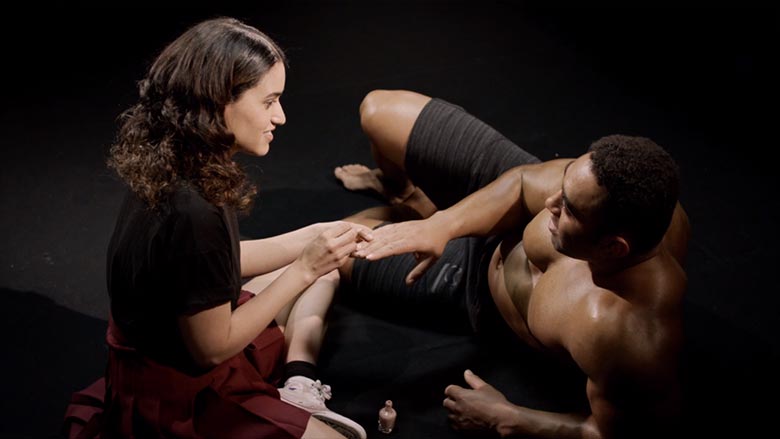 Can you tell me about the casting process? How was it working with Rob?
Lorely Rodriguz (Empress Of):
Zaiba sent over photos for a few people, and I thought Rob's face had a vulnerability to it that could play up the theme of the video. I was totally right! He was such a good actor and really played up those moments where I wanted him to step away from this composed, stoic figure.
Zaiba Jabbar (Director):
I was completely overcome by Rob's audition. He came with his own posing music, which was gentle and sensitive, which added a really interesting dimension to his size and strength. It gave it a vulnerability. I'd expected something quite pumping and aggressive and his wasn't. I knew he would be perfect from that moment.
What was really great working with Rob was that he trusted me, and he trusted the concept. So he allowed us to explore our vision without pushing back. He wasn't bewildered by the oddness of what we were asking him to do.
Although this is certainly a generalization, I think it's somewhat safe to say that bodybuilders are not a demographic that intersect too often with the indie music scene. How, if at all, do you think that disconnect helps support the ideas driving the music video?
Lorely Rodriguz (Empress Of):
I didn't think about that at all when I came up with this treatment. I thought about telling a story through visuals.
Zaiba Jabbar (Director):
Well, although there might not be an obvious or everyday crossover, both bodybuilders and indie musicians are kind of outsiders. They're in scenes and cultures that are outside what's normal and engage in a world or ideas that are unusual. So in some ways there's an affinity — and I think that's key; although they're different, there's also an affinity. It felt like a natural visual relationship.
There is a clear display of physical strength, as represented by Rob holding Lorely, but also a tenderness in gentler scenes, such as that of him combing her hair. What are you hoping to achieve with these scenes?
Lorely Rodriguz (Empress Of):
I wanted to show moments where he breaks character from these stoic poses. I wanted to show the human side of these two characters interacting.
Zaiba Jabbar (Director):
The image of strength doesn't inevitably mean a cold sensibility. Bodybuilders work hard on their own bodies and are incredibly sensitive to how their bodies work. They have to take care of themselves, and I think the gentler scenes show there's a physical empathy that comes from how they treat themselves. There's also also elements of vanity and narcissism to it that plays out not only in the physique, but also in grooming.
More generally, what are your thoughts on "strength" as it traditionally refers to males and females, masculinity and femininity? Do you think it is changing? If so, how?
Lorely Rodriguz (Empress Of):
I think the perception of strength is changing. I'm on my first headline tour and I have a female tour manager, and she lifts all of the heavy gear in and out everyday and she's been doing this for years. She is changing the views on female roles in the touring music industry.
Zaiba Jabbar (Director):
Well, what's interesting is that in this video, there's the obvious strength of Rob holding Lorely. And that's a feat to be recognised, as an average guy probably couldn't hold somebody like that for long. However, what's not recognised is the strength Lorely had to have to be held upside down for long periods of time, with blood rushing to her head, singing her lines over and over. That took strength — especially endurance and a strength of mind/will of character.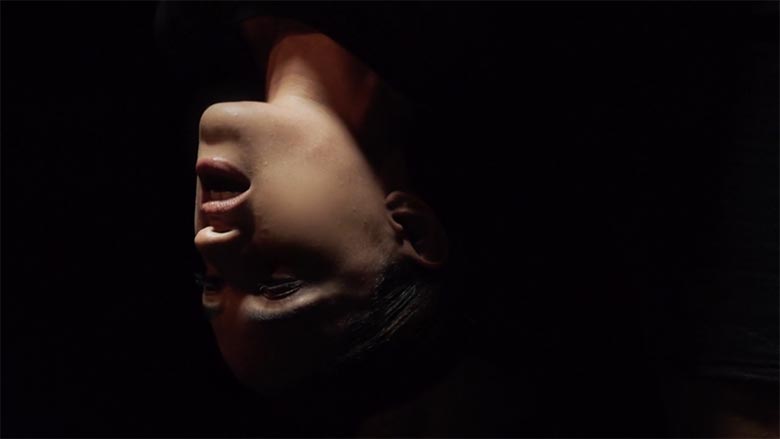 Ω