Maybe it was the fact that CMJ Music Marathon 2015 took place a week earlier this year than last year, but the music industry marathon's 35th anniversary felt a bit more expansive than the 2014 edition — as if it were a day longer, though it wasn't. Perhaps it had something to do with the drastic difference in weather; where 2014 called for sweaters and umbrellas, this year you could get away with nary more than a T-shirt right up until the final day, when the temperature plunged to a seasonal norm.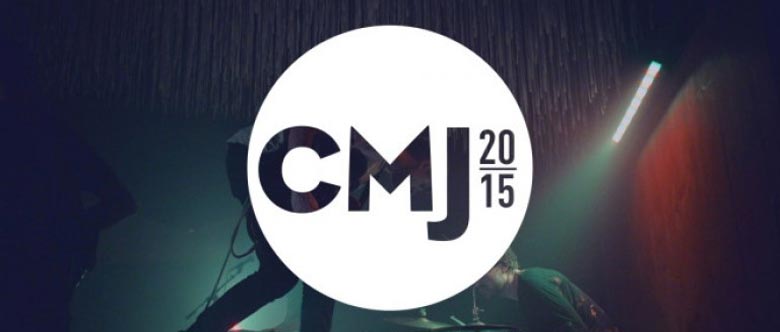 Tuesday, October 13th, 2015
Hooton Tennis Club @ Rockwood Music Hall
Some bands come to CMJ for one or two showcases and move on, while others practically take up residency at the marathon. One of the latter was Hooton Tennis Club, who played their first New York show ever on Stage 2 at Rockwood Music Hall. That evening's showcase was put on by WFUV, so it doubled as another first for the band: their first appearance on a US radio broadcast. The band's recorded output so far, including songs like "P.O.W.E.R.F.U.L. P.I.E.R.R.E." and "Jasper" — both of which appear on their recently released debut, Highest Point in Cliff Town — have been equally in debt to '90s-centric US indie and Britpop influences. Live, their music felt a bit less defined and more loose, but their upbeat energy was quite focused for four guys probably still getting used to the time change. – Ian King
TEEN @ Le Poisson Rouge
On the other hand, making only one CMJ appearance this year was New York's TEEN, who played that night's Sugar Mama BK showcase across the way at Le Poisson Rouge. Led by singer and multi-instrumentalist Teeny Lieberson, and featuring not just one but two other Lieberson sisters (Katherine on drums, Lizzie on keys, both also on vocals), the band braid together strands of psych rock, synth pop, and R&B in a way that belongs distinctly to them. Released at the end of last year, The Way and Color, captures their continuing evolution well. Teeny Lieberson's vocals at times recalled Kate Bush's fluttering gymnastics, but also, much like the music behind her, moved fluidly through different modes depending on what a particular song called for. Even a minute of ambient feedback that occurred early in their set worked as an atmospheric element, though it turned out to be just a minor technical difficulty. – Ian King
Son Little & Christopher Paul Stelling @ Rockwood Music Hall
The first night of CMJ always throws me a little off-guard, so I usually head to a safe and familiar place. This year, it was Rockwood Music Hall on the Lower East Side. I started off with Philadelphia-based Son Little, a recommendation from a friend who told me it was "future soul." That term proved accurate. The packed crowd enjoyed his layered melodies, but I faded out a bit. I then headed downstairs for something much more heady: Christopher Paul Stelling. The guitarist played a few of his folk songs solo, and then brought up his musician friend Kieran Ledwidge. Hailed as New York's Best Folk Artist of 2015 by the Village Voice, Stelling had a lot of say in between his songs about NYC, touring, and the state of music. He also editorialized for a while on CMJ and how he tries avoid it every year but manages to get sucked in nonetheless. His ranting aside, the music had an enjoyable intimacy, and he is a stellar guitarist. – Judy Nelson
Panda Bear @ Bowery Ballroom
My last stop on the first night was Bowery Ballroom, where I was surprised that my badge got me into the first of three sold out Panda Bear performances. The atmosphere was appropriately tripped out, with hallucination-inducing visuals in the background. Touring in support of his 2015 release, Panda Bear Meets the Grim Reaper, he played a range of new songs to a happy crowd, including the exceptionally bouncy singles "Mr Noah" and "Boys Latin." – Judy Nelson
Wednesday, October 14th, 2015
Mattress Financial @ Elvis Guesthouse
The first stop on Wednesday, October 14th, was at the small and very tiled Elvis Guesthouse in the East Village. There, we caught a few delicate, ruminating songs from Mattress Financial, the acoustic alter-ego of Sam Rosenberg. Rosenberg's main project is Two Inch Astronaut, whose 2014 album Foulbrood was a fine summation of DC's post-hardcore history. Instead of being 'Astronaut unplugged', Mattress Financial's songs had flashes of Elliott Smith's sense of melody and pacing, though his own voice is what came through the most (when you could hear it over the one half of the audience who preferred to talk through the whole set). – Ian King
Cosmo Sheldrake @ Pianos
Over at Pianos, the multi-faceted Cosmo Sheldrake had the small downstairs show room packed and sweaty. The London-based Sheldrake has an impressive resume of composing, producing, and teaching music for a man of only twenty-five years. His sample-fueled electronic pastoralism can be equally slippery, traversing both genre and geography. His songs are full of sounds from the world around him. For example, the beat in the re-worked version of "Solar" that Sheldrake closed his set with featured field recordings that he took on a mountain in Bulgaria. Tracks such as "Rich" had more thump live than on his album Pelicans We, but still retained their peculiar character. – Ian King
Willis Earl Beal @ Cameo Gallery
Making a beeline for Cameo Gallery and catching Willis Earl Beal was probably my best decision of the entire week. A few years back, Beal released his debut, Acousmatic Sorcery, and blew the collective music industry's mind. It was an electro-folk-experimental oddity that got him instantly compared to Tom Waits. Since then, Beal has been steadily making records, but he fell off my radar. His live show has effectively put him back on, though; he is an extremely captivating performer who strode onstage wearing a mask and cape and instructed the audience to not clap for him under any circumstances. He also stated that he hates NY, and that he "doesn't do songs that people know." His set was mostly soul and R&B-inspired, a departure from his debut. He didn't play any instruments and only sung along to a recording, but that left his hands free to hold candles and do sweeping dance moves. This is a show not to be missed; perhaps he'll even let us clap at the next one. – Judy Nelson
Thursday, October 15th, 2015
Hockey Dad @ Pianos
Further gentrified by a degree or two every year, the Lower East Side has become a bit much to handle at night, but it can be surprisingly pleasant in the middle of the day. Never more so than during CMJ, when it's possible to hop from show to show all afternoon like a squirrel from branch to branch through a dense forest. Thursday started back at Pianos at 1pm with Hockey Dad, an amiable garage rock — or, if you prefer, "surf pop", as they describe themselves — duo from Wollongong, Australia, which is just south of Sydney. The phrase "not reinventing the wheel" can be (and probably has been) applied to a lot of guitar rock going around these days, but Hockey Dad's rollicking less-is-more approach wins over. – Ian King
Vomitface @ Cake Shop
Vomitface, on the other hand, win you over with their acerbic wit and barbed, muddy post-punk. The trio, who released their Another Bad Year EP this past May, brought a refreshing level of sarcasm to the Cake Shop. They didn't exactly lob grenades, but even a very mild jab at the scene going on at CMJ's home base hotel ("we really enjoyed all your hats") was a welcome deviation from the otherwise unending niceness from bands. – Ian King
Young Ejecta @ Rockwood Music Hall
Needing a break from guitars, Rockwood Music Hall offered a welcome respite in the form of Young Ejecta. On record, Young Ejecta is the duo of Leanne Macomber (formerly of Neon Indian) and producer Joel Ford, who is also one half of another collaborative duo, Ford & Lopatin, with Oneohtrix Point Never's Daniel Lopatin. At Rockwood, however, Macomber was on stage by herself with only a sampler and a small keyboard paired on a thin stand separating her from an audience that grew to a good size as her set went on. Her being alone up there heightened the dual sense of strength and vulnerability that Young Ejecta's hazy, icy synth pop projects. – Ian King
Friday, October 16th, 2015
Makthaverskan @ Cake Shop
The daytime highlights continued on Friday, October 16th, when the fine folks at Terrorbird Media hosted their 10th annual CMJ Day Party at Cake Shop. The afternoon's roster was diverse, ranging from the emo power pop of Nai Harvest to ambient post rock mainstays The Album Leaf. Those who skipped lunch to get there soon after the clock struck noon were treated to a fiery first set from Makthaverskan (who we also included in our preview coverage). The Gothenburg goth punks — goth in sound, if not in fashion — did not show any signs of still waking up, aside from singer Maja Milner's cup of coffee. Despite Milner's mention of starting to lose her voice toward the end, all of those catchy curse-filled choruses remained scream-y and undeniable. – Ian King
Le Galaxie @ Pianos
Up to this point, CMJ show times seemed to be happening almost too much on schedule. That had made for a nice change of pace, but it was then almost a comforting return to normalcy when Dublin electronic quartet Le Galaxie started twenty-or-so minutes late at Pianos that early evening. Le Galaxie seem like they should be ironic on first look (whether it's their art direction or song titles or something else), but watching them raise up one floor-moving stomper to the next, uniformly clad in white and giving all their energy to tracks like the oddly infectious "Le Club", they were genuinely great. – Ian King
Stove @ Palisades
I tried to keep the celestial theme going with scraping, stoic post-punks What Moon Things at Berlin, but was foiled again by schedule changes, arriving for their advertised 6:10pm start just in time to catch their last couple songs, which were still well worth showing up for. (Turns out we had equally outdated intel when we tried to see them the following afternoon at Bowery Electric…so, come back down from New Paltz soon, fellas.) The unplanned extra time on hand provided a window to get on the J train to Brooklyn and head out to Palisades, where Exploding in Sound were having their official showcase and 4th birthday party. Stove bashed out some of the highlights from their forthcoming album, Is Stupider, and it was heartening to hear the Posies' classic album Frosting on the Beater being played on the PA in before their set. – Ian King
Modern Vices & Car Seat Headrest @ Rough Trade
Camping out at Rough Trade in Williamsburg was my plan for Friday evening. Unfortunately, the opener was the opposite of captivating. Modern Vices had all the trappings of a modern rock band: the costume (fur coats), the swagger (attitude), and the guitar lines (typical). But that was exactly their problem; they weren't blazing any trails. They were a big ol' FINE.
The evening's high point was the much buzzed about Car Seat Headrest. Will Toledo, the band's lead singer, played the first of his indie lo-fi rocks few songs lying down on stage, which was a surprisingly effective technique. This was the last of three shows he was playing at CMJ in support of his Matador debut, Teens of Style. The 22-year-old Toledo has been extremely prolific over the past five years, self-releasing a ton of music on his own Bandcamp, to the joy of many loyal fans. Toledo struck me as a young Stephen Malkmus, with an air of bemusement and disinterest in the crowd. His talent is evident, and it was not hard to see why he caught Matador's attention. I look forward to seeing what being signed to a label brings to Toledo's career, and what impact it has on his music. – Judy Nelson
Saturday, October 17th, 2015
Hooton Tennis Club @ Pianos
The final official day of CMJ offered a chance to wrap up a few loose ends. Having had to leave a couple songs before the end of their first show, it seemed only fitting to catch Hooton Tennis Club's last gig of the marathon, a 1pm slot at Pianos. Comparisons to another Fab Four from Liverpool don't come too obviously with them, but, aside from having an album cover that blends together the cover styles of Revolver and Love's Forever Changes, this time around it was hard not to notice how guitarist/vocalist Ryan Murphy stood tapping his foot and nodding his guitar neck like Paul McCartney does in old footage of Beatles concerts. Perhaps it was intentional, perhaps just heritage.
Shopping & Dilly Dally @ Baby's All Right
Saturday also presented the chance to catch London trio Shopping again, who we had just witnessed the night before at Music Hall of Williamsburg. This time they played a little further south in Williamsburg, at Baby's All Right in the mid-afternoon on a stacked all-day line-up organized by Brooklyn Vegan that started before noon and ended at 11pm with a revived version of Lilys who have recently played a couple shows at the same venue that focus on their ahead-of-their-time shoegaze era albums. Shopping, also mentioned in our preview coverage, were another one of those bands that seemed to play at least a dozen CMJ gigs. This was their last, but they brought the '70s pogo Brit-punk like it was their first. Right after Shopping came another band getting a good share of press attention recently, Dilly Dally. The Toronto neo-grunge rockers brought the righteously tattered sludge pop, as singer/guitarist Katie Monks graveled her voice in a way that made Live Through This-era Courtney Love sound polished. – Ian King
Owen Rabbit @ The Delancey
Australian electronic act Owen Rabbit intrigued me enough when I was putting together our CMJ preview that I made sure to catch him live during the festival. He was unfortunately relegated to the Delancey "Upstairs" which is basically just their bar area. It was the "Aussie BBQ" and the venue was full of loud, drunk folks trying to talk over the music — but they played a quick set of beautiful electronica tunes, most notably the single "Holy Holy." The lush melodies and layered harmonies rose above the din of the bar, keeping us there despite the two fellows in front of me screaming at each other drunkenly. I do wish I had made it to the merch table, but now I'll just have to keep an eye out on the Internet for more Owen Rabbit songs and news. – Judy Nelson
Post-Script: Sunday, October 18th, 2015
Good Morning @ The Rock Shop
Though CMJ officially came to an end on Saturday, a good number of bands that presumably were either from the city or didn't have to leave right away stuck around and found Sunday bills to hop on board. One such band was Good Morning, from Melbourne, Australia. I had been meaning to check them out all week, but the timing so far hadn't worked out. However, one last opportunity came in the form of an email read fifteen minutes before they were set to go on at The Rock Shop. The Melbourne four-piece made it worth throwing on shoes and running down to the venue at the last minute. Hailing from a city that seems to be having a real moment in popular music this year, Good Morning set themselves apart with their gauzy, half-dreamed tunes like "A Vessel" and "Radiovoice". The band has the laid-back vibe mastered, with songs kind of naturally winding down instead of coming to a full stop — but when you peer down into the music, it is deeper than it might first look. – Ian King
Ω