While still a young label, the LA-based
Hit City U.S.A.
has built for itself a solid roster of talented musicians — ones that complement each other nicely while also standing out on their own.
Founded in 2008, Hit City U.S.A. is, as musician and label signee Calvin Love details, comprised of "Artists working with Artists." It first began as a vehicle to release the album of its two founders, Colin Stutz and Cameron Parkins.
"It was simple to start," explains Parkins. "Colin Stutz and I are in a band called The Franks. We had just recorded an EP and wanted to put it out on a label. We didn't know any labels, or anything about getting music to labels, so we decided to start our own. It was really DIY at first, and we still keep that attitude about a bunch of things."
Hit City U.S.A. Record Label Mixtape Stream
A Personal Touch
Hit City U.S.A.'s DIY attitude is exemplified by the way they choose the bands on their label. They don't do any signings with specific business goals in mind; most importantly, the pairings just have to feel right. All of their artists are signed through instinct as well as personal connections and recommendations.
KISSES, an upbeat male-female pop duo from Southern California, have previous full-length releases on This Is Music and Cascine, but chose to take their third full-length record, Rest In Paradise, to Hit City. As they were already friends with the label founders, the transition was quite simple.
"I think we met up for coffee, sent them the album, and the rest is Hit City U.S.A. legend," states vocalist and guitarist Jesse Kivel.
(Right: KISSES – Photography by John Michael Fulton)
The intimate structure of Hit City allows for a unique type of camaraderie that can often be lost with larger labels. The exuberant indie folk band Lord Huron, for example, were introduced to them through a relative.
"Colin worked with my sister at the LA Times, and I think she passed along some songs," recalls lead singer Ben Schneider,who expresses surprise that Stutz and Parkins actually listened to his music. "They were into it, and we all met up for a beer downtown to talk turkey."
And right then and there, thanks to that one casual meeting, Hit City U.S.A. decided to put out the Lord Huron's 2010 EP, Into the Sun.
Meeting with and signing bands in a relaxed setting seems to be a standard for Hit City, who have a natural ability to make their talent feel at home. Soulful roots rock artist Maxim Ludwig, who just released his All My Nightmares/Assembly Line EP on the label, respects the values that Stutz and Parkins promote. The fact that they are relaxed while also encouraging experimentation and creativity is one of his favorite things about working with them.
"I'm very into the familial aspect of making art. I like working with a small group of people over a long period of time. It creates a common language in all parts of the music," explains Maxim Ludwig. "Hit City U.S.A. shows the business side of art can be creative. It's important to me to eat and drink and have fun when discussing the album, the promotion, the 'thing', and they always indulge me."
Not every artist on the Hit City U.S.A. roster had heard of the label before they signed — but they too trusted their guts and the vibe they received from Parkins and Stutz. Electronic pop musician Calvin Love, who released his 2014 Cool EP on Hit City, is one of those artists.
"My first impressions were positive, [and] I continue to be impressed by Hit City U.S.A.," Calvin Love explains. "I think they have evolved in the best way possible; ever expanding and pursuing their dream."
A Collaborative Process
Teamwork is essential to running Hit City U.S.A., and as Parkins explains, the process of signing each band is always a shared decision.
"Usually one of us hears some demos or gets sent some tracks, and then we bounce it around and see what sticks," he explains. "It's pretty fluid at the outset, but from there, we collectively really need to feel something when listening to the music."
Across the board, it seems that bands on the Hit City roster agree that the label works for them because the founders have a deep understanding of what it is like to be in a band. The artists feel invested in the label, and know that the label feels mutually invested in their success. The feeling of everyone being in it together leads to a shared sense of loyalty and devotion.
"I met Cameron for the first time at a show he played in Portland with his band, Superhumanoids, and I remember walking away thinking, 'That guy is a 100% genuine person'. Same feeling when I met Colin…" says Dan Vidmar, of the contemporary R&B project, Shy Girls.
In late 2013, Vidmar worked with Hit City to release his first EP Timeshare — and though he chose to self-release his 2015 follow-up mixtape, 4WZ, he is quick to promote the sense of ease musicians find when working with the label.
"My very first impression was: 'kind of a weird name for an indie label'," Vidmar laughs. "My second impression was just really trusting that they believed in the project. They seemed so ready to work my EP and so hungry to be on my team — and that was important to me."
Anthony Ferraro, lead singer of Northern California's mellow, lo-fi indie rock band Astronauts etc., holds a similar perspective. Their recent release, Mind Out Wandering, is a catchy debut that includes the single "No Justice". The release is a big score for the label, with an artist-label exchange that is symbiotic for all.
"Hit City U.S.A. is a young label, and we're a young band. The face of the industry is changing dramatically right now," explains Ferraro, "and I think it's a great benefit to be able to face that with a label that understands how to adapt — that hasn't ossified into a machine with a rigid M.O."
A Formidable Future
Thus far, Hit City U.S.A.'s track record has dictated that they generally sign artists for only a release or two — but come the year 2016 and beyond, one can expect Parkins and Stutz to be working more tirelessly than ever on expanding their project.
"Working with bands over multiple releases is always the goal," explains Parkins. "We invest ourselves pretty fully into anything we do, so having a long view of our growth with an artist is always on our mind."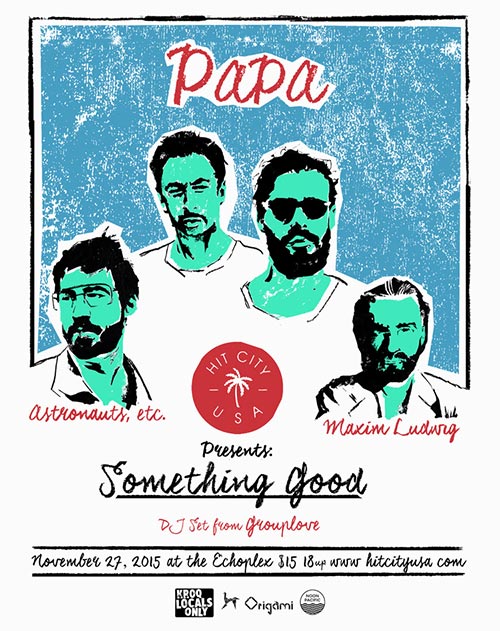 "Sometimes this works out nicely and we're able to do multiple releases," he continues. "Sometimes one EP or a single is all that really makes sense for everyone involved. Broadly, though, we look at what we're building with Hit City as something beyond just releasing records — we may not work with an artist on their next musical release, but we may do an event with them, for example."
In addition to events, other experiments Hit City is undertaking include in-depth editorial pieces with bands they represent as well as artists they love, limited edition food products, and simple apparel items, such as locally-manufactured bandanas and classic white tees. All of it cohesively forms a brand that is relaxed, grounded, and very Californian in style and execution.
"I think the label has only gotten stronger with every release," says Kivel of KISSES, "and as they have broadened the label to include lifestyle items, I think that has helped build a world around the label itself."
Stutz echoes this sentiment, saying, "If we aren't pushing things forward to do better and achieve more, no one else will. It also means we're sort of too small to fail."
As to what quantifies success for the label founders, it's quite simple.
"It really comes down to sustaining a living as a creative entity, both for ourselves and our collaborators, through a holistic ecosystem of our own design," says Stutz. "That, and feeling like we've contributed to the world with something good and inspired, rather than just more noise."
Ω