I grew up in the '80s, so my
Sesame Street
episodes were laden with environmentalist zeal, internalized to such an extent that it still gives me a visceral stab of pain to see those plastic can rings discarded and uncut. I genuinely thought such things were illegal, well into my teens.
This naive, small-scale pang of concern scarcely scratches the surface of the real problem: that is, of massive global pollutants, in almost every form imaginable, residual and persistent, that break into smaller pieces but never, never, never dissolve back into the soil. To children, (and indeed the general public,) this was often framed as a problem with simple solutions — not an inevitable product of an industrial system that favors profits over Asking Tough Questions about the source of raw materials.
"Recycling has a frumpy, undesirable connotation," agrees Alexander Groves, the artist half of the duo behind Studio Swine, an Anglo-Japanese design studio. "We've always been most interested in changing that perception."
North Pacific Gyre, 2015 – Sea plastic, green abalone shell, brass, rope, shackle

Studio Swine neatly combines Groves' artistic curiosity and architect Azusa Murakami's structural wherewithal, with SWINE standing for:
Super
Wide
Interdisciplinary
New
Explorers
Groves and Murakami tackle gritty environmental issues in an equally gritty fashion. Using humble means and modest materials they create stunning art objects that cause the viewer to reexamine their own perceptions about material reuse. (Because how could something so undignified become something so refined?)

North Atlantic Gyre, 2015 – Sea plastic, reclaimed mahogany, rope, brass
Gyrecraft
The "explorers" part of the equation is an important component. For one of their recent collections, Gyrecraft, Groves and Murakami partnered with a research vessel which set sail through the North Atlantic Gyre, a thing I did not know existed until I came across their work. It — along with the swirling mass of debris that collects there, known as the "North Atlantic Garbage Patch" — has been the subject of a good deal of research since the late 70s, when scientists first discovered it and an analogous patch in the Pacific.
The garbage patch itself offers few visual cues from the surface, as exposure to the sun and seawater are apt to break the detritus down into tiny fragments. It's hard to get a sense of how big the thing is, or how destructive it is — but my cursory explorations for this story lead to articles about the black-footed albatross population of Midway Atoll, whose chicks experience a high mortality rate from being fed shards of indigestible rubbish, as well as upsetting phrases like "plastic particles in their respiratory systems".
"We really wanted to draw attention to the growing plastic problem," Groves explains, as he describes the voyage.
Studio Swine – Gyrecraft Documentary
In addition to their fascinating sculptures, Studio Swine produce films about their explorations, which have themselves been screened via National Geographic and the Discovery Channel, and won them prestigious awards at film festivals, including Cannes.
In addition to their fascinating sculptures, Studio Swine produce films about their explorations, which have themselves been screened via National Geographic and the Discovery Channel, and won them prestigious awards at film festivals, including Cannes.
The tone of their footage is actually kind of hopeful — not unlike the clips I would have watched as a child. And that is not to disparage the nature of the film; quite the opposite, in fact. There is something pure and captivating about the process itself, which begins with something humble and real, yet produces something shiny, pristine, and in the case of Gyrecraft, kind of otherworldly.
"We spent ten days crossing a thousand nautical miles," says Groves. "It was the first time we have properly been to sea in the open ocean. It was so remote that we wouldn't see another ship or plane for days, and yet, every time we trawled, we found plastic and evidence of human activity and industry on land."
"It really made us convinced that attempting to trawl it from the ocean isn't the best solution, and we must solve the problem on land, with the reduction of disposable plastic, to make the biggest lasting difference," he continues.
Once the particles were collected, they were sorted by color and roughly by type, as not all sea plastic melts alike (Groves confides that "Type 1,2, 5 are the best for us"). They were then fed into a machine named, delightfully, the "Solar Extruder." This thing "requires no fuel or electricity only the power of the sun, and it is operated by hand."

Plastic particles from trawling the North Atlantic Gyre


Plastic particles from trawling the Indian Ocean Gyre
In a nod towards maritime craft — done to pass the time during the monotony of doldrums — the plastic fragments would be melted and manipulated into something truly astounding.
"We are always surprised with the different effects we can achieve. It's like cooking. Pressing the melted plastic; adding certain colours at different times, can create marbling, tortoiseshell patterns, etc…" says Groves. "Plastic is an amazing material; it's just very poorly used."
Studio Swine went on to create four other Gyrecraft pieces. One for each major gyre; each a nod to the coastal communities they represent.
Studio Swine's Gyrecraft Sculptures
Indian Ocean Gyre, 2015 – Sea plastic, mother of pearl, aluminium, steel, brass, rope

South Atlantic Gyre, 2015 – Sea plastic, gold plated steel, brass, rope, sandblasted glass

South Pacific Gyre, 2015 – Sea plastic, reclaimed hardwood, gold plated steel, brass, rope
Plastic, offhand, has strictly middle-class connotations. It is the stuff of happy meal toys, cheap organizing shelving, the snarls of bric-a-brac that nobody wants at a garage sale. We think of it as infinitely accessible, cheap, and in the long run, not that reliable. That laundry basket is bound to split somewhere structurally crucial that will undermine the entire thing's integrity. We think of it, in other words, as temporary. Disposable. Limited warranty. This, despite the fact that it never really enters back into the ecosystem as neatly as organic material can.
Treating the collected detritus not as blasé but instead as a precious material, is an interesting angle. What often makes a high-end object "high-end" is the rarity of the material it is made of. And while plastic itself is not rare (in fact, we've too much of it floating loose), the fact that Studio Swine bothered to collect and sort of the plastic as well as manipulate it slowly and meticulously with tools that require no fuel, suddenly that transforms the stuff into something much more interesting. Much more precious.
And indeed, the resulting objects have a strange allure. They feature the candy colors you might see in a big box store, yet somehow they don't seem kitschy. The Gyrecraft pieces do indeed seem more akin to their cousins made of marble and gold.
Studio Swine – Can City
Working with found materials was hardly a new venture for Studio Swine — look back in time a few years and you'll find them trundling through Sao Paulo, collecting aluminum cans for a project entitled Can City. These were melted down in a clap-trap apparatus powered by waste cooking oil. The molten metal was then poured into shapes pressed into sand — some wide and flat, others long and slender. These shapes were eventually put together to become chairs.
Studio Swine – Sea Chair
For their next project, they turned their attention to ocean plastic, and began collecting fragments found onshore and floating around in areas more accessible than the center of the ocean. These efforts resulted in Sea Chair, a sort of prototype for the Gyrecraft project.
"With Sea Chair, we were working with the material for the first time and a lot of the design was in creating a system and process. The Chair was something we intentionally made very restrained and simple. As we learnt more about the material, we knew we could push the different effects," Groves explains.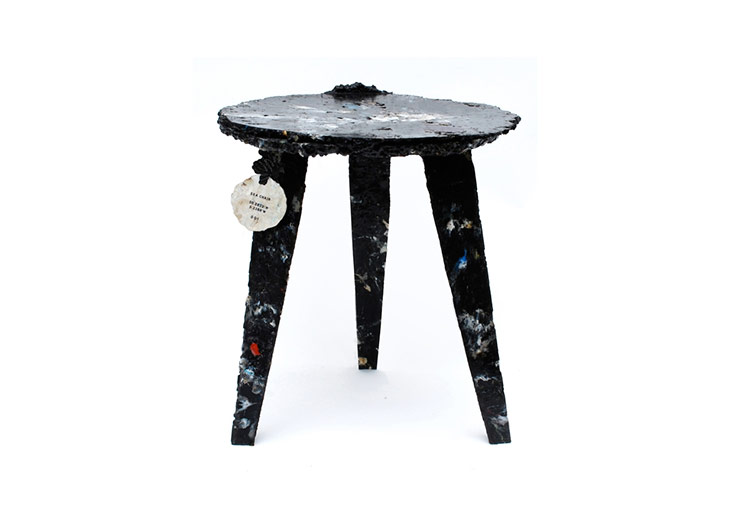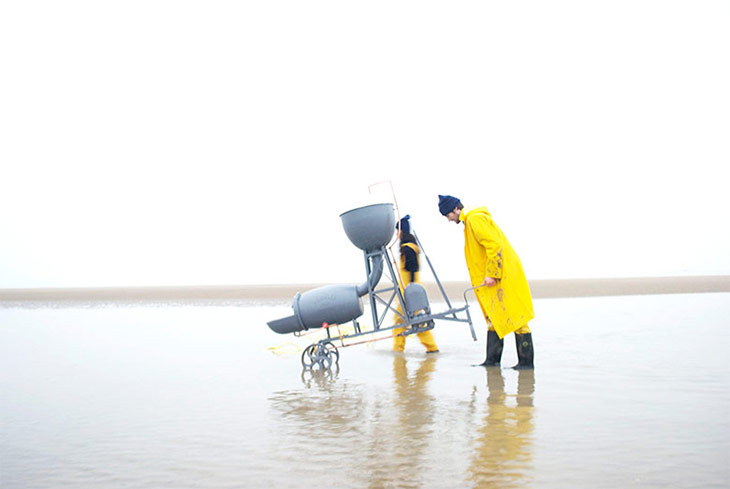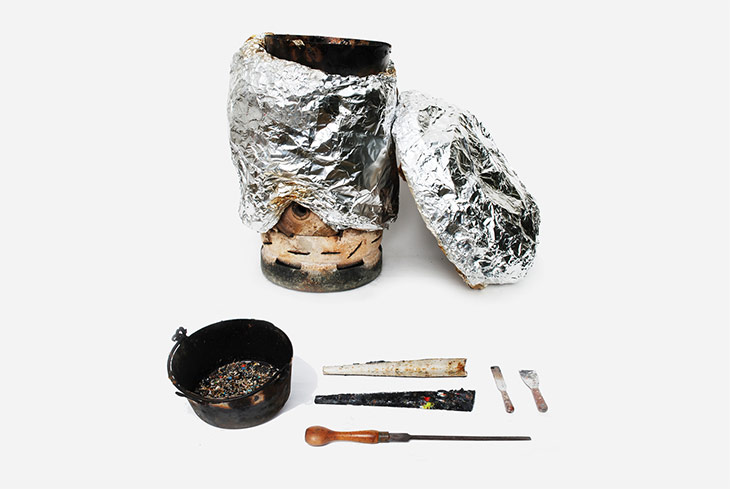 The use of sand-molds for Can City and the fun hand-cranking shots of the Solar Extruder add to an overall feeling of gleeful exploration and unbridled imagination and wonder. There is something very earnest and wonderful in Studio Swine's reclamation of discarded goods. Seeing images of hands at work lead one to think … maybe I could do that. Maybe I should! And perhaps this is exactly the sort of thinking that will get more people to roll up their sleeves and pitch in.
Additional Projects by Studio Swine: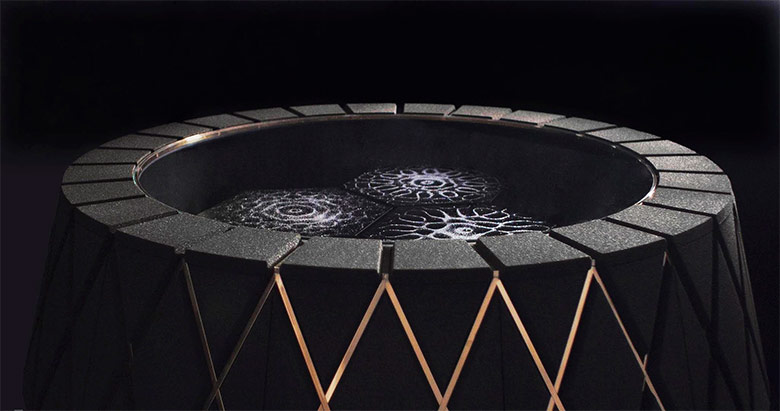 Dune Table, 2015
Miniature dunes are created using sound vibrations revealing the planet's shifting landscape. The table is made from Glass Foam, which originates from the same material as crystals yet having the opposite quality of light absorption, coarseness and sound proofing.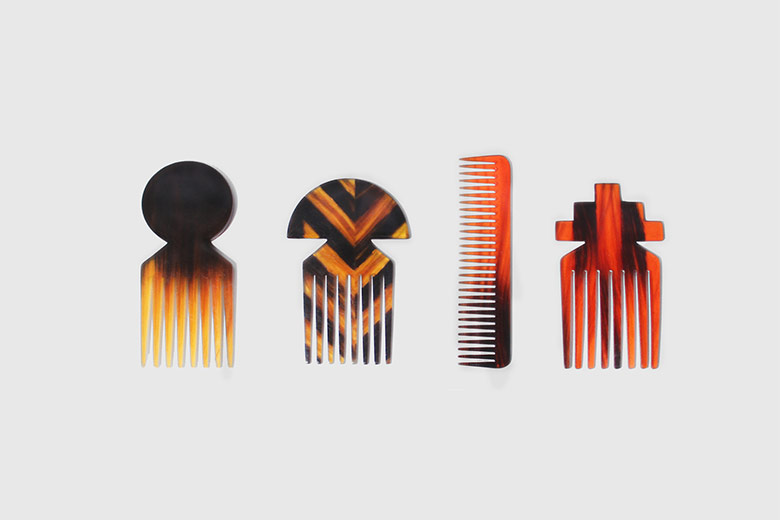 Hair Highway, 2014
Chinese-inspired art objects made from human hair, a renewable resource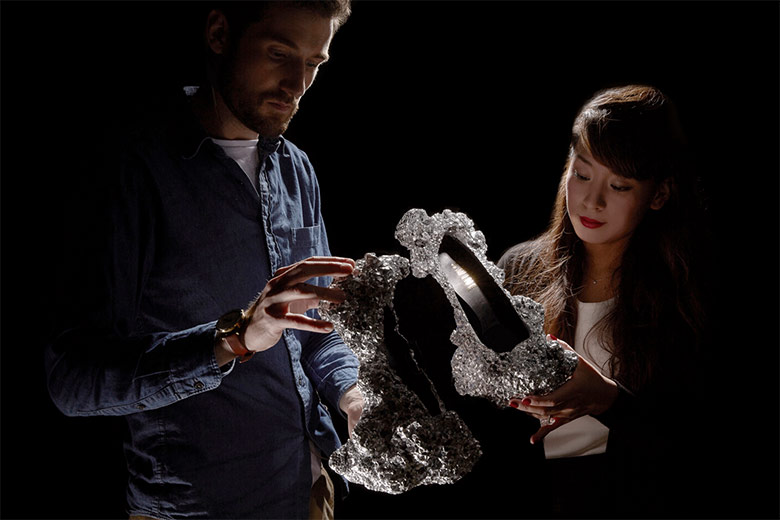 Meteorite Shoes, 2014
Ω