Space 1.8
is the highly anticipated debut album by London-based Caribbean-Belgian composer, producer, and musician Nala Sinephro. Composed after Sinephro experienced a serious health scare, the album's warm textures and methodically slow pacing speak to the artist's journey towards healing. In the album's
press release
, she reflects, "Recording the album was deeply medicinal and what my body needed at that time. I became more focused on the inner workings of the body and created a sonic world that helped me heal."
Released by British heavyweight Warp Records, Space 1.8 was composed, produced, engineered, recorded, and mixed by Sinephro and features an ensemble cast of talented musicians from the UK's budding jazz scene. The album opens with a slowness that invites mindfulness and reflection. "Space 1" features Sinephro on modular synthesizers and pedal harp. Droning synths quietly ease in, warm like gentle rays of sunlight peeking through tree branches. Field recordings of birds chirping fill the spaces in between, a homage to Sinephro's childhood memories spent in the Sonian Forest in Belgium. When at last her harp emerges, it mimics the phrasing of these bird calls with staccato plucks that fade in and out of the foreground. A fitting place to begin a healing meditation.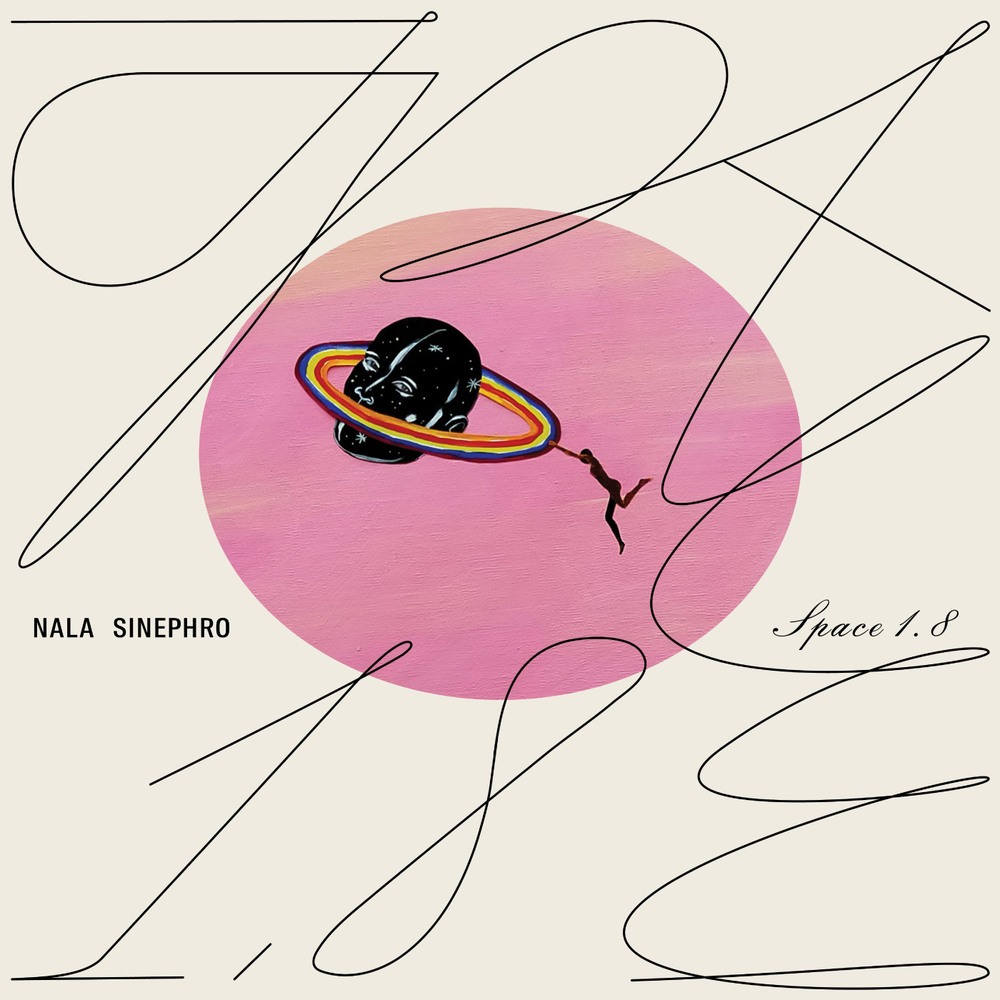 For an album that is so deeply concerned with the personal, this sonic world is inviting and expansive rather than private and closed off. While the opening piece is a solitary moment, much of the album emphasizes for Sinephro that healing is found through collaboration. "Space 2" features the album's largest ensemble, with a sextet that moves together symbiotically, organically. Saxophonist James Mollison opens with a lush, relaxed melody and pianist Lyle Barton offers a lyrical, unhurried solo in response that fades away into the shimmering brilliance of Sinephro's droning synthesizers.
There is a level of comfort between the musicians that comes across clearly in each piece. In the process of making the album, Sinephro chose to use the first takes recorded after moments shared with her collaborators — through meals, conversations, laughter, group meditations. In this way, Sinephro honors immediacy, seeking to capture the energy from those moments of intimate connection. "Space 5" benefits greatly from this belief in vulnerability. A processed kick drum provides the steady heartbeat for the piece while modular synths, Sinephro's harp, and Shirley Tetteh's sparse guitar create a spacious landscape. When saxophonist Ahnansé joins in — his saxophone processed to create two voices — the lyrical run is so impressive that you can hear a cheer (perhaps from Sinephro) in the background.
The final track, "Space 8" is the album's brightest moment. A sprawling 17-minute duet between Sinephro on modular synth and harp and Ahnansé on processed saxophone. The piece builds slowly with mystical harp glissandos reminiscent of Alice Coltrane and warm, long tones from Ahnansé flowing like deep breaths. As the piece continues, modular synthesizers and harp twinkles in and out of the background while the two musicians exchange beautiful, slow melodies. It feels natural to close your eyes, let the sound wash over you, and enter a meditative state. To meditate is to let the mind find relief, to empty your thoughts, to quiet the cacophony inside, to slow down, and "Space 8" facilitates this graciously. When the piece finally fades into silence, you can hear Sinephro and Ahnansé exchange a gleeful laugh — one final testament to the moments of joy shared throughout this healing journey.
Ω