"What do you mean I don't get it? I'm a genius, I'll understand it; I just need to break it down is all. Now let's see, something about fish sticks interacting with me, makes me a gay fish. Alright now -- what do we know about fish sticks? They're breaded; they're fried; they're frozen. Then under me we have rapper, genius. Hmmm. Then gay fish -- homosexual and they swim...."
- "Kanye West" on South Park
Kanye West Yeezus (2013) Def Jam Recordings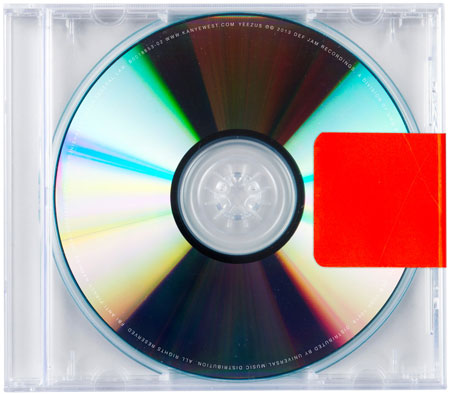 I've never given one solid shit about Kanye West. Perhaps I assumed he would be relegated to the fading collective memory of that awful decade, the '00s -- a waning image of yesteryear, alongside Rudolph Guiliani, Suicide Girls, and Shitty Movies Ben Affleck. He was, after all, the star of one of the greatest events in '00s history, when he hijacked a live telethon for Katrina victims, went way off script and declared "George Bush doesn't care about black people!" A couple days later, a heroic everyman citizen told Vice President Cheney to go fuck himself, right to his face: a butterfly effect Mr. West can be proud of.
And now, here we are, 2013! Holy shit, how 'bout 2013? If someone told me in 2005 that in 8-years-time, Japan would be melting from radioactivity,
Daft Punk
would make a yacht rock record with Nile Rodgers on guitar, Barack Obama was a two-term president and he too was a war criminal, and Kanye West from the Katrina telethon just dropped one of the best records of the year (and... oh by the way... it's experimental and grotesque like
In Utero
-- only nastier -- or
Pink Flamingos
-- only funnier)... I might have shit myself right there. Ah 2013! I mean, what the hell? There are no rules on this island. It's taken me a while to dig in, but
Yeezus
is fresh as hell.