As a writing staff, we're fairly all over the place. Hence the lack of an all-in-one, cohesively agreed upon list. Instead, you get this — a spectrum of musical madness that represents our tastes from large to small, mainstream to obscure, spaced out to reasonable.
There's no way in bloody hell you'll love every release on this list unless you have a million personalities living in your puny body, but chances are great that you'll discover some excellence you never knew you loved. We've broken the list down by the writers and common related keywords for your easy digestion, so have fun exploring.

Jesse C. Dienner – garage, indie rock
Thad McKraken – progressive, psychedelic, stoner
Vivian Hua – dance, electronic, funk, punk, psychedelic
Troy Micheau – ebm, electronic, minimal, new age, psychedelic
Judy Nelson – chillwave, dance, electronic, indie rock
Ryan Pangilinan – electronic, hip-hop, pop-punk, punk
Peter Woodburn – electronic, minimal, punk, instrumental
Jesse C. Dienner's Top Albums 2011
Runner-Ups
11. Cake – Showroom Of Compassion : As a band, they still have their charm and charisma in their musical sensibility and sensitivity, and they remain to be one of the most creative bands out there, I believe.
10. Noel Gallagher's High Flying Birds – Noel Gallagher's High Flying Birds : Noel Gallagher is a genius songwriter. He gets how it is supposed to be done; no question.
09. Jane's Addiction – The Great Escape Artist : This is a marvelous album because they are capable of such perfection in whatever variation they currently embody.
08. Jared Mees & The Grown Children – Only Good Thoughts Can Stay : The melodies are both to die and live for and the stories presented in the lyrics are interesting, complex, and thought-provoking. + ALBUM REVIEW
07. Paleo – Fruit Of The Spirit : Each track has its own identity, and everything has an amazing way of working its magic on you: the low-fi, boisterous rawness of this album make it a sleeper success. + ALBUM REVIEW
06. My Morning Jacket – Circuital : Leave it to my mom to introduce me to this album! I've become obsessed with the positivity and honesty of this album and its compelling, epic sound.
---
05.
The Strokes

Angles
Sony Music Entertainment
The Strokes are a band that I passed on initially, but I've been catching up to their greatness since. Fortunately, I was ready for this album when it was released, and over time, my appreciation of it has become infinite. Regardless of what one can say about The Strokes, they know how to wield sound like no one else. Though it is a single, "Under The Cover of Darkness" is an absolutely perfect song. It has four to six hooks in it (depending on how you slice it up), and that concentration makes it irresistible. And, that sonic gem is just one splendid song amongst many.
---
04.
The Kills

Blood Pressures
Domino Records
Second to seeing the Arctic Monkeys at The Independent in San Francisco, the next best show of the year was The Kills at The Fox in Oakland. This album is seductive through the stereo, and it seals the deal live. It comes across both broody and beautiful, and the raw clamor somehow translates into the most intriguing beats and melodies. Where have these guys been all my life?! "Pots and Pans" plays in my head almost daily.
---
03.
Raphael Saadiq

Stone Rollin'
Columbia Records
I had an inclination to check out Oakland's own Raphael Saadiq towards the beginning of 2011 when I was doing my Coachella research and preparation, but it wasn't until September that I picked up this disc, and within a matter of days, I knew I had found another Top 5 contender. So soulful… yet so rock and roll… yet so gosh darn sexy-whatever the genre! I am waiting to catch him in concert and dance my proverbial butt off. "Go To Hell" is my theme-song for 2011. (That sounds funny, but I mean it in a positive way; check out the song!)
---
02.
Arctic Monkeys

Suck It And See
Domino Records
I can remember not giving these guys the time of day when they first hit the music scene back in the MySpace hey-day… and now the joke is on me! The Arctic Monkeys are, in my opinion, one of the best bands performing today. They are like the nouveau Clash to me. And, this album is probably their best one yet — though it barely edges out Humbug, my vote for #3 best album of 2009. The title track is my selection for my annual mix CD that I give out to friends and family on New Year's Eve.
---
01.
Destry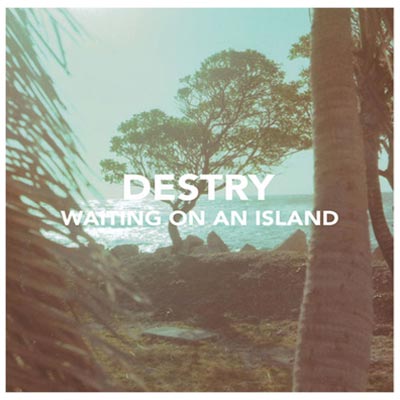 Waiting On An Island
Self-Released
This record was a random one that our beloved Editor-in-Chief allowed me to review, and it turned out to be my favorite album of the year! It's the kind of disc you can recommend to just about anyone being that it is gentle enough though sincere enough to appeal to various music preferences. At day's end, though I love all tracks, "Alabama" is my true love with its fantastic outro. Please see my full review from when this album was released.
SEE ALSO: DESTRY WAITING ON AN ISLAND ALBUM REVIEW
Listen to Destry's "This Island" – DOWNLOAD MP3

Thad McKraken' Top Albums 2011
Runner-Ups
10. Mastodon – The Hunter
09. Swahili – Swahili : + ALBUM REVIEW
08. Hyptia Lake – Ouroboros
07. Times New Viking – Dancer Equired + ALBUM REVIEW
06. Helms Alee – Weatherhead
05.
Hidden Number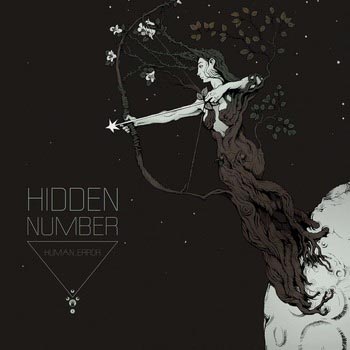 Human Error
Magnets Large And Small
This definitely gets my vote for Occult-themed genre-hopping psych-prog album of the year. Also easily takes the best theremin soloing trophy. Much like with the Lesbian album in 2010, I just kind of fell into an addictive wormhole with this for a while. It's like I have to get to the bottom of the intricate weirdness and interrogate its reality to a satisfactory level of understanding or all is not right with the multiverse. Fucking prog. It pushes me around, calls me stupid, and I compulsively have to prove it wrong. I can understand you, you arrogant disc. Do you think you're better than me? Anyway, these guys are completely doing their own freakish thing and you've just got to respect the sheer level of strangeness involved therein. What's with the hooks? You wouldn't expect shit like this to have hooks, but there they are.
SEE ALSO: HIDDEN NUMBER'S HUMAN ERROR ALBUM REVIEW
---
04.
Sandrider

Sandrider
Good To Die
Sometimes as a music writer, words just kind of fail you. Why is this the number 4 record of the year? I don't know, it fucking rocks, go listen to it already. What the fuck do you want from me? Well, I suppose I'm just being lazy. I have no idea why this is as good as it is. They're not doing anything particularly out of the ordinary. I guess it's about execution plain and simple. Years of playing in Pacific Northwest heavy rock legends Akimbo and The Ruby Doe hath bestowed these dudes with the preternatural chops necessary to dispense perfectly crafted stoner punk jams at will. Up there with the best efforts of their respective careers, for sure. Sometimes shit just works. Every time I've wanted to get amped up for working out or keep myself from falling asleep at my desk in the last four months, this is what I've thrown on (I got an advance copy). Instant energy surge. Doth it rock? Yes, it doth.
SEE ALSO: SANDRIDER'S SELF-TITLED ALBUM REVIEW
Listen to "The Corpse" – DOWNLOAD MP3

---
03.
Shabazz Palaces

Black Up
Sub Pop Records
"Clear some space out, so we can space out." The main problem I've always had with most hip-hop is that it's not trip-hop. Fortunately this leans heavily into surrealist psych-hop territory. I've never understood why more people don't do this kind of thing with all the technology floating around these days. (They probably are, I just can't keep tabs on it. Who the fuck can? Someone with more of an interest I suppose.) Shit gets bonus points for not being hyper misogynist, materialistic, overly violent, or excessively braggadocious. What the fuck is it with rap songs about how great the rapper rapping is? If you can spit don't you just throw down and prove it? There's a lot I don't understand about hip-hop, to say the least. In a way, this reminds me a bit of they were wrong, so we drowned-era Liars in how the tracks almost seem half assedly tossed together, but somehow all the pieces fit quite exquisitely. As if the guy programming the beats doesn't even know how to use the sampler, and that's precisely why he makes the best beats. When was the last time a hip-hop album came out of Seattle that I more than lukewarm on? Honestly, I'm pretty sure the answer to that question is never.
Listen to Shabazz Palaces' "An echo from the hosts that profess infinitum" – DOWNLOAD MP3

Listen to Shabazz Palaces' "Swerve… the reeping of all that is worthwhile (Noir not withstanding)" – DOWNLOAD MP3

---
02.
Lumerians

Transmalinnia
Knitting Factory Records
Admittedly, I'm basically the target audience for this kind of thing, but that doesn't make it any less awesome. A band named after the inhabitants of a mythical lost world playing groove heavy paranormal inspired psych rock? What else do you want in life? These guys do everything right on their first proper album, keeping your head nodding hypnotically for the first half of the disc before sucking you into a vacuum of primordial chanting and bliss feedback, then setting you back adrift into the world with a contemplative, melodic outro cut. Tranmalinnia does a great balancing act between calculated instrumental mindfuckery and more traditional song structures laced with understated yet effective vocal patterns. Interesting lyrics, too. All of it basically rules, and if you have any interest in what some people might refer to as "the unknown," that definitely ups the ante. The smokescreen of mystery they intentionally cast around themselves serves them well. Kind of makes you wonder, "Do these guys really talk to UFO's?" Maybe they do Jimmy; I suppose we'll never know.
---
01.
Master Musicians Of Bukkake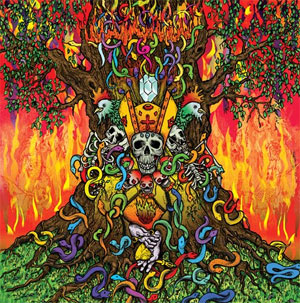 Totem III
Important Records
This might seem like a peculiar choice for album of the year, and I'd be the first to acknowledge that. In fact, I wouldn't by any means even imply that this is my favorite album to come out in 2011. It's more about the completion of a work. This is the final piece in MMOB's Totem trilogy of records, and while each individual piece might come across as satisfactorily excellent, it's more about the whole picture, the macro record. If you tried to say, summon a discarnate entity with just the first two albums alone, you'd maybe bring on a mild state of possession which would dissipate fairly quickly. Now the cycle is complete. This is the final incantation of the spell that can move things heavenward. How would I describe their sound? Well, it's basically the kind of stuff you'd practice ritualistic magick to. You know – focus of intentions, inner visualizations, prolonged distortions of the senses, etc. Great for spellcasting. In fact, now that their great work is complete, why not try this simple ritual for yourself? Buy all three discs (incredibly reasonable as Amazon downloads), induce an altered headspace by any means you find appropriate, then attach a meaning to an image you've drawn for yourself that represents its essence. You can also use a pre-selected image done by someone else; just make sure you attach your own meaning. It should be a plotline you'd like to see manifest itself into the human time stream. Try not to make is selfish or retarded. Then go fuck for three hours while listening to the Totem trilogy in its entirety. Try your best to focus on that image internally while in this protracted state of sexual excitation. I think you'll find that in the coming months and years the desire you projected into the ether will come to pass in the most unpredictably creative way imaginable. See, the best part about making claims like this is that you can't tell me it didn't work or that I'm crazy because you're too big of a pussy to even try. My work here is done.
master musicians of bukkake – totem three (album preview) by experimedia
Vivian Hua's Top Albums 2011
Runner-Ups
12. Soley – We Sink : She crafts an Icelandic dream world that feels simultaneously wonderful and horrific to live in.
11. Thee Oh Sees – Carrion Crawler : I hardly even like garage rock, but MAN. Thee Oh Sees just know how to do it.
10. Screens – Dead House : Just awesome experimental messy all-over-the-place unconventional art rock. So into it. + ALBUM REVIEW
09. Emil & Friends – Lo & Behold : I seriously think my brain is shaped a little bit like this record. + ALBUM REVIEW
08. Nurses – Dracula : This album has definitely grown on me a lot through the year, and its best singles are constantly stuck in my head.
07. Joni Haastrup – Wake Up Your Mind : A top contender, though it didn't make the list since it's a re-release. Check it out anyway for 1978 Afrofunk brilliance.
06. The Reservations – The Reservations : Lounge pop, organs, psychedelia, and two extremely quirky and complementary vocalists! This kinda rock and roll is so ace. + ALBUM REVIEW
---
05.
Duchess Says

In A Fung Day T!
Alien 8 Recordings
Admittedly, I have not spent much time with this record, but that hardly even matters. When I first discovered Duchess Says in 2008, it was instant, instant sonic love. Kinship, even (albeit it a one-sided kinship). Duchess Says' electronics-infused, noise-heavy dance punk is pretty much a synthesis of all of my favorite musical subgenres. That in itself is a wonder. But then I saw them live, multiple times, and now, I shalt follow them wherever their always-angry-when-I-see-them keyboardist and doe-eyed floor-rolling banshee of a frontwoman will take me. Considering the band members run some sort of spiritual church called The Church of Budgerigars — that "proposes a vast range of products and service such as psychic phone lines, a tarot service, a religious shop and principally the rock band Duchess Says," I suppose I am slightly wary of declaring that I shalt follow them anywhere. But that's a risk that, as a convert, I guess I just have to take.
Listen to Duchess Says' "Time To Reiterate" – DOWNLOAD MP3

SEE ALSO: IN A FUNG DAY T! ALBUM STREAM ON ALIEN 8 RECORDINGS
---
James Blake

James Blake
Universal Records
James Blake's emo-R&B-indie-dubstep is for some to love, for others to hate. Admittedly, this UK producer's self-titled album is far from the most solid record ever, but the half of the record that is flawless makes up for the other half that is completely mediocre. I suppose it's slightly frustrating that the opening trio of tracks — "Unluck," "Wilhelms Scream," and "I Never Learnt To Share" – is where the bulk of the excellence lies, but there are also times and places where the record, as a whole, just hits the spot like nothing else. Sure, that's not the most thrilling spot, or the happiest spot… but even spots of isolation and solitude are necessary spots to pay attention to.
SEE ALSO: JAMES BLAKE – SELF-TITLED ALBUM REVIEW
---
03.
Snowman
Absence
Dot Dash
Absence is an ominous black cloud from Down Under. As a record, it's a shrouded mystery that meanders through caves, tunnels through solid earth, and dances around fires. Compelled more by primal urges than by rational minds, it feels like the primitive remnant of some universe long erased. The lyrics, for example, are scarcely discernible and hold little contextual appeal — but when they cascade downwards in falling succession alongside rhythms of pure fascination, Liars-esque vibes emanate to satisfaction. I thoroughly enjoy this release, and I truly wish it wasn't the band's last effort before their dark energies dissipated into oblivion…
Snowman – Absence by theQuietus\
---
02.
Sister Crayon
Bellow
Manimal Vinyl
Bellow comes from the watery depths of sadness, and it just so happened that I came across this album earlier in the 2011, when I was a drowning mess of sad sad Sadness with a capital S. For about a month straight, Bellow was my nighttime sleepy-time companion, its echoing vocals and delicate synths comprising the shadowy underbelly of seemingly endless self-pity. Just like the Gardens & Villa record, Bellow, too, is a no-brainer for my list, though the two records could not be situated further on the emotional spectrum. Bellow sinks. It's a heavy, hopeless siren song. But just like me, it seems to grow wiser as it moves forward. By the end, though, its operatic and theatrical sense of melancholy is pulled to the surface through a vertical shaft of air, and a temporary glimpse of victory reveals itself in "Souls Of Gold," which captures ecstasy like a Native American drum circle.
---
01.
Gardens & Villa
Gardens & Villa
(Secretly Canadian)
I can single-handedly be credited for turning a fairly large group of new fans on to the wonders of Gardens & Villa. For a multitude of ridiculously personal reasons, I just can't say enough their self-titled record. Hell, I've probably already said too much about it, but I'm pretty okay with that. This Southern California band's self-titled record is a collection of funk pop gems that hits home the way a Beach House record does. It's dripping with nostalgia and funnels emotively deep into my sooooooouuuuuuuuuulllllllllllll. Only, where Beach House feeds the part of my soul where lovers idly sit around watching sunsets and daydreaming of romance, G&V feeds that part and the other part, too — where rainbows and unicorns have parties, dancing under disco balls and laser lights. For Summer and Fall of 2011, my spiritual body was the set of Soul Train, with G&V and gem-encrusted glitter cannons lining the dance floor.
SEE ALSO: GARDENS & VILLA INTERVIEW + "SPACETIME" MUSIC VIDEO
Troy Micheau's Top Albums 2011
Neud Photo
Open Air Cinema
Pylon Records
New York minimal wave indebted to Kraftwerk, New Order, etc. etc… There's been no shortage of this music over the last two years. What sets Open Air Cinema apart, however, is that even if this dude did just trade in his no-wave guitar scratches for a used Juno 6 when the Chris & Cosey reissues hit last year, it still sounds like he mined this from the same timeless synth cave from which the aforementioned bands extracted their sounds. Vintage arpeggios dance around Motorik 808 clicks in classic fashion while cosmic string patches guide us through the dusty streets of moon colonies from the pages of yellowed Omni magazines. And, perhaps most importantly,Open Air Cinema is completely free of forced British accents and hilarious baritone vocals! Good job, sir!
---
Gang Gang Dance
Eye Contact
4AD
Less adventurous than the band's back catalog, Eye Contact is nonetheless the product of a band that's mastered its sound. Every note, sample and beat on this record feels confident and intentional – but loose, adding a sense of direction to their spacious jams which had often been missing in their previous efforts. This enhanced appreciation of form is displayed most dramatically in opener "Glass Jar," its components slowly checking in from the cosmic ether and wrapping around the most nuanced frame of GGD's career. Guitars, vocals and synths of both the sequenced and huge Euro variety intertwine in percussive succession on Eye Contact, as opposed to the corporeal ambience of the past. All lead to massive melodic hooks that lodge themselves in the brain (likely resting next to the pineal). Eye Contact isn't exactly a traditional exercise in linear songwriting, but the band is clearly on the move, pulling us along on their journey to the New Age rather than soundtracking our idle navel-gazing.
---
Perc
Wicker & Steel
Perc Trax
2011 was a fantastic year for bass music, techno, and house, with new records from Omar S, Surgeon, Andy Stott, Tommy Four Seven, and a ton of others who've reminded me just how inadequate my headphones are. But when it came time to document my feelings on the matter, it was obvious that UK producer Ali Well (Perc) and his debut LP, Wicker & Steel, was boss. The man rarely budges from his strengths – massive side-chained kick drums laced with filtered arpeggios and the occasional hi-hat lift – but its the subtle nuances in this formula and the tense but thoughtful track sequencing (Well's knows when to pull his punches) that give the record its narrative flow and makes good on his previous hints that he's aiming at something more timeless and satisfying than dance floor bangers this time around. The album is constantly becoming, assembling scraps of metal from the factory floor into a combination of harsh scrapes and jabs that slowly grow in complexity and suspense while maintaining the sense of muted dread mastered by the industrial masters of yore. The album moves along from its eerie ambient start through the broken beats of "My Head is Slowly Exploding"; the dubby side step of "Snow Chain" paves the way for the brutal EBM finale of "Jmurph." Wicker & Steel is a welcome payoff after years of Perc's teasing and a sign that bass music may only be the beginning for him.
Perc – Wicker & Steel – full album stream by Perc
Perc – Wicker & Steel Remixed – EP2 by Perc
---
Oneohtrix Point Never
Replica
Mexican Summer / Software
I had a feeling that Daniel Lopatin was a funny guy when he ruined and then made my first night with his last record, Returnal, by starting it off with a blast of white noise. But aside from that roadside bomb planted at the feet of his fan's expectations, his music generally been more about subconscious visions and longing for blue dot meditations. It's the kind of stuff that made him one of the key players in the Now Age synth revival of the last few years. With Replica, though, Lopatin has taken that dick move from "Nil Admirari" and stretched it out into a glorious left turn of an album. Everything that was ephemeral about his previous work has been brought into sharp focus here, as if we've zoomed to the nervous DNA strands that course through his work. It's occasionally beautiful (Lopatin still has a way with gorgeous string pads), but the stars this time around are samples cut into tight stream-of-consciousness sequences making for a close-in, paranoid record with schizophrenic regurgitations of media dredge engulfing moments of clarity and realization. And this is where the humor comes in. There are moments on Replica that are hilarious, samples you can't believe that Lopatin would stoop too. But when tied into his framework, they suggest that he's actually laughing at us. Or worse – there's some unknown figure looming in the shadows laughing at the both of us.
Oneohtrix Point Never – Replica by Mexican Summer

---
Peaking Lights

936
(Not Not Fun)
936 is the most listenable record of 2011. I have jammed these thing innumerable times over the last few months, often back to back, and it still hasn't gotten old despite the fact that they basically only have one song on repeat. But man, what an awesome song it is. This record isn't about traveling; there's no journey here. 936 is about slowing down and enjoying timeless kaleidoscopic space with a loved one. It's the minimalist soundtrack to a psychedelic trip with your other. The warm synths, dubby rhythms, muted vocals, and all around positive vibes are the stuff of late night fireside cuddle sessions. "All the sun that shines, shines for you," sings Indra Cunis in her sweet goddess Nico deadpan. And the universe has responded. Write-ups from online mags from this one to the BBC are helping to spread the word. I'm sure their home town of Madison, WI feels a little warmer this winter as a result.
Judy Nelson's Top Albums 2011
Runner-Ups
13. Unknown Mortal Orchestra – Unknown Mortal Orchestra : Another record that was widely hyped in the media, this funky 60's rock influenced album is a fun time, especially the single "Ffunny Ffriends."
12. Tinariwen – Tassili : I've always been a fan of Afro-beat, but these guys bring the drama, especially when they add Tunde Adibempe and Kyp Malone from TVOTR.
11. Gardens & Villa – Gardens & Villa : What a great discovery (thank you Vivian) and a great new band. I see only good things for them in the future. LISTEN & LEARN
10. Peaking Lights – 936 : This was my "ignore everyone on the subway and enjoy beautiful music" record. It worked out very nicely. LISTEN & LEARN
09. Wild Flag – Wild Flag : These ladies rule my world. Nothing will every replace Sleater-Kinney, but this record comes pretty damn close.
08. The Antlers – Burst Apart : A very successful sophomore effort that made me go back and reconsider the debut.
07. tUnE-yArDs – w h o k i l l : Merrill Garbus is my hero, and "Bizness" is one of the best songs of the year, hands down.
06. Zola Jesus – Conatus : After teasing us with a dark and wonderful EP last year showcasing her beautiful (operatically trained) voice, Zola Jesus finally released her full length and I haven't stopped listening since.
---
05.
Wye Oak

Civilian
Merge Records
After hearing so much about this band, I had to hang my head in shame when I discovered how far behind I was. Civilian was one of the best indie rock records I have heard all year. It is an album on which literally EVERY song is good. The dual male-female vocalist pairing, with a heavy emphasis on dark harmonies, hits all the right notes for me. This being their third album, I'm happy to go back in their catalogue and discover what I have missed.
Listen to Wye Oak's "Civilian" – DOWNLOAD MP3

---
04.
SBTRKT

SBTRKT
Rough Trade Records
An eclectic mix of a record that pairs the British DJ's beats perfectly with a range of vocalists, including most notably Little Dragon's Yukimi Nagano on the song "Wildfire." To me, this is one of the successful DJ/electronic/vocal combo albums of the year, even though SBTRKT is sure to be overshadowed by the likes of James Blake and Burial.
SBTRKT – Hide Or Seek by sbtrkt
---
03.
Toro Y Moi

Underneath The Pine
Carpark Records
Toro Y Moi's sophomore album is exactly the type of album that I needed when it came out: fun, quirky, and a good time every time. Each time I listen, I discover another song that I love. His mix of dancey, disco-influenced songs combined with smooth electro pop beats is expertly constructed. And isn't that what a good album is all about?
Listen to Toro Y Moi's "Underneath The Pine" – DOWNLOAD MP3

---
02.
Bon Iver

Bon Iver
JagJaguwar
This man can really do no wrong in my eyes (perhaps the last song on this album is WAY too '80's for me, but I can overlook it). It was thought that nothing could satisfy fans after such a powerful debut like For Emma, Forever Ago, but the self-titled follow-up really hit the mark. It was a slow burn for me, but it really hit home after I saw him live over the summer. I love when artists mix things up a little bit from album to album, and I see Justin Vernon doing that for the rest of his career.
---
01.
Washed Out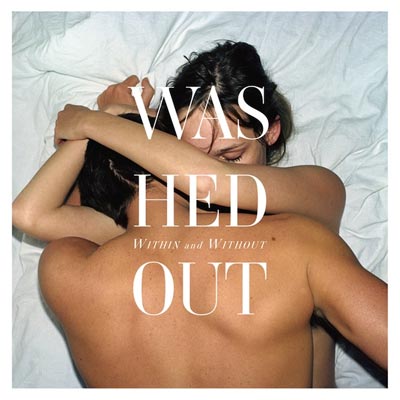 Within And Without
Sub Pop Records
This record received so much gushing press before its release that I almost didn't bother listening. I'm so glad that I'm not totally jaded, and I gave it a shot. Everything I said in my (glowing) review of the album is true; it's a well-balanced, perfectly graceful album that I want to listen to over and over again. In the coldest months of January, I'll be grateful to have such relaxing, summer songs on my iPod as I trudge through the snow.
Listen to "Eyes Be Closed" – DOWNLOAD MP3

Ryan Pangilinan's Top Albums 2011
05.
Joyce Manor
Joyce Manor
Asian Man Records
Californians Joyce Manor haven't been around for very long, yet their debut self-titled LP and raucous live show has helped them gain a cult-like following. This record is a tinge of Jawbreaker, Against Me, and good ol' twenty-something confusion and heartbreak.
---
04.
Cold Cave

Cherish The Light Years
Matador Records
Wes Eisold is currently enjoying a second wind of popularity with Cold Cave, a band that is vastly different from his previous bands, namely American Nightmare/Give Up the Ghost. Cherish the Light Years cements the fact that Eisold's black heart has just as much invested in New Order as it does in Ten Yard Fight.
Listen to Cold Cave's "The Great Pan Is Dead" – DOWNLOAD MP3

---
03.
The Wonder Years

Suburbia, I've Given You All and Now I'm Nothing
Hopeless Records / No Sleep Records
Depressing/upbeat record about growing up. Not over-produced and definitely an anthemic album for people who are trying to get out of being apathetic. It's perhaps the saddest posi record I've ever heard. Bravo, the Wonder Years.
---
02.
Prometheus Brown & Bambu
… Walk into a Bar
Beatrock Music / In4mation
I wasn't sure what to expect from a collaboration between Blue Scholars' mouthpiece, Geologic, and Native Guns' Bambu, but lo and behold, what I got was a surprisingly great album. Geo and Bambu are both at the top of their collective games on this album and there's a little bit of everything for someone who just discovered rap to the most jaded hip-hop fan.
---
01.
P.S. Eliot

Sadie
Salinas Records
Waxahatchee
American Weekend
Don Giovanni Records
The reason for two albums in one entry? Both of these records were helmed by Katie Crutchfield, who might be one of the most prolific songwriters in the indie-punk scene. Sadie is P.S. Eliot's swansong, a mostly uptempo record that plays to the band's strength of writing insanely catchy tunes. Waxahatchee's American Weekend, on the other hand is starkly different. Serving as Crutchfield's solo output, the record is a lo-fi masterpiece, and a narrative about adulthood disappointment and heartbreak. A fantastic album that everyone should listen to.
Peter Woodburn's Top Albums 2011
Runner-Ups
08. Battles – Gloss Drop
07. This Will Destroy You – Tunnel Blanket
06. Russian Circles – Empros
---
05.
ALL PIGS MUST DIE

God Is War
Southern Lord Records
Get fucking brutal. This album is like putting your face in a blender and pouring jalapenos in your eyes while sleeping on a bed of nails.
Listen to ALL PIGS MUST DIE's "Pulverization" – DOWNLOAD MP3

---
04.
Mogwai
Hardcore Will Never Die, But You Will
Rock Action Records / Sub Pop Records
Outside of having one of the best album names of all time, this album was Mogwai's return to form – and not just a specific portion of the band's career, but with bits and pieces taken from the whole thing. 15 years into the game, Mogwai have constantly been reinventing their own sound, trying to stay ahead of the genre that they had such a huge helping hand in creating. Hardcore Will Never Die brings the heavy riffs, the gentle melodies, and the extreme distortion with the best of them.
Listen to Mogwai's "Rano Pano" – DOWNLOAD MP3

---
03.
James Blake

James Blake
Universal Records
I have no idea what dubstep is. So I have no idea how James Blake is shattering the notion of dubstep. But this album, and this man's voice, his gentle piano playing, his tiny tiny age – James Blake is a master of musicianship.
LISTEN & LEARN
---
02.
Fucked Up

David Comes To Life
Matador Records
It is kind of fitting that Fucked Up decided to go onto a hiatus at the end of this year, because this is their magnum opus. Punk rock has always had its fair share of boundary pushers, but no band has been doing it more efficiently than the Toronto rabble-rousers. David Comes to Life can get a bit literary heavy at times, but all the best works of art are the hardest to intially digest. And running almost 80 minutes, Fucked Up made sure there was more than just a full helping of punk rock for the family this time around.
Listen to Fucked Up's "The Other Shoe" – DOWNLOAD MP3

---
01.
Tim Hecker

Ravedeath, 1972
Kranky Records
The amazing thing about this album is that Tim Hecker also pumped out a supposed "b-side" to this album called Dropped Pianos, and the "b-sides" are better than most "a-sides" anyone can put out. Ravedeath, 1972 is a fierce collision of when noise meets no noise, when no noise meets noise, and best of all when noise meets noise. It is a dark and claustrophobic album at its best, and an oddly soothing and gentle album at the same time.
Listen to Tim Hecker's "Hatred Of Music I" – DOWNLOAD MP3