Lansè Kòd (The Rope Throwers) 1996
Every year, Carnaval comes and goes
across the entire world
, tantalizing everyone with its fanciful costuming and celebratory antics. But beyond the tourist circuit of Carnival lies another Carnival, in locales with a connection closer to the festival's origins. Haiti is one of many countries that celebrates Carnival at their own pace, and over the course of many years, photographer
Leah Gordon
was able to capture the beauty of those festivities in Jacmel, a coastal town in the south.
Kanaval
is a black and white photographic series, true -- but it is, more importantly, a series on awareness, about culture, and inclusive of mythology. After this series was taken, Haiti suffered its devastating earthquake and Jacmel was completely decimated. Gordon's photographs, along with her heart-felt introduction to the series and the many oral mythologies passed down to her from carnival participants, can be viewed in the full post. Together, they forever capture a wonderful space in time and call attention to Haiti's creative and spiritual existence. We begin with a tale from Madanm Lasiren, which is just the first of many.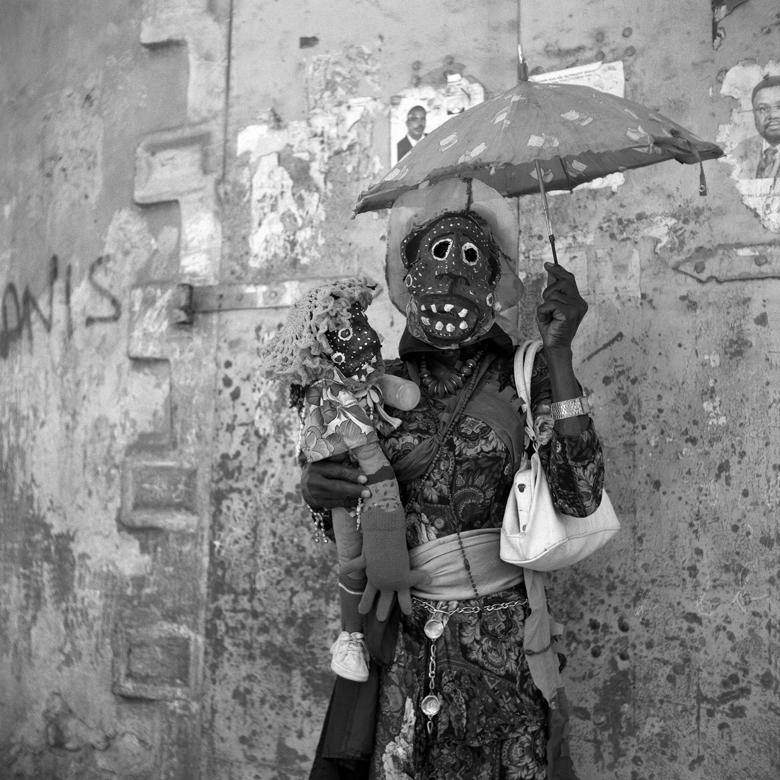 Madanm Lasirèn (Madame Mermaid) 2003
Madanm Lasiren Andre Ferner, 59 years

Lasiren is a spirit that lives under the sea and does mystical work there, she is a Vodou spirit, I dream of Lasiren all the time. That is the reason I do Lasiren for Mardi Gras. I chose Lasiren because my grandmother, father and mother all served the spirits, I love her & honour her. The baby that I carry in my arms is the child of Lasiren who is called Marie Rose. When I walk the streets I sing her song which goes ' I am Lasiren and I cry for Lasiren, when I work mystically in the night bad luck can come my way'. I prepare for Lasiren by putting on a hat, a mask and carrying an umbrella. I put on a necklace and gloves. This necklace is called Mambo Welcome, it is a fetish. Because Lasiren is a fish she has to disguise herself as a woman to be at Mardi Gras. My mask and hat cover her fish's head. And the dress she wears covers her fish's tail. The chain I wear is a sacred chain. Each year I change the disguise and fashion a new baby. In order to get inspiration I go to the place where the big beasts live and they instruct me how to do Mardi Gras. I have been doing this for 18 years. Before that I did another Mardi Gras call Patoko. This was a group of men who were dressed as women, with a nice dresses and high heeled shoes. We did a marriage between men and woman on the street. After that we had a group called the duck who carried brushes in their hands wearing blue trousers, white t-shirts, new sandles and a scarf around our waists. We swept the streets of Jacmel. I have always found a way of doing a Mardi Gras.
Kanaval
will be on display for free at
PHI Centre
in Montreal (407, rue Saint-Pierre), from February 25th to April 27th, 2013. Opening night happens at 7:30pm on February 23rd, and its $175 ticket price (or a $400 VIP ticket) includes Haitian food, giveaways, and performances by Haitian dance groups, Haitian band Doody and Kami, and The Arcade Fire, who have
a blog dedicated to their own trip to Haiti
. All proceeds will go towards
KANPE
, a non-profit "born of a desire to play an integral part in the fight to help Haiti break free from a vicious cycle of poverty", through programs in health, education, agriculture, counseling, and other community services. Full event details can be seen at
PopMontreal
.
(12 IMAGES TOTAL)