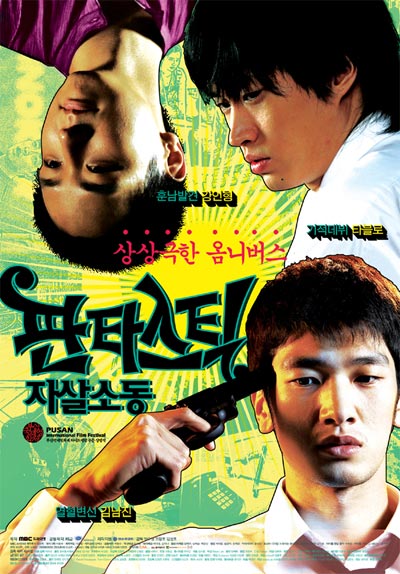 Collections like Fantastic Parasuicides, which combine three shorts by different directors under one title, always manage to peak my interest. In this case, all of the three shorts explore the idea of "suicide," and due to my preference for black comedies, I thought this collection would be right up my alley. What I discovered was that only one of the pieces really held my attention; the other two were interesting, but hardly memorable or really even worth watching.
The first piece, by Park SoYeong, explores a girl's suicide after failing an exam. It's wacky, off-the-wall, and complete with poorly shot action sequences and sound effects along the lines of what you'd find in Pac Man. All definitely on purpose, and all intolerable if you do not find juvenile, nonsensical humor funny. In my case, I found it slightly amusing, but it definitely kind of turned me off to watching the other two, even though the other two are nothing like this one.The second piece, by Jo ChangHo, is almost dialogue-free and explores one soldier's hesitations about committing suicide. He rents a hotel room in which to do the deed, but things take a turn for the unexpected. I'm not quite sure what the point to this story is, asides from the fact that there is obviously some kind of parallel between the life of a chicken and the life of the soldier. Definitely slow-moving, and, in retrospect, my least favorite of the three.
The third piece, by Kim SeongHo, is the least amateur offering by a long shot. A 70-year-old man has suicidal plans for his birthday when he realizes that no one has remembered his birthday; from there, he stumbles upon a suicidal youngster and saves him. The film ends with not one, but TWO unexpected twists. Beautifully shot and effective in telling a story that the viewer will care about for longer than the duration of the story itself — something that the other two shorts failed to do miserably.

Directors:
Chang-ho Jo, Seong-ho Kim, Soo-yeong Park

Producer:
Stanley Kwak

Screenwriter:
Seong-ho Kim, Soo-yeong Park, Chang-ho Jo

Cinematographer:
Hee-seok Na, Young-min Kim

Music:
Jae-hwan Jeong, Hyeon-suk Choi, Myeong-jong Kim

Principal Cast:
Yeo-reum Han, Tablo, Ga-yeon Kim, Hwi-soon Park, Jae-jin Jeong
Language:
Korean