03 Oct

Free Sheep Foundation Has October On Lockdown

We wrote about the Free Sheep Foundation months ago, but their music and art combining antics just keep getting more frequent, more relevant, and more unpredictable.

Here's what their upcoming October calendar looks like… just to give you a wee little taste of what is to come (not to mention the October 1 and 2 events that have already passed).

OCT 3 – GUTTER DANDY GALA, 9PM – 2AM, $5-$10 SUGGESTED
(Girl punk bands and window installations!)
MUSIC: Orkestar Zirconium, Hot Grits!, Scratchmaster Joe, motrecraft
ART INSTALLATIONS: Garek Druss, Static Invasion, scntfc, NKO, No Touching Ground, dk pan, Karn Junkinsmith, Wen Marcoux

OCT 10 – GALLERY OPENING, FT. FORT
(Video projections, new window installations, and a blanket/chair/sofa fort!!!)
ART INSTALLATIONS: Gretchen Bennet, Laura Corsiglia, Sirkullay, Mark Johnson
VIDEO: Mike Min

OCT 10 & 11 – SILVERING PATH
(3 dance/visual/art collabos, featuring… way too much stuff…)
MUSIC: Jeffrey Huston, Joshua Kohl
DANCE: Haruko Nishimura (Degenerate Art Ensemble)
ART/SCULPTURE: Mandy Greer, Colin Ernst
FILM: Ian Lucero
DRESS: Anna Lange

Just one amazing crochet sculpture piece by Mandy Greer!
* BRAIN EXPLOSION *
Be there or be square. These are some exciting times in the Seattle arts scenes.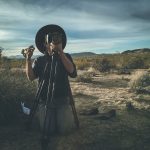 Vivian Hua 華婷婷 is a writer, filmmaker, and organizer. As the Executive Director of Northwest Film Forum in Seattle and Editor-in-Chief of the interdisciplinary arts publication, REDEFINE, much of her work unifies her metaphysical interests with her belief that art can positively transform the self and society. She regularly shares human-centered stories through her storytelling newsletter, RAMBLIN' WITH VEE! In 2020, she will [hopefully] begin production on a comedic Asian-American series entitled Reckless Spirits.
Ask Vivian about MARSHMALLOWS, cuz she's gross... and being tips for being frugal while nomading!