28 Aug

Illustrator Alberto Cerriteno and His Digital and Analog Prowess

Fine artists sometimes dabble in digital art, and digital artists sometimes dabble in fine art. Unfortunately for those crossover artists, however, most of them are either only good on one or the other. It's quite difficult to excel in both the paintbrush and the mouse, it seems.

Good thing illustrator Alberto Cerriteno is adept at both. Residing in Portland, Cerriteno combines the best of street art with rich textures lifted from aspects of his Mexican heritage. As a result, his pieces are equally commercial as they are not; they are cute and chock full of personality, yet feel perfectly at home gracing the cover of a magazine.

His painted pieces are whispy and emotional, while his digital pieces are sweetly assembled to the point of looking as though they were collaged with pieces from dozens of publications. Still others are a combination of both analog and digital, and they draw strengths from both.

But enough yapping. Look on for some samples of his work, and visit his website to see more.

Ink and watercolor come together with digital treatment in The Cloud, The Boy, The Stars & The Umbrella.

A totally digital piece, Fishing With Love!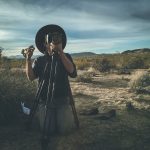 Vivian Hua 華婷婷 is a writer, filmmaker, and organizer. As the Executive Director of Northwest Film Forum in Seattle and Editor-in-Chief of the interdisciplinary arts publication, REDEFINE, much of her work unifies her metaphysical interests with her belief that art can positively transform the self and society. She regularly shares human-centered stories through her storytelling newsletter, RAMBLIN' WITH VEE! In 2020, she will [hopefully] begin production on a comedic Asian-American series entitled Reckless Spirits.
Ask Vivian about MARSHMALLOWS, cuz she's gross... and being tips for being frugal while nomading!