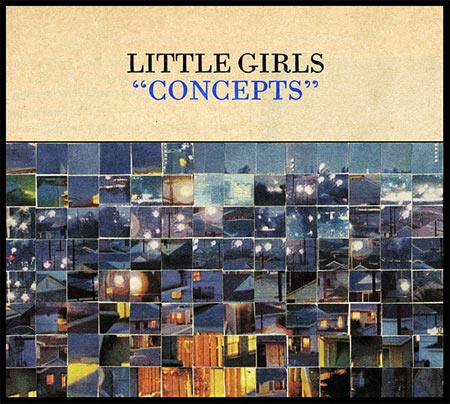 Sure, Canada gave the world Broken Social Scene, but analogously speaking, Canada may be to the crowd of Crystal Castles fans what the last decade of Sub Pop releases is to modern hipsterdom. Although both seemed to harbor the potential to redefine this generation of the disillusioned hoping to reclaim a shred of cultural dignity, they only ended up pigeonholing speculative alternative rock into a gentrified, clichéd niche that forced everyone to run away in shame of being labeled a fan of the Garden State soundtrack.
Concepts, the first full-length album by Toronto-based band Little Girls, aptly follows the same trend. With distinct minor guitar rifts paired with scratchy and ethereal vocals, the duo brings to mind British punk staple Joy Division and '80s one-hit-wonder Modern English, with a hint of Sigur Rós mysticism. But the instrumental project, while coming somewhat near to rousing a post-generation-Y anarchist spirit, ultimately fails at both, creating instead a spin-off genre characteristic of a non-subversive punk-indie amalgam.
Without lyrics, the entire album relies heavily on its musical originality to justify its artistic endeavor, taking a risk with highly artificial melodies and voice tracks. "Youth Tunes" initiates the record with a synthesizer and a staccato rhythm composed with the electric guitar, using a Stars-esque idiosyncrasy as a prompt while an odd, indiscernible voice narrates a vague story and guitar strums become progressively more ravaging. "Imaginary Friends" insists on an innocent nostalgia with its lilting yet pressing "oh's". In "Venom," drumbeats come in faltering steps and force unintended halts throughout the rhythms, ultimately transitioning the song into a fragmented, apparently unfinished conversation when it ends abruptly. "Concepts," the title track, allows the clarity of straightforward drumming and guitar rifts wind through the distorted vocals, with solos strewn in between for variety's sake. But the four-minute song seems to offer a repetitive cycle of the same chorus that never seems to make it to a specific destination, rather hangs around and around in a guitar garble.
Admittedly, most songs on the album play less than three minutes, making for quick, on-the-go, post-millennium punk. The creative song names also make up for the lack of uttered lyrics, with titles such as "Salt Swimmers" and "Thrills" making us wonder about the underlying human condition that inspired such poetic symbolism. But instead of feeling a powerful sensation of anti-establishment, we're left with a mix of strange emotions not unlike that of a post-Yo La Tengo listening session.It's not impossible to control the bursting urge to bash the nearest guitar into the ground, but the threat of mental implosion definitely becomes dangerous.
The album closes with "Growing," making use of a not-so-subtle save-the-best-for-last strategy. With a scratchy, yet catchy, melody complemented by a chipper pulse and moody vocalization, the last song conceptualizes the youthful loss of the post-punk generation better than the ten other songs prior to it. But even this finale can't make up for the fuzzy blend of unclear intentions in the first 90% of the album, as McIntyre's electronically-produced mumbles fade away into an abyss of lo-fi pop, which defeats the purpose of post-punk.
Recreating the new generation's omnipresent yearning with punk may have seemed like an interesting way to refashion the old, but Concepts falls short with neither a sense of indie direction nor punk authority. The naïveté of Little Girls shows on its debut album, but credit should be granted to McIntyre and company for attempting to combine old post-punk with new alt, even if precociously so.
Ω