21 Aug

Chad VanGaalen Interview (w/ Animated Video Retrospective)
"I try not to think at all," says musician and multi-disciplinary artist Chad VanGaalen. "If I pre-think anything, it's usually bad."
Best known for his solo music career and his production work with Calgary-based band WOMEN, Chad VanGaalen is a man who is consistently pushing his mind to its outermost limits. With all of his musical and artist projects, he functions at his prime when working instinctively and impulsively, with little to no pre-conceived limitation.
VanGaalen's fourth full-length record, Diaper Island, was recently released on Sub Pop Records. Unlike with his previous albums, this time VanGaalen had a studio large enough to permanently house all of his music equipment at once — a difference that changed the creative process of the disc completely.
"I could leave everything set up, whereas [previously] in the basement I would have to break the drums down and set up guitar amps and then move guitar amps out of the room and set up the drums," he explains.
The streamlined approach allowed VanGaalen to work on his music on the fly. Akin to an artist working from a prominently-displayed easel, VanGaalen could now work the way he preferred to work — spontaneously.
This spontaneity can also be seen in his side projects. Each of his musical alter-egos explore a different musical style. The most well-known among them is Black Mold, his instrumental electronic project. Other projects such as Oldest Bubble and Golden Dunes are in the works. He describes them, saying, "I have a few drone records done and an instrumental stoner beat record that will rule your brain."
That same schizophrenic spirit can be found in his animations. Spawned from a land with no restrictions, VanGaalen's illustrated characters are ever unpredictable and bursting with personality. In his latest video for Diaper Island's single, "Peace On The Rise," VanGaalen introduces viewers to hosts of alien beings and morphing, melting characters. His most high-quality rendering yet, the video marks a significant milestone in his animated career, with a final product that is quite reminiscent of ebbing and flowing acid-trip creations like Superjail! and Fantastic Planet.
ARTICLE CONTINUED BELOW

[2011] Chad VanGaalen – "Peace On The Rise" from Diaper Island
"This is my best one yet. It is the first installation in a continuing story about space tourism based on a group of humanoid life forms who have invented an empathy device which they take with them to different planets in order to absorb creatures and 'become the creature' for a brief moment. This quickly becomes a problem as they get addicted to the absorption and begin losing their grip on who they really are."
"I try not to think at all. If I pre-think anything, it's usually bad."

— Chad VanGaalen
For his personal work, VanGaalen first chooses the tracks he wishes to animate and then moves onto the physical act of creation. He abstains from pre-planning, preferring instead to allow structures and storylines to form gradually and with a preponderance of possibility. This technique is also used when VanGaalen creates video for other bands. For his video work for J. Mascis and Love As Laughter, he retained full creative control, working under the assumption that these bands place trust in his artistic vision when they hire him.
"The only way I will do a video is if people give me full control," VanGaalen explains. "Animation takes way too much time for it not to be able to bend and stretch inside my mind. Usually artists will already know that I have no 'real' idea what I'm doing, and they can dig it."
From one video to the next, VanGaalen's animations are isolated, encapsulated worlds of madness. He creates all of his videos using a combination of digital software and analog methods. Beginning with plenty of felt pens and paper, he later manipulates the drawings with programs like Dragon Stop Motion and Toon Boom.
"It's amazing for 2D style stuff," he says, of Toon Boom, a program which is used by the creators of The Simpsons. "I love it and hate it."
In the near future, VanGaalen will begin a short animated film with his friends Stu Hughes and Brandon Blommaert. As is his style, VanGaalen has no idea what it will be like, but knows that "it will be crazoid."
retrospective video gallery

[2009] Black Mold – "Metal Spiderwebs" from Snow Blindness is Crystal Antz
"This was an experiment in a 100 frame cycle. I would draw 100 frames of animation and then when I got to frame #100, I would place it on top of frame #1. So, in theory, by the 2nd or 3rd pass, it became impossible and irrelevant to distinguish the first frame from the last. It's still a work in progress."

[2009] Black Mold – "Fuck ebay" from Snow Blindness is Crystal Antz
"Pure nonsense. Whatever came into my mind was what I would make happen."

[2008] Chad VanGaalen – "Molten Light" from Soft Airplane
"This video was my first attempt at a linear story so I really wanted to have consistency with the animation as well. It was my first animated short!"

[2006] Chad VanGaalen – "Flower Gardens" from Skelliconnection
"I did this video while I was doing a residency out in Sackville, New Brunswick."

[2006] Chad VanGaalen – "Red Hot Drops" from Skelliconnection
"I cannot remember doing this video at all – there was a lot of pot involved."

[2006] Chad VanGaalen – "Clinically Dead" from Infiniheart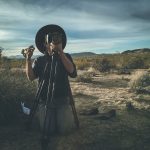 Vivian Hua 華婷婷 is a writer, filmmaker, and organizer. As the Executive Director of Northwest Film Forum in Seattle and Editor-in-Chief of the interdisciplinary arts publication, REDEFINE, much of her work unifies her metaphysical interests with her belief that art can positively transform the self and society. She regularly shares human-centered stories through her storytelling newsletter, RAMBLIN' WITH VEE! In 2020, she will [hopefully] begin production on a comedic Asian-American series entitled Reckless Spirits.
Ask Vivian about MARSHMALLOWS, cuz she's gross... and being tips for being frugal while nomading!