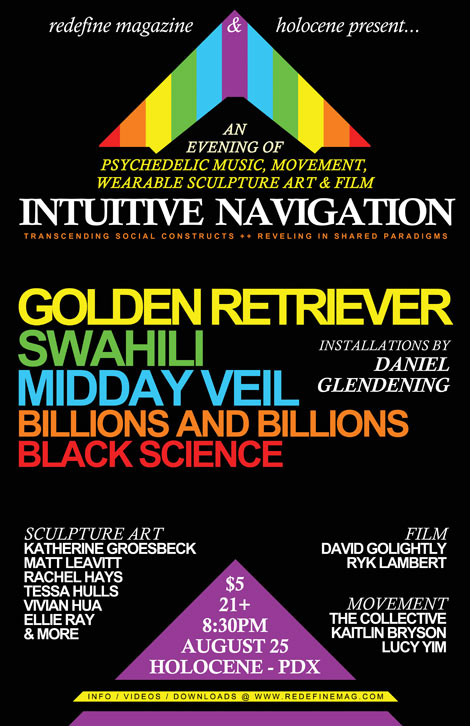 Thursday, August 25th, 2011
Doors 8:30pm, Show 9:00pm
@ Holocene, Portland
$5.00
21+
FACEBOOK EVENT:
http://www.facebook.com/event.php?eid=221291931247972
After last winter's successful MMMicrofestival, REDEFINE magazine returns to Holocene to bring you another evening of bounds-pushing cross-disciplinary performances.
INTUITIVE NAVIGATION invites like-minded performers from Portland and Seattle to transform the atmosphere of Holocene into a hypnotic, self-reflective zone. Five bands will showcase the spectrum of possibility found in psychedelic music while focusing on one central goal: to unite concertgoers in a similar consciousness of meditative bliss.
Bands will pair up with at least one dancer and one visual artist for costumed performances which celebrate the act of ritual — a mode of expression as symbolically cathartic as it is aesthetically pleasant. Drawing inspiration from philosophers of mythology such as Joseph Campbell, C.G. Jung, and Alan Watts, performers will explore the ways in which decisive physical actions, when imbued with the intentions of their authors, can become healing and transcendent acts.
Join us as we revel in the godlike vision of artists and delight in their peculiar magic.
TRANSCENDING SOCIAL CONSTRUCTS ++ REVELING IN SHARED PARADIGMS
Golden Retriever
goldenretriever.bandcamp.com
Portland-based analog synth and bass clarinet duo to close out the evening as aural Savasana, with movement by Lucy Yim and incandescently-lit, geometric costuming by Matt Leavitt and Vivian Hua.
Read an interview with Matt Leavitt HERE.
Swahili
www.swahilinoise.com
Portland-via-Reno's darkly tribal noiseniks to invite performance artist Kaitlin Bryson to build a wooden nest within the confines of Holocene, with naturalistic outfits by Tessa Hulls and Ellie Ray.
See Tessa Hulls' work HERE and Ellie Ray's work HERE.
Midday Veil
www.middayveil.com
Seattle's multimedia psych explorers deliver cosmic litanies adorned with crystalline projections by David Golightly and with an undulating human landscape designed by Katherine Groesbeck.
See Katherine Groesbeck's work HERE.
Billions And Billions
billionsnbillions.bandcamp.com
Portland's basement-bred psych metal outfit to channel raw, hard-hitting energy to nude dancers, magical projections, and totem and animal masks by Rachel Hays.
See Rachel Hays' work on WORK.PLACE.
Black Science
blacksciencemusic.bandcamp.com
Seattle's wizards of heavy riffage and consciousness expansion to begin the evening by ritualistically clearing the space and performing to the collaged video art of Ryk Lambert.
Daniel Glendening
danieljglendening.com
Multi-disciplinary science and space aficionado to explore the areas occupied by the overlapping tropes of digital space and psychedelic reverie.
About REDEFINE Magazine
Born in May 2004, REDEFINE is a robust publication which covers niche subgenres and is comprised of selective musical tastemakers. The publication stays true to its ideals by employing democratic processes and by not compromising quality for quantity; REDEFINE takes pride in curating innovative, genre-bridging events, and takes the same approach to its arts coverage. (MORE)
About Holocene
Holocene is a venue space located in SE Portland, Oregon. In addition to traditional shows with local and touring bands and club nights, it sets itself apart by consistently offering innovative, well-curated cross-disciplinary events. (MORE)