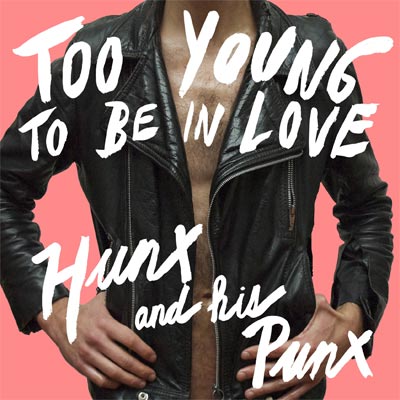 When former Gravy Train!!!! frontman Seth Bogart isn't flaunting what God gave him in Girls videos (NSFW, his junk is the microphone) or running a kitschy hair salon that John Waters would die for, he's fronting vintage rock group Hunx And His Punx.
Their full-length debut, Too Young To Be In Love, is a fantastic punk homage to the girl groups of the 1960s. Here, Bogart is backed by an all-girl band; The "Punx" are drummer Erin Emslie, guitarist Michelle Santamaria, organist Amy Blaustein, and bassist Shannon Shaw. With drums lifted from The Ronette's "Be My Baby" and swooning harmonies that would make The Crystals blush, the Punx nearly steal the show.
Listen to "Lovers Lane" – DOWNLOAD MP3

Bogart's characteristic sassy vocals are the same as ever, but fans looking for the brash sexuality of Gravy Train!!!!'s over-the-top power pop might be a bit disappointed. Unlike Gravy Train!!!!, you won't find Hunx And His Punx singing so explicitly about hand jobs, lap dances, and the like. It's not that Bogart is hiding his homosexuality (any one of the band's videos can dispel that notion), he's just more subtle about it this time around, though. Songs about young love and prom night romance might seem overly wholesome at first, but coming from Bogart, they've got an intriguing edge. And it's always fun picking out the double entendre's in these seemingly innocuous pop songs.
But for all of Bogart's intrigue and charisma, Too Young To Be In Love still feels too safe. Even with garage rock guitars, the songs seem too restrained. Too much homage, not enough personality. The dry production, while staying out of the way of the fantastic harmonies, doesn't do much to engage the ear. If Gravy Train!!!! suffered from too much energy and fabulousness, Hunx And His Punx suffer from too little.
But while the blending of '60s bubble-gum pop with lo-fi rock isn't exactly a fresh concept, it's still fun. Too Young To Be In Love offers a solid half-hour of undeniably catchy tunes — perfect for late night summer drives to Lover's Lane with your girl or guy.