IN SHORT: "It's not your average Black Moth Super Rainbow Album."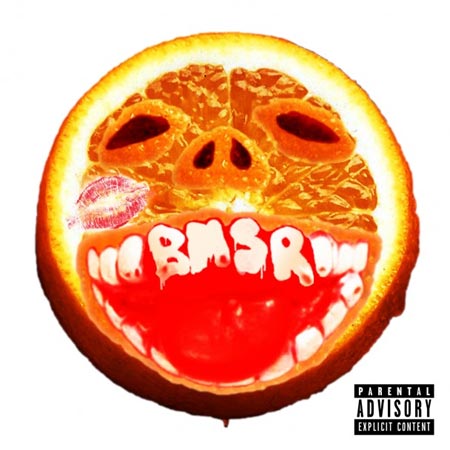 In discussing early album reviews for Cobra Juicy, Black Moth Super Rainbow's de facto leader Tobacco called the album "the 1st bmsr I really got right."
It's an interesting comment, especially for a band who pride themselves on the reckless nature of their sound and their presence on stage. And then there's the fact that Cobra Juicy simply wouldn't exist in its current state if it wasn't for crowd-funding the project on Kickstarter. Especially considering the latter, there are certainly extraneous expectations surrounding the long awaited release.
Whether Tobacco truly believes the album is their best to date, or if that's just the kind of rhetoric you have to keep up in order to appease the people who are backing your album in dollars remains to be seen. There's no doubt, however, that Cobra Juicy contains some of Black Moth Super Rainbow's best material yet. But it's also its most divisive, especially for those fans who have been devoted to the band's almost cult-like status for the past decade. Producing a record that's both lyrically and sonically emotional, descriptive words far removed from the group's previous outputs, Cobra Juicy is as introspective and gut-wrenching as you'll ever find these estranged Pittsburgh natives. Tracks like "Psychic Love Damage" sound just a few abstractions away from something like The XX, in the minimal, ambient noise sense. And while the album's palette certainly isn't empty, it's delightfully more refined.
The vocals remain, of course, vocoded and foggy, but on Cobra Juicy's emotionally-stirring final track "Spraypaint," they are as clear as ever. When Tobacco repeatedly sings, "Fucked up when I'm living without you", during the track's chorus, not only is the message incredibly clear, but it also serves to strengthen the voice of the artist's struggles. In a day and age when veiled emotions and earnest love, and love lost, are far removed from experimental and psychedelic music, it's a triumph to hear this otherwise playful group broaching the subject. As the track begins to fade out and the haunting whispers of "I couldn't need you more" loops in the background, it's all entirely sad and mentally draining. Trying to picture a man who has become famous for playing hilarious found footage clips during his live performances in a debilitated state seems inconceivable, but on Cobra Juicy, it's reality. At risk of sounding like a broken record: it's not your average Black Moth Super Rainbow album.
BLACK MOTH SUPER RAINBOW – COBRA JUICY ALBUM REVIEW CONTINUED BELOW
Black Moth Super Rainbow's Kickstarter Video

There's still the vibrant energy of layered keyboards and instrumentation bursting into the sonic equivalent of a fireworks show, however, and on standouts like "Like a Sundae", the music proves why they're one of the most important genre-bending groups around. Same goes for "Dreamsicle Bomb," a song built from hip-hop-inspired drum beats and pulsing synths; it turns from tripped-out electronica to deranged, dripping love song in the course of a few notes. And although you'll never be able to pigeonhole BMSR, it's hard to ignore how consistent and melodic the core of Cobra Juicy can be. From the crunching modern rock guitar licks on "Windshield Smasher" to the smooth, hypnotic grooves of "Blurring My Day," Cobra Juicy never feels stale, and while it's able to deviate from a certain center, the experimentations never seem cheap or merely there for effect.
Whether Tobacco and company actually got Cobra Juicy "right," we will never need to know, because it's an album that's important in moving the group's stylistic integrity forward, both expanding and refining ideas that they've poorly juggled through their previous catalogue. Some of the utter fearlessness that was harbored throughout Dandelion Gum and Start A People might be lost, but Cobra Juicy benefits from the lack of experimentation for experimentation's sake, helping create a sound that's still uniquely their own but exponentially more rewarding and accessible.
Black Moth Super Rainbow – "Windshield Smasher" Music Video

BLACK MOTH SUPER RAINBOW 2012 TOUR DATES
Friday, Oct. 26 – Asheville, NC @ Moogfest
Saturday, Oct. 27 – Savannah, GA @ Graveface Fest
Monday, Oct. 29 – Orlando, FL @ The Social
Tuesday, Oct. 30 – Miami, FL @ The Stage
Wednesday, Oct. 31 – Tampa, FL @ Crowbar
Thursday, Nov. 1 – Tallahassee, FL @ Club Downunder
Friday, Nov. 2 – New Orleans, LA @ One Eyed Jacks
Saturday, Nov. 3 – Austin, TX @ The Mohawk
Sunday, Nov. 4 – Austin, TX @ Fun Fun Fun Fest
Tuesday, Nov. 6 – Dallas, TX @ The Loft
Wednesday, Nov. 7 – Nashville, TN @ Exit/In
Thursday, Nov. 8 – Louisville, KY @ Zanzabar
Friday, Nov. 9 – Columbus, OH @ Skully's
Saturday, Nov. 10 – Millvale, PA @ Mr. Smalls Theatre
Monday, Dec. 3 – Boston, MA @ Paradise
Wednesday, Dec. 5 – New York, NY @ Bowery Ballroom
Thursday, Dec. 6 – Brooklyn, NY @ Music Hall of Williamsburg
Friday, Dec. 7 – Philadelphia, PA @ Union Transfer
Saturday, Dec. 8 – Washington, DC @ U Street Music Hall
Ω