SPECTRAL HYPNOSIS
is a recurring series, featuring mesmerizing songs for one to lose sense of time and space, mind and body. This post highlights some reliable folks in the psychedelic rock community, including Portland's
Eternal Tapestry
and their Thrill Jockey labelmates
Barn Owl
, along with a new track from
Woodsman
.
SEE ALSO: FULL POST + ALL SPECTRAL HYPNOSIS POSTS + ALL COLUMNS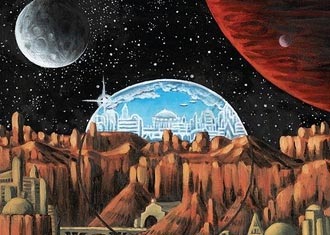 Eternal Tapestry
Eternal Tapestry's records are known for their epic instrumental ebbs and flows — a sound that comes partly from their creative process. On their latest record, A World Out Of Time, Eternal Tapestry broke their usual mold of culling material from hours worth of jam sessions and instead recorded the album at once, in its entirety. The music video for their latest single, "Apocalypse Troll", was directed by guitarist Nick Bindeman and combines live video footage shot by Anton Long with vintage geometric and extreme sport (?!) imagery. Despite a duration of only 2:23, the abstract footage and the track's memorable leading guitar riffs propel it forward in a blissfully anthemic way. The remainder of the record wiggles itself all over the psychedelic rock universe like nobody but Eternal Tapestry's business.
A World Out Of Time will be released November 13th via Thrill Jockey Records, and you can pre-order it HERE. The band has two upcoming Portland shows: tomorrow with Midday Veil at The East End in Portland, alongside Grapefruit and Hot Victory, and November 9th at 7:30pm, as a part of Thrill Jockey Records' 20th Anniversary Show. That insane lineup also includes locals like Golden Retriever, Mike Scheidt, and Jason Urick, as well as out-of-towners like Liturgy, Barn Owl, and Trans Am.
See the full post for the A World Out Of Time tracklisting and to hear an edit of the notably more spastic track "When Gravity Falls".
Eternal Tapestry (cont'd)
ETERNAL TAPESTRY – A WORLD OUT OF TIME TRACKLISTING
01. When I Was In Your Mind
02. Planetoid 127
03. Alone Against Tomorrow
04. The Weird Stone
05. Apocalypse Troll
06. When Gravity Fails
07. The Currents of Space
08. Sand Into Rain
---
Barn Owl
In celebration of the aforementioned Thrill Jockey Records 20th Anniversary Show at Mississippi Studios in Portland, a track from Barn Owl's Lost In The Glare, one of the best records from 2011 with its dusty desert sounds. You can read about the album cover for that disc HERE.
Barn Owl – "Turiya" – DOWNLOAD MP3
[audio:/wp-content/uploads/2012/10/Barn-Owl_Turiya.mp3|title=Barn Owl – Turiya]
---
Woodsman
Since playing our SXSW show in 2010, Woodsman seem to have worn many a hat across many a release in an attempt to find a cohesive sound of their own. And though they have had many successful singles through the years, their latest track, "Sonic Tomb", seems like one of the band's most successful and most focused outputs to date. Vocals are eliminated in this track and replaced by nothing more but brain-swirling, psychedelic black holes of sound. They promise that there will be more coming soon, and swear that the films of '60s filmmaker Stan Brakhage, below, have been inspirational in crafting their new sound. (Brakhage's "Dog Star Man", below, just so happens to be a completely silent film, making scoring certainly much more compelling.)
Stan Brahkhage – "Dog Star Man"

Ω