18 May

Spectral Hypnosis: Lumerians, Midday Veil, Father Yod MP3 Downloads & Streams

SPECTRAL HYPNOSIS

A recurring series, featuring mesmerizing songs for one to lose sense of time and space, mind and body. Hitting the electronic-psych-rock tip today with two bands often loved and supported by REDEFINE — Oakland's

Lumerians

and Seattle's

Midday Veil

— as well as a Drag City release from the somewhat controversial Father Yod & The Source Family.
Lumerians
Oakland's Lumerians have an upcoming release from Permanent Records in the USA and Hands In The Dark Records in Europe Transmissions From Telos: Vol.IV, out on July 5th. According to Lumerians, the EP is one of "lost orphan songs, hand-picked from [a] overwhelmingly vast improvisation archive. The first in a series of radiation burnt offerings."
Pre-Order From Hands In The Dark (Starting May 29).
Midday Veil
Back in March, Seattle's Midday Veil gave REDEFINE the luxury of premiering "Choreia" from their upcoming full-length record. It's streaming below, and you can grab the entire mixtape HERE. We will definitely supply further details on the release as they come to light, but for now, enjoy this one, as it takes some extra liberties with space and stretched-out experimentation than Midday Veil's more pop-structured songs do. The record is also produced by Northwest luminary Randall Dunn (SUNN 0))) & Master Musicians of Bukkake).
Midday Veil – "Choreia" – DOWNLOAD MP3

Father Yod & The Source Family
Most of this album is novel listening, an archival relic of historical counterculture (I'd personally skip the first two and move right onto "The Goddess Earth"). The cult surrounding Father Yod, psychedelic music-making and free-loving as it is, sparks much debate. The Thought Adjusters is the latest release from Father Yod & The Source Family and the third archival Source Family release by Drag City. The record comes out May 22nd, and you can stream it in its entirety below.
A recent documentary film, The Source, has helped to spark more dialogue about the cult's history, principles, and significance. The Source is showing at Seattle International Film Festival 2012 this month and next.
Quoted from a fascinating article from KCET Artbound:
The Source Family was led by a bearded visionary called Father Yod, who lived with his 14 "spiritual wives" in a mansion in Nichols Canyon alongside around 140 other family members, operating LA's first health food restaurant 'The Source' on the Sunset Strip (featured in Woody Allen's Annie Hall), and living by "Aquarian" principles of love, whole foods, Eastern and Western spiritual teachings, and rock 'n' roll. This year, thanks to Wille's documentary, The Source (it premiered in March at SXSW, with more screenings planned in San Francisco and LA), the cosmic ripples started by the book in 2007 are set to reach an even wider audience of New Aquarians and future "Yodheads". But unlike the Source family Aquarians of the 1970s, who lived, ate and slept together, dotingly hanging on to Father Yod's every word, these New Aquarians are decidedly postmodern, a brightly-hued collage of inter-connected individuals who aren't looking for a guru, but are bonded by their common appreciation of the Source's radness. Some of them have taken on Aquarian names; they connect at rock shows, gallery openings, at parties under desert night skies, and on Facebook; they design Source-inspired clothing and make Father Yod-inspired art, tuning into the Source on their own terms, in a way that doesn't require them to actually drop out…not yet, anyway.
Ω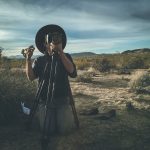 Vivian Hua 華婷婷 is a writer, filmmaker, and organizer. As the Executive Director of Northwest Film Forum in Seattle and Editor-in-Chief of the interdisciplinary arts publication, REDEFINE, much of her work unifies her metaphysical interests with her belief that art can positively transform the self and society. She regularly shares human-centered stories through her storytelling newsletter, RAMBLIN' WITH VEE! In 2020, she will [hopefully] begin production on a comedic Asian-American series entitled Reckless Spirits.
Ask Vivian about MARSHMALLOWS, cuz she's gross... and being tips for being frugal while nomading!