18 May

Stanislav Markov: A Lush Photographic Universe Presented As Sound

Though the relationship between sound and moving images is certainly easy to define, the relationship between sound and non-moving art is much more understated, for obvious reasons. Russian photographer

Stansislav Markov

is the first to work with REDEFINE in an audio-visual experiment of highlighting the musical inspiration that strikes one's soul just as powerfully as visual cues might.
After Markov's minimal photographic compositions were used on an album cover for Jesu, they caught my attention for how well they paired with Jesu's music. I immediately began to wonder what type of musical cloud Markov lives in, as his photographic works are characterized by shadow, haze, and muted color palettes. They are rich and decadent in the most elegant and minimal sense, and I soon discovered that Markov's musical tastes follow some of the same underlying tendencies as his photography.
Below is a 43-minute mixtape created by Markov. It contains mostly lush, minimal electronic sounds that are to be paired wit fifteen of what he describes as his "most significant images" of the moment. Listen to the mix while focusing on his Markov's images, to gain a better understanding into his mindset and to be swept into the moment of creation.
Stream Mixtape
4inspiration
(Stanislav Markov)
TRACKLISTING
Married In Berdichev – Light Comes
Vektroid – Wildlife Diskette
Geotic – The Logs Burn Slower Here
Silence Set – So Will Everything We Love
Bnjmn – One Sea (Lukid Remix)
Jonsi and Alex – Howl
Another Electronic Musician – Green And Olive
Our Sleepless Forest – White Bird
Hammock – North
Ω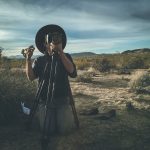 Vivian Hua 華婷婷 is a writer, filmmaker, and organizer. As the Executive Director of Northwest Film Forum in Seattle and Editor-in-Chief of the interdisciplinary arts publication, REDEFINE, much of her work unifies her metaphysical interests with her belief that art can positively transform the self and society. She regularly shares human-centered stories through her storytelling newsletter, RAMBLIN' WITH VEE! In 2020, she will [hopefully] begin production on a comedic Asian-American series entitled Reckless Spirits.
Ask Vivian about MARSHMALLOWS, cuz she's gross... and being tips for being frugal while nomading!