REDEFINE magazine has teamed up with two of the West Coast's largest festivals, Bumbershoot and MusicfestNW, to present Motion & Movement in Music Videos, a pair of complementary panels exploring how dance and movement intersect with modern music videos. Select music videos will be screened, followed by an open community dialogue with associated dancers, directors, and musicians. Topics covered may include differences in dance styles among different musical genres, trends of modern dance in contemporary music video, and spontaneity versus choreography in the creative process. A related brochure, featuring Q&A with directors and musicians, will be distributed with further information about the participants and videos screened.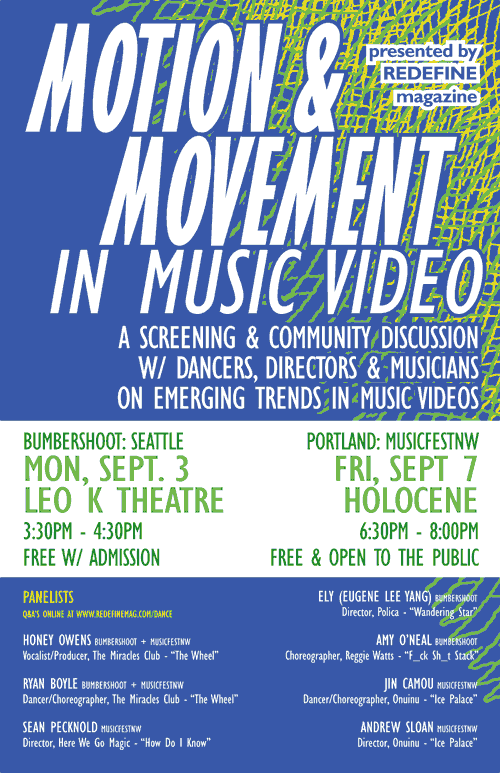 Panelists
HONEY OWENS
BUMBERSHOOT + MUSICFESTNW
Vocalist/Producer, The Miracles Club – "The Wheel" (Music Video Premier)
RYAN BOYLE
BUMBERSHOOT + MUSICFESTNW
Dancer/Choreographer, The Miracles Club – "The Wheel" (Music Video Premier)
SEAN PECKNOLD
MUSICFESTNW
Director, Here We Go Magic – "How Do I Know"
ELY (EUGENE LEE YANG)
BUMBERSHOOT
Director, Polica – "Wandering Star"
AMY O'NEAL
BUMBERSHOOT
Choreographer, Reggie Watts – "F_ck Sh_t Stack"
ANDREW SLOAN
MUSICFESTNW
Director, Onuinu – "Ice Palace"
Director and musician Q&As after the jump!
Dance-Related Interviews and Q&As
tUnE-yArDs – "Bizness" Music Video (Q&A w/ Director Mimi Cave)
Polica – "Wandering Star" (Q&A w/ Director ELY)
Ω