17 Feb

Portland International Film Festival 2012: Festival Preview Guide, Part Two
Portland International Film Festival (PIFF) is upon us again, and we have whittled down their list of 100+ international shorts and full-length films to pick what we have determined to be the best and most interesting of the bunch.
Portland International Film Festival 2012 runs from February 9th through the 25th, with more than one screening for most movies (exceptions generally being shorts and midnight film series).
Looking for something to do this upcoming week? How about one of these films?
Those interested in documentaries can see a list of documentaries we recommend for PIFF 2012 or see here for all PIFF coverage.
SNOWTOWN
AUSTRALIA
Directed by Justin Kurzel
Snowtown is director Justin Kurzel's examination on a series of murders throughout the 1990s, all committed under the leadership of Australia's most famous serial killer, John Bunting. A terrifying suburban horror film, rooted in real life mysteries. Winner of the Jury Prize at Cannes Film Festival.
02/24 – 6:30pm – Lloyd Mall 6
02/25 – 8:30pm – Whitsell Auditorium

SURVIVING LIFE
CZECH REPUBLIC
Directed by Jan Svankmajer
All hail Czech surrealist Jan Svankmajer, who is back – surprisingly – with a new film! Here, Svankmajer explores the human subconscious and dreams; a man who finds himself repeatedly dreaming about a mysterious fictional woman consults a doctor on how he can delve deeper into dreamland, to continue his new romantic saga.
02/15 – 8:45pm – Whitsell Auditorium
02/22 – 9:00pm – Whitsell Auditorium

THE LONELIEST PLANET
GERMANY
Directed by Julia Loktev
Gael Garcia Bernal's latest movie has him alongside Hani Furstenberg, in a romantic drama about a couple that was madly in love but fall apart once resentment and disappointment seeps in silently. A character portrait on how contempt and wordless physical and mental cues can transform the course of a relationship.
02/20 – 5:15pm – Cinema 21
02/24 – 8:45pm – Cinema 21
THE TURIN HORSE
HUNGARY
Directed by Bela Tarr
Black and white minimalism push forth this Hungarian philosophical and metaphysical tale, inspired by Friedrich Nietzsche's mental collapse after his witnessing of the Turin Horse. (FULL REVIEW)
02/18 – 8:15pm – Cinema 21
02/21 – 7:00pm – Cinema 21

FOOTNOTE
ISRAEL
Directed by Joseph Cedar
Father and son, both working in Israel as Talmudic scholars, must learn how to resolve a conflict of pride when one is mistakenly told he has won the famed Israel Prize.
02/18 – 8:30pm – Whitsell Auditorium
02/19 – 5:00pm – Cinema 21

NORWEGIAN WOOD
JAPAN
Directed by Tran Anh Hung
A film adaption of Haruki Murakami's novel of the same name, Norwegian Wood. Is a slow-paced romantic story about dysfunction, tragedy, and love. Beautifully shot, with a soundtrack crafted by Jonny Greenwood of Radiohead.
02/12 – 8:00pm – Lloyd Mall 6
02/21 – 7:00pm – Cinemagic

AURORA
ROMANIA
Directed by Cristi Puiu
This is the second film in Romanian director Cristi Puiu series, Six Stories From The Outskirts Of Bucharest, where a seemingly "normal" guy commits intensely violent acts, driving home the message the perspectives can always be challenged.
02/20 – 6:00pm – Lloyd Mall 6
02/22 – 6:30pm – Pioneer Place Mall

THE DAY HE ARRIVES
SOUTH KOREA
Directed by Hong Sang-Soo
A film professor finds that notable circumstances in his life keep reoccurring day after day, challenging him to determine whether his days have become mind-numbingly routine or if the same day is somehow replaying over and over again.
02/14 – 6:15pm – Whitsell Auditorium
02/23 – 8:30pm – Whitsell Auditorium

EXTRATERRESTRIAL
SPAIN
Directed by Nacho Vigalondo
In this unlikely romantic comedy, two strangers – who have just met after a one-night stand – find themselves in close quarters after massive alien spaceships arrive in Madrid.
02/24 – 8:45pm – Whitsell Auditorium
02/25 – 6:00pm – Whitsell Auditorium

ETERNITY
THAILAND
Directed by Sivaroj Kongsakul
This Thai epic oscillates back and forth between mirth and tragedy, life and death, past memories in a spiritual and poetic way that is at once confusing and enrapturing.
02/22 – 6:00pm – Lloyd Mall 6
02/25 – 8:15pm – Lloyd Mall 6

ONCE UPON A TIME IN ANATOLIA
TURKEY
Directed by Nuri Bilge Ceylan
A mesmerizing murder tale, which REDEFINE writer George Shaefer describes as possessive of an inherent intrigue — a subtle, masterful work, worth many viewings and good conversations about meaning." FULL REVIEW
02/19 – 7:30pm – Cinema 21
02/24 – 3:00pm – Cinema 21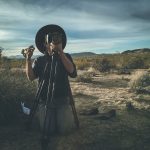 Vivian Hua 華婷婷 is a writer, filmmaker, and organizer. As the Executive Director of Northwest Film Forum in Seattle and Editor-in-Chief of the interdisciplinary arts publication, REDEFINE, much of her work unifies her metaphysical interests with her belief that art can positively transform the self and society. She regularly shares human-centered stories through her storytelling newsletter, RAMBLIN' WITH VEE! In 2020, she will [hopefully] begin production on a comedic Asian-American series entitled Reckless Spirits.
Ask Vivian about MARSHMALLOWS, cuz she's gross... and being tips for being frugal while nomading!