24 Apr

Spectral Hypnosis: Totally Enormous Extinct Dinosaurs – John Talabot Remix, The Hundred In The Hands – Faded

SPECTRAL HYPNOSIS

A recurring series, featuring mesmerizing songs for one to lose sense of time and space, mind and body.
Totally Enormous Extinct Dinosaurs – "Tapes & Money" (John Talabot Remix)
In this remix of Totally Enormous Extinct Dinosaurs "Tapes & Money," snippets of vocals are repeated almost to the point of ad nauseum. Many remixes of this song are available, including those by MJ Cole, Eats Everything, and Casino Times, but John Talabot is one with a singularly impressive ability to make such repetition not even the least bit boring. His "Ritual Deconstruction" mix seems to live up to its own name as it slowly and methodically chisels into one's brain with every click, tap, and refrain. The remix bundle came out on April 10th.
Totally Enormous Extinct Dinosaurs – "Tapes & Money" (John Talabot Remix)

Totally Enormous Extinct Dinosaurs will release his long-awaited debut album, Trouble, June 12th in the US via Casablanca Records. As far as I'm concerned, the original can be skipped in light of this vastly superior remix. But if you'd like to decide for yourself, you can stream it at YouTube.
The Hundred In The Hands – "Faded"
"Faded", below, was the first track released from The Hundred In The Hands' upcoming album, RED NIGHT. The record, which will be released via Warp Records on June 12th, is supposedly a "meditation on separation and reunion, love nearly lost and the night back to it." Indeed, there is in these tracks a sense of melancholy beneath movement and seduction nested in the arms of rhythm.
Stream "Faded" below and get an mp3 download of their newest track, ""Keep It Low." Details and tracklisting for the "Keep It Low" remix album and RED NIGHT are below, along with a record preview video.
The Hundred In The Hands – "Faded"

The Hundred In The Hands – "Keep It Low"

RED NIGHT TRACKLISTING
01. Empty Stations
02. Recognise
03. Come With Me
04. Red Night
05. Keep It Low
06. SF Summer
07. Faded
08. Tunnels
09. Stay The Night
10. Lead In The Light
The Hundred In The Hands describe the thought behind the Keep It Low 12″, saying: "We were listening to Andy Stott's ,em>Passed Me By and We Stay Together EPs a lot as we started the record. So many good ideas and textures, with low end in the extreme that kind of rattled our minds a bit. When it came to looking for people to remix, he was first on the list. The legendary Optimo duo have been such an influence on so many artists in recent years, and in maybe too many cases we end up liking their versions a bit more than the originals. We just had to ask. JD Twitch turned in two versions, each unique and equally epic. We couldn't make up our minds so, we stuck them both on. We'd been hearing bits from Patten and got excited. It's hallucinatory, uneasy and fractured. Pretty much everything we like. 'Mountains' was a track that was written totally in the flow of the album but still just could't fit in, it just wouldn't play nice with the other tracks and just became its own beast of a thing. This seemed like the best place to let it out."
KEEP IT LOW 12″ TRACKLISTING
A1. Keep It Low (Edit)
A2. Keep It Low (Andy Stott Remix)
A3. Keep It Low (A JD Twitch Optimo Remix)
B1. Mountains
B2. Keep It Low (Pattern Remix)
Keep It Low (A JD Twitch Optimo Dub)
RED NIGHT RECORD PREVIEW VIDEO

Ω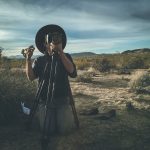 Vivian Hua 華婷婷 is a writer, filmmaker, and organizer. As the Executive Director of Northwest Film Forum in Seattle and Editor-in-Chief of the interdisciplinary arts publication, REDEFINE, much of her work unifies her metaphysical interests with her belief that art can positively transform the self and society. She regularly shares human-centered stories through her storytelling newsletter, RAMBLIN' WITH VEE! In 2020, she will [hopefully] begin production on a comedic Asian-American series entitled Reckless Spirits.
Ask Vivian about MARSHMALLOWS, cuz she's gross... and being tips for being frugal while nomading!