Although Asheville, NC certainly has a diverse music scene, the city sitting in the hills of Blue Ridge Mountains is probably more well known for its pickers and strummers than it is for its turntablists and synth wizards. That is, except for once a year, when Moogfest comes to town and celebrates the art of the electronic in honor of synthesizer pioneer Robert Moog, whose foundation and burial site are both located in the artsy mountain town.
Moogfest took a break this year in order to regroup, change promoters and pick itself up out of the brisk air of autumn and move itself to the promising days of spring (it will be held April 25-27 in 2014). Into its silent void flowed Mountain Oasis Electronic Music Summit
, a three-day electronicaganza (promoted by Bonaroo-bringers, AC Entertainment) that delivered a variety of both big-name acts and up-and-comers. The gigs were held in various venues throughout the city, which helped create different pools of mood you could dive into and out of throughout the weekend, from the stadium-like Exploreasheville.com Arena (formerly the Civic Center) and Thomas Wolfe Auditorium (both of which comprise the US Cellular Center—confused yet?) to the intimate and indie-feeling Asheville Music Hall.
Acts overlapped each night, so decisions had to be made, but for the most part, it was possible to groove to a broad mix of sounds from about six to past midnight each night. Here's my extensive recap of the entire experience over the three days.
FRIDAY
Jacques Greene
For me, the festival got off to a bit of an unpleasant bass-blasting start. I began with a bit of Jacques Greene at the Orange Peel before getting pretty much "bassed out" of the venue. Greene is a 21-year-old house producer from Montreal who manned the decks on stage. His tracks definitely grooved, but the bass was so severely accentuated that it was hard to take in any of the other sounds he was unleashing. You definitely felt the music, but actually hearing it was another story.
Purity Ring
So I chalked things up to the sound engineer possibly being more comfortable with larger spaces and trotted across town to largest venue in the mix, the ExploreAsheville.com Arena to catch Purity Ring. This Canadian duo has been turning heads since the July 24 release of their first album, Shrines, and features Corin Roddick on the decks and Megan James on vocals. Roddick's arrangements are deep and icy, full of cycled vocal samples and echoey deep-space synth. Above this, tethered by a thick cord of bass, James' sweeter-than-Bjork voice floated. Again, there were times when that low-end tether was a little too thick, smothering the lyrics and turning James' sweet and sometimes spooky voice into just another component in the wash of sound. But it's hard to tell if that was intentional or just another case of bad mixing. On Purity Ring's recorded work, the vocals are often smeared deeply into the music, so the lyrics don't always pop. What did pop on stage were the pod-like lanterns that the duo both played with drum sticks, getting a satisfying percussive boom from each.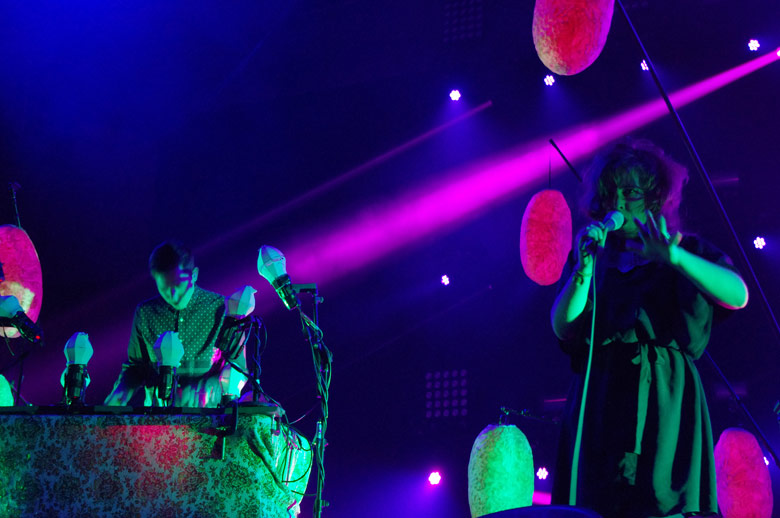 Deltron 3030
Next up, in the same venue, was Deltron 3030. As opposed to the Purity Ring duo who looked a little dwarfed on the big stage, Deltron staffed the scene with a full string section, a horn section, guitars and four back-up singers lending support to the stars of the supergroup: Del the Funky Homo Homosapien and Dan the Automator (both of who've been part of Gorillaz), as well as DJ Kid Koala. The squadrons of sound they constructed moved the audience and my whole body: the guitar hooks worked my hips; Kid's scratches jiggled my head from side to side; the horns got my shoulders shrugging; and the drum beats took care of the rest. Del's lyrics tickled my brain too. I say tickled because — you guessed it — most of them were buried beneath not just the bass, but by the weight of all that sound. One of the clearest vocal moments came when Dan the Automator, dressed in tails and conducting the band with a baton, taught the audience the verse: "Deltron is our hero; if he can't do it nobody can." It was our part to play as they told their futuristic rock opera staring Deltron Zero. But I suppose at this point in the night words were becoming meaningless anyway, and you really didn't need any instructions to enjoy the Deltron ride.
I will say that the bass overload from the night did cause me to miss Bassnectar who manned the stage after Detron. The beams and batting in the ceiling out by the concession stands were already vibrating in an ugly way from the night's festivities; I didn't really want to stick around to see what might happen when the ace of bass let lose. From what I heard, the set was hot and the building held up.
SATURDAY
The good news is that as of Saturday, the sound mixers seemed to have gotten their collective act together so you'll now hear me stop bitching about the bass.
Robert DeLong
The even better good news was that I kicked things off on the second night of the fest with Robert DeLong's set at the Orange Peel. The one-man-band worked his MIDI system like a pro; that is – when he wasn't singing his smart, metaphysically-tinged lyrics, playing guitar, banging on the drum kit (or a variety of other percussion toys), or using video game controllers to pilot the music. It all sounds a little frenetic, but it was amazingly smooth. The set started with his hot house reworking of "Miss You" by the Stones, moved on to a track featuring a vocal clip from "Once In A Lifetime" by the Talking Heads and then set off into territory all his own. Two highlights were his original "Few Years," a Vampire-Weekendesque bouncer that got the crowd smiling, and "Complex By Degree", which got us thinking with lyrics like, "It's not God that made us different/ It's not a soul that made us different/ It's not killing that made us different, It's not love that made us different." His mix of jangly pop instrumentation with full-on throbbing club arrangements was disorienting in the best way possible.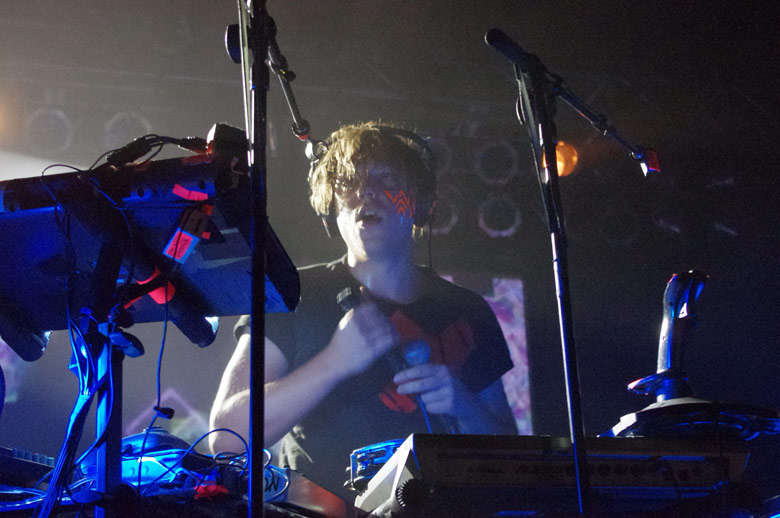 I Speak Machine
Where DeLong's experimentation was a huge success, I can't really say the same thing about the following performance I attended at the intimate Dianna Wortham Theatre. The show was a very 21st-century reworking of the idea of live music accompaniment to a silent film, with I Speak Machine's Tara Busch working the equipment and her witchy and at times operatic voice to create the soundtrack for Maf Lewis' short film entitled The Silence. The issue wasn't with the score or the vocal performance; it was deep, dark and haunting, at times lulling you into a stupor and then shattering the calm with an explosive web of twisted electronic noise. The problem was the movie itself, which tells the tale of a man who invents a machine (using a steamer basket from his kitchen) to make everyone in the world vanish. He then spends the next ten-odd minutes running around the empty city apparently being chased by Busch's music, as there was nothing else around to spook him. The "last man on Earth" theme wasn't new, and the endless "chased by nothing" sequence got tiresome fast. I'd love to see Busch doing more of her own work, but I did my own bit of fleeing from the theater before the final credits rolled (as did a large number of audience members).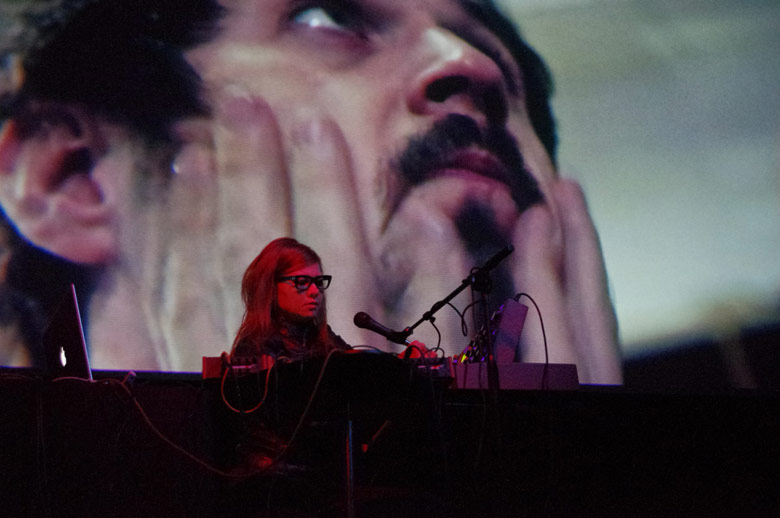 Animal Collective
Things definitely picked up at the Animal Collective set which was held in the large vintage theater setting of the Thomas Wolfe auditorium. The band is back in its original form for the first time since 2007, featuring Avey Tare, Panda Bear, Geologist and Deakin, and this show came on the heels of their recently released tenth album, CENTIPEDE Hz. As you'd imagine from a band who's released so much music, the show was perfectly polished, in the truest sense of the word—all the rough edges were tumbled and burned off by bright synth; booming, rounded world beat drums; and the band's trademark harmonies that are at times Beach Boys and at times Depeche Mode. The set was like driving in third gear; the speed was kept low but there was lots of power being harnessed.
This made them the perfect warm up for Nine Inch Nails who stormed the stage next door in the neighboring arena. It says a lot that I had a hard time leaving the Thomas Wolfe Auditorium with the big headliner doing its thing next door, but I did wind up missing NIN's first two or three numbers because of the sheer magnetism of the Collective.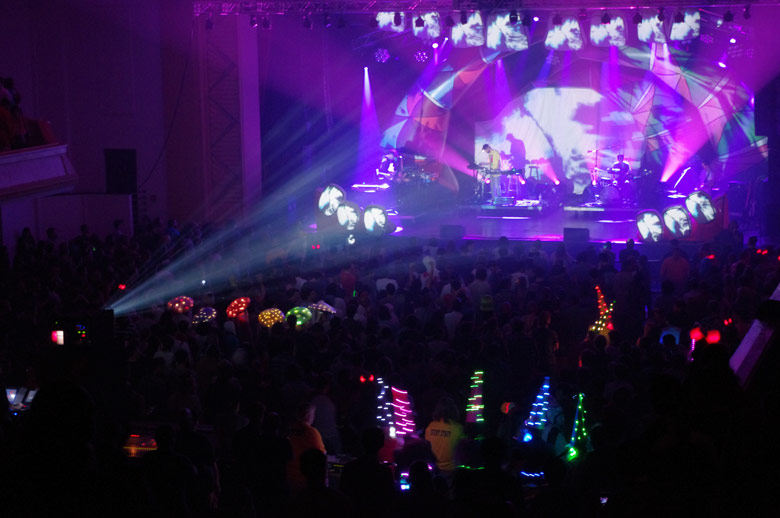 Nine Inch Nails
When I did eventually get over there, Nine Inch Nails was in full frontal assault mode, putting on by far the most impressive stage act of the weekend, with a light show that was as visually impressive as the music to which it was perfectly synced. Reznor was in true fighting form, leaping, slinking and stomping all over the stage as the newly revamped band did its thing (the band now features, in addition to some previous bandmates: Eric Avery of Jane's Addiction, Adrian Belew of King Crimson and Josh Eustis of Teflon Tel Aviv). There were plenty of old favorites played, but what was really captivating was Nine Inch Nails' new work, which stood out from the rest because of its restraint. Emblematic of this sound was "Find My Way", which is an almost Peter-Gabriel-like ballad that had Reznor in a spotlight singing poignant lyrics like: "I have a made a great mistake/ Pray the lord my soul to take/ Ghosts of who we used to be/ I can feel them come for me."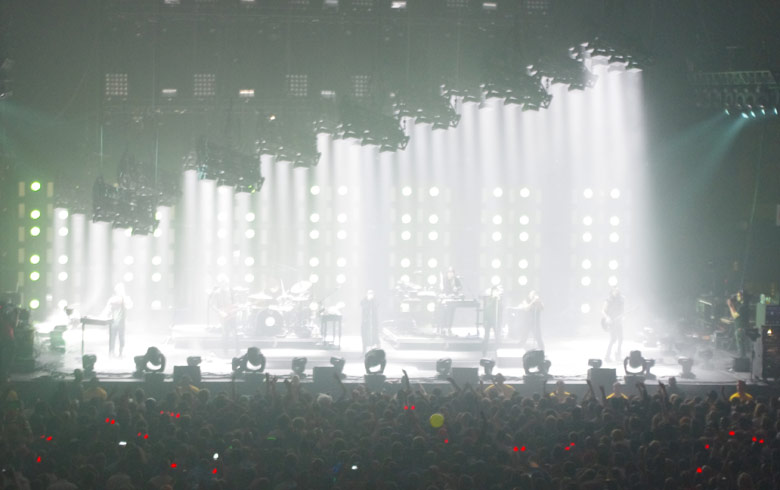 I could feel the ghosts of sleep coming for me at this point myself, so it was home with me to rest up for a final night of fun.
SUNDAY
Jessie Ware
Things on Sunday had definitely taken a turn for the mellow. I started things off with the UK's Jessie Ware at the Thomas Wolfe Auditorium, who opened with a slick and sultry cover of Marvin Gaye's "I Want You". It was the perfect way to ease into another night of music. The rest of her songs continued in a similar jazzy soul vein, at times evoking Joss Stone, although a slightly dialed-back version. Her banter with the crowd was light and delightful and the music was tight and rich, mixing dashes of electronica with live instrumentation from her guitarist, and drummer Dornik Leigh — who took center stage accompanying Ware with his rich R&B vocals during one number.
How To Dress Well
Back over at the Orange Peel, How To Dress Well kept the R&B vibe going. If you're unfamiliar with frontman Tom Krell, he sings in a sweet falsetto that was completely gripping on the first few songs. Accompanied only by spare synth and cello, his stripped down sound was a real standout in the weekend. But I do have to say that I'd kind of had enough after the third or fourth R&B-style falsetto torch song. I was beginning to have a hard time telling the numbers apart and found Krell's warbling more annoying than endearing. Despite saying that he was going to pick things up, the set mostly dragged through song after song and it wound up feeling a little self-indulgent. The sixth song did have a bit of a Justin Timberlake swagger and funk to it, but by that point, I think the crowd's feet had fallen asleep.
T. Williams
The real scene on this night (when it seemed like about half of the festival attendees had left town) was over at the Asheville Music Hall, a cozy space with a small stage and dancefloor that was thumping. I got there just in time to catch the end of T. Williams' set, and it was a great catch. Mixing elements from the UK's grime scene (from which he came) with dubstep and straight-up house, his mixes were fresh and filled with lots of tricks, twists and a bass line that pulled you forward, rather than sending you screaming from the room. In fact, this was the first venue in which I didn't have to stuff earplugs into my ears to hang, which made the music that much more comfortable to sink down deep inside. (OK, OK, I know I said no more griping. Done).
Tourist
On the heels of T. Williams after a quick change of equipment, Tourist (another Englishman) became the first act of the weekend (that I noticed) who started his performance early. And what a performance it was. He started his set with sampled field recordings—some sounding like old negro spirituals—that were sped up and slowed down and spun out above a spare moody soundtrack that sounded like it featured the use of the steel-drum-like Swiss hang. To this, he added on his own synth notes that were carefully layered, creating an ever-accumulating snowfall of beats and bleeps. Then he just dropped the whole construction right down in the middle of a big funky soup that splashed all over the club kids, making them bounce for the next hour on one of the best rides of the festival.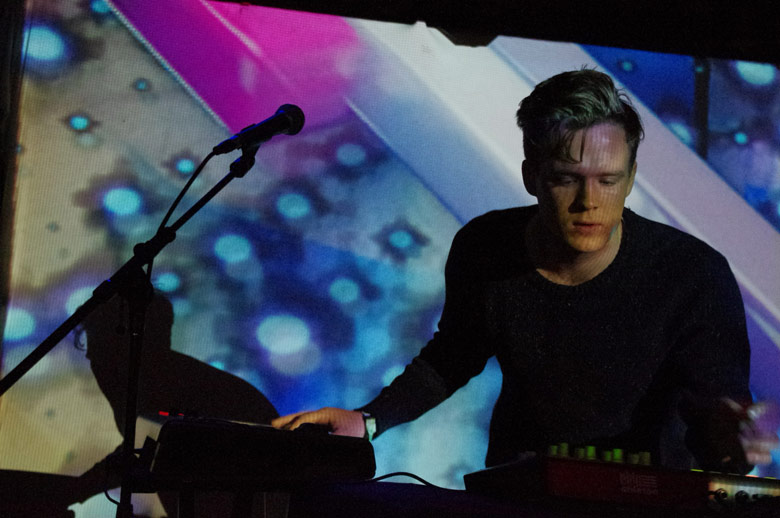 My goal all weekend had been to seen tonight's headliner at the Orange Peel: The Orb. But I was so sated by T. Williams and Tourist and my ears so full of hooks, beats and— yes—basslines, that I didn't want another thing in my head. It was kind of like having eaten the perfect dessert and not wanting to put any more flavors in your mouth to spoil it. And that, in my opinion, is the definition of festival success.
Ω