As the Northern Hemisphere goes full blast into the wintry days, those in the Southern Hemisphere are in for hotter and sweatier times, perfect for feel-good sounds that scream of sunshine and socialization more than darkness and hermitude.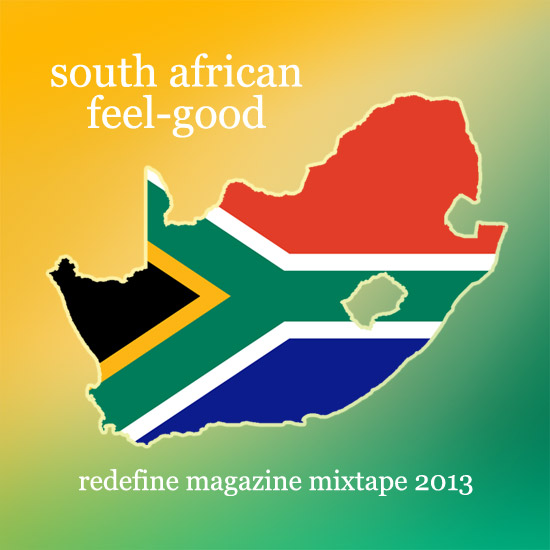 After our experimental foray into South African house music proved to delight audiences domestically and abroad, we've invited the androgynous genre-hopping musician Umlilo to offer up a hand-picked selection of noteworthy South African musicians, as marked with the seal of approval by a local. So before we launch into the mixtape, complete with Umlilo's thoughtfully written track descriptions, please enjoy his latest music video for "The Elements", which shows off his interest in fashion, gender-bending, and explorations of vocal styles galore.
Umlilo – "The Elements" Music Video
Stream Entire Mixtape
If you would prefer to listen to the tracks one-by-one, those that are publicly available are posted below individually.
Cassper Nyovest ft. Okmalumkoolkat – "Gusheshe"
South African rap gets a township trap make-over that will convert any non-believers of rap. The charm, punchlines and swag of Cassper Nyovest and Okmalumkoolkat are almost as fresh as the bass and trap drums. This song proves that SA townships are cultivators of musical innovation, worldly and original.

Gateway Drugs – "I'm Gonna Stop Loving You"
Synthpop duo Gateway Drugs put their own spin on a South African classic by the princess of Africa herself, Yvonne Chaka. The synths are infectious and the vocals are sexy and capture the angst and butterflies of young love.

Lucy Kruger – "Four White Walls"
Moody, angsty, haunting and breathtaking, SA folk singer Lucy Kruger knows how to conjure tales of love, loss and everything in between with epic folk command and nostalgia of singer-songwriters who have come before her. The most perplexing thing is how she casts her spell over and over again with one single note.

DJ Ganyani – "Xigubu"
The traditional dance of the South African Tsonga tribe gets an international urban house and electro twist with the help of some diva repartee and entrancing drum patterns from DJ Ganyani. No party in South Africa is complete without this song; it gets anyone moving.

Beatenberg – "Chelsea Blackmore"
The warm African sun gets a perfect companion in the form of indie pop band Beatenberg, with their twisted love song to Chelsea Blackmore. The heartfelt lyrics, unassuming instrumentation and ease of the song make it one best tracks to sing along too and transports SA indie pop to some new frontiers.

Umlilo – "Out Of My Face"
It's never an easy task including and describing you own work on a list like this, but "Out Of My Face" is one of those songs that is dear to me, not only because there needs to be some kwaai diva representation in the mostly black and white, heterosexual male-dominated music world – but because this one is also for all the wayward outcasts who love to booty pop and get political all the same time.

Brother Moves On ft. Lilly Million – "Sikelela"
Mystical, political, rebellious and wonderful, The Brother Moves On is one of the key voices of future South African music and sound. This song's sensitivity, beauty and gentle quality reads like a sad African tale in the moonlight. The guitar strums match the intensity of the words, vocals and purge emotions of grief you will never get back.

Mafikizolo ft. May D – "Happiness"
South African house takes a leaf out of the book of Nigerian pop, with a mixture of Sesotho, Zulu and English. This track featuring Nigerian artist May D shows the diverse nature of African music in the urban arena and how multiple languages can express the same message of "Happiness" in SA. The music is world class, tribal, infectious and a popular dance floor favourite. With a tagline "You make me happy", it's the perfect song to take the blues away.

Freshlyground – "Refugee"
Just when you think you cannot get enough of Freshlyground's Zolani Mahola's voice, the band comes back with a sound that captures South Africa to the last detail. "Refugee" is an upbeat love song that brings people of all walks of life together with its sing along melodies that should accompany any road trip, town hall, radio and taxi ride. The horns and harmonies are addictive.

John Wizards – "Lusaka by Night"
No music playlist with South African acts should be complete without the inclusion of the latest international exports, John Wizards. They mix indie sensitivity and electronic psychedelic realness with traditional Mozambican flavour that leaves you breathless and reaching for the stars.
Ω
---