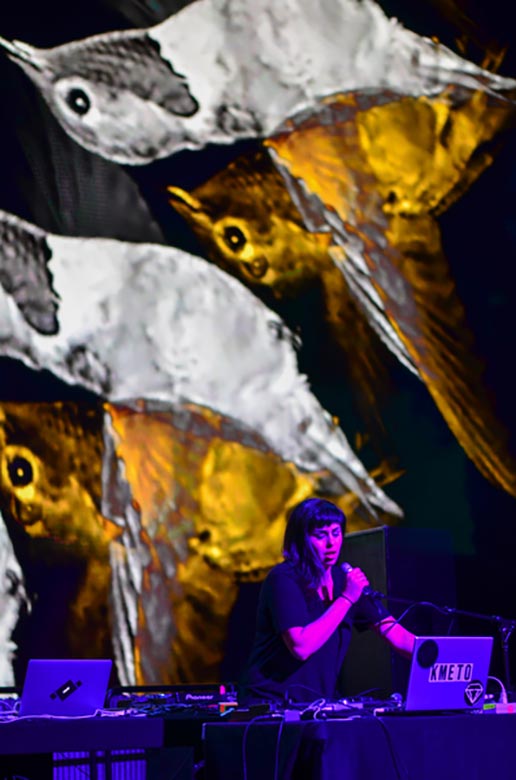 A couple years ago, I asked Decibel's founder Sean Horton how he manages to make an appearance at every single one (or almost every one) of the showcases during Decibel Festival. His advice was simple: "Don't drink, don't do drugs, don't eat, DON'T STOP!" While this may indeed work for Sean (is he a robot?!), I am but a mere human and had to abandon at least one of his key tenets (I'll let you use your imagination as to which ones). Overall, I felt like my Decibel Festival 2014 experience was less cohesive than in past years, but that may have just been due to my own headspace; I had a hard time settling for just one showcase each night, so ended up show-hopping far more than I ever have at Decibel. Here are a few of the performances & showcases that stood out.
Natasha Kmeto @ EMP Sky Church for the Opening Gala; Photography by +Russ
See all Decibel Festival Coverage
WEDNESDAY
Sabota __ Opening Gala
Walking to the EMP to pick up my festival pass, it suddenly hit me: DECIBEL IS ACTUALLY HERE. HOLY SHIT. I managed to keep my cool in the pass pickup line and through my one lap around the Sky Church space, but I quickly abandoned my facade of "effortless chill" and started dancing to Sabota, the first performance of the festival. I had never heard of the Canadian duo, but instantly made a mental note to go home and download their music. One handled the equipment while the other provided vocals, and the effect was danceable downtempo, similar to Lusine (who closed out the showcase), though the vocals were far clearer in the mix. True to Seattle form, the vast majority of the audience politely headbobbed, while ex-ravers and children in sound-proof headphones (future ravers, perhaps?) danced unabashedly amongst the politely still crowd. I fell somewhere moderately in between: self-aware, but without the restraint to merely foot-tap or head-bob.
Natasha Kmeto __ Opening Gala
After an impressively quick set change, Natasha Kmeto took the stage. In a matter of seconds, the EMP seemed to transform into some magical in-between world that was not quite a club, but not a party and definitely not any kind of museum. The audience began to loosen somewhat, and the moat between the bulk of the crowd and the stage shrunk, to be filled with captivated, swaying audience members (a big step up from head-bobbing!). As I've come to expect from her sets, Kmeto mixed seamlessly between her songs, keeping a healthy balance of danceable tracks and more sensual and dubby cuts. The visuals by Friends of Friends artist Effixx provided a nice focal point, but I found myself wanting to watch Kmeto's emotionally evocative performance instead. The two converged perfectly during her final song, the recently released single "Inevitable" off her upcoming album (set to drop in February). Beautiful angled silhouettes of a female torso dancing overlaid with copies of itself perfectly framed Kmeto's own silhouette as she slowly built the vocal and bass tension. At the climax, the room was vibrating; it was the best I've heard her sing the track, and it left the room slightly shell-shocked.
Lusine __ Opening Gala
Capitalizing on the vulnerable emotional state of the crowd, Lusine gently eased everyone back into their polite and safe swaying, starting so softly I couldn't tell if it was a sound check or not. "I can listen and also have a conversation… what an adult festival!" the guy behind me remarked, clearly impressed. Decibel IS an adult festival, devoid (for the most part) of the sloppy overly-imbibed and unfortunate teen drug overdoses that have marked many electronic music festivals in recent years. Most of the crowd consists of aging house heads, ex-ravers, and techno nerds; they are polite, respectful, and mature, but in my experience, the music is rarely quiet. It only took a couple minutes for the volume to rise to a more comfortably immersive (albeit less conversational) level. Lusine is no newcomer, and most of his set was pretty standard, beautiful and haunting in a vague, indirect way, with barely discernable loops of vocal samples providing a central structure amidst swarming glittery melodies. The visuals were stunning – space-like, with twisting geometric shapes that made me recall science class videos of cell or DNA structures. Most of the set stayed evenly downtempo, but during the last two songs, he slowly raised the BPM, deepened and darkened the 4/4 kick drum, and by the end, he was playing straight-up dance tracks.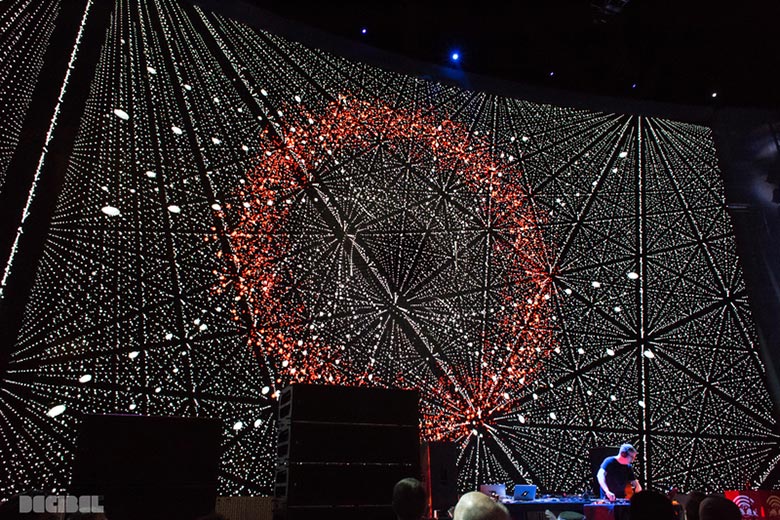 Lusine at EMP Sky Church for the Opening Gala; Photography by Drew Tyson
Rrose __ Pitch Black
From the EMP, I made my way to Rebar for Rrose, which offered a distinctly different sonic and visual experience. Rebar was brimming with a dedicated techno crowd, and by the time the line out the door inched me inside, Rrose's set was comfortably underway. The name "Rrose" is presumably borrowed from Duchamp, who had a female alter ego "Rrose Selavy" meant to sound like the phrase "Eros c'est la vie." Following the ancient Greek tradition, the dark side of Eros, or passionate love, is severe pain, which shows through plainly in Rrose's productions. Her look is severe–pursed lips framed by dark lipstick, straight black hair with sharply-cut straight across bangs, moving only slightly to the music and never smiling. At Rebar, this look was reflected in menacing and slightly droning techno. Peeking over the top of the industrial drone bass were the darkly plinking melodies, which would start low and slow, then work themselves into a tight frenzied coil before breaking to whoops of passionate release from the crowd. The music felt like disembodied, misspent pain, angry and emotive, but celebratory, not bitter. The result of Eros indeed.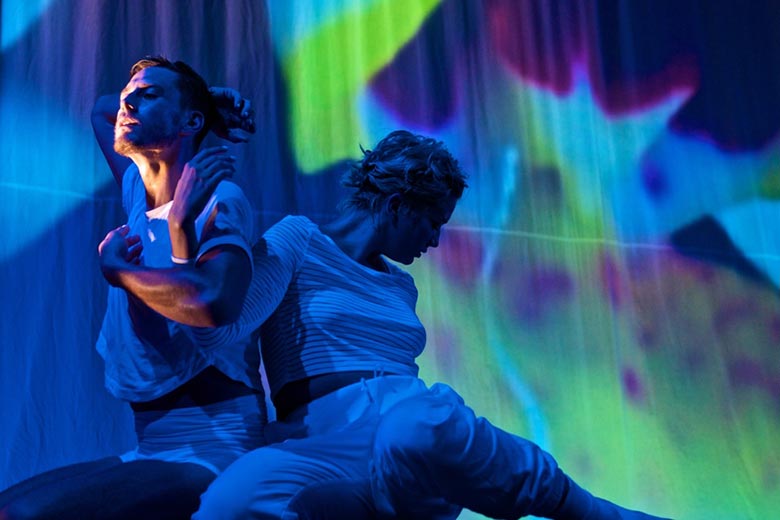 Max Cooper at Nordstrom Recital Hall for Optical 2: Huminary; Photography by Sam Stenson
THURSDAY
Max Cooper __ Optical 2: Huminary
My first set of Thursday was the Huminary Optical Showcase at Nordstrom Recital Hall. I love this venue during Decibel; the acoustics are incredible, and the seating arrangement directs everyone's attention exactly where it needs to be, minimizing the distractions that arise from a mobile and chatty crowd. This is completely necessary for ambient showcases, where it's all too easy to talk over the subtle and delicate evolutions of melody. I was excited to see Max Cooper, whose more dance-driven set had gotten rave reviews from friends present at the showcase the night before. This performance was massively different, though no less impressive. His ambient arrangements were paired with visuals by Benjamin Van Citters and a beautiful choreographed dance by Seattle's The Pendleton House Collective. As the dancers were the main focal point, most of my attention was focused on their interpretation of Cooper's sounds told as a story. There were five dancers, all dressed in delicate transparent white, presumably to portray innocence. The clean white socks the dancers wore only emphasized this virginal purity, and their movements in the opening track spoke of the fear and earnest curiosity of sexual innocence. Hands alternated between covering eyes and groin, and the bright stage lights left no body a mystery; the women did not wear bras, and the single man in the troupe was wearing only briefs and a thin cropped top. The untarnished vulnerability and innocence was perhaps overstated, but not tackily so.
Then, the music shifted and one of the dancers took center stage, her hip movements harsh to match the pounding new drum dissonance of the music. The dancer seemed to reach some sort of climax in which her innocence was lost and she submitted to her bodily desires. While this seems normal to a storyline of sexual awakening, I took issue with the fact that the dancer in question was the only POC in the troupe. The music and dancing spoke of primal rawness, of loss of social decency and descent into carnal hedonism. The use of a black body to make this point was extremely distasteful and off-putting; an oblivious reinforcement of crude racial cliché that distracted from the music. To make matters worse, a white male and female joined her on stage, calming her exaggerated movements into submission, which was ignorantly reminiscent of an entire oppressive and patriarchal racial history. The rest of the choreography felt less racially charged, and apart from the micro-aggressions in the beginning piece of the storyline, the dancing was beautiful, sensual, and in perfect balance with the music.
"It's okay to be turned on by modern dance, right?" my friend texted me from a few seats away.
I reassured him with a wink emoji, and we sat back to enjoy the rest of the multi-sensory delight that greeted our eyes and ears.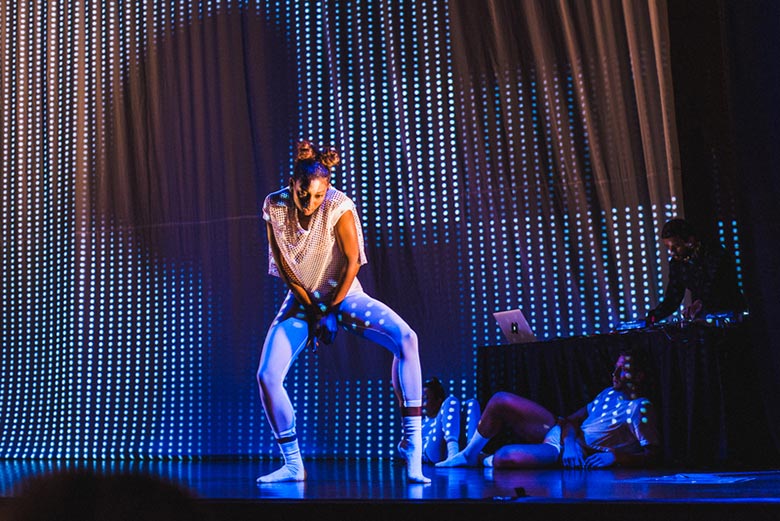 Max Cooper at Nordstrom Recital Hall for Optical 2: Huminary; Photography by Aya Tiffany Sato
FRIDAY
Soul Clap / Wolf + Lamb __ Crew Love
My Friday night began at the EMP for the Silent Season Showcase, which was great, but a little too low-key for my festive mood. The crowd sat or lay on the floor, letting the ambient techno bass massage their bodies and minds into a space somewhere between dreaming and dancing. The showcase felt too dangerously close to "naptime" for my spliff-addled brain, so I decided to head to Q Nightclub and catch the last hour of Soul Clap and Wolf + Lamb's back to back set before afterhours started at 2am.
Now, a disclaimer: I have some pretty strong opinions about Q as a space and a venue. Q first opened as a queer nightclub, but mismanagement led to a change in ownership and the evolution of Q as one of the main spots for booking electronic music in Seattle. The booking has been impeccable, with weeklies such as Kingdom, Studio 4/4, and Customs, and promoters like Decibel bringing in the very best and cutting edge DJs and producers. The Funktion One sound system places Q in many top 10 lists for best club sound systems in the world (though I maintain that the bass lacks crispness and obscures much of the delicacy of the mids and highs). All of this is great. What's NOT great is the crowd, a direct reflection of Capitol Hill's changing population. Weeknights are tolerable, with only the more subdued and serious music & club lovers out to hear a specific artist play. Weekends, however, are a different beast, and the very very worst type of beast–the kind that makes me want to take self-defense classes and carry mace and shout, "FUCK THE PATRIARCHY" at the top of my lungs on Friday nights at the corner of Pine & Broadway.
The fact that the show was part of Decibel mitigated some of the weekend horror, but not enough to make it comfortable for me on the dance floor. It only took about 10 minutes for me to reach my quota for the night of being rudely bumped into, fallen on, spilled onto, and touched without permission before I gave up on the dance floor and became a spectator on the balcony. The scene in Mean Girls where Cady imagines the mall as a watering hole full of wild animals kept flashing across my mind. The music, which was funky tropical house, sounded great, really really great, but it was struggle to enjoy it through the consistent interruptions of my physical space.
Finally, at the strike of bar-close, a magical change came over the club–most of the "bridge-and-tunnel" east side weekend warriors suddenly disappeared, as if my techno fairy godmother had swooped in and answered my silent plea. Now, even though the crowd density was no different than just an hour earlier, I stopped getting bumped, hassled, and hit on (for the most part). Everyone danced in harmony, like experienced ballroom dancers who glide effortlessly past each other without interrupting their twirling patterns.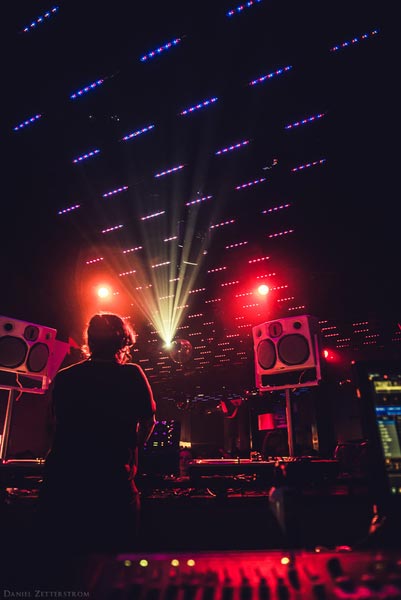 Steffi __ After-Hours 2: Ostgut Ton presented by Rane
I had seen Steffi arrive earlier, warily making her way through the "turnt up" crowd with her suitcase of vinyl in tow. She sat quietly in the roped-off VIP area, looking slightly ill-at ease. The normality of her wardrobe (sneakers, jeans, a t-shirt) felt refreshing amongst the myriad of heels and flashy club clothes that surrounded us. At 2:15 am, she went on-stage and got right to work, expertly mixing underground techno and house tracks to ease us into our late-night dance rhythm. The crowd responded accordingly, and even though my knee was painfully swollen and couldn't take much of my weight, her spell muted the pain and my feet seemed to move on their own accord. Watching DJs spin vinyl is a distinct and fascinating pleasure–the actions are tangible and seemingly immune from the expectation of showmanship that confronts many a modern club DJ. To my mind, what makes a good DJ is primarily song selection and transitions, and these aspects are readily apparent when mixing vinyl, as the time going into selecting the record and finding the beginning of the correct track is time not spent fiddling idly with knobs that may or may not have a discernibly additive effect to the song playing (though this is not to say there is no merit in that style). A seasoned resident DJ at Berlin's Panorama bar, Steffi has been the game long enough to be unaffected by the trends; she's true to her art and her passion and my respect and admiration for her added to the already irresistible force moving my legs and smearing my face with a shit-eating grin that lasted until 5am.
Steffi at Q Nightclub for After-Hours 2: Ostgut Ton presented by Rane; Photography by Daniel Zetterstrom
SATURDAY
Rone __ Richie Hawtin & Friends
Saturday started with Rone at the EMP. The French techno producer's debut album, Spanish Breakfast, is exactly what the title suggests: a light morning album, and definitely European. The music is bright, upbeat, and digestible; it has no harsh or aggressive beats, and the melody is tastefully nostalgic. It is emotional feel-good techno and a perfect start to my Saturday night. Rone's stage presence made the feel-good vibe all the richer–the small bespeckled nerd (the kind frequently found in techno crowds) was having the time of his fucking life, an energy that proved to be contagious. His music is typically best suited for moods that are filled to the brim with emotions slightly painful but not uncomfortable; the kind of fullness of emotion to be reveled in because you're experiencing the poignancy of being alive. Though those were the moods his music spoke of, there was no pain of any kind in his performance, only unfettered joy and effusive pleasure in his craft.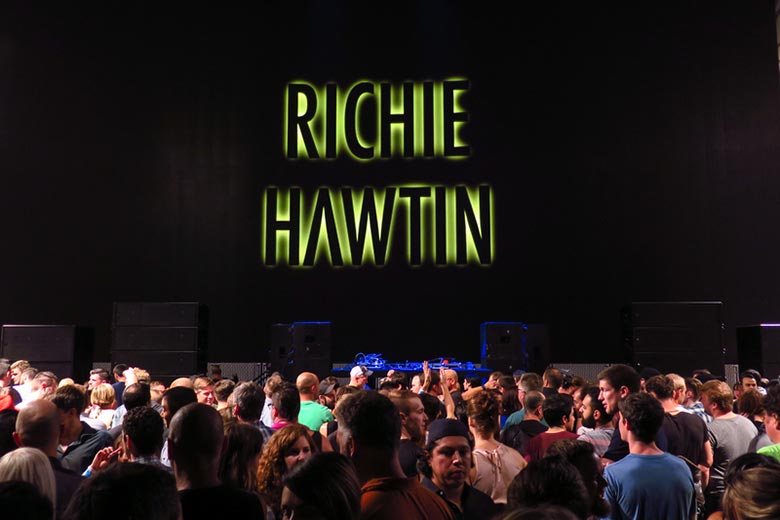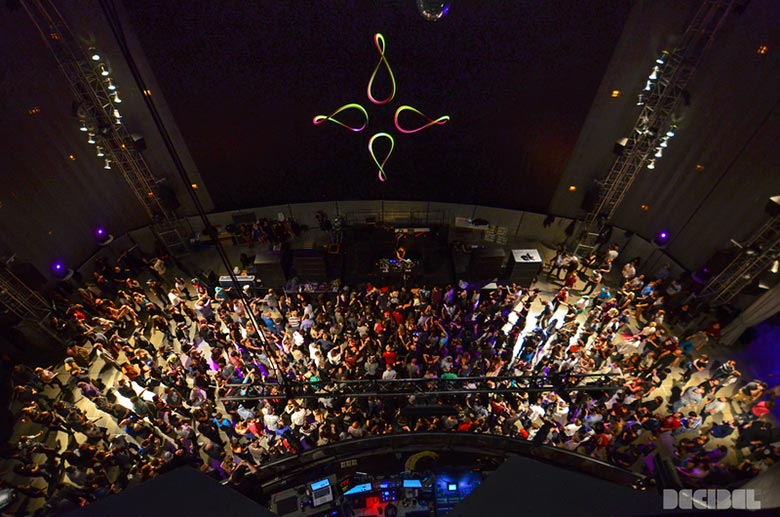 Richie Hawtin @ EMP Sky Church for Richie Hawtin & Friends; Photography by +Russ
Richie Hawtin __ Richie Hawtin & Friends
Guti played next, and while his set was enjoyable, it was far from memorable in my mind, especially compared to Richie Hawtin, who followed with a set that remains one of my favorites of the festival. Hawtin is 44, but looks no older than 30, if that. It's hard to believe that such a youthful character has actually been in the techno world since its very start. He started DJing in Detroit clubs at age 17, when Detroit techno was still in its underground beginnings; he put out his first techno productions in the early 90's under the moniker Plastikman, and helped establish and popularize the minimal techno/electro house sound. Far from letting time render him irrelevant, Hawtin continues to put himself at the cutting edge of techno; he even has a separate Twitter feed where listeners can get a live tracklist during his sets (I could see people around me following the feed religiously). The friends I was with at the showcase found his set boring and left to go upstairs in the EMP for Lee Foss + Annabelle Englund, but I remained, totally entranced, as if glued to the floor of the Sky Church. The music felt perfectly balanced; the lows massaged my body, the highs tickled my ears, and the mids kept my wandering mind interested and invested.
My only hang-up about the show was that whoever was doing the lighting kept turning on the house lights, almost as if they were leaning against the wall at a party and accidentally flipped the switch every time the song got to an intense part that required bigger dance moves. The Sky Church felt too bright even with the house lights off, with light pollution spilling in from the bar and bathroom areas, so the constant on and off definitely spoiled some of the intensity of the atmosphere, which Hawtin then had to continually rebuild. Fortunately, he seemed to be able to do this quite easily — the songs would build slowly, and when a drop was expected, he would hold the crowd at bay, teasing us with long extended interludes before finally the need for the "drop" became intense and acute, at which point he would let it go, almost as a kindness to the fiending audience. This effect is probably the origin of the, "Where's the drop bro?" refrain that plagues modern "EDM". The bass drop has been misunderstood–most drops in EDM lack the time and effort of investment in the build-up and the subtlety of the drop. Hawtin spent that time and effort, and the crowd responded by investing in his process of weaving a tapestry of tiny melody and big rhythm, after which "the drop" isn't catastrophically heavy, but instead balanced and frugal. The Hawtin showcase was packed – definitely one of the more crowded showcases of the weekend – but unlike all of my Decibel experiences at Q, I felt like I had the space and freedom to dance as I pleased without worrying about being jostled. Successful club dancing is a beautiful game of human Tetris; you maintain an awareness of the pieces that surround you to form a basic understanding of their patterns of movement so as not to interfere with them, and they with you. Drunk people are exceedingly bad at Tetris, hence why crowded clubs like Q can be uncomfortable dancing environments.
KiNK __ After-Hours 3: Dialated presented by Rane
The afterhours at Q that night started off with KiNK. He was supposed to be joined by Rachel Row, with whom he has been collaborating with on her solo productions. Row was nowhere to be seen, and so, almost as an apology, KiNK played an extended version of one (of many) of his own mixes of Row's song "Follow the Step" that lacked most of her vocals. This felt like a tease, as I kept expecting her to pop up from behind the booth to provide the missing vocals. As I'd read previously about KiNK, he likes his sets to be interactive, and this set was no different. He started by holding out what looked like an Ableton Push controller, then, looking at the audience, started making a beat. He built the beat from scratch, holding out each instrument to the crowd as he used it. KiNK looked like a young boy doing Show and Tell, eagerly sharing his cool toys to the class. Eventually, he gave the controller to the audience, encouraging them to push a few buttons, then looped the resulting sounds and wove them into the song. There was a nice mixture of new and old tunes – a balance of iconic mainstays like Cajmere's "Percolator" with newer cuts like his own 2013 remix of Jimpster's tune, "Porchlight & Rocking Chairs" (oh for the love of laser sounds!!).
SUNDAY
Hush Hush/Dropping Gems/Ceremony Deck Party [unofficial dB event], Isis Graham, Tensnake, Pete Tong [All Gone Pete Tong at Decibel]
Hush Hush / Dropping Gems / Cremony Deck Part __ Unofficial Decibel Event
My energy reserve almost spent, I refueled my spirits of the soul with the other kind of spirits on the patio of Captain Blacks, where local labels Hush Hush Records and Dropping Gems and NYC label Ceremony throw an annual deck party. Surrounded by sunshine and pals, I spent the afternoon contentedly listening to good tunes and eating other people's fries. After a live set by USF and DJ sets by DJ AO, Torvvo, and Ghost Dub, I felt rejuvenated enough to journey to Q for the weekend's final showcase.
Isis Graham / Tensnake / Pete Tong __ All Gone Pete Tong at Decibel
Perhaps because it was a Sunday night, Q was almost empty when I arrived. Isis Graham was DJing, and I was disappointed that there weren't more people to enjoy her set; Graham has been DJing since she was a teenager in the late '90s and helped start the all-female DJ crew Girls on Decks, now in its 11th year. By the time Tensnake went on, the room had filled up a little more. I saw Tensnake DJ earlier this year, and had been slightly disappointed by his uncaptivating set. Given the versatility of his own remixes and productions, I had been hoping for something more than the generic-feeling house he'd played, and my wishes were granted during his Decibel set. He played a couple of his remixes, and (I think) even one of his own productions. Pete Tong followed, beginning his set to a now full club. He played a quality selection of catchy and upbeat house tracks that managed to sustain the energy of a crowd thoroughly exhausted by 5 days of nonstop dancing. A seasoned veteran of live and radio DJing, it seemed only natural that Tong hopped on the mic, filling the room with his iconic British accent, though the words, instead of the expected "BBC Radio 1," were "Decibel Festival."
Ω