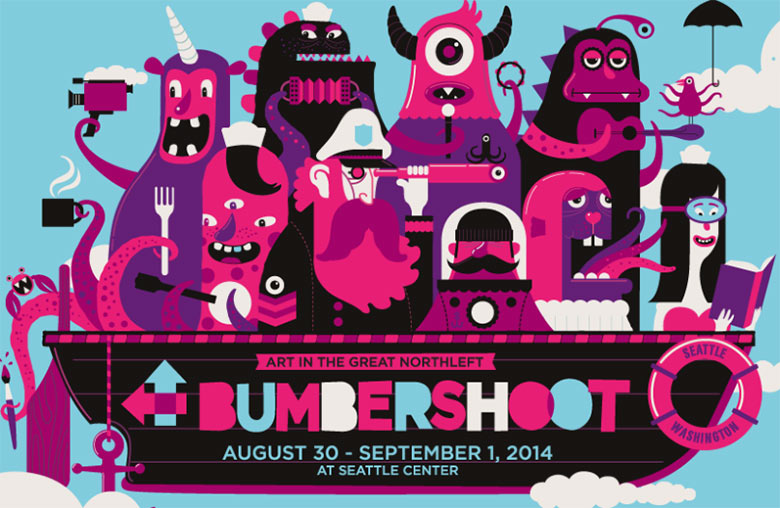 Within a few weeks of one another, the Pacific Northwest finds itself graced annually with two significant events adhering to very different festival models:
MusicFestNW
and
Bumbershoot Festival
. Running since 1995 in Portland and 1971 in Seattle, respectively, both festivals have been known for catering to a wide and varied acts across a host of stages and venue locations. In late 2013, however, MusicFestNW announced that it would be
approaching 2014's festival a bit differently
, foregoing its previous SXSW-esque multi-venue model in favor of a two-stage waterfront event. Bumbershoot, by contrast, has maintained its long-running model of utilizing the Seattle Center's many venues to showcase interdisciplinary art. Both festivals have their huge differences in terms of history, infrastructure, funding models, and artistic goals — but considering the cornerstones that both festivals have been for their local communities and beyond, it seems only prudent to compare them a bit.
Venues
MusicFestNW
Portland has a long history of holding family-friendly festivals along the Portland waterfront, with July's Waterfront Blues Festival being perhaps its most famous. When Willamette Week — the local weekly that hosts MusicFestNW — initially announced the festival's latest infrastructure changes, part of the reasoning was due to complaints from residents near the Pioneer Square House, which at that time housed MusicFestNW's largest stage. Members of the music community were definitely skeptical about what would happen to a festival that went from having over 100 bands play in over a dozen venues to a two-stage show along the waterfront. The truth is that the shift turned this year's MusicFest from a large and exploratory event, with lots of street shenanigans and lots of new things to discover, to a strange back-and-forth romp, as one walked the length of a football field to go from one stage to another during set changes.
Bumbershoot
Talk to any promoter of all-ages shows or deeply-embedded members of underground music communities, and you'll find time and time again that one of the most important things that lends success to a scene is its venues. Shut down one important institution and risk the chance of destroying a niche community completely. Herein is where Bumbershoot implicitly has an advantage; one simply can't discount how vital it is that Seattle has a public venue like The Seattle Center, which makes a multi-venue model tangible and smooth-running.
Lineups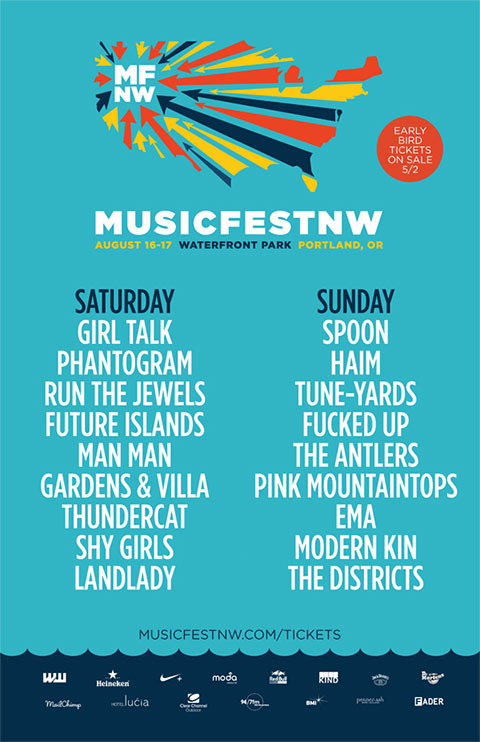 MusicFestNW
With MusicFest's 2014 shifts, another question on everyone's mind was whether the festival would become as generic as Sasquatch! or if it would maintain its impressive degree of musical diversity. As far as musical cred is concerned, 2014's MusicFestNW lineup was strong; just about every act on the bill is worthy of watching for a number of reasons. Of Saturday's lineup, only Landlady was truly worthy of an under-the-breath disgusted groan (and boy, were they worthy of that), and headlining acts like Spoon and Girl Talk were safe choices. Yet compared to festivals like Outside Lands, which sell out every year by seemingly pandering to the lowest common denominator of festival lineups, MusicFest did a bang-up job. Unfortunately, though, artistically sound for MusicFestNW 2014 is still steps removed from artistically sound for MusicFestNWs of years prior, when one could, in one night, see and enjoy Tobacco, Natasha Kmeto, and Royal Canoe in a marathon swoop of musical perfection. This year's limited roster also allowed for only a couple local bands to be billed, which was another gripe murmured within the community. One can mourn these changes; one can definitely mourn these changes.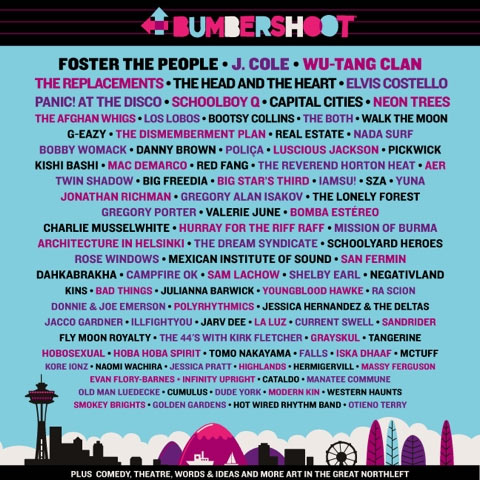 Bumbershoot
With diverse lineups that in the past few years have included Wu-Tang Clan and Skrillex to Tony Bennett, Big Freedia to Blitzen Trapper and The Promise Ring — and just about everyone from every genre under the sun — Bumbershoot's lineups are never the "coolest", and depending on who you are, you are likely to only find interest in one or two days of the three-day festival. It intends to entice not just the general festival demographic of mid-20s-to-mid-30s-lukewarm-music-fans, but also their baby sisters, their moms, and their grandmas. Unlike the cookie-cutter, copy-and-paste lineups of all the other major festivals, Bumbershoot's annual lineup is absolutely bizarre and reads like a Jackson Pollock painting — but that's the beauty of it. And this doesn't even touch upon its always packed-to-capacity comedy shows, its wide-ranging literary panels, or its visual art programming, which annually includes site-specific installations and the traveling poster art exhibit Flatstock. This year's Bumbershoot also boasted an interactive videogame exhibit designed by local artists, and the beauty of Bumbershoot and the venue its housed in is that all of these things flow from one to another very easily.
What's Next?
In 2012, when MusicFestNW first began TechFestNW, its technology offshoot, there was some buzz that perhaps MusicFest would become the next SXSW, especially as SXSW is almost universally is agreed-upon to be more and more bloated by corporate interests every year. This year's shift in MusicFestNW's model strips away all that potential, especially considering that the disconnection between TechFestNW and MusicFestNW make them seem like completely separate entities anyway.
In many senses, it may be unfair to compare a relatively young festival like MusicFestNW to a more long-running one like Bumbershoot, but considering both run on sponsorships from local corporate entities and businesses, one can't help but think there are some notes that MusicFestNW might be able to take from Bumbershoot, in terms of using corporate resources in a way that builds up the local music scene while still bringing in national acts. Though the amount of sponsorship capital may be different, the caliber of sponsors supporting MusicFestNW and Bumbershoot seem comparable; MusicFest's major sponsors include Nike, Heineken, and Chevy; Bumbershoot's are Starbucks, Bud Light, and Project Bionic. It's the differences in infrastructure that seem important to analyze.
Using money from its major corporate sponsors like Starbucks, Bud Light, and Project Bionic, Bumbershoot funnels it all down into the local level by partnering with influential organizations galore. Films are curated by the Seattle International Film Festival, music stages are curated by the FM radio station KEXP and electronic music promoters USC, and local comedians, speakers, and writers are given platforms to disseminate their ideas. And all that is to say nothing of the fact that Bumbershoot also makes it part of their mission to include a good number of local bands. This type of democratic approach helps build community in a grassroots way and instills a sense of credibility into the festival even while it has major headlining acts.
MusicFestNW
My experience at this year's MusicFestNW can basically be boiled down to seeing a lot of wonderful bands while dying in the sweltering heat. Standouts included Gardens & Villa and Future Islands, and despite the lack of shade, I made it my mission to stand at the front of the stage for pretty much every act I saw. Many showgoers did not, however, and fairweather fans could be seen lounging under trees galore — so much so, in fact, that some stages looked far more empty than they should have been. All in all, 2014's MusicFestNW was quaint, intimate, and precious, but neither did it feel like a festival nor did it have the spark and excitement brought about by diverse lineups of years past. The shotgun-hallway layout of the event also left much to be desired, and one spent the whole day feeling a bit like a sheep in a pen, traveling with the masses mindlessly from stage to stage. I say all this as a huge supporter of MusicFestNW of past years, and with sincere hope that future years will regain some of the spark which was lost this year. In my ideal scenario, Willamette Week will find some way to resume MusicFest's old multi-venue model but better allocate sponsorship resources by partnering with local tastemakers.
Bumbershoot
For my review of 2014's Bumbershoot, I need only list my highlights from one day of the festival to illustrate how fascinating it is as an adventure:
– Overheard convos from middle-aged ladies about finally learning what "Big Freedia is about";
– Played an interactive artist-designed video game with four people sharing two controllers;
– Danced to EDM in the same strobe-and-LED-spangled room as 16-year-olds and 45-year-olds;
– Bought an amazing screenprinted work of art from Richey Beckett for only $10;
– Laughed at 16 female-focused comedians rapid-fire through three-minutes of stage time;
– Watched performances by Wu-Tang Clan, Mac DeMarco, Yuna, and SZA, amongst many others I knew and did not know;
– Accidentally missed THEESatisfaction and their Black Weirdo collective of artists speak about their role in building up Seattle's black and gay community…
– And so on…
In short, every city should take notes from a festival like Bumbershoot, which boasts a true multidisciplinary authenticity that represents the many corners of its host city in an impressive way. One need only look to the its audience, which unlike most mainstream festivals, is glittering with people of all ages, colors, and sizes. Such interconnections are really important for building understanding within a community, whether that's immediately obvious or not, and if middle-aged moms getting familiarized with ass-shaking and New Orleans bounce isn't a good indicator, I dont know what is.
Ω