Jax Deluca and Kyle Marler of
Flatsitter
discovered one another years ago on an Amtrak train, in what one might call an act of divine timing, or a perfect illustration of the "right place, right time" adage.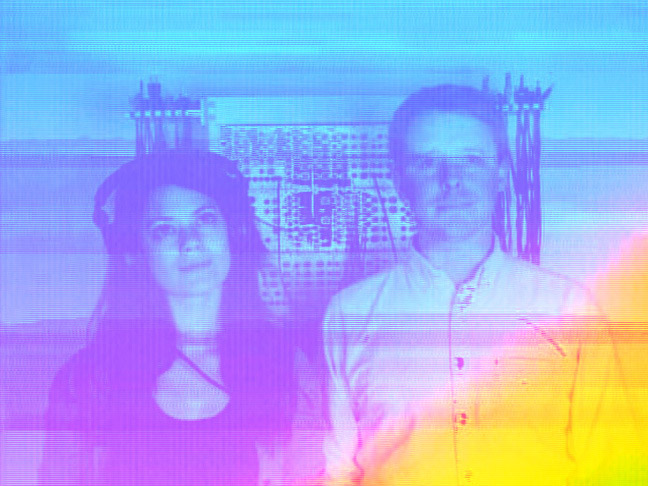 What emerged from this meeting is a male-female powerhouse duo, who use an array of interdisciplinary techniques to "craft strange and surreal experiences", both digital and fully tangible. These custom-crafted worlds are full spectrums, extending as far in scope and technique as the rainbow color palettes they choose to swathe their works in. In the following Q&A interview, Flatsitter offer an overview on the many projects they're undertaking with full force, which range from performances and interactive albums to site-specific installations and live virtual reality experiences.
"Since we are a fairly new collaborative, there aren't really any rules. Part of our process is trying out new things and seeing if they work. Right now, it's almost as if we're throwing a bunch of things against the wall and seeing which sticks. It's all about finding our flow and having fun with it. Each one is an electronic meditation, so there is that continuity." – Flatsitter
You guys are quite the artist duo. Can you tell me about your history and the unique strengths and weaknesses you each feel you bring to the table?
We met on an Amtrak train. Pure luck! We quickly found our common interest was exploring moving and sound, with our interests ranging from pop to immersive noise, which is pretty broad. Jax went to school for experimental video and sound and currently runs Squeaky Wheel Film & Media Art Center, whereas Kyle is self-taught and thrives on learning new things, like coding. Kyle gets satisfaction out of coming up with an idea and figuring out the technical components of our projects, whereas Jax enjoys crafting the performative and temporal aspects. There is a general give and take that is expected in a collaborative project, but we work together throughout in various ways to make a finished piece. Both of us had already worked on individual projects up to this point, but our special powers emerged when we combined forces!
appear:up:here Interactive Album & Surround-Sound Installation
appear:up:here is not only an interactive album, but a surround-sound work. How did this idea come to fruition, and were you inspired by other interactive albums? If so, what?
We had an artist residency at the Institute for Electronic Arts at Alfred University. For one week, we had access to their Sonic Arts Lab, which included a sweet rack of Doepfer synthesizer modules and a surround sound system. At the time we were focusing our efforts on recording a surround score for our short film, //LADYBUGM. In order to break away from over-thinking the soundtrack for the film, we needed time to kick back and do some really loose sound work. We started recording tracks and tracks of open vocal, guitar, and doepfer loops and later weaving and layering them together in surround sound. It was meant to be a fun process that allowed us to work more intuitively. The interactive part came up when we titled the album appear:up:here and wanted to keep on this idea of floating. Like a cloud.
Attention spans are notoriously short in this, the age of the internet. Was this a concern to you in undertaking this project?
It's more of an opportunity than a concern. The goal is to pull people away from the scrolling and clicking feedback charade that has become our lives on the internet. These songs are slow-boilers. We hope the web interactivity would somewhat distract people before clicking away, giving the songs a bit more time to establish themselves. Some could call it a visual aid for listening. You could also just let the visuals hang and drift around without having to fully engage with your mouse or track-pad. Whichever you like. We suggest late-night viewing after crushing some LSD. Not that we do that sort of thing…
What kind of environment did you foresee this album being viewed in? Did you display it publicly or in any sort of gallery or public setting?
Our intention was really to create a haven on the web. A tiny pocket of air and space on the suffocating information superhighway. We have considered re-creating this in gallery setting, but it would be different than just a free-standing computer screen. It's meant as an peaceful interruption to the usual internet experience, similar to our Netflix by Flatsitter experiment. So, maybe if we had it in a gallery, we'd opt for a pitch dark room and a tiny glowing tent that you had to crawl inside and lie down. Or a secret spot underneath a public stairway.
How long did the process take from conception to fruition? How much of that was spent on the music, the visuals, and the programming, respectively?
We recorded the soundscapes during a weeklong residency, but we spent several subsequent weeks mixing and mastering the music. The visuals and programming took a few additional weeks to finalize. We actually programmed about 15 of these different web experiences, and then whittled them down to the final four. This entire process took a couple months, but once we settled on the visual aesthetic, the process moved along much faster. If we didn't have full-time jobs, the process would have gone a lot faster. It's amazing how much you can get through during an artist residency. We can't stress the importance of these enough!
Can you tell me about the technologies used? How generative is the base imagery?
The core web tech we used is called WebGL, which is an API for rendering interactive 3D/2D graphics in the web browser that is builtl using Javascript. We relied heavily on three.js, a javascript 3D library that simplifies WebGL rendering. For anyone that is interested in learning more about this technology, visit the Threejs.org website, and take a look at the examples and the source code for the different examples. After a bit of poking around and cross-referencing between the different projects you can start to switch up values in the code to see what happens. It's a fun process. For those completely unfamiliar with coding, but who want to take the plunge, Kyle suggests using Codecademy as a free online tool for learning to code from scratch.
What were some of the major challenges you faced?
Browser cross-compatibility and the non-standardization of keypads and mouse functions. This is something we are still working on. Currently, appear:up:here is only available on non-mobile. Same with Netflix. Additionally, depending on how your keypad or mouse is set up, your experience may vary.
[Editor's Note: Experience appear:up:here at appear.flatsitter.com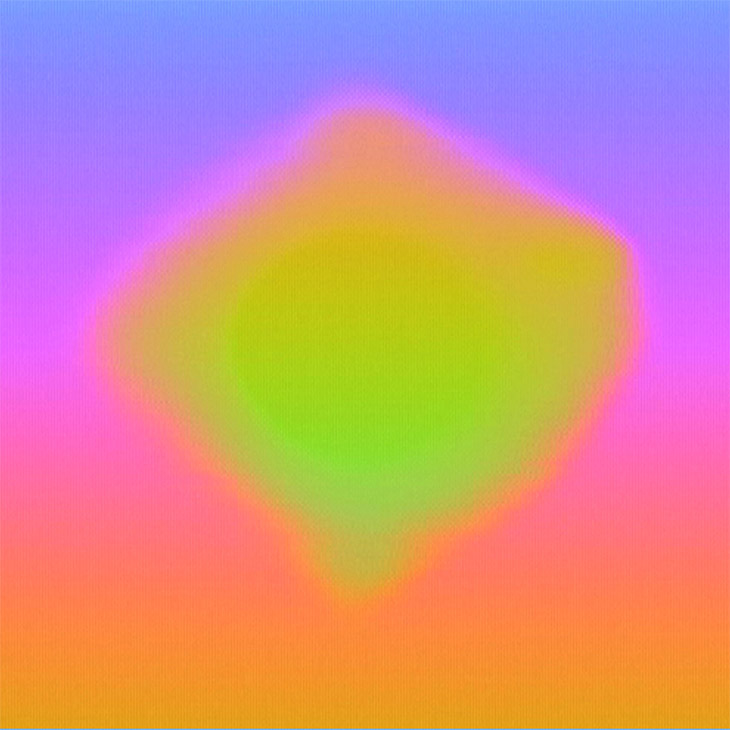 Soundwork & Visual Poetry
"We have another sound album in the works, but we are most currently working on an interactive series that combines our soundwork and visuals with poetry. Users can engage with the visuals while listening to a live readings of texts written by up-and-coming writers. So far, we have made sites for
Noah Falck
and
Matthew McBride
. We're curious to see if the extra step of listening to a poem will lead to increased engagement, so if you like what you see drop us a line!"
SAFE WOR(L)D
We've been experimenting with live virtual reality performance using the Oculus Rift Headset in a piece called
SAFE WOR(L)D
. So far, feedback has been positive. We got to bring it to the
Ann Arbor Film Festival
this year, which was pretty exciting. We are already getting ideas for our next iteration of a Virtual Reality installation–a hyper-colored cross-pollination of a simultaneous audio-visual album and live performance experience in the form of a New Age spa or digital healing center.
Future Musical Works
On the side, we also have an acoustic act that includes projections and haunting ukulele music. We just started recording an EP at a Karpeles Manuscript Museum, a turn-of-the-century Greek Revival church with a massive pipe organ built in 1913. The acoustics were phenomenal in there. To top it off, we are recording the backing tracks inside a massive 190-ft silo in Buffalo at a place called Silo City. They have been kind enough to let us – and a wide range of artists and community members – take advantage of these breathtaking monuments (Thank you, Rick Smith & Swannie Jim Watkins!). There is also Buffalo collective called Silo Sessions that regularly posts music performances recorded in the Silos, a very Buffalo version of the NPR Tiny Desk concert. The sound is ethereal. Truly haunting. We're hoping to release this EP in the Fall 2015.
Additionally, we recently recorded a whole bunch of material during a residency at Signal Culture, an experimental media center in Owego, NY, that has tools ranging from custom made analog and digital tools, an old Amiga computer with the classic Harmonizer program, to a Eurorack filled with audio and video synthesizer modules from Doepfer, Make Noise, and David Jones. We captured some pretty wild stuff and hope you join our mailing list to get a notification when we release new works!
Ω