Northside Festival expanded yet again in this, its seventh year, with a week-long stretch of events that fell into one of the three categories of Innovation, Film, and, of course, Music. Over thirty venues across Williamsburg, Greenpoint, and Bushwick hosted upwards of 400 bands throughout the festival's final four days, including big names like Run the Jewels, Neko Case, Against Me! and more.
Reviews by Ian King and Judy Nelson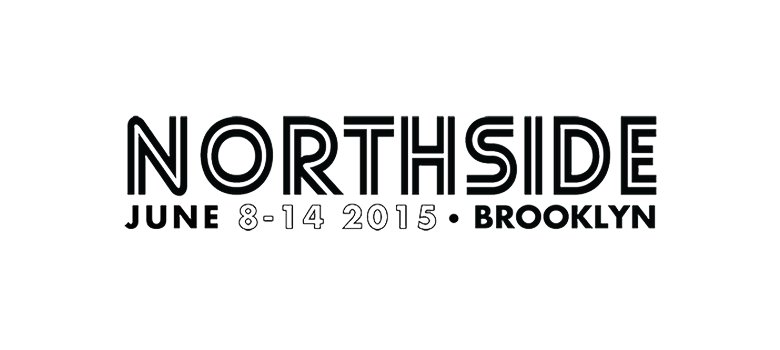 Thursday, June 11th, 2015
Luna
A big (or indie big, at least) name, Luna, were the inaugural act for the music portion of the festival. This was the reunited group's first show in New York City in a decade, and came well in advance of the three reunion shows they'll be playing in the city in early October. Dean Wareham & Co. remained cool during a sweltering Brooklyn evening at the Green Label Live stage at McCarren Park. The four played tight yet fluid, making their way through a good-sized roll call of favorites like "Tiger Lily" and "Speedbumps", ending their main set with a great "23 Minutes in Brussels". Wareham led the audience in singing "Happy Birthday" to bassist Britta Philips, and at one point in the encore (capped by a cover of Beat Happening's "Indian Summer") also noted a building he could see on the midtown Manhattan skyline to the audience. It was where his father had once rented office space, Wareham explained, noting that it was much easier to do that sort of thing in the city back in the '70s.
Friday, June 12th, 2015
Gabriel Mayers
The only show of the festival to take place at the Polish National Church in Greenpoint happened from 6pm to midnight on Friday evening. Presented by The Wild Honey Pie and dubbed "The Beehive", the well-rounded line-up featured the upbeat alt of Fort Lean, the reverb-y sunshine rock of Little Racer, and many others. The setting of the church, peaceful but with cheerful splashes of blue behind the icons along walls, provided great acoustics for Gabriel Mayers, who played a mix of originals and covers that included Pixies' "Where Is My Mind?" and the Velvet Underground staple "Femme Fatale". No stranger to playing subway stations in the city, his gentle but resonant voice had very little noise to compete with that evening, going out over the hushed audience in the pews.
Heems
Across the way in McCarren Park, Heems, once half of the defunct 'deconstructionalist' hip-hop duo Das Racist, made the trek in from his new locale on Long Island (not exactly a world away from where he grew up in Queens) to perform tracks from this year's Eat Pray Thug. Giving "Flag Shopping" and others a bit more vigor and a bit less gravel in the throat than on record, Heems also at times seemed to try to feign a certain disengagement, at one point making a crack about getting his money after the set.
BLUFFING
Down the block at the Gutter, an attempt to show up early to catch BLUFFING's set was largely thwarted by the band finishing up their set at within a minute of when they were supposedly scheduled to take the stage. Given that their album from last year, Sugar Coated Pills of Wisdom, came in at ten songs in less than seventeen minutes, we expected their set would come and go in a flash, so we felt lucky enough to at least catch a few of their compressed shoegaze pop.
Saturday, June 13th, 2015
A Deer A Horse
The full-day action picked up significantly on Saturday, where we started the afternoon with sets at Bar Matchless by A Deer A Horse and Mount Sharp. A Deer A Horse mix a bit of Savages' starkness into their potent garage rock. Their recordings so far are solid, but don't quite do their presence justice. Singer/guitarist Rebecca Satellite has an impressive range, while bassist and band co-founder Angela Philips matches her in badassness.
Mount Sharp
"I know it's early, but we're going to be loud", Mount Sharp singer/guitarist Sarah Wood informed the crowd, while asking for more vocals in her monitor. A kick drum mishap during the first song hardly set the fuzz pop group back. Occasionally reminiscent of a less aloof Parquet Courts, they kept the energy level of A Deer A Horse going steady, though they sang about things like monsters and space and science.
Soft Lit
When Mount Sharp finished, we wandered south to Muchmore's, a homey corner café with a separate showroom where all the cocktails that day seemed to be made with soju. There we were able to catcha few bass-heavy songs by electro-R&B duo Soft Lit, whose great "Ocean King"/"Lately" single — which would fit well on a mixtape next to, say, Autre ne Veut — was released last year on GODMODE.
Built To Spill
The biggest Northside shows happened down at 50 Kent Avenue, a big cement lot across the street from the massive blue-and-white metal shed along the East River. Given the properties of the surroundings, the sound quality down there isn't exactly optimal, but the amount of space there meant that it wasn't too crowded, and the waterfront location provides a nice view of the Empire State Building, at least. In fact, the longer Built to Spill's set went on, the more balanced the sound seemed, after starting off a little fuzzed and rattling with their opener, "You Were Right".
Though they haven't been on an indie label since There's Nothing Wrong With Love, Built To Spill are one of those bands that are practically the definition of indie rock from that decade – and they sounded better as their set went on. They actually pulled two songs from as far back as that second album, "Dystopian Dream Girl" and "Stab", as well as fan favorites from Perfect From Now On and Keep It Like a Secret, and a couple from their latest, Untethered Moon. With time to spare, they went for a short encore, ending with "Randy Described Eternity", while a giant silver blimp advertising Frederick's Gin drifted directly overhead, volunteering itself as a visual prop to represent the giant metal sphere that floats "just a few yards past the earth" that Doug Marsch sings about in the song.
Girl Band
Before that encore, Built to Spill played a surprising, faithful-ish cover of the second half of Metallica's Master of Puppets instrumental, "Orion". It was the second best cover we heard that night. The trophy in this case belongs to Girl Band. The Irish band have been building steam since 2013, and Rough Trade released an EP this March called The Early Years, but this weekend was probably the first direct exposure a lot of people got to their throbbing, ear-scraping noise rock. It's possible to interpret them on record as being artistically distant or aloof in an early-Liars-like way, but watching the four (still quite young-looking) guys on stage at the Music Hall of Williamsburg did a lot to chip away at that notion.
After a minute or two of guitarist Alan Duggan kneeling down to fiddle with his effects, they started in on their cover of Blawan's "Why They Hide Their Bodies Under My Garage", with Duggan releasing a blast of a bass beat every other measure that shook the floor each time it hit. Riotous as it is on The Early Years, it is something that has to be physically experienced to be fully appreciated. That goes double for the band in general; on the face of it a standard line-up of singer/guitar/bass/drums, but one where everyone, not just the drummer, approaches their instruments percussively, including vocalist Dara Kiely, dismantling and reconfiguring expectations as the go.
By the end of "Garage", the crowd had been won over, including at least two of the guys from the night's headliners. Amongst the audience was Viet Cong bassist/vocalist Matt Flegel and drummer Mike Wallace, who wandered out to the middle of the floor for parts of Girl Band's set. When they came on for the first of two sold out nights at MHOW, a sizeable step up from the gigs at Union Pool and Mercury Lounge they did here a mere six months ago, the Canadian post-post punksdidn't let the kids from Dublin show them up. With force and precision, they weaved through their first single and songs from their self-titled album, with Flegel filling in periodic pauses with a genial remark.
During "Death", their marathon closer, the band were so focused on one another that it wasn't clear if they noticed the male aggression circle that had opened up on the floor. Kudos must be given to the young woman who pogoed her way into the pit, forcing the dudes to temporarily find ways to smash into one another around her. Eventually they found a way to edge her out, but for a while it was fun to watch them stop in their tracks mid-mosh, like they had been caught by an older sister.
Sunday, June 14th, 2015
Hard Nips
Along Bedford Avenue on Sunday, the demographic collision of the new Williamsburg – one part Tribeca, one part Murray Hill, one part Park Slope, and a few remaining traces of its old self — was out and about in another day of stifling muggy heat. As the Brooklyn-based all-female Japanese punk band Hard Nips kicked out the good time jams a few blocks down North 6th St. at Black Bear Bar, on the UO Live Stage, set up in the middle of the avenue on North 5th St., the 4:15pm 'TBA' act turned out to be none other than Girl Band. Dropped under a very un-Irish sun amidst a few fans and one guy with a backpack — who seemed to be strung out on some pretty hard stuff — admonishing the slowly gathering crowd to get closer to the stage, the group brought their screaming noise to the general passerby. Somehow it worked; a crowd steadily amassed, stretching all the way back to the area of real grass turf laid out for people to chill out on in the middle of the road.
Light Asylum
Afterward, as Kiely flitted about asking various people hanging around for a light (either as an excuse to start conversations, or the guy is a bit of a chain smoker, or both), Light Asylum began to set up. It was a good thing that the duo of Shannon Funchess and Bruno Coviello were the final musicians to grace the stage, because they would have been a difficult act to follow. Defying the weather in matching black jeans, sleeveless button-ups, and safety face shields, Light Asylum made everyone stop and take notice of their propulsive minimal electro. Funchess, who has recorded with artists like TV on the Radio and !!!, has a commanding voice and presence as she stands pounding her drum pad, balanced by Coviello next to her, as still as a statue behind his Akai keyboard.
Editor's Note: A correction, courtesy of Light Asylum: "Bruno Coviello left LIGHT ASYLUM in 2012. The touring keyboardist Raphael Radna took over keyboard duties in the fall of 2012 to present." Apologies for the mistake.
Jackson Scott
Oh My Rockness and Dull Tools presented the night's entertainment at Cameo Gallery. Kicking things off was Jackson Scott, a 22-year-old who could probably pass for 16, whose psychedelic rock comes across endearingly loose and spontaneous on stage. Backed by a drummer and bassist who often kept it low and mid-tempo, Scott often didn't so much sing as draw out syllables, which worked well with the laid back spacey grooves.
Jooklo Duo
Northern Spy Records also held a showcase that evening, at Rough Trade, headlined by the Sun Ra Arkestra directed by Marshall Allen. First on were Jooklo Duo, the pairing of Italian saxophonist/multi-instrumentalist Virginia Genta and percussionist David Vanzan, whose frantic improvisations were hypnotic and hell-bent on minimizing any space between the notes.
PC Worship
Following Jooklo Duo's short set was PC Worship, one of the artists we noted in our festival preview guide. The "band, solo project & collective of musicians" put some freak-out sax of their own front and center, while the other members followed central member Justin Frye's lead as he pulled distended grunge riffs out of his guitar. The award for 'coolest instrument of the night' definitely went to Jordan Bernstein's neon green bass.
Blanck Mass
Not long after the sun went down the humid weather finally broke and it began to rain. Attempting as it was to walk the short four blocks back to the second Viet Cong show at MHOW in time to see Girl Band for a third time, we hauled over to Greenpoint, sans umbrella, just in time for Blanck Mass to start at Warsaw. Surely there is no better way to enjoy a Styrofoam plate of delicious potato and cheese pierogis in Warsaw's little bistro area than with Benjamin John Power's scorched earth techno blaring on the other side of the wall. The large main showroom had yet to fill up for headliner Zola Jesus, but people crowded around the stage, and after Power played nearly an hour without a single pause they gave him an enthusiastic ovation as the rain began to come down heavier and heavier outside.
Ω