It's tempting to think of
SXSW Eco
as the weird hippie brother of the massive music-film-interactive-free-vodka-was-that-Bill-Murray-and-RZA? festival. In reality, SXSW Eco is South By Southwest's chic sister, just back from Les Ateliers and looking for ways to change the world while classing the joint up a bit. The conference, now in its fourth year, brings together art, design, non-profits, urban planning, tech, and dozens of other fields, mixes them up, and sets them loose to save the earth.
Each year, SXSW Eco holds Place by Design, a public space design competition. With an ultimate goal to foster conversation, innovation, and collaboration, the finalists of each category use art to deliver more than aesthetic pleasure. We've picked out a few notable entries from each category, based on a super technical and super secret formula of which ones we thought were coolest.
Art + Interaction
The Mothership
Presented by Bryce Detroit & Anya Sirota – Detroit, MI – www.onemile.us
The O.N.E. Mile Project is a funky Detroit spaceship that's also a mixing booth, radio broadcasting pod, and activity center. The crew behind the project put on events about twice a month at the space, turning what would be an awesome neighborhood UFO into a community asset. The work is a true marriage between beautiful and useful, staying true to the creators' credo that design must be a catalyst for change.
The Swings
Presented by Mouna Andraos & Melissa Mongiat – Montreal, Canada – www.dailytouslesjours.com
The installation consists of ten musical swings, each with a lighted seat, in three sets. While swinging, if people cooperate with the others in their set to sync their movements, they create melodies. Inspiring activity, conversation, and fostering true participation in one's environment, they remove social barriers and use the cultural touchstone of the playground to bring people together.
Data + Tech
CyArk 500
Presented by Elizabeth Lee –
www.cyark.org/about/the500
CyArk's goal is to digitally preserve 500 of the world's greatest cultural heritage sites in a free 3D library. Most heritage sites are at risk at some degree, from climate change, pollution, tourists who take a wee bit home with them, locals who need building materials, or greedy developers. With ISIS destroying antiquities in Iraq and Syria, it underscores the need for projects such as this to capture and document these sites. The hope is that with greater access and knowledge about such places will come greater strides to protect them.
Pure Tension Pavilion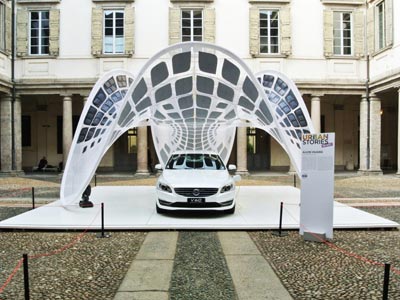 Presented by Alvin Huang,
Synthesis Design + Architecture –
www.sythesis-dna.com
This pavilion, designed for Volvo, is a freestanding membrane structure capable of using solar power to charge a V60 engine in 12 hours. Created with trade shows in mind, it also shows that green energy can be collected and dispersed in an aesthetically pleasing format while also being portable enough to flat-pack in the trunk of a car.
Resilience
A Place To Go
Presented by Mark Palmer – Machakos, Kenya – www.aplace2go.org
This project united volunteers in the US with Kenyan educators to transform a school using poo. By replacing a pit toilet with a sustainable biogas toilet, a school for street children is transformed. The biogas powers the kitchen, a water collection system provides clean water, and treated solid waste becomes compost for the garden. The school can use proceeds from their crops to invest in books, supplies, and other necessities for the children, while teaching them about self-sustaining practices and business.
The Redd on Salmon Street
Presented by Nathan Kadish –
Portland, OR –
http://www.ecotrust.org/redd
A two-block development, the Redd is geared towards growing a regional food economy in a sustainable, ecologically sound, and affordable fashion. The space gives producers access to cold storage, warehouse facilities, a distribution hub, and the use of a brick-and-mortar space instead of a transitory farmer's market system. The directors are hopeful that this model can serve as a blueprint for other large urban areas, destroying food deserts and making fresh, environmentally responsible food available to all.
Social Impact
Haven For Hope
Presented by Rick Archer –
San Antonio, TX –
www.havenforhope.org/new
This is the homeless shelter of the future. The largest and most comprehensive in the US, this San Antonio, TX, based shelter combines two campuses and 78 non-profits to address both the short term needs of homelessness and the long-term root causes. That combination allows them to truly give lasting help to those who need it.
RAPIDO
Presented by Elaine Morales-Diaz –
Rio Grande Valley, TX –
http://www.bcworkshop.org/rapido
Working to solve the perennial problem of post-disaster housing, RAPIDO is a home that starts as a slightly customizable temporary home and then can be expanded, and customized further, becoming a permanent home. Each stage of construction builds on the previous, eliminating the need for expensive and unpleasant temporary housing, such as the trailers FEMA uses. The designs are aesthetically pleasing, ecologically thoughtful, and can be scaled to respond to disasters of every scale.
Urban Strategy
Living Community, A Vision for First Hill
Presented by Amanda Sturgeon –
Seattle, WA –
http://living-future.org/news/
Using the standards set by the Living Community Challenge, Seattle aims to transform the First Hill district into a sustainable community through strategic planning, design, and construction. Resources are shared, native food sources are sown and reaped, energy is generated, and resources harvested. Using a master plan provided by the International Living Future Institute, the desired result will not only remove the harmful byproducts of human habitation, it will remove class distinctions and foster community.
Neighborhood Planning Playbook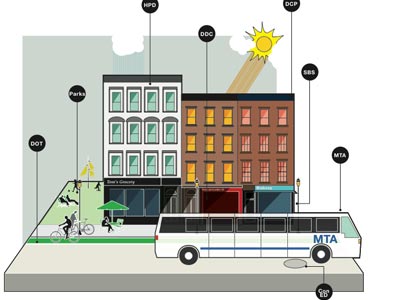 Presented by Yasmin Fodil –
New York, NY – nyc.gov
Given that rural flight has been ongoing, and increasing, for decades, it is no surprise that gentrification and neighborhood planning are problems for most cities. What is surprising is that most cities lack even a whisper of a plan to deal with it. This playbook, created for NYC's five boroughs, is an example of how to develop an urban area in a thoughtful, socially impactful way. It considers affordable housing, active preservation of important sites, homelessness, community spaces, transportation and other issues, and then gives practical guidelines. Development is, to some degree, inevitable, but it does not have to be ugly or unjust. See the full city plan here, via .pdf download.
Ω