It's been over ten years since
I first interviewed
musician and interdisciplinary visual artist
Jimmy Edgar
– who goes often these days as simply JIMMY – at a hotel room in Seattle. At the time, he was flying all over the world, DJing world-renowned festivals and exclusive clubs, while providing what felt like a consistent and prolific sonic output.
Today, we are connecting over Zoom. It's the tail end of the year 2022, which feels like a pivotal phase in Edgar's life and career. He is fresh off the release of his full-length record, LIQUIDS HEAVEN, out on Innovative Leisure. The eclectic album spans genres and features guest vocals galore, delivering Edgar's usual expansive array of technically-masterful yet club-ready sounds with playfulness and charisma.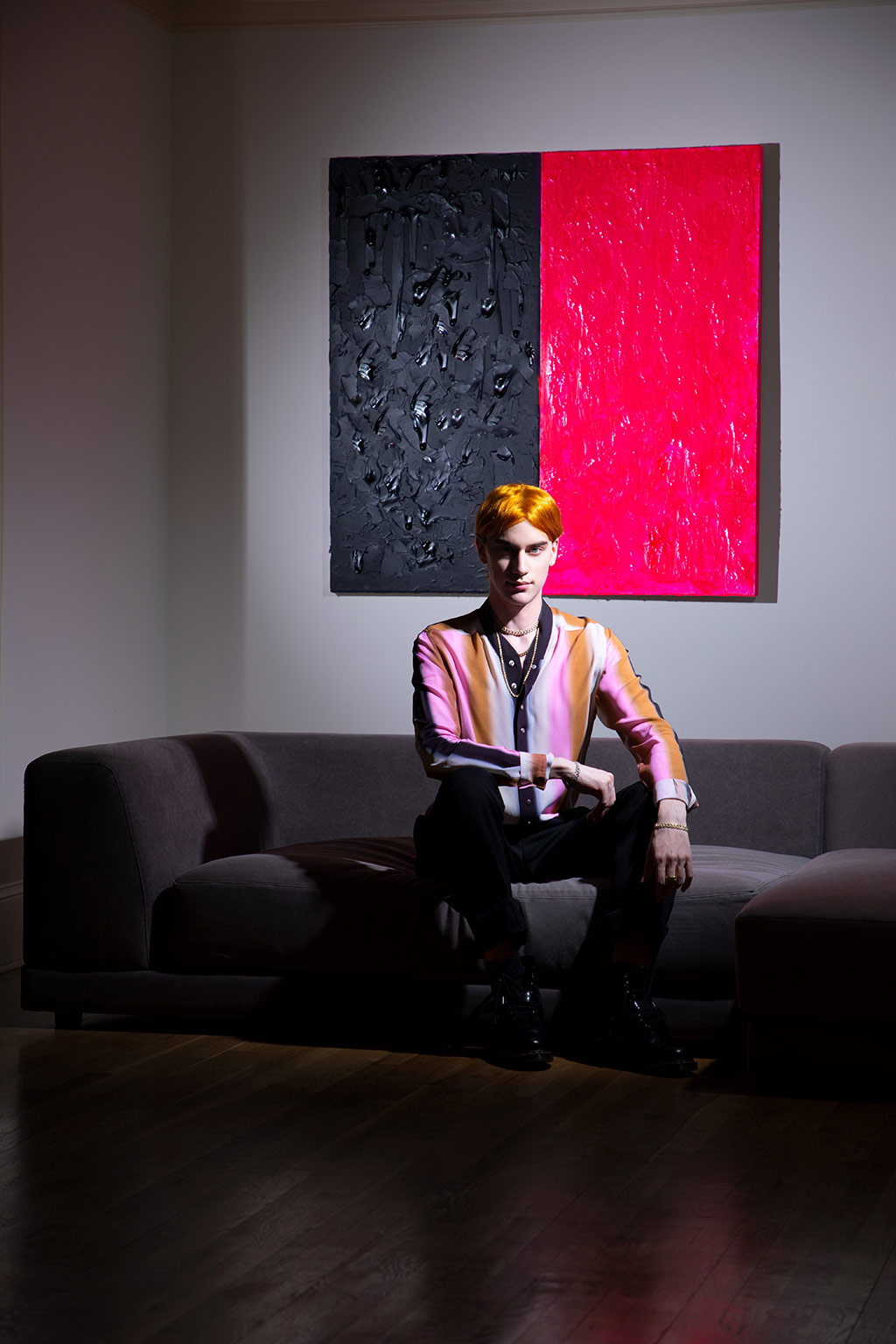 "Matter — just material in general — is something that I'm super interested in, because of the metaphysical and quantum physics aspects to it. It's questioning, 'What is substance? What are things made out of? What is our reality made out of?'" – Jimmy Edgar
A music prodigy who began DJing at Detroit raves when he was only a teenager, Edgar has spent decades honing his musical craft. Over the years, his slick brand of hypercolored visuals have also increasingly interwoven with his musical outputs, introducing to the world his penchant for clean lines, geometric shapes, abstract objects, and symbolic elements.
Yet 2022 marks the year of his first-ever solo art show,
OXYGEN
, which was hosted at Vellum LA in Los Angeles. It is also the year he released a number of innovative, iterative NFT art collections which are based on JavaScript programs he wrote.
As Edgar has long done with music, he is using his self-taught knowledge to push the boundaries of what is possible — embracing the otherworldly possibilities of the digital realm while very much still living in the physical world and acknowledging the power of the unseen.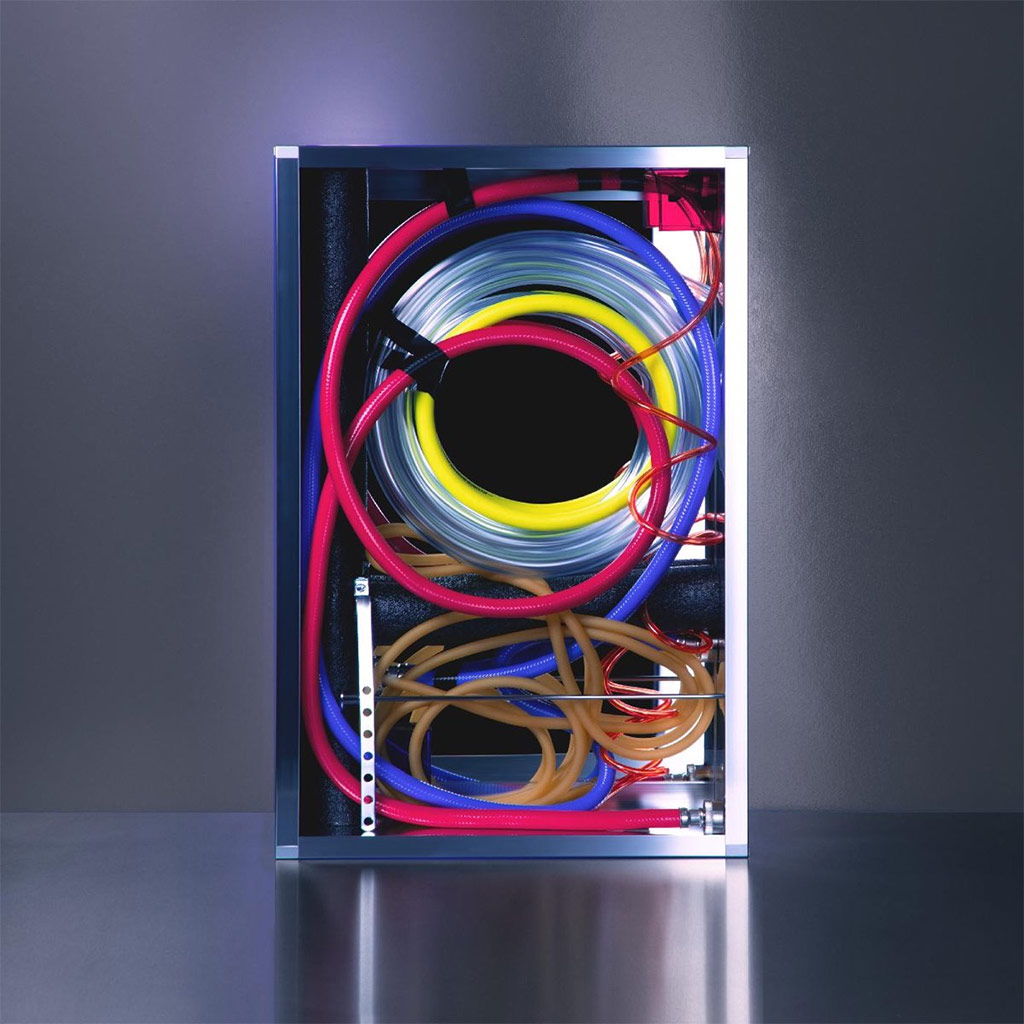 LIQUIDS HEAVEN Album over
---
Synthesis & Randomness
Throughout his musical career, Edgar's ability to create warmth despite the use of digital tools has very much been an intentional stylistic and philosophical choice. In light of how "quantized" or overly compressed digital sound can be, Edgar comments that he uses a large amount of software and hardware to make the digital sound more analog.
"There's an issue with digital music because… real sound are these waves; they're really soft when you analyze them," Edgar explains. "When something's digitized, it starts to square off because of zeros and ones. I've done a lot of research and take great care in that process between the rounding and the squaring, and in-between — because some of my sounds start off as the squaring and have to go through a process to where they're smoothed."
Relatedly, the genesis of LIQUIDS HEAVEN came from a synthesis of experiments where Edgar and his friends attempted to simulate and emulate liquid sounds.
"[We were] programming digital synthesizers to explore what this means and what it means to sound like liquid, which can be broken down into… both technological and philosophical ways of making that sound…" Edgar says, noting that randomness is key to making a realistic-sounding liquid. He cites ocean waves as the type of complex sound that is comprised of layered randomness which makes the waves feel "alive."
One of the synthesis studies they undertook uses a technique called "SlipStick," which Edgar describes as similar to the bubbling of liquid being poured into a glass or particles bouncing inside of a glass.
"It's basically the idea of a sound, tapping on something and then resonating inside of something, which is how you simulate glass, metal, creaking doors, [or] hitting a piece of wood," he explains. "You're simulating a tap, and you're simulating what that tap would sound like resonating inside something, which is a pretty complex type of synthesis… but you get these very animated kinds of sounds from it."
LIQUIDS HEAVEN Album Stream
---
Material & Immaterial
For the entirety of LIQUIDS HEAVEN, Edgar asked himself, "If [liquids] were alive, how would it want to be presented?" and, "How could I inspire it and make it like its best self?"
A similar line of questioning served as the basis for Edgar's solo art show, OXYGEN, which features thirteen new works that explored "the portrayal of ideas as evaporated forms of physical creations, and how they might materialize into reality." Brightly-lit screens lined the walls, showing off smooth, gradient-heavy 3-dimensionally-rendered objects in Edgar's signature visual style.
OXYGEN, Edgar told Paper Mag, revolved around the question, "What does OXYGEN desire? If I were OXYGEN, how would I want to portray myself?" In response, one of the show's most controversial pieces was a seemingly empty glass case, auctioned off for $26,000, wherein OXYGEN was on full display.
While OXYGEN brought Edgar's digital artwork into the physical realm and offers insight into an expansive future to come, his explorations also hold deeper curiosities. They are meant to examine the fundamental nature of reality.
"Matter — just material in general — is something that I'm super interested in, because of the metaphysical and quantum physics aspects to it," he explains. "It's questioning, 'What is substance? What are things made out of? What is our reality made out of?'"
Certainly Edgar has spent much of his career bringing his digitally-produced music into physical spaces to be enjoyed for DJ sets or live shows, but despite how powerful music is, he notes that it is fundamentally comprised of vibrations and air pressure.
"Music is so important to us," he says, "and yet, we don't realize that it's totally invisible."
Much of Edgar's musical and artistic works are now consumed in a purely digital fashion, whether through online galleries, via social media platforms, or on streaming platforms. As a result, he often asks himself what digital material is, or what it means to have material in the digital world. He is fascinated by the juxtaposition of the tangible and intangible, because they possess similarities despite their differences.
"[What is] super interesting is understanding that digital is actually a purely physical process…" he points out. "Digital needs physical hardware to operate; data is on physical hard drives. There's nothing really immaterial about it."
If the digital realm is not immaterial, Edgar questions, what about phenomena like thoughts and energy? Just because they are recognized as unseen and intangible, does that also make them immaterial?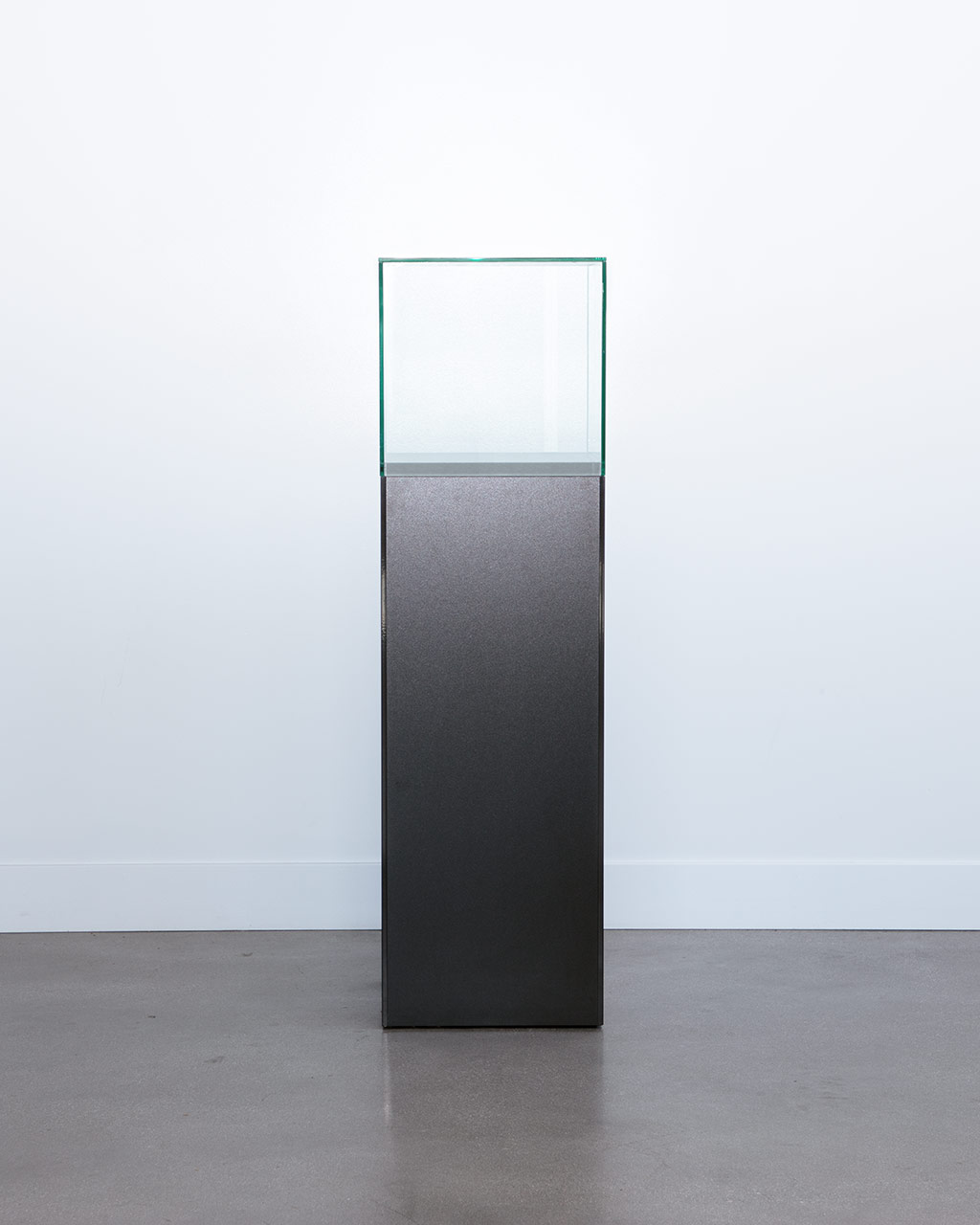 Physical sculpture at OXYGEN, 2022
---
Generative & Iterative
Some of Edgar's recent digital art collections — including OBJECTZ, which contains 3,396 images, and PLASTICS, which contains 333 images — are the result of two years of self-study in JavaScript programming, where he learned everything he needed to know via YouTube. Both series are minted on the Ethereum blockchain and sold via online NFT websites such as Foundations. They were birthed from Edgar's simultaneous fascination in generative art and his realization that the artistic style of most generative artists were not aligned with his tastes.
"The way that I figured was best for me was to make an artwork… break it up into sections or ideas, bring in hundreds of ideas into each one of those layers, and then write a program for it to just shuffle through," Edgar details.
I'm incredibly excited to present my new project @OBJECTZ_XYZ

ꜰɪʀꜱᴛ-ᴏꜰ-ɪᴛꜱ-ᴋɪɴᴅ 3D generative image collection, rendered in a web browser and minted on the $ETH blockchain

ɴᴀʀʀᴀᴛᴇᴅ ʙʏ ᴀ ᴠᴇʀʏ ꜱᴘᴇᴄɪᴀʟ ɢᴜᴇꜱᴛ [ɴᴏᴛ ᴀ.ɪ.] pic.twitter.com/oBAG23IMOR

— JIMMY (@JIMMYEDGAR) March 1, 2022

The shuffling process took place every time Edgar hit the "refresh" button; the JavaScript programs he wrote would randomly generate different iterations of work based on the rulesets and parameters he had created. From there, he would sort through and pick the best of the bunch. This part of the process was especially fun for Edgar, because he learned that among every 1,000 images or so, only one would stand out as particularly excellent. At times, that image would provide a basis for further evolution.
"It's a constant process…" Edgar explains. "It's like sculpting with code, because… some things would keep coming up that I didn't like, and so then, I would tweak it so that it wouldn't come up as much."
The programming allowed him to remove elements he didn't like, so that further iterations were thus more closely aligned with the aesthetic he preferred. Edgar's works tend to embrace a particular kind of lighting and use of color, but what deviates among them are the themes and the particulars of the way each series is generated.
"OBJECTZ was really about exploring different objects and how they relate to each other by how they randomly come up… and what kind of story that may tell…" Edgar explains, "In my eyes, it's kind of like a curation where it's randomly curated, and then it tells a story, because… it [also] has a randomly generated title."

3-LISOHYDE from the PLASTICS collection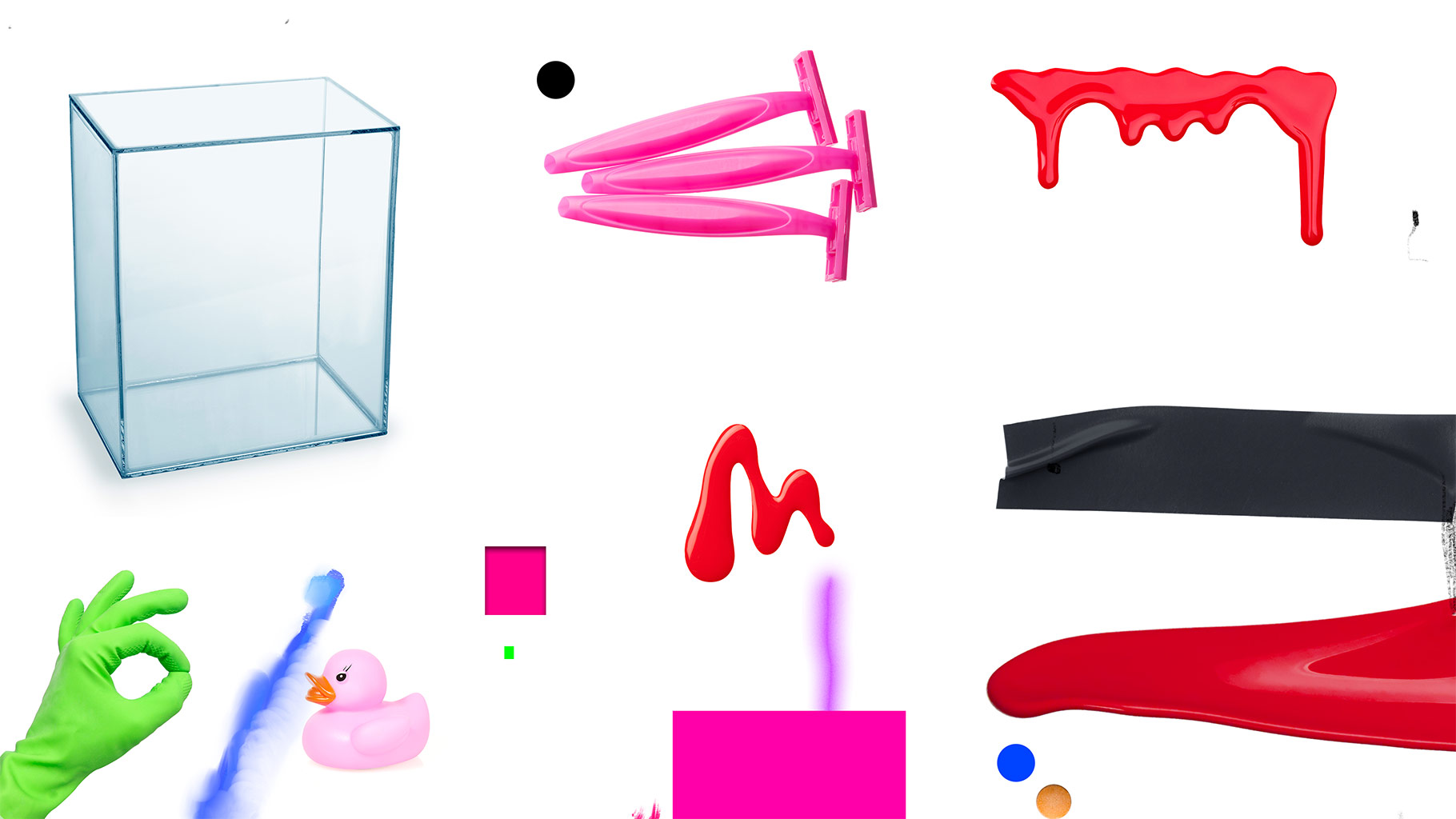 DIVINYLISO-SULFIDE from the PLASTICS collection
With PLASTICS, Edgar wanted to challenge himself to "make something cool out of something that people consider [to be] not art." The foundation for that series was a highly curated collection of stock photos.
"A lot of the stock photos that I use were like, detergent shampoo, makeup swatches, a lot of liquid materials — and then all of the titles were generated using soap chemicals and shampoo [ingredients]," Edgar explains. "And not only that, but also, each artwork has metadata, so it will tell you if the artwork has high toxicity levels, or if it has a high alkalinity or low acidic nature to it…"
"We've never really seen things like that happen in the art world," Edgar continues. "Most of the time, it's like a painting, and then you get prints of the painting, but now, we have generative art. You get iterations of one artwork, and then this metadata, which is information that adds another layer of creativity to it."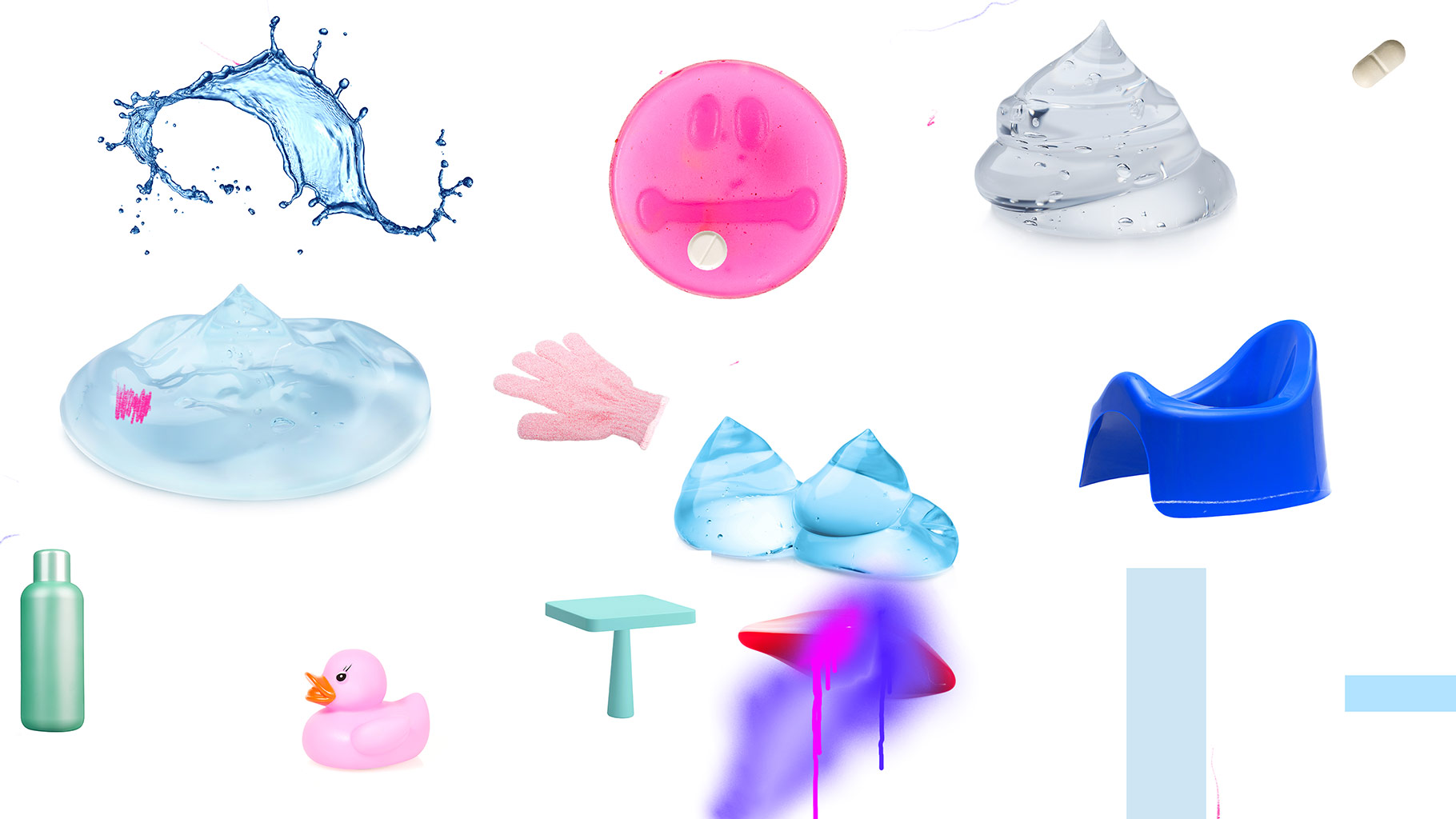 METHYLMIDO-CHLORIDE from the PLASTICS collection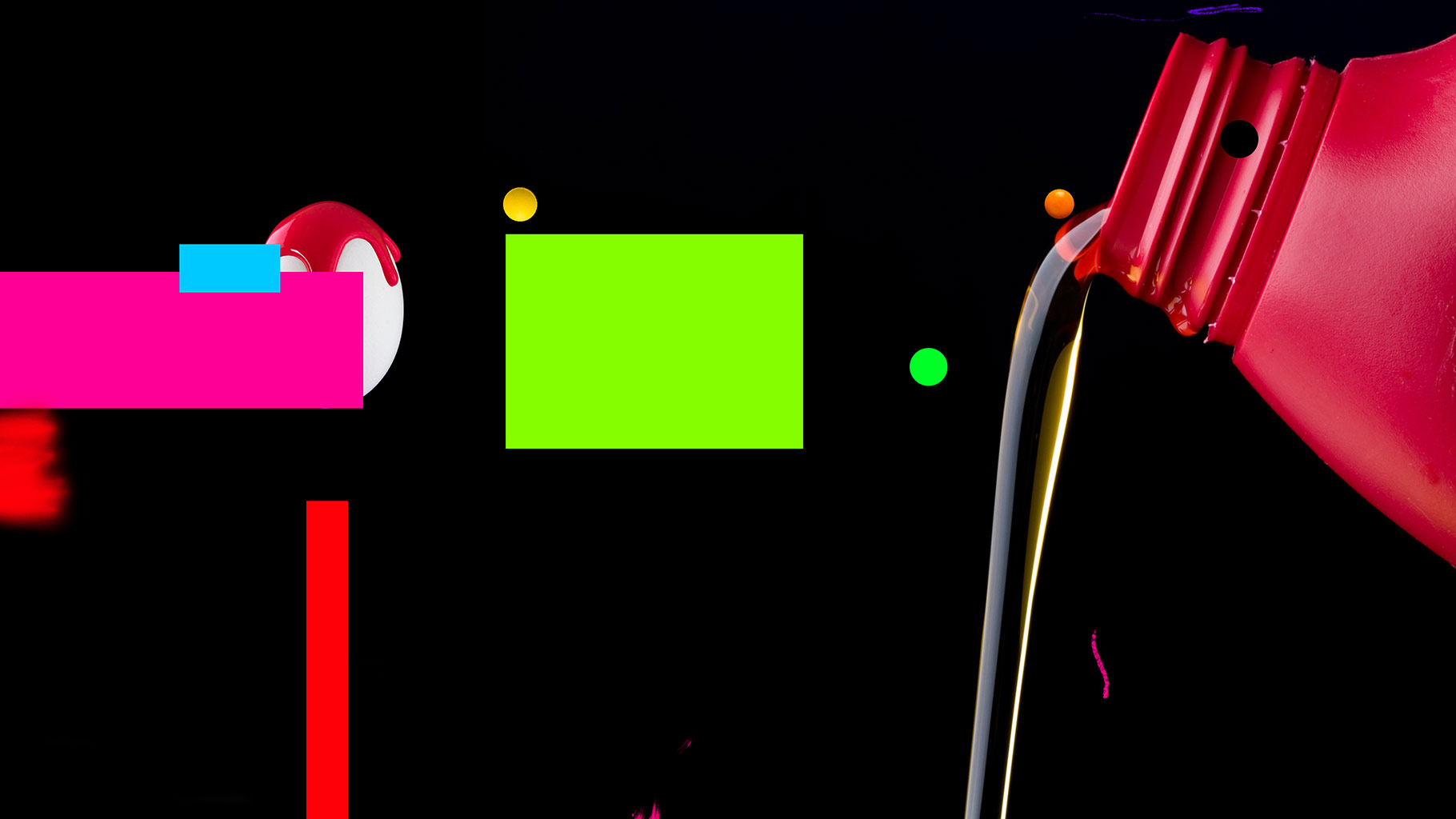 SELENIUM-HYDROXYCONE from the PLASTICS collection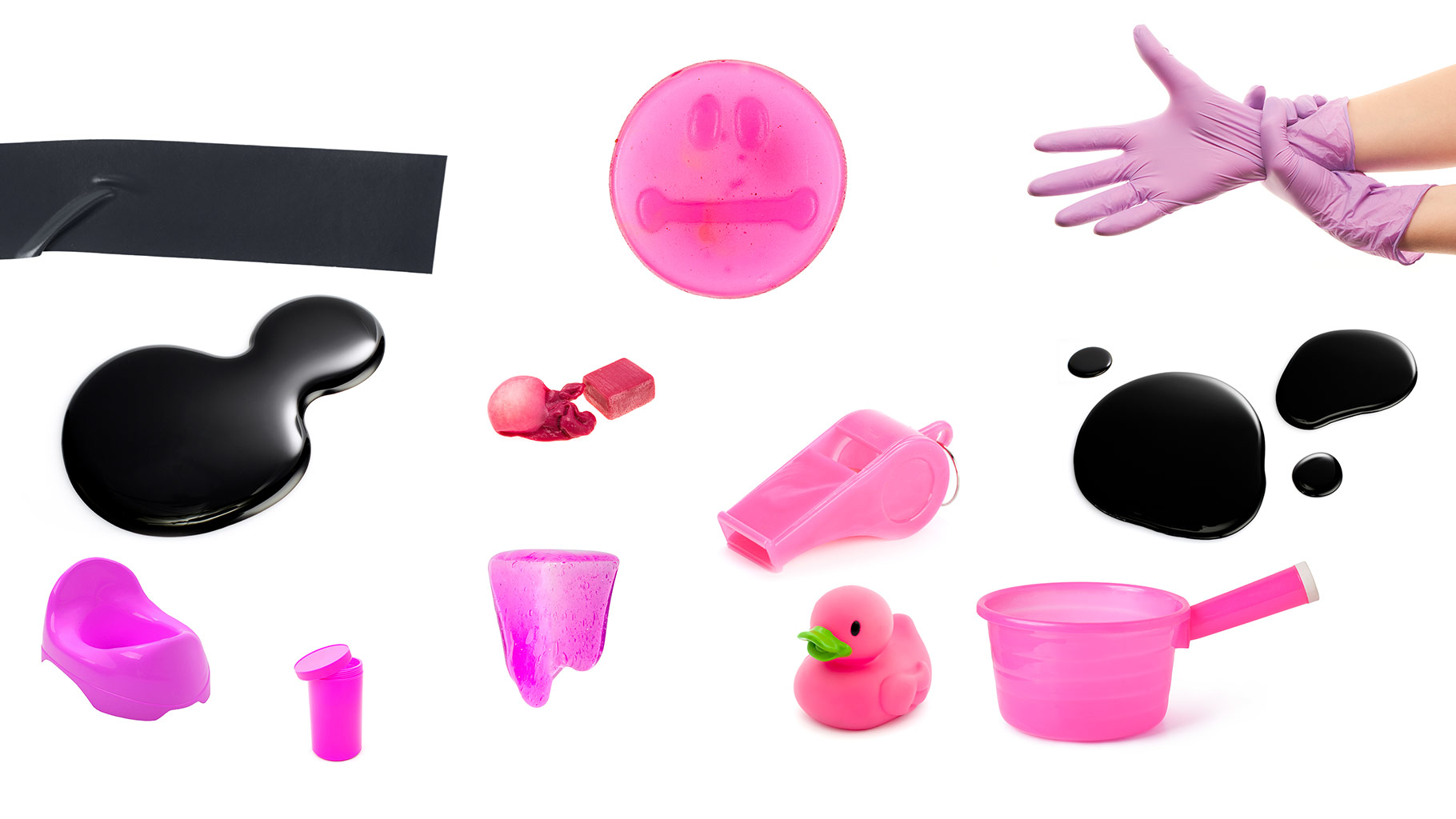 POLYHYDROXY-15 from the PLASTICS collection
---
Next Phases
In the future, Edgar would love to collaborate on software for other artists, so that they can undertake similar iterative processes with their own artwork. He does note, however, that what he has done with PLASTICS and OBJECTZ is complex and involved.
"You have to make an artwork, you have to figure out how to break down your artwork, how to make different kinds of objects for it," he explains. "It's not an instant thing like, 'Oh, you just refresh it…'"
Edgar has been generous about explaining the processes behind his work, in part because he is self-taught and wants to let other artists know of the possibilities that are within reach. In-depth tutorials are published on his social media platforms, often taking on an artistic quality themselves.
"My overall goal is to make a great image," he explains, "but I feel like the concept and the process is very important to understand the work as well."
Like PLASTICS and OBJECTZ, Edgar's latest series, OPERATING ROOM, is based off software he wrote which generated ideas and text using variables that were randomly shuffled. Its concept — which came completely out of an idea spewed out by the software that Edgar loved so much he refined it for usage — is that "an artist deconstructs a medical supply room and presents the sculptures as highly retouched photographs."
The project was presented via an online platform called Chainsaw, and Edgar lived it so much in real-life that he was actively "larping," or living a life of live-action roleplay. He even showed up to our interview wearing the teal medical scrubs that he wore throughout the process of making OPERATING ROOM.
"The amazing part is that [OPERATING ROOM] was a totally generated idea from the software that I wrote…" Edgar explains. "When I was kind of stuck on a few sections on how to present it later, I had conversations with DALL·E, the GPT-3 bot, and it gave me all of the insight and ideas that I needed…"
Talking with an Artificial Intelligence bot brought yet another degree of randomness and play to Edgar's already probability-based artistic process. DALL·E recommended that he make a "gamified experience" out of the project, in the form of a fun auction place. It was an idea they were already considering. But the AI bot also had a sense of humor beyond that.
"I was asking the software… I want this project to be fun, because anything medical-related is quite scary and daunting, and I don't want anything to be terrifying. I don't want to make terrifying art…" says Edgar. "The funniest part is: it's third recommendation for what I should do was that it said: oh, you should have a mascot for the project, and it should be Bugs Bunny, because Bugs Bunny likes to say, 'What's up, Doc?'"
Edgar is also considering how he might use his own mood boards as a generative tool for potential future exhibitions. The idea emerged when he had to pitch a physical exhibition to a gallery.
"Imagine you have to make a mood board for a gallery," he explains. "You want them to say, 'Yes, I will do this exhibition.' And imagine you can make a software to refresh it, and you get a new idea that you could present to another gallery."
With such ideas in tow, Edgar's current trajectory feels affirmed.
"I always knew I would do more visual art as I got older," he reveals.
Now, after pandemic stints in Portland and Atlanta, Edgar is moving back to Los Angeles, where he had previously spent a substantial chunk of time. While his next artistic pursuits may just be subject to a mixture of Edgar's vision, generative technology, and a great deal of chance, rest assured that they will remain rooted in the physical world as much as they are in the digital.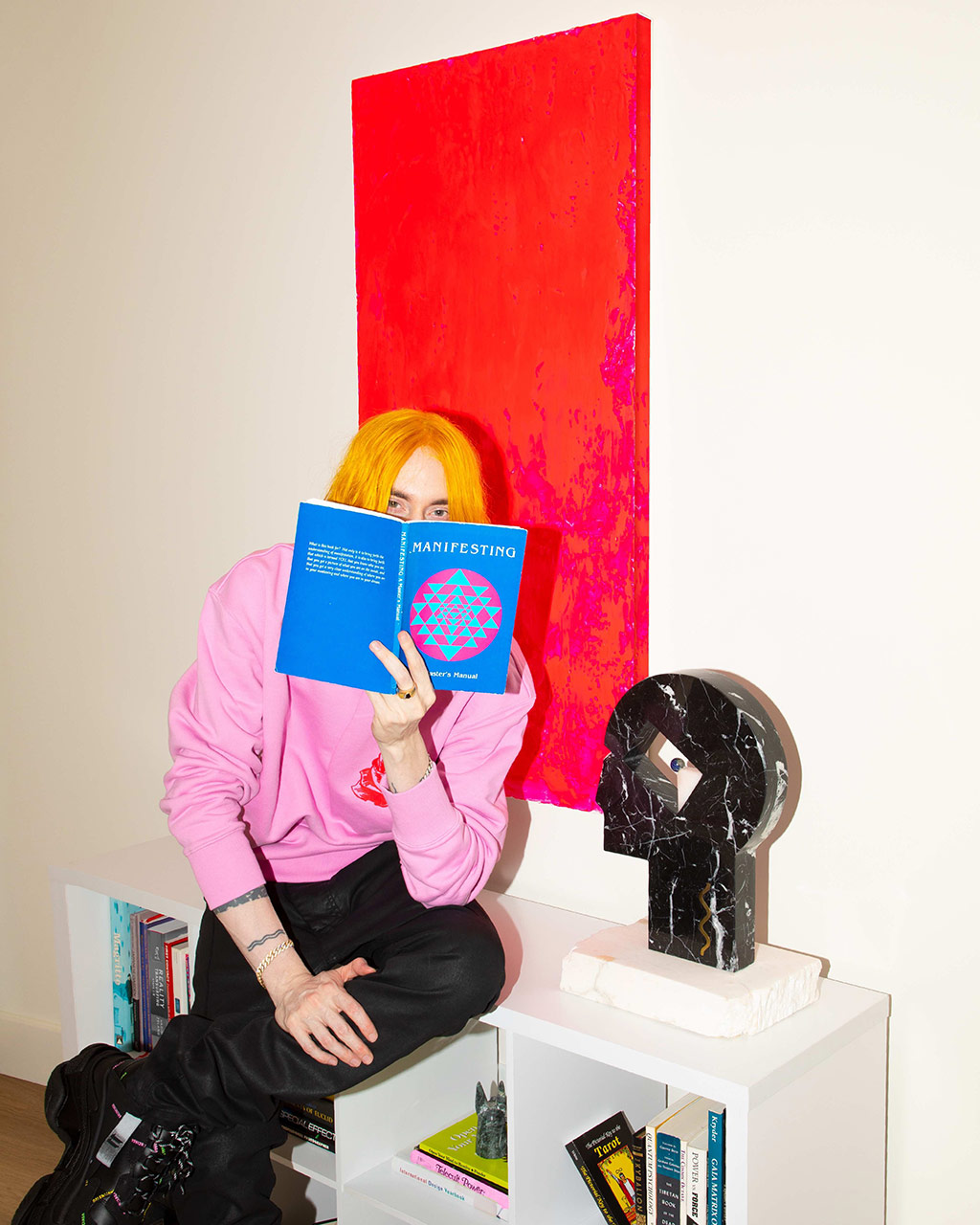 Photo by Shaniqua Jenkins
Ω