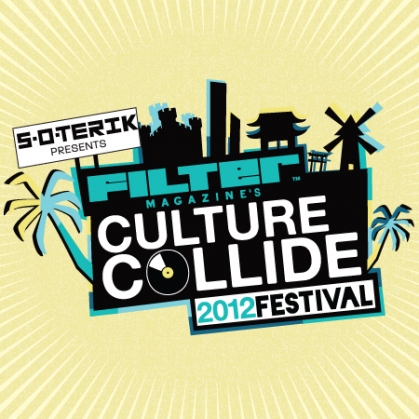 In its third year,
Culture Collide Festival
will be welcoming 63 artists from 25 countries to Los Angeles in the span of four days. Other than SXSW, there are very few festivals that consciously provide such an international scope of the indie music scene. And considering how common it is for international bands to come across visa issues, Culture Collide takes on an admirable task in the name of global harmony. The nice thing about the festival is that most artists schedule more than one show during those four days. So while you may stick to the big names for one night, you'll have plenty of opportunities to take a chance on a few unknowns that hail from a country across the globe.
SEE ALL 14 FESTIVAL PICKS
of Montreal (USA)
Saturday, October 6 - 12:00am @ The Echoplex Sunday, October 7th - 8:00pm @ The Main Stage
It's pretty impossible to not have fun at an of Montreal show. This group is kooky with a whirlwind of pop, psychedelia, electro, and glam. And with six members, it's always a party on stage. There will probably be some costumes too, so just embrace it, don't ask questions. of Montreal have recently have recently released
Daughter of Cloud
, a compilation of 17 of Montreal recordings from the time of their
Hissing Fauna, Are You the Destroyer?
era to the present. The track "Hindlopp Stat" from the album is below, along with the tripped-out music video for "Spiteful Intervention", from
Paralytic Stalks
.
Bonde do Rolê (Brazil)
Sunday, October 7 - 5:30pm @ The Main Stage
Even if you don't understand Portuguese, Bonde do Rolê are
so
worth your time. Heavily hyped by Diplo, the trio is always out to start a sweaty dance party and is known for singing about having a crazy good time. The group features a female and male MC who roll quick lyrics over club beats that you'd hear in the US and a type of Brazilian dance music called funk carioca. Just remember, it gets pretty sweltering on the other side of the equator. SEE ALSO:
Bonde Do Role + DIPLO + BRAZILIAN ARTISTS & MUSICIANS