Before thrift stores ever entered the fashion mainstream, San Francisco-based artist Sarah Applebaum had already found a second home in them. From shelves and racks full of accumulated junk, she gathered inspiration. She saw how relics of the past could be repurposed into new and exciting creations.
"It's totally in my genetics," says Sarah Applebaum. "My grandfather was totally a tinkerer; he would just go buy things and fix them, and my dad ended up doing the same thing."
Like her relatives before her, Applebaum uses the medium of craft to tinker. Some of her most engaging works involve the use of brightly-colored afghans and throws – items she has been collecting from a young age.
"I [would] just always go to thrift stores and just see these beautiful, beautiful blankets and stuff that were like two bucks," she recalls. "Now, the aesthetic has come into fashion, so it's kind of like, of course people see that stuff and like it – but when I was collecting it, nobody liked it; it was just crap."
In all of the work she creates, Applebaum embraces concepts which run much deeper than surface level. Where others saw raggedy old blankets, Applebaum saw the expression of love. History and nostalgia embedded the static objects with timeless meaning.
"You think of the people who are making these, and you think, 'Oh, that's just someone's grandma,' but [what about] the color combinations and what they were working with, and that it was such a powerful thing?" she questions. "For the most part, you're making a blanket to keep someone you love warm. It's totally love and all these beautiful colors."
Once Applebaum embraced these items for the deliberate artistic works that they are, she visualized all of the afghans – which number so many she can no longer keep count – as one giant blanket.
"[I] just started," she explains. "I don't know how many years I was collecting stuff and just kept sewing it in."
ARTICLE CONTINUED BELOW

A Terri Timely and Sarah Applebaum Collaboration for Seventeen Evergreen's "Polarity Song"
In a space dreamed up by Applebaum, whirlwinds of yarn spindle up walls and amorphous blobs dangle from ceilings. Free-standing growths of geometry rise up from floors. Combined, all of these elements weave together like a hyper-colored patchwork, as though each room touched by Applebaum became an afghan in and of itself. The influence certainly makes sense; the blankets have played a huge role in Applebaum's large-scale installation work. With them, she has covered entire rooms with quilted patterns, swallowed human beings up in woven bodysuits, and created bizarre seating concoctions for multiple people. The resulting spaces do not substitute intricacy for function but places equal importance on both. And what powers it all is Applebaum's practical attitude, paired with an attraction to the psychedelic.
"I'm definitely trying to merge two worlds: domestic space and psychedelic space. They're not different. They're actually, for me just flip sides of the same experience," she explains.
She parallels this viewpoint, citing the experience of observing any item from two potential angles: that of seeing the item for what it is used for, and that of seeing it for what it really is. Every object one passes by and overlooks may in fact hold a level of fascinating detail — and that stress upon life's subtle beauties is apparent in Applebaum's work.
"For me, I will see things and just be like, 'Oh wow, that is really, really cool,' and I kind of just want to bring that experience to lots of people," she explains.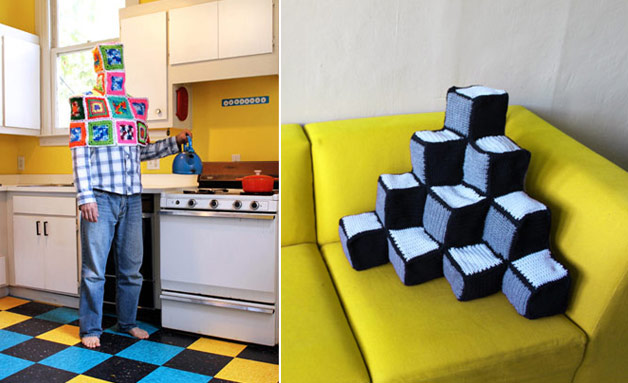 With the home being Applebaum's main focus, it makes sense that the bulk of her work life and hobby life revolves around such spaces. An extra room in her San Francisco apartment serves as her art studio, and when she is not honing her craft, she is a personal chef who spends many days a week in the homes of others.
"I usually have four or five clients, sometimes six – and I just go to their house and cook," she explains. "I worked in restaurants and catering for a while, but this gives me enough money to have enough time to make art."
In both her art and her cooking, Applebaum exercises caution. She claims she is not a "brilliant chef" who is "just on another level," but she pays attention to detail and executes her tasks with simple grace. She is meticulous and constantly looking for the most efficient solutions to any problem. "I love being efficient… [to] just make my own little art factory…" Applebaum shares. " I totally get a lot of pleasure out of that… It's like, 'How do I find a way to do this really efficiently and perfectly?'" But though years of experience have helped Applebaum pinpoint what works for her as a chef, what works for her as an artist is constantly evolving with every new project she undertakes.
"I definitely have a lot of projects I have to figure out, and once I figure them out, then it's kind of monotonous work," she explains. "But it doesn't feel monotonous.
Figuring out a project's initial steps is always a learning experience, but that break-through is generally followed by a massive amount of repetition. Tasks as menial as cutting hundreds of cardboard squares present themselves as dastardly roadblocks on the path towards efficiency, sucking up effort and time. Applebaum recalls one experience in which a project took her such an extraordinary length of time that towards its tail end, she could scarcely recall a time when she wasn't working on it.
Luckily, though, Applebaum finds such acts of monotony meditative. Without such mind-numbing detail, her works would lack the manic quality which makes them so dizzying and compelling.
ARTICLE CONTINUED BELOW

In her visual dissection of what she calls "the revelation of the mundane," Applebaum has begun focusing on common symbols and their interpretations. One of her latest projects is a 5-foot-tall, three-dimensional yarn-and-foam ship anchor. With the piece, Applebaum hopes to stir up considerations about the historical and present-day associations relating to the symbol — one that is common yet often taken for granted.
"You'll go down to the water and they'll be like an anchor kind of set up as a little monument or something, and it'll be like 1859 or blah blah blah, and it'll just occur to me like… 'What is an anchor like? What does an anchor really delineate?'" Applebaum questions. "An anchor is like, you are at the bottom. That's the kind of thing I'm really interested in; you know, like, guns, chains, ropes, and nooses – [things] that are like, really, really powerful objects with a lot of meaning, but somehow, we're so used to them we don't really think about what they really are…"
To further explore the importance of objects like ropes and nooses, Applebaum has taken to creating these complicated objects herself. Using two hooks on either end of her studio and plenty of sand bags, she has rigged up the space so that she is able to create long lengths of hand-wound laid rope, also known as twisted rope.
"I was really excited to make these kinds of ropes because… the length of the rope is actually its own individual object," explains Applebaum. "You can cut it, but you have to do some stuff to keep it from unwinding; it's not like you can go to Home Depot and just buy lengths of it…"
Laid rope is a type of rope that can be created through the application of different types of force. Crafted from varying colors of yarn, the rope Applebaum creates is custom-made and limited by the space in which Applebaum creates it. Those created in her studio run as long as 16-feet-long when unraveled.
"There's definitely something about it being related to the actual physical location where you built [the rope] that just appeals to me. If you were here watching the way it comes together, it's really really cool, because you put all this tension into it and you basically put all this reverse tension into it and then when you let one side go, it just goes wooooosh and just curls in, because you're basically winding each of the strands," she explains. She likens the experience to sewing, and when a piece of thread that is too long might tangle up into itself.
As one might be able to imagine, creating large-scale projects is sometimes impractical. Many of Applebaum's pieces end up being stored away in boxes or are otherwise repurposed for other projects, but for her, the art of craft is often more important than the sale of work. Applebaum is goal-oriented but humble as well; she purposely uses affordable yet eco-friendly materials to keep her pieces at a reasonable price-point.
"I feel pretty comfortable not feeling like I need to elevate my art and make it very important so that very important people will buy it; I actually really enjoy feeling like people can afford stuff and just kind of have it in their home because I feel like a lot of my work is kind of about the home," she says.
Applebaum has been drawn to making large, "kind of bizarre work" for the majority of her artistic career, and it is only in the recent past that she has begun to create items that individuals can actually "comprehend as something they would have in their homes." In her online store, Applebaum dispenses small-scale, one-of-a-kind pieces; her latest offerings include individually-assembled felt guns and small lengths of the aforementioned laid rope.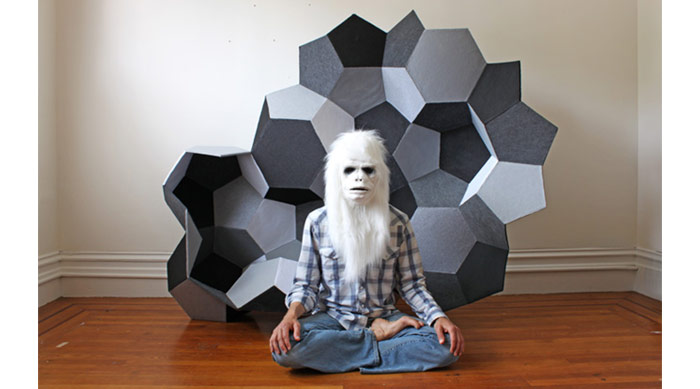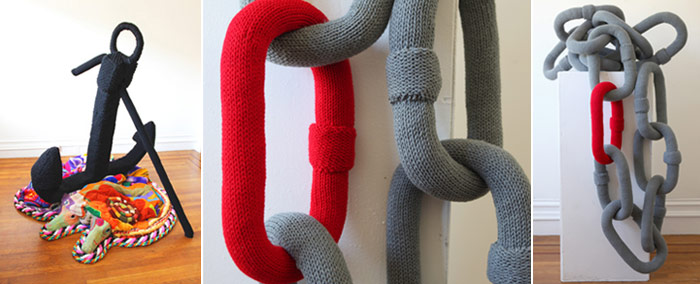 With each new piece of art she sells, displays, or installs, Applebaum contributes to the increased transformation of physical space into psychedelic space. And with the ever-increasing incorporation of psychedelic imagery into many aspects of modern society, one can't help but wonder how it will affect the world in the near future.
"When I think about color and how much artists are interested in color now and kind of exuberance and stuff, I can't help but think that that's a good thing to connect to that wild part of yourself. It's like, 'Let's have fun, and not be so controlled!'" says Applebaum. "I am curious. I guess you just live life and see what happens.
"I feel that we are before the realization that there is a shift. I think we are shifting, but I don't think that collectively, we know that we are shifting."
Perhaps just like every newly sewn strand of yarn in an afghan, the shift is creeping along slowly. Each newly added creative flourish bares significance; it contributes to the creation of a marvelous finished product, with a shape that remains to be seen.